25: Selections from the Permanent Collection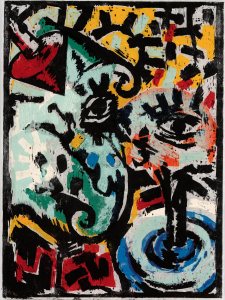 As part of the 2011-12 celebration of the Olin Arts Center's 25th anniversary, the Bates College Museum of Art presents the exhibition 25: Selections from the Permanent Collection, an in-depth exploration of the museum's holdings.
The exhibition opens Friday, Oct. 14, and runs through Dec. 17.In addition to the usual hours of 10 a.m. to 5 p.m. Tuesday through Saturday (until 7 on Wednesdays during the academic year), the museum will be open 10 to 5 on Monday, Oct. 10. For more information, please call 207-786-6158.
25 ranges widely through media and historical periods, from historic prints and pre-Columbian ceramics to contemporary painting and photography. It highlights significant gifts to the museum, as well as acquisitions reflecting the museum's role in Bates' academic mission. Among artists represented:
Paul Cezanne. Known as a painter, this enormously influential Impressionist made few prints; the Bates exhibition includes the 1898 lithograph "Les Baigneurs" ("The Bathers"), based on one of his best-known paintings.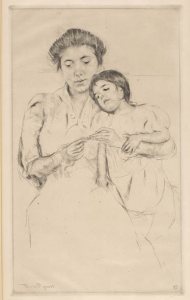 Mary Cassatt, the American Impressionist whose exhibited piece "The Crocheting Lesson" demonstrates her mastery of the printmaking technique of drypoint;
and Charlie Hewitt, a Lewiston native and prominent Maine printmaker represented in 25 by the woodcut "Iago III."
Assistance in the selection of works and research for the exhibition was provided by museum interns studying in the Department of Art and Visual Culture: Julia Foxworth '13 of New York City; Ana Bisaillon '12 of Hamilton, Mass.; Emily Sheehan '11 of Meriden, N.H.; and Gina Crotty '10 of Boxford, Mass.
About the Museum of Art
Originally called the Treat Gallery and located in Pettigrew Hall, across Lake Andrews from the Olin Arts Center, the Bates College Museum of Art assumed its present form with the opening of Olin. This beautiful and much-larger new facility enabled Bates to organize major exhibitions and to properly tend its growing collection, founded with a donation of materials relating to artist Marsden Hartley.
Today the museum is dedicated to developing and augmenting the collection to support teaching and scholarship at Bates; to serve as a resource for Lewiston-Auburn and the region; and to serve the K-12 curriculum in local schools.
Also showing at the museum are: Manuel Alvarez Bravo: Fotografìas de Mèxico, comprising images by a leading figure in 20th-century photography and Mexican art; and Tale Spinning: Enrique Chagoya, Leslie Dill, Brad Kahlhamer, Shirin Neshat, Nicky Nodjoumi, and Alison Saar, a group of works presenting mysterious and provocative narratives that reflect the artists' diverse backgrounds.
View Comments