Bates in Brief Campus: Reidy's inaugural stage design, award-winning website
Stage Father
Michael Reidy marched into Merrill Gym with the rest of the crowd for the installation of President Clayton Spencer on Oct. 26.
But Reidy had a unique perspective on the ceremony: It all played out on a stage that he had designed.
Seeing the big stage in action "was quite a thrill, actually," says Reidy, senior lecturer and managing director of the college's theater and dance department.
As inaugural plans evolved last summer and fall, the number of people on stage grew to 100 or so, including the college choir, orchestra and a 19-member platform party.
With all those participants, Reidy — whose work as a top Maine theatrical designer goes back decades — knew that his stage had to provide visual organization for viewers, both in the gym and watching a live Web stream of the event.
So he rotated the footprint of the square stage approximately 45 degrees, such that a corner, bearing the podium, jutted into the audience. (The cherry-wood podium, designed by Reidy and fabricated by Facility Services craftsmen Thomas Winslow and Danny Sands, also had a prowlike form that accentuated the reach toward the crowd.)
That angle opened up sightlines for the three video camera operators and the gym audience. For more visual differentiation, Reidy situated each onstage group at a different height. And, thinking of video, he composed an aluminum-and-fabric backdrop onto which different colors could be projected.
The components had a built-in twist that graced the angular stage with gentle curves. Sheathed in translucent fabric, each column contained an opaque internal panel that gave depth and variation to the light bouncing off.
"As you walked through the space, the parts appeared to shift and change against each other," Reidy says.
Reidy's team also included trusty student assistants who made sure the technical aspects of two plays and a dance program over at Schaeffer Theatre, a total of 11 performances, ran like clockwork. "Without the students I really couldn't do anything that I do," he says, and that was more true than ever last autumn.
"It was fairly intense in our world for a couple of weeks." — DLH
---
---
Campus Facts
Not Hathorn Hall but Nash House (1849) is the oldest campus building.
December saw an influx of pine grosbeaks — they love berries and crabapples.
---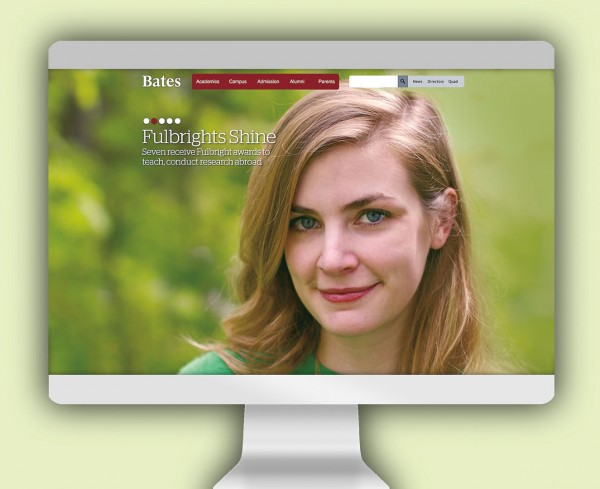 The People Have Spoken
The newly redesigned Bates website, which debuted in November 2011, won top honors in a 2012 competition sponsored by eduStyle, a leading website for higher education Web design professionals. Bates won top honors in both the judged and People's Choice categories for Best Overall Website, and won the popular award for Best Home Page.
View Comments