Kabat '85 returns to discuss domestic abuse and Oscar-winning 'Defending Our Lives'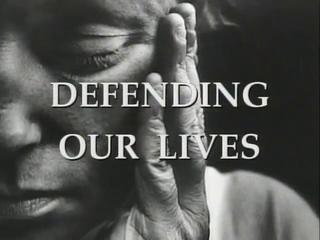 Stacey Kabat '85, co-producer of the Academy Award-winning film Defending Our Lives, returns to Bates for a visit that includes a public screening and discussion of this powerful documentary focusing on domestic violence.
The event takes place at 7:30 p.m. Sunday, Nov. 16, in Pettigrew Hall's Room 301 (Filene Room). Co-sponsored by the rhetoric department, the women and gender studies program and the Harward Center for Community Partnerships, the event is open to the public at no cost. For more information, please contact 207-786-8294.
Kabat appears in the 1994 documentary and co-produced it with directors Margaret Lazarus and Renner Wunderlich of Cambridge Documentary Films.
Kabat, the Los Angeles Times' Elizabeth Mehren wrote in 1994, "describes herself as the daughter and granddaughter of women who were beaten by their husbands. But when she headed off to Bates College at age 18, 'it wasn't acceptable' to talk about such things, not even the nightmares that plagued her about killing the father who told her, 'Well, Stacey, people just have violent tempers, that's all.'"
Kabat won a Reebok Human Rights Award and the Clara Barton Award from the American Red Cross's New England chapter for her work against domestic violence. She presented at the UN's Conference on Women in Beijing in 1995 and founded a human rights agency for domestic abuse. She now works as a nurse in Boston. Learn more.
View Comments