Multimedia: Garcelon's prime-time NCAA debut was a night to remember
All agreed: There's been nothing like it in Garcelon's 116-year history.
First playoff game on Garcelon, and an NCAA playoff game to boot. At night. During Short Term. When it's balmy (72 degrees!) and clear.
Bates rolled out the green carpet on Wednesday night, and the show didn't disappoint.
With the packed Garcelon grandstand rocking and teams trading hard knocks on the field down below, the first-round NCAA men's lacrosse playoff game between Bates and Keene State wasn't decided until late in the second half when Bates pulled away for a 16-11 victory.
Here's how it went down in photographs and video:
6:58 p.m. — Growl and Prowl
Lacrosse defender Fred Ulbrick '17 of Fairfield, Conn., lets out a Bobcat growl as pregame preparations come to a close. (Josh Kuckens/Bates College)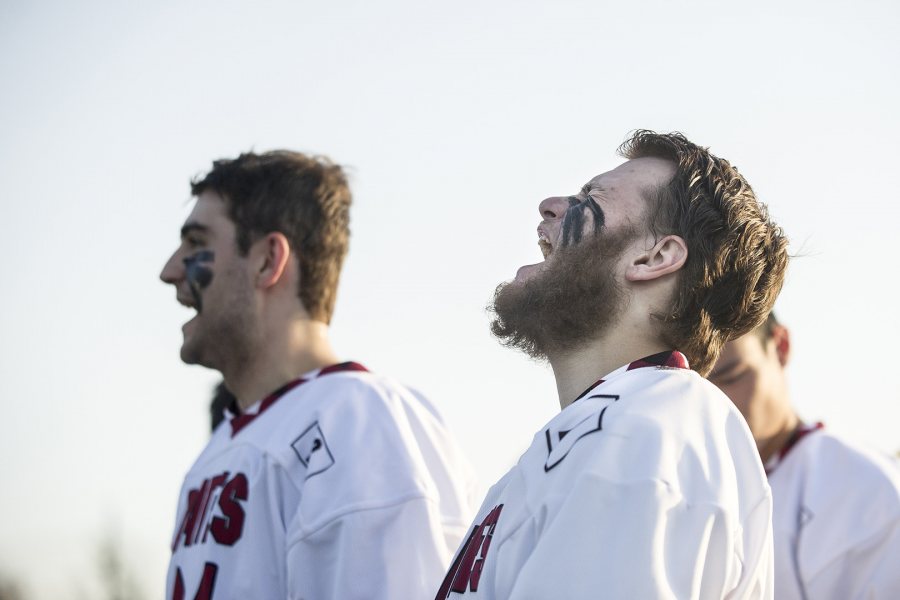 ---
7 p.m. — Soccer Singer
Luke McNabb '16 of Glastonbury, Conn., a member of the varsity soccer team and the Crosstones a cappella group, sings the national anthem from the press box. (Jay Burns/Bates College)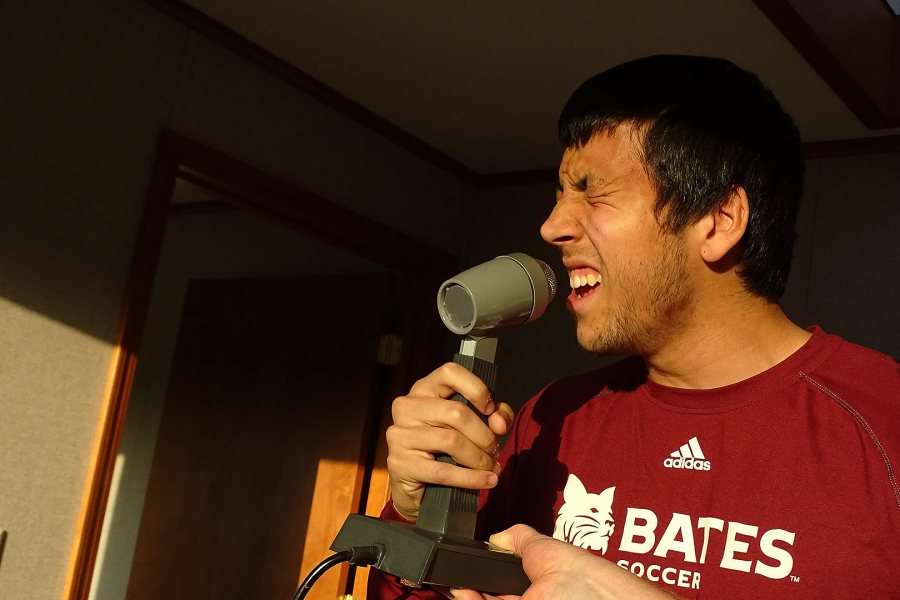 ---
7:01 p.m. — Bates Nation Casts Its Vote
Anthem done, the Bates student section is ready to rock. (Josh Kuckens/Bates College)

---
7:13 p.m. — Heads Above the Rest
Hoisting cardboard cutouts high, fans show some love for Jake Walsh '17 (left) and Charlie Fay '17. (Phyllis Graber Jensen/Bates College)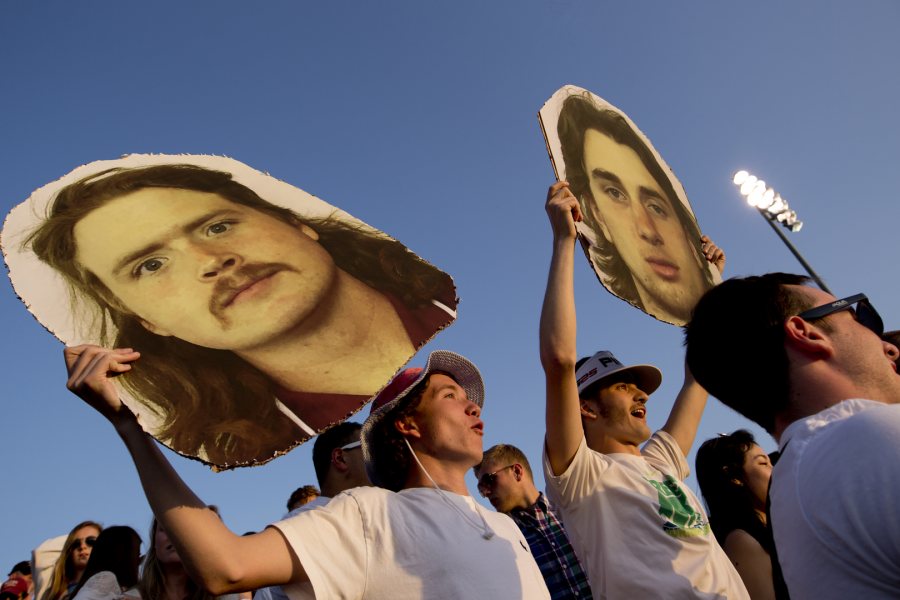 ---
7:20 p.m. — Down But Not Out
First quarter was all Keene State, who jumped out to a 6-2 lead. Bates was unfazed, head coach Peter Lasagna told the Sun Journal afterward, because his players know that "hey, they're going to have runs, they're a good team, it's the NCAA playoffs. But we're going to have runs, too.'" (Josh Kuckens/Bates College)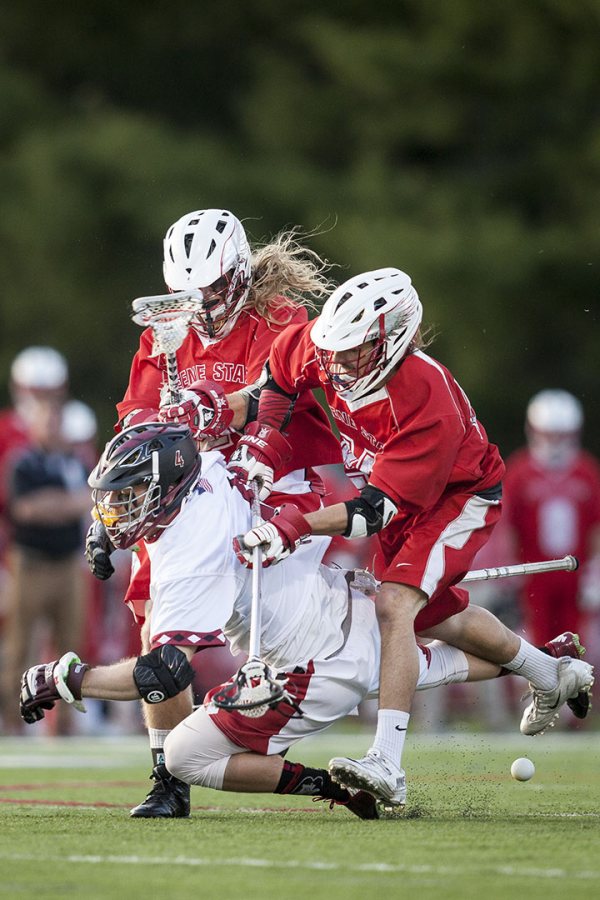 ---
7:21 p.m. — Rising to the Challenge
Charlie Fay '17 (left) of Falmouth, Maine, and Jake Walsh '17 of Baltimore celebrate a goal. (Josh Kuckens/Bates College)

---
7:43 p.m. — Watch Party
The livestream gave Bates fans everywhere a chance to view the action and share the pride on social media.
@BatesSports streaming live from my desk in sunny San Francisco! #GoBates #lacrosse

— Julia Winder (@juliawinder) May 6, 2015
---
7:45 p.m. — From One Party to the Next
After attending the annual Honors Reception and Banquet to celebrate seniors who completed honors theses, President Clayton Spencer arrives to the euphoria of the student section. (Phyllis Graber Jensen/Bates College)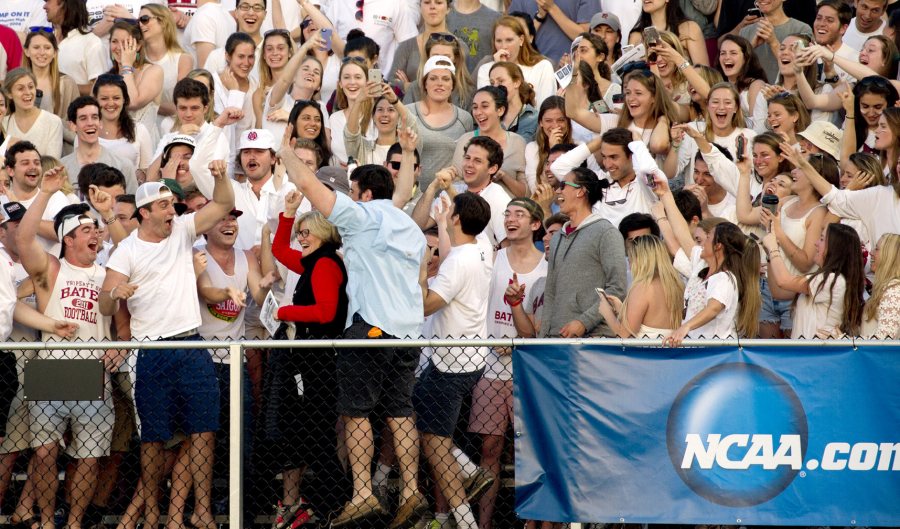 ---
7:51 p.m. — Sundown as the Action Picks Up
As the sun sets over Bates with 59 seconds left in the half, the score is tied, 7-7. (Jay Burns/Bates College)

---
8:48 p.m. — Pack Mentality
With only three goals on the year, Reed Lewallen '15 of Portland, Ore., is left alone after he passes to playmaker Charlie Hildebrand '16 of Berwyn, Pa. As Keene State moves to cover Bates' top scorers, Hildebrand feeds Lewallen, and suddenly it's 13-10 as Bates begins to pull away. "We have more than one guy you have to cover," Lasagna said.
---
8:57 p.m. — Rubber Meets the Road
Conor Henrie '15 of Lexington, Mass., kicks up some of the FieldTurf's cryogenic rubber as he take aim on the Keene State goal. (Josh Kuckens/Bates College)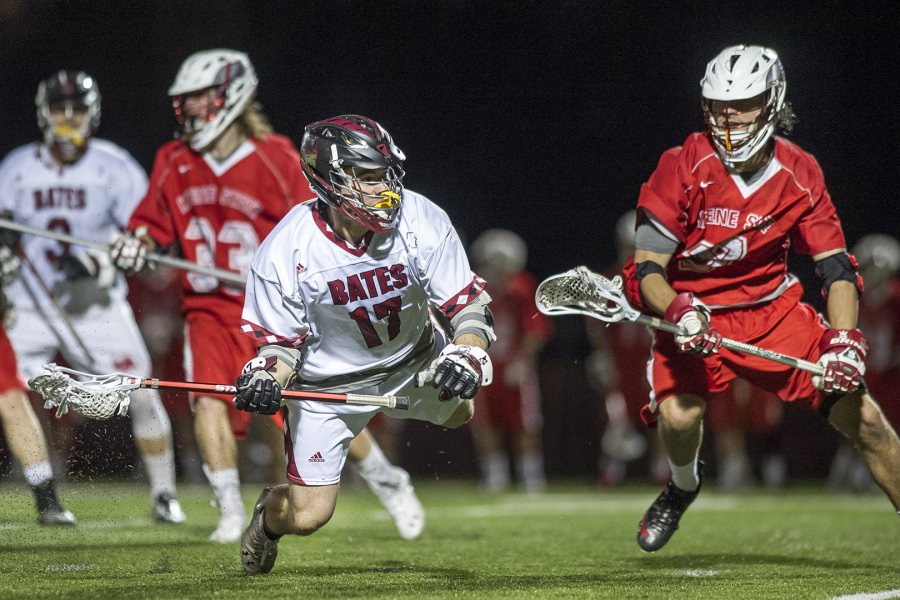 ---
9:09 p.m. — Victory
"Fight On for Bates" was written for football but apt for lax: "Down the field the Garnet is marching piling up the score. So fight for Bates and glory, give us more, more, more!"
---
9:13 p.m. — Mutual Admiration
Appreciation goes both ways as Bates players head off the field after a big night. (Josh Kuckens/Bates College)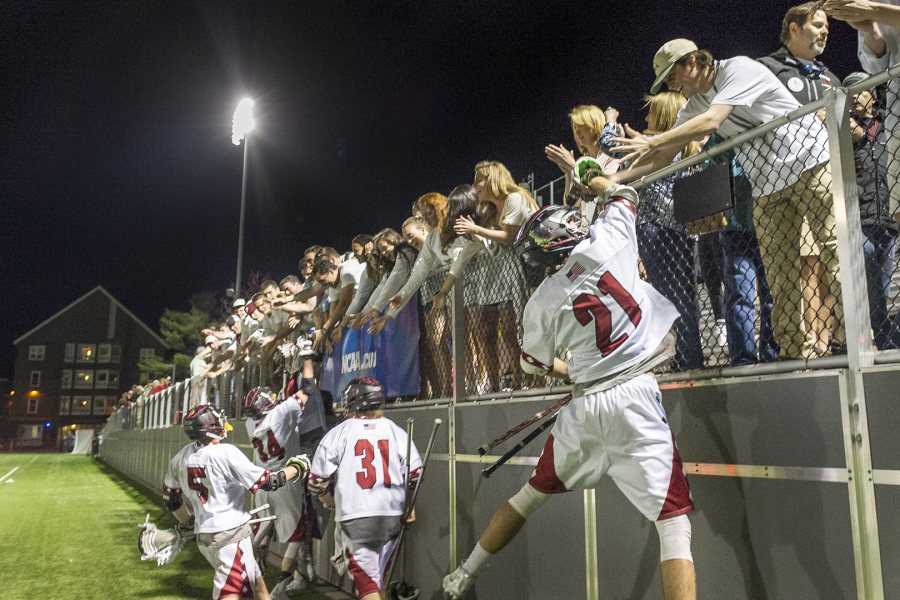 View Comments