William 'Chick' Leahey '52, revered Bates baseball coach and mentor, dies at age 90
William J. "Chick" Leahey Jr. '52, head coach of Bates baseball for 36 years and a revered mentor who paid forward his own life lessons to his players, died on March 26, 2016, at age 90.
Appointed to the Bates faculty in December 1955 as an instructor in physical education and baseball coach, Chick was also a longtime assistant football coach and coach of junior varsity basketball. He retired in 1990 as professor emeritus of physical education.

More about Chick Leahey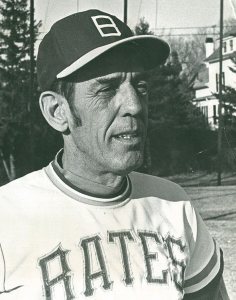 Funeral and visitation information for Chick Leahey '52; 11 things you might not have known about Leahey; the citation upon his induction to the Bates Scholar-Athlete Society; and his Alumni Association award for "extraordinary service" to Bates.
In her announcement to the campus community today, President Clayton Spencer said that as a mentor and coach, Leahey "personified qualities that collectively describe the best of his generation, in his record of service and loyalty and how he paid forward his own lessons to benefit the lives of his students."
"I've modeled everything he taught me."
"On the field, he taught me the importance of hard work and commitment. He disciplined me when I got out of line and praised me when I succeeded," said Jim Sylvia '84 of Newton, Mass., in 2014.
"As I've moved on to coach my own son and dozens of youth baseball teams over the last 10 years, I've modeled everything he taught me."
"He taught us to compete fiercely but fairly," said Thom Freeman '63 of Wrentham, Mass., an All-America pitcher for Leahey. "At no other time did I learn more about baseball and how to conduct myself on the field and as a person in general than when I played under his guidance."
A native of Lewiston, Leahey was the son of an Irish American father who worked in the Lewiston Bleachery and Dye Works and a mother of French Canadian heritage.
A three-sport star at Lewiston High School, he captained the football and baseball squads to state championships.
During World War II, he served with the U.S. Marines in the Pacific, then earned a Bates degree in economics and a master's degree in physical education from Columbia University.
At Bates, he coached his baseball teams to 300 wins, including the 1976 ECAC title among other post-season appearances, and his 1984 team was the NCAA Division III leader in batting average and runs per game.
In 1986, as president of the New England Collegiate Baseball Coaches Association, he issued a directive to regional coaches to ban smokeless tobacco by players and coaches.
He was a member of the Auburn-Lewiston Sports Hall of Fame and the Maine Baseball Hall of Fame. In 1990 the college's baseball field was named in his honor and in 2014, his baseball jersey number 11 became the first Bates baseball number to be retired.
He was inducted into the Bates Scholar-Athlete Society in 2011 for upholding "lifelong values of sportsmanship and competition" and for "lifelong commitment to the development of scholar-athletes."
Though his number was retired, Leahey never wore it as a Bobcat; having played professional baseball in the New York Yankees farm system right after his wartime service, he was ineligible to play college ball.
But that didn't keep him from playing baseball, and he played four seasons as a player-coach for the legendary Auburn Asas at the beginning of the golden age of Maine semi-pro baseball.
In that era, the Asas (pronounced "Aces") would easily draw several thousand fans to games "under the bulbs" at Pettengill Park, and Leahey led the team to league titles in 1951 and 1952.
Survivors include his wife, Ruth Leahey, of Lewiston; children Matthew Leahey, Barbara Leahey Sullivan '88, Mark Leahey '86, and Ann Marie Leahey; and their families.
Visiting hours will be 2–4 p.m. and 7–9 p.m. Friday, April 1, at Pinette Dillingham & Lynch Funeral Home, 305 Plourde Parkway, Lewiston, ME 04240.
A Mass of Christian Burial will take place at 11 a.m. Saturday, April 2, at Holy Family Church at 607 Sabattus St., Lewiston, followed by military honors at Mount Hope Cemetery and a reception from 1 to 2:30 p.m. in Perry Atrium in Pettengill Hall.