Bates in the News: Oct. 14, 2016
In 1901, Buffalo played host to fairgoers, stunts, and a presidential assassination — Christian Science Monitor
During the 1901 Pan-American Exhibition in Buffalo, anarchist Leon Czolgosz assasinated President McKinley.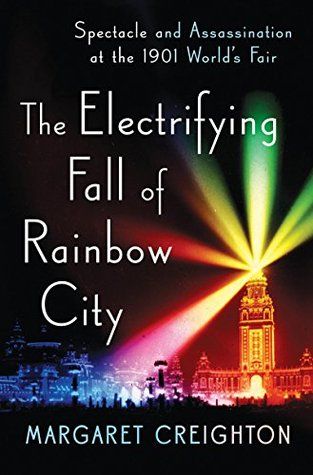 Professor of History Margaret Creighton grew up in Buffalo, yet "knew little about the exposition next door," writes Christian Science Monitor staff writer Randy Dotinga. "No wonder. Almost all of the fair's buildings have vanished, replaced by streets and elegant homes."
Creighton fills the gap with her new book The Electrifying Fall of Rainbow City: Spectacle and Assassination at the 1901 World's Fair.

She came up with the book idea after her students read Devil in the White City, about the 1893 Chicago World's Fair, and asked her about other such fairs.
"Creighton's curiosity about Buffalo's past inspired her to dig into the fair and the epic tragedy that defined it," Dotinga writes.
Creighton says that she soon learned "that an entire world surrounded this assassination, very rich and compelling and full of eccentric characters."
---
Students and professors dig in deep for lessons on climate change — Portland Press Herald
The primary function of the Bates–Morse Mountain Conversation Area, writes Portland Press Herald staff writer Mary Pols, is "to serve as a research and educational laboratory for both Bates students and professors."
Case in point is Cailene Gunn '16, whose research experiences at BMMCA with Professor of Geology Beverly Johnson led to Gunn's job at the Pacific Northwest National Laboratory, one of the U.S. Department of Energy's national labs.
Pols explains that Johnson is an expert on how coastal ecosystems capture carbon emissions. These so-called blue carbon ecosystems "sequester roughly 15 times more carbon per unit area than the upland forests."
Johnson is part of the international Blue Carbon Scientific Working Group, policy and scientific experts who come from universities, governments, and NGOs worldwide.
---
Our magnetic 5-year-old is not a threat to anyone — Washington Post
Over the summer, Vanessa Kalter-Long Ford '02 and her husband Ron Ford shared their experiences, including a first-person essay in the Washington Post, as parents of a young transgender child.
They did so after a May 2016 federal directive to public schools about accommodations for transgender students sparked backlash in some states.

"The national conversation about transgender people — about our daughter, Ellie — isn't truly about bathrooms," Vanessa and Ron write. "It is about discrimination."
They write:
Our daughter, like thousands of transgender and gender non-conforming children, does not want special treatment. She wants to make friends, to learn, to participate in sports, to go trick-or-treating on Halloween and wear pretty dresses on her birthday.
 And, yes, she wants use the bathroom that matches her gender identity when she needs to pee. Not because that's special treatment, but because that's the same treatment everyone else receives. Our daughter wants to be included, just like everyone else.
---
10 questions with Val Smith, president of Swarthmore College — NBC10 Philadelphia
In a Q&A with NBC10 of Philadelphia, Val Smith '75, now into her second year as president of Swarthmore College, was asked about the qualities of a good listener.
Good listening, she said, furthers the goal of making "every effort to respect the opinions and ideas of our interlocutors, even if we think we have nothing in common with them."
There are time, she said candidly, "when I think I don't want to listen to what other people have to say." That's the exact moment to "remind myself that however right I may think I am about a particular issue, there was usually always something I can learn if I let myself listen to what other people have to say."
The result? "One's deeply held opinion might change or be modified or gain nuance if one is able to enter into conversation with other people."
---
Her poetry is much like the author herself: passionate and purposeful — Take Magazine

In a Q&A with Take Magazine, Crystal Williams talks about her work as the college's chief diversity officer and associate vice president for strategic initiatives, then deftly switches to the meaning of a line of her poetry (she's also a widely published poet and professor of English).
The line is, "The heart is a beautiful monster; it nearly always survives its fate."
Williams tells writer Alexa Harrison that "our hearts, or spirits, are our most robust qualities. They are from whence emerge our kindnesses and our travesties. So they can be both monstrous and beautiful and are often both — at once. This duality is what makes human beings, at least to me, so very interesting and compelling."
---
In 2016, most students don't have memories of 9/11 — Portland Press Herald
A Press Herald story published on the 15th anniversary of the Sept. 11 attacks quotes Associate Professor of English Eden Osucha, who has taught the course "Narrating 9/11 in Literature and Film."
The youngest Bates students, barely 3 years old when 9/11 took place, "don't have personal baggage" associated with the attacks, she tells reporter Edward Murphy.
But they do carry "cultural baggage": the burden of comprehending all the stories of what happened that day.
At the same time, Murphy writes, "many don't have a full understanding of the cultural landscape of America prior to the attacks because, understandably, the events of that day overshadowed the years that immediately preceded them."
View Comments