On the fourth floor of Roger Williams Hall, Professor of French and Francophone Studies Kirk Read has a huge bottle of Perrier-Jouët champagne sitting on a shelf. But he won't ever drink from the bottle. For one thing, it's empty and always has been.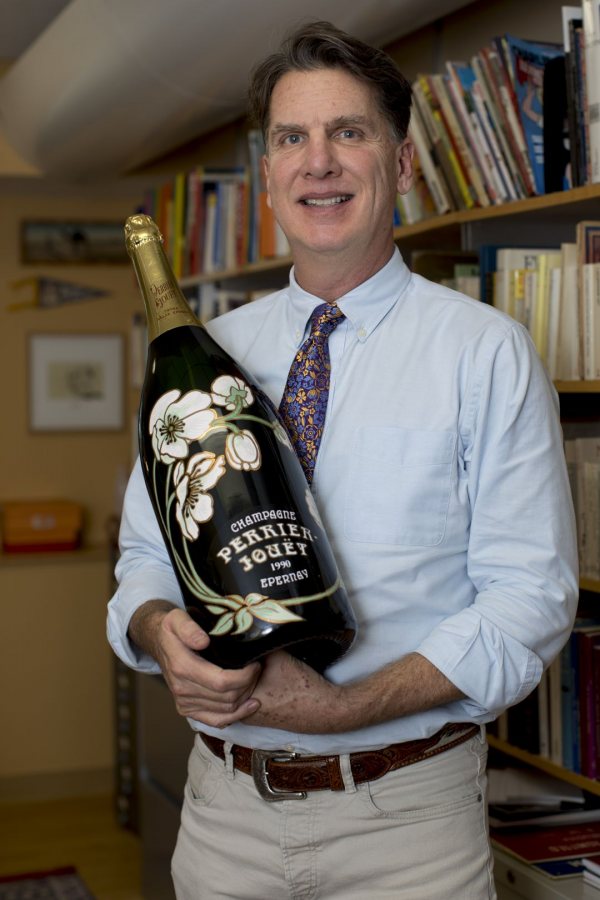 Read purchased the display bottle in 2005 after the closure of one of his favorite haunts, Austin's Fine Wine and Foods on Main Street in Auburn. Located in a former bank, Austin's offered sandwiches, cheeses, and meats, along with a wide selection of wines. Customers ate in cozy wood-paneled rooms; in the bank vault, owner Austin "Audie" Conrad stored champagne and more-expensive wines.
As proprietor, Conrad was "super friendly and a great local citizen," says Read. So when Conrad sold his store memorabilia, Read grabbed the large bottle (a bottle size known as a "methuselah") and a smaller bottle. "Something I could take away to remember him by," he says. "A sentimental attachment."
Not that the bottles don't serve a practical purpose. Combining Read's interests in language, culture, and theater, his course in oral French asks students to act out the adventures of a fictional North African heroine. It's a long-running set of skits developed with colleagues and students during Read's 27-year career at Bates.
The two bottles are humorous props for Read's students, especially since several recurring characters have been known to display poor choices in alcohol consumption — they're "alcohol-dependent," says Read. "So it can happen that we pull out the Audie champagne bottle just for a little local color."
View Comments