Bates experiments with new bio-fuel technology to heat campus — WMTW-TV
WMTW-TV reporter Lauren Bradley visited Bates to look at the college's use of an innovative fuel oil that's heating much of the campus.
"From a sustainability perspective, this fuel has been absolutely fantastic," said Tom Twist, the college's sustainability manager.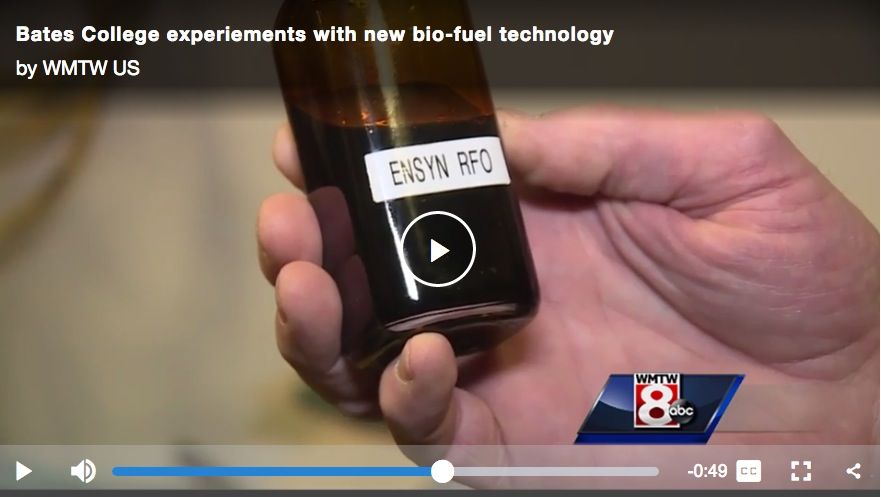 It's known as Renewable Fuel Oil, and it's used by no other college in the nation. RFO is made by vaporizing wood feedstock, such as sawdust, at high temperatures. The vapor is then re-condensed into a fuel oil.
Burning RFO makes sustainable and financial sense. When it comes to pursuing sustainability goals, including the reduction of the college's carbon footprint, "we can't just follow every lark," said Geoffrey Swift, vice president for finance and administration and treasurer. "We want to make sure that we're doing something that is both environmentally sustainable and good for the organization on a long-term basis,"
Classmates publish one of the most-discussed research articles of 2017
Research published by classmates Chris Danforth '01 and Andrew Reece '01 was the 17th most-discussed piece of research worldwide in 2017.
The ranking comes from Altmetric, which tracked more than 18.5 million mentions of 2.2 million different pieces of research through Nov. 15.
Exploring the compelling intersection of social media and mental health, Danforth and Reece's paper, "Instagram Photos Reveal Predictive Markers of Depression," was published Aug. 8 in EPJ Data Science.
Their analysis of thousands of Instagram photos at the pixel level suggests that "depressed individuals in our sample tended to post photos that were, on average, bluer, darker, and grayer than those posted by healthy individuals," wrote Danforth and Reece in a blog post accompanying the study.
Danforth is the Flint Professor of Mathematical, Natural, and Technical Sciences at the University of Vermont who co-directs the university's Computational Story Lab. For Reece, a behavioral data scientist at BetterUp Inc., the paper was his Harvard doctoral dissertation.
Bird's-eye views plus a wonderfully imagined, gorgeously illustrated ode — USA Today
A new book by acclaimed children's book author-illustrator Matt Tavares '97 has made holiday book lists in USA Today,The Washington Post, and The New York Times, among others. 
Red and Lulu tells the story of two cardinals whose Christmastime journey takes them from their suburban home to the heart of Manhattan.
"With its bird's-eye views, this wonderfully imagined, gorgeously illustrated ode to the world-famous Rockefeller Center Christmas tree will have young travelers begging Mom and Dad for a trip to the Big Apple," said USA Today.
The New York Times says that Red & Lulu "lets the holiday note waft lightly, bringing equal cheer to the celebration of pair-bonding and New York City."
Bates prepares students for work that fits their skills and interests — MaineBiz
A major feature in MaineBiz praised the college's Purposeful Work initiative for "helping students discover how 'work' — the activity that will fill most of their adult hours — goes far beyond simply collecting a paycheck."
Mainebiz reporter James McCarthy explained how the program weaves questions about work, identity, and purpose into the college's curriculum and co-curricular programs.
Funded internships in Maine and worldwide are a strong part of program's fabric. The story pointed to support from the Portland-based Libra Foundation, whose $250,000 grant to the Bates Campaign will fund more than a dozen annual internships in Maine alone in the coming years.
Purposeful Work's dual focus on life at and after Bates is a "huge selling point" for donors, said President Clayton Spencer.  The program is "looking at the bridge between college and the rest of each student's life. So there is a very natural interest in the program."
Poor Americans "tend to disassociate personal trajectories from their love of country" — Maine Public Broadcasting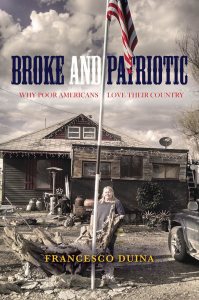 Speaking with the Maine Public Broadcasting radio call-in show Maine Calling, Professor of Sociology Francesco Duina told host Jennifer Rooks that poor Americans believe in upward social mobility, statistics to the contrary notwithstanding.
Data suggest that the U.S. "really has lower social mobility than other developed countries," Rooks pointed out. She asked Duina, who is the author of Broke and Patriotic: Why Poor Americans Love Their Country, "Do the people you interviewed not feel this?"
"They didn't," replied Duina. "They had a tendency to disassociate personal trajectories from their love of country."
And while Duina's interviewees were critical of the government, they "were very, very protective of the nation, of the social contract."
How to give feedback that people can actually use — Harvard Business Review
Writing for Harvard Business Review, Jennifer Guckel Porter '88 explains how to give feedback that "helps someone learn and improve."
The key is to give "strategic developmental feedback," says Porter, who is managing partner of The Boda Group, a leadership and team development firm.
View Comments