"I think I'm on the phone with someone's mom," said a wide-eyed Jaimin Keliihoomalu '21 of Kapolei, Hawaii.
I had been arranging items on a low wooden table to photograph for this edition of Library Lost and Found. Nearby, studying with a friend, Keliihoomalu was taking a look at a pair of lost (but soon to be found) Bluetooth earbuds.
"How do you work these?" he asked before fitting them in his ears and powering them up.
It was at that moment that Keliihoomalu apparently connected to someone's phone and, perhaps, to someone's mom. So Keliihoomalu quickly took the buds out, a bit abashed. But still very curious, he put them in again and powered them up again. And again he was in conversation with someone. "She asked me if I disinfected them," he said.
In search of the other half of the paired device, he and I headed toward the nearby forest of study carrels on the first floor of Ladd. Suddenly, a student stood up, looking at his phone, clearly bewildered. He saw Keliihoomalu; they gestured a greeting to one another as he walked over.
It was Vidyut Yadav '20 of Chagrin Falls, Ohio, and yes, he'd been on the phone with his mom, Anuradha, when Keliihoomalu inadvertently cut in to the call via Bluetooth. "I think these are yours," Keliihoomal said. "Sorry, but I put them in my ears."
"It's all good. Thanks, man," said Yadav, who'd lost the ear buds a few days before and had tried to find them, not yet realizing there was a Lost and Found.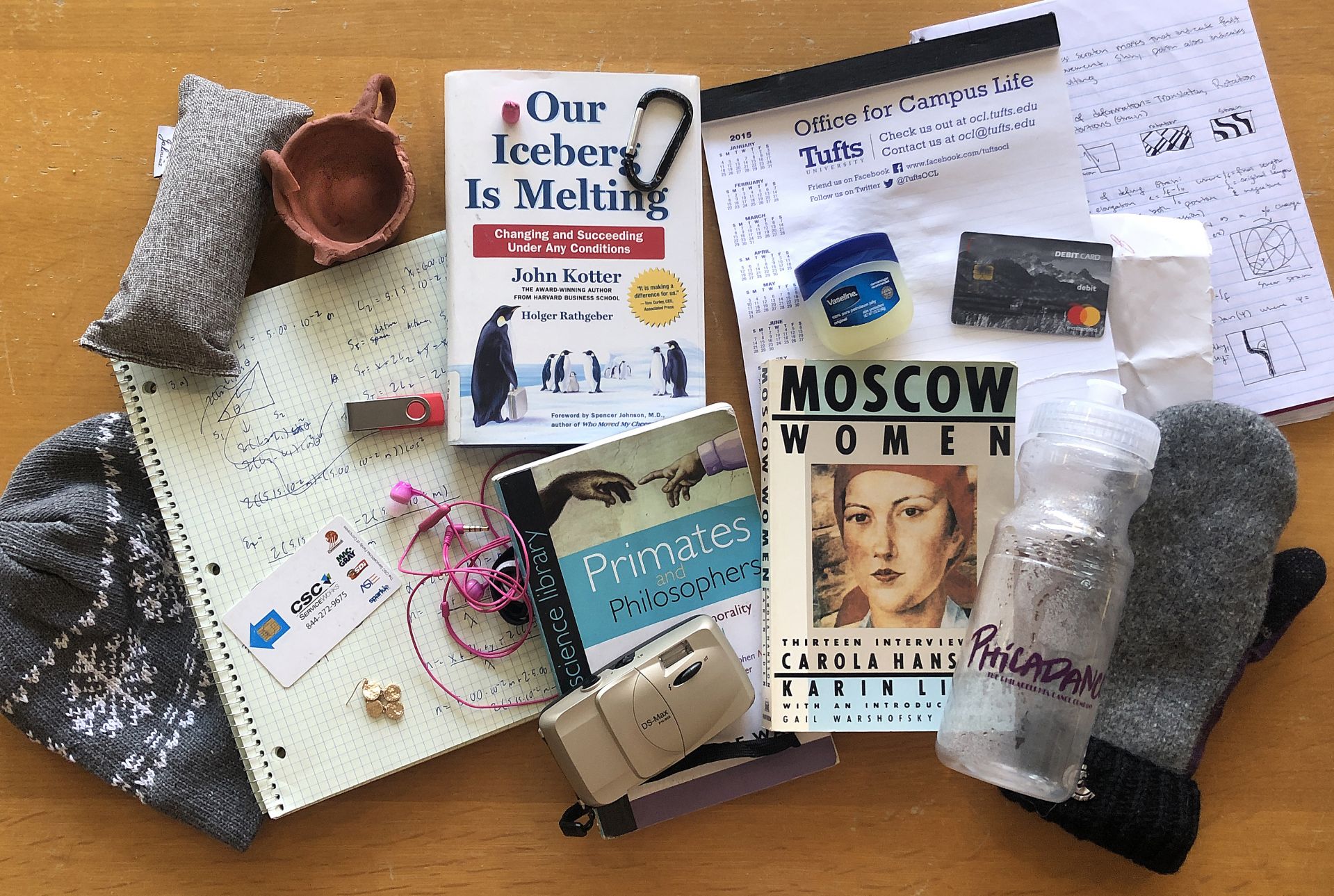 The earbuds no longer lost, the once-18 items became these 17:
A Bates-branded carabiner
USB thumb drive
Knit cap by Greenbrier International, a brand of Dollar Tree
Single earring with golden discs
CSC Serviceworks money card for use in campus washers and dryers
Jalousie brand air-purifying bag (useful for deodorizing shoes) filled with bamboo charcoal
Hand-made clay mug with one handle broken off
Book: Our Iceberg Is Melting: Changing and Succeeding Under Any Conditions, by John Kotter and Holger Rathgeber, which shares an iconic fable to show how an organization can do well in times of rapid change
Book: Primates and Philosophers: How Morality Evolved, by Frans de Waal, which explores the biological foundations of one of humanity's most valued traits: morality
DS-Max PN-955 35mm film camera
Water bottle from Philadanco, the Philadelphia Dance Co.
Two course notebooks, one for a math course and one for a geology course, the latter with hand-drawn illustrations of types of rock deformation: translation, rotation, and strain
Pink wired earbuds
Pink pencil eraser
Single glove, no brand
Vaseline petroleum jelly
Mastercard debit card
Notebook from the Tufts Office for Campus Life
Note: Valuable lost items like credit cards are kept in a secure area behind the circulation desk.