Bates published this photo in the Freshman Catalog of December 1941 to publicize "up-to-the-minute transportation available to Bates students."
The airport is either Portland or Auburn/Lewiston, while the identities of the Bates men boarding the plane are unknown. (The pencil notation on the Kodachrome slide says, "Frosh boarding plane," and a small Bates pennant can be seen on the luggage of the student at right.)
With the U.S. entering World War II the very month the photo was published, commercial air service nationally was mostly grounded.
With the outbreak of war, the airline pictured here, Boston-based Northeast Airlines, used its prewar experience flying from Boston to Maine and Vermont to forge a regular military route, the first of its kind, from Presque Isle to Newfoundland, Labrador, Greenland, Iceland, and Great Britain.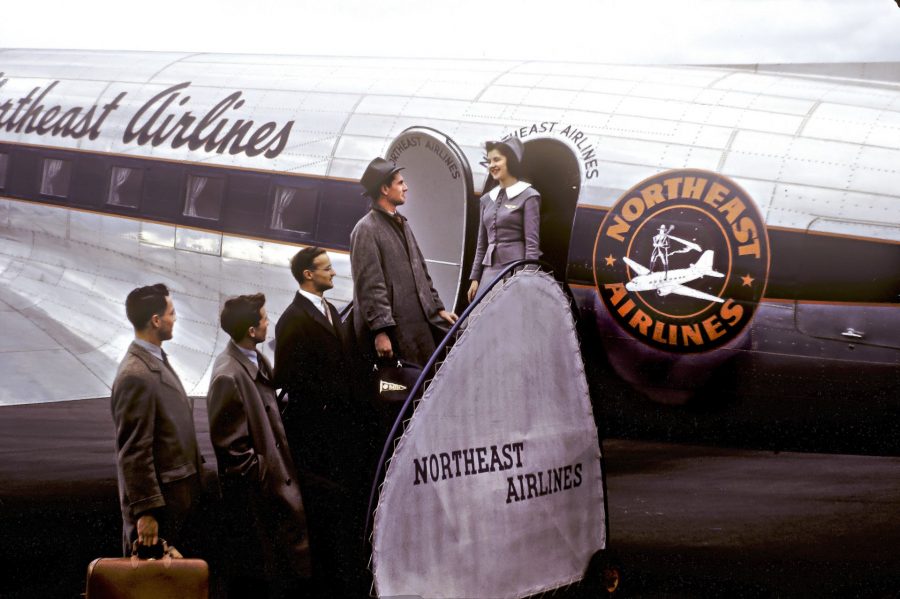 In this image, the logo on the fuselage of the famed DC-3 shows a smiling Pilgrim astride a plane, while the flight attendant, known as an air hostess back then, has a uniform displaying the distinctive white pilgrim collar. A year earlier, the airline's name had changed from Boston-Maine Airways to Northeast Airlines.
Airlines, of course, weren't the only businesses to retool for wartime. In the prewar pages of The Bates Student, a weekly ad for Chesterfield cigarettes always included a celebrity endorsement from the likes of Bette Davis.
"Chesterfields are mighty important in this man's army."
Those ads disappeared for several weeks after Pearl Harbor but reappeared by March 1942 in patriotic form. with the Chesterfield ad touting that it was paying more than $2 million per week in war taxes and that "Chesterfields are mighty important in this man's army. New recruit or old-timer…they all like the cigarette that satisfies."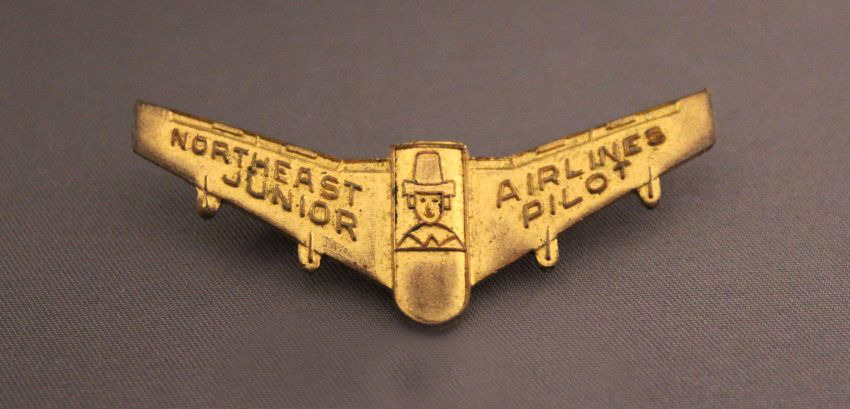 After the war, Northeast Airlines expanded its routes, flying to a number of New England cities, such as Lewiston, Bangor, and Presque Isle in Maine; Burlington and Montpelier in Vermont, and Martha's Vineyard and Nantucket in Massachusetts. The airline was acquired by and merged into Delta Air Lines in 1972.
Today, the Auburn/Lewiston Airport is a general aviation facility supporting local and regional flights, training, cargo, and corporate activity.
View Comments