It's never easy, picking a senior to speak at Commencement, a tradition started by President Clayton Spencer.
Any senior can submit a speech; from all submissions, upwards of two dozen some years, a committee of seniors, staff and faculty select several finalists to deliver their speeches in person.
And always, says Kerry O'Brien, committee member and assistant dean of the faculty, there are "many resonant, heartfelt speeches that capture the senior experience."
Commencement Day Livestream
The two 2021 Commencement ceremonies will be publicly livestreamed for all to watch:
The spring of 2021, hard on so many levels, did make the committee's choice slightly easier though.
That's because Commencement 2021, in adherence to physical distancing guidelines established for COVID-19, is happening in two parts on May 27, the first half of the class (divided by alphabet) graduating at 9 a.m. and the second at 3 p.m., opening the doors to not one Senior Speaker, but two.
By coincidence, the two speakers selected share not just their interest in the sciences (both are STEM majors) and their international status, but they are from the same country: Zimbabwe.
And both speakers, Nicole Kumbula and Munashe Machoko, will tell "compelling stories that are personal and universal, capturing the deep value of the Bates experience," says O'Brien.
Kumbula, a chemistry major, will go first, and touch on the wonder of her early days at Bates, starting with her first trip down the stairs at the Portland Jetport to see a driver there, holding a sign with her name on it and ready to bring her to Lewiston, a place she had only visited through images and imagination.
Kumbula attended the prestigious Monte Cassino Girls High School in an eastern province of Zimbabwe, almost a five-hour drive from her home in the town of Chinhoyi. At Monte Cassino, she studied mathematics, physics, and chemistry and as school progressed, began to plan a path to college in the U.S..
During an internship at the U.S. Embassy's education advising offices, one of her duties was organizing college fairs. That's where she first saw the words "Bates College," on a cap worn by Kudzaiishe Irene Mapfunde '19, a fellow Zimbabwean who was home for the summer and staffing the Bates table. "I remember she was wearing this African print, it was colorful, it was orange, but she had a Bates cap," Kumbula says.
A friend who graduated from Amherst encouraged her to look at NESCAC schools, including Bates. She looked into financial aid. "I was looking for a school that offers financial aid to international students," she says, since relatively few U.S. colleges and universities do. She was accepted to Bates, Early Decision, on Dec. 17, 2017. "So that was a good Christmas," she says.
At Bates, one of her first courses was a newly created First-Year Seminar on race, gender, and identity in STEM, taught by Aleksander Diamond-Stanic, an assistant professor of physics who was also her first-year adviser.
He made a recommendation that she considers crucial in her adaptation to life at an American college as a Black woman. She was trying to figure out how to get a bank account, a phone, even how to understand American food, but also had larger questions about America. "I was asking him all these questions," Kumbula says. "And he advised me to take a sociology or a psychology class so I can understand the social setup of the U.S."
The international community at Bates was supportive and so were the Africana club and her Africana Big Sisters and Big Brothers. She also made a best friend, Roman Hudgins '21, whose family in Winchester, Mass., has welcomed her into their home for holidays and breaks during her time at Bates (getting back to Zimbabwe, always a financial and logistical challenge, became impossible during the pandemic). "I really appreciated Roman's mom," Kumbula says.
A major theme of Kumbula's speech is gratitude, including faculty mentors, who she'll describe as "the amazing women in STEM who believed in me even in times when I did not believe in myself."
She recalls how worrying about grades was "getting in the way of actually understanding the material" and Geneviève Robert, an associate professor of earth and climate sciences, was particularly helpful. Kumbula had grown close to Robert when the two traveled to Missouri to run viscosity experiments in summer 2019.
Kumbula gives her professor "so much credit" for giving her advice about managing her classes and assignments without panicking about having a less than perfect grade at any given time. "It took a whole year of her telling me, 'It is OK Nicole, it's OK, this is what you should do.'" And it worked, Kumbula says. "Ever since I let go of that obsession over the grades, my grades started going higher."
After a long-delayed visit back to Zimbabwe after Commencement, Kumbula will return to the U.S. to begin graduate work in environmental chemistry at Texas A&M Corpus Christi, at the Harte Research Institute for Gulf of Mexico Studies. "I'm on a Ph.D. journey," she says. "I want to be an environmental chemist because I want to make sure that women and children in sub-Saharan Africa are able to have a clean and healthy environment."
Munashe Machoko, the afternoon Commencement speaker, says he didn't even know until far into the process that Kumbula was also submitting a speech. "But for me," he says. " I feel like it just worked out perfectly that we both got it."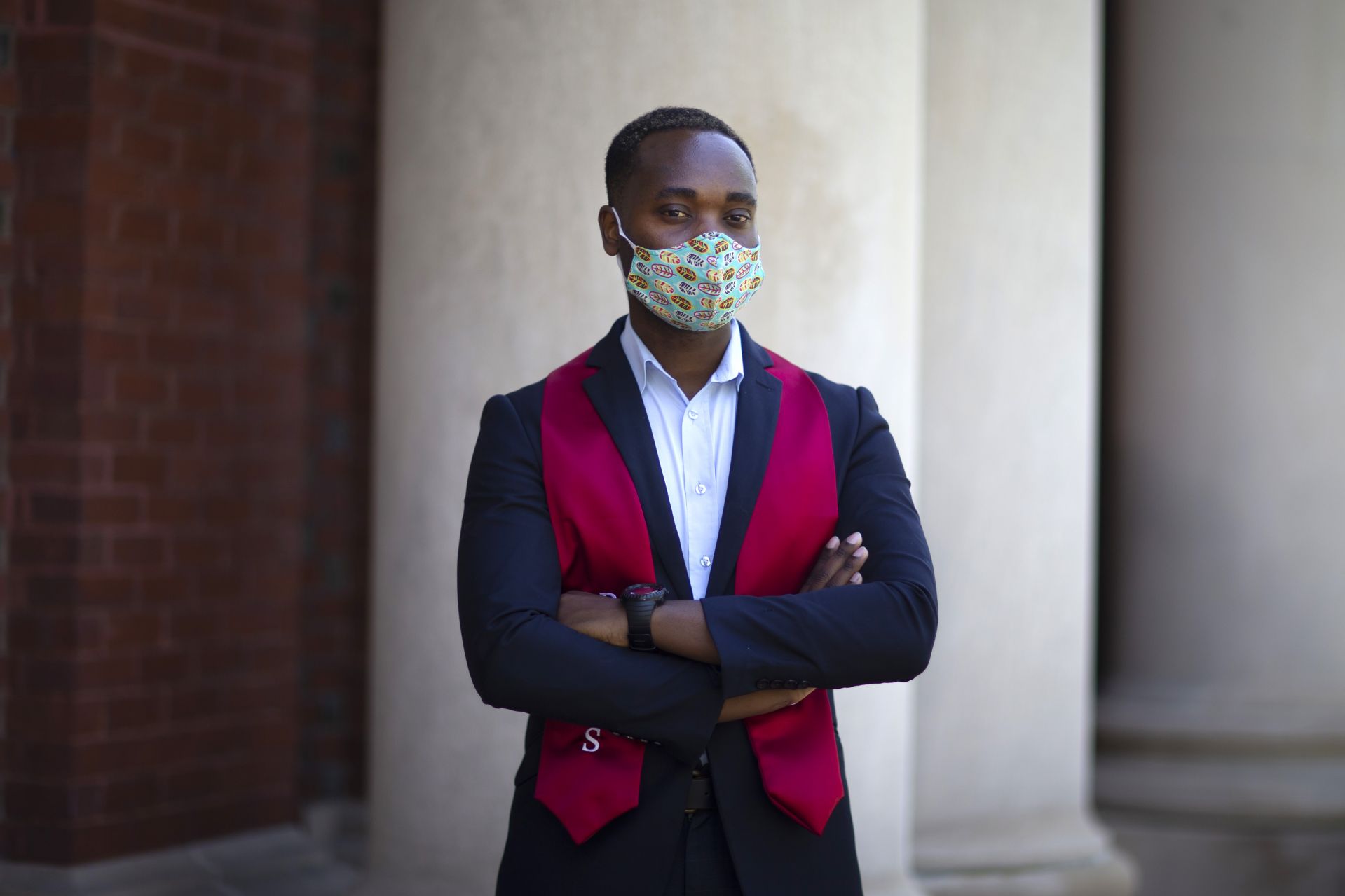 The biochemistry major, with a minor in math, is from Chitungwiza, Zimbabwe's third largest city. It's about a three-hour drive from Kumbula's hometown. They met after he saw her in the Class of 2021 Facebook group. He'd just come back from China, where he'd been on a scholarship for the International Baccalaureate high school program, so he went over to visit her at her embassy office.
His road to Bates began at an admissions event in China, where he met Senior Associate Dean of Admission and Director of International Enrollment Scott Alexander. "I talked to Scott and Bates sounded perfect," Machoko says. He was looking for a small school where he could have close relationships with professors.
But it took him a while to understand that Bates was in Maine and what that might mean for his future winters, which were chillier than he even expected, and which he'll talk about in his speech. "I knew about New York City and Chicago and D.C.," he says, laughing. "But nothing about Maine."
His summers have been packed with internships since he arrived at Bates. After first year, he did computational neuroscience work with Assistant Professor of Neuroscience Michelle Greene, an experience he found eye opening. "It was like, 'Wait a second, so we can actually use computers to address the things that we're seeing in life sciences? That is cool.' And I've just been stuck on that ever since."
He's had two internships at Massachusetts General Hospital, the second a remote gig working on a project for screening for COVID-19. "That was really cool."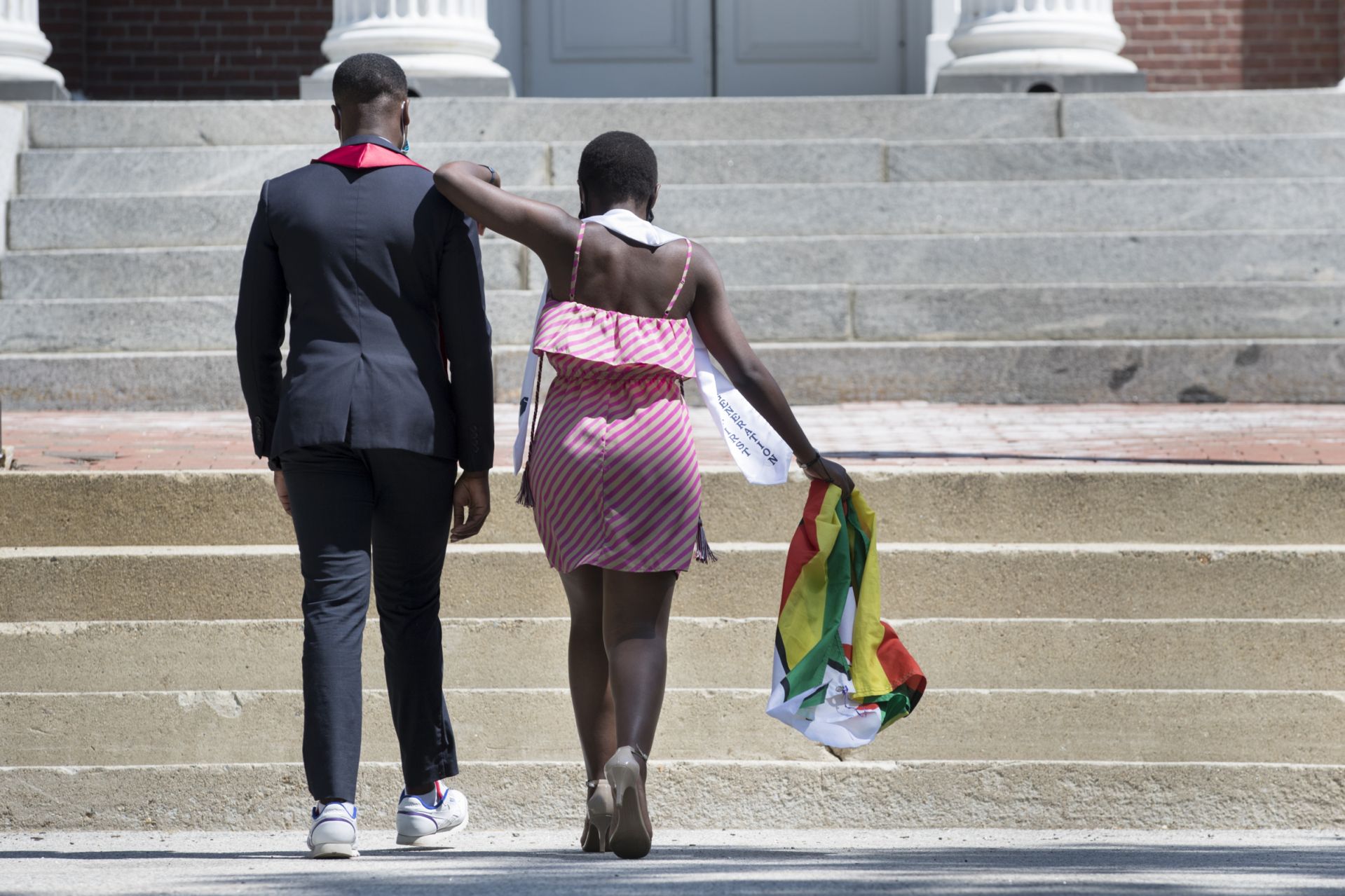 His senior thesis, which he hopes to be binding on Sunday, is a computational approach to studying the virus, "using a computer algorithm to look at this structure of the coronavirus itself and try to identify possible areas of it on which it's more realistic or more effective to develop a vaccine on.")
Mass General has extended a job offer to him and he'll start there in August, joining an interdisciplinary public health team. "I'm really grateful for the opportunity," he says, adding with a smile that he hopes to "stick around the U.S. for a little while," where opportunities for work in research labs abound. "There are very few countries that have as good funding for research."
He'll spend the summer studying for the MCATs, the grueling, day-long test for medical school, which he plans to enroll in, eventually. "I also want to volunteer and get to know the Lewiston community better before I leave for Boston in July."
And when he leaves for Boston in the summer, he'll take with him the memory of how the Bates community came together to figure out how to stay on task, and together, during the pandemic.
"To me, that's the power of a Bates education," he will say at his Commencement. "The ability to know that whatever I might be going through, no matter how unfamiliar, I will certainly figure it out, and so will each and everyone of my graduating peers here with me."
View Comments