Professor Emeritus of Biology Robert M. Chute, who served on the Bates faculty from 1962 to 1992 and as the first director of the Bates–Morse Mountain Conservation Area, died April 28, 2021, at age 95.
Below is President Clayton Spencer's statement to the Bates community.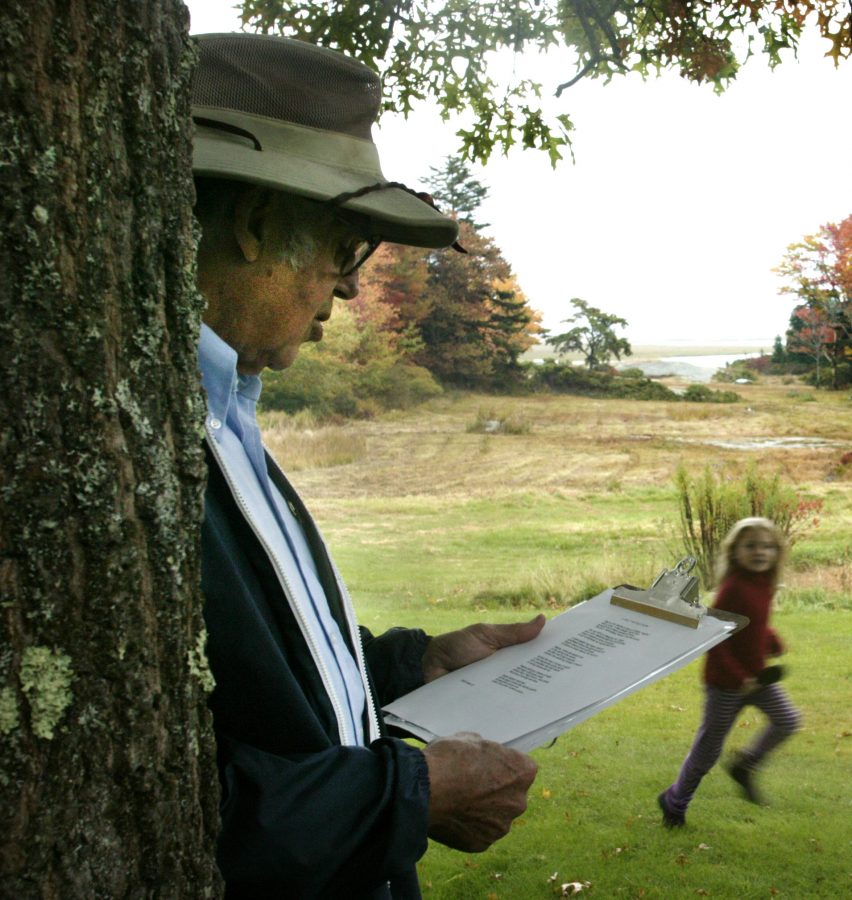 ---
Dear Members of the Bates Community,
I write with the sad news that Professor Emeritus of Biology Robert M. Chute died April 28, 2021, at age 95.
Asked whether he considered himself primarily a poet or a scientist, Bob Chute answered, "I don't see why I have to be one or the other." He was indeed both, a self-described "scientific poet" who won awards for his fiction writing, served as a Bates professor of biology for 30 years, and lent his voice and expertise to addressing important environmental and political issues.
Born in Bridgton, Maine, Bob earned a bachelor's degree from the University of Maine in 1950 and a doctorate from the Johns Hopkins University in 1953. He taught biology at Middlebury College, San Fernando Valley State College (now California State University, Northridge) and Lincoln (Pa.) University before being appointed professor of biology at Bates in 1962. He retired as professor emeritus of biology in 1992.
At Bates, he served as chair of the biology department and of the division of natural sciences and mathematics, helping to build the department and its members' capacity for doing research as well as teaching during the presidency of Thomas Hedley Reynolds. In recognition of his excellence in teaching and scholarship, he served as a Dana Professor of Biology from 1978 to 1988.
Bob was the first director of the Bates–Morse Mountain Conservation Area, serving from 1980 to 1999 and helping to establish important practices of protection and stewardship of the area.
Early in his Bates career, Bob taught courses in genetics, anatomy, and vertebrate physiology. With the emergence of the environmental movement in the 1960s, he added ecologically focused courses on the human impacts on lake and coastal ecosystems, including the first Bates course carrying the name "environmental studies," a Short Term unit in 1980 that examined topics ranging from physical limnology (the study of certain properties of freshwater bodies, such as lakes) to the "political-legal aspects of protective zoning." He was the author of Environmental Insight: Readings and Comment on Human and Nonhuman Nature (Harper & Row, 1971) and Introductory Biology (Harper & Row, 1974), later published as An Introduction to Biology.
As a creative writer, he wrote some two dozen novels and poetry collections. His poetry frequently appeared in the Beloit Poetry Journal. His poem "Heat Wave in Concord," a meditation on Thoreau's account of his "fluvial walk" on a hot summer day along the Concord River, won the journal's Chad Walsh Poetry Prize. In the 1960s, Bob and his wife, Vicki, edited The Small Pond, a literary magazine.
His poem "Sweeping the Sky" won second prize in 1996 for the annual William and Kingman Page Chapbook Award granted by Potato Eyes Foundation of Troy, Maine. His poetry series Thirteen Moons was republished in a triptych edition with translations in French, Treize Lunes, and in Passamaquoddy as 'Sanku Kisuhsok. He received a Maine state chapbook award for Samuel Sewall Sails for Home. In 2011, he was awarded the Maine Writers & Publishers Alliance Distinguished Achievement Award for "exceptional and steadfast contributions to the Maine literary arts."
Bob was active in pressing issues of the late 1900s in Maine. He actively opposed the Vietnam War, running as an anti-war write-in candidate for Congress in 1966, and worked with his wife, a veteran of the 1964 Freedom Summer voting effort in the South, to publish Plowshare, a civil rights newsletter.
Especially active as an environmentalist, he co-founded the Bridgton-based Lakes Environmental Association, which studies and protects the lakes of Maine, and was an activist president of the Maine Biologists Association, in which capacity he decried, in 1968, the indiscriminate poisoning of foxes as a means to control rabies and led a boycott of a potato-processing company that polluted an Aroostook County waterway. He was a proponent of Maine's returnable-container law, passed in 1978.
He pushed for stronger environmental regulations of Maine power companies and vigorously opposed the Maine Yankee Nuclear Power Plant. In February 1968, he testified before the U.S. Senate's Committee on Public Works — of which Sen. Edmund Muskie '36 was a member and chair of the influential Subcommittee on Air and Water Pollution — on the dangers of thermal pollution caused by the discharge of heated water by nuclear plants. He warned that "as biologists we have learned to equate environmental change with environmental damage. The interjection of a new factor by man is much more apt to be a monkey wrench than a beneficial addition."
Predeceased by his wife, Virginia (Vicki), he is survived by his children, David Chute of 68 Schellinger Road, Poland, ME 04274, and Dian Chute of Portland, Ore.; a granddaughter; and nieces and nephews, and their families.
View Comments