Did your mother ever tell you, "Wear a hat. You have a great face for hats"? Did your father ever tell you, "Make sure you wear a hat. It's cold outside."
We couldn't help but notice all the different headwear that has helped Bobcats stay warm during the recent sub-zero cold snap. ("Snap?" We're talking all of January and February thus far!) So we decided to take a closer look by asking for a few hat portraits, and asking each to share something about their hat's form and function.
Not surprisingly, the answers varied quite a bit. As a Jamaican proverb reminds us, "You can't have two faces under one hat."
Eli Kushner '24 of Philadelphia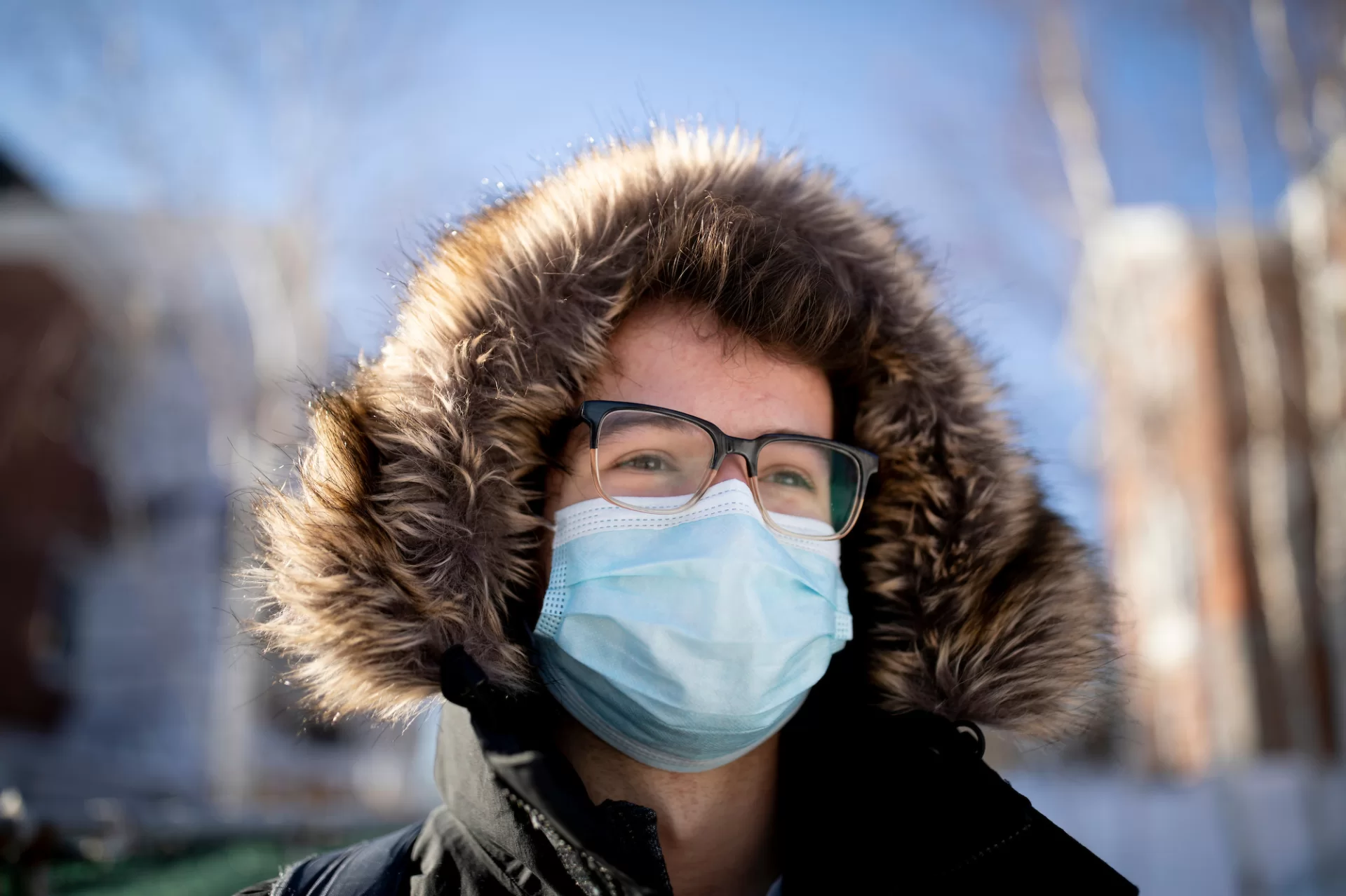 He got this jacket with a nifty faux-fur hood for his 18th birthday, "before going to Bates for the first time. It has dutifully kept me warm for two years and hopefully will for many more."
---
Hanna Matthews '24 of Westwood, Mass.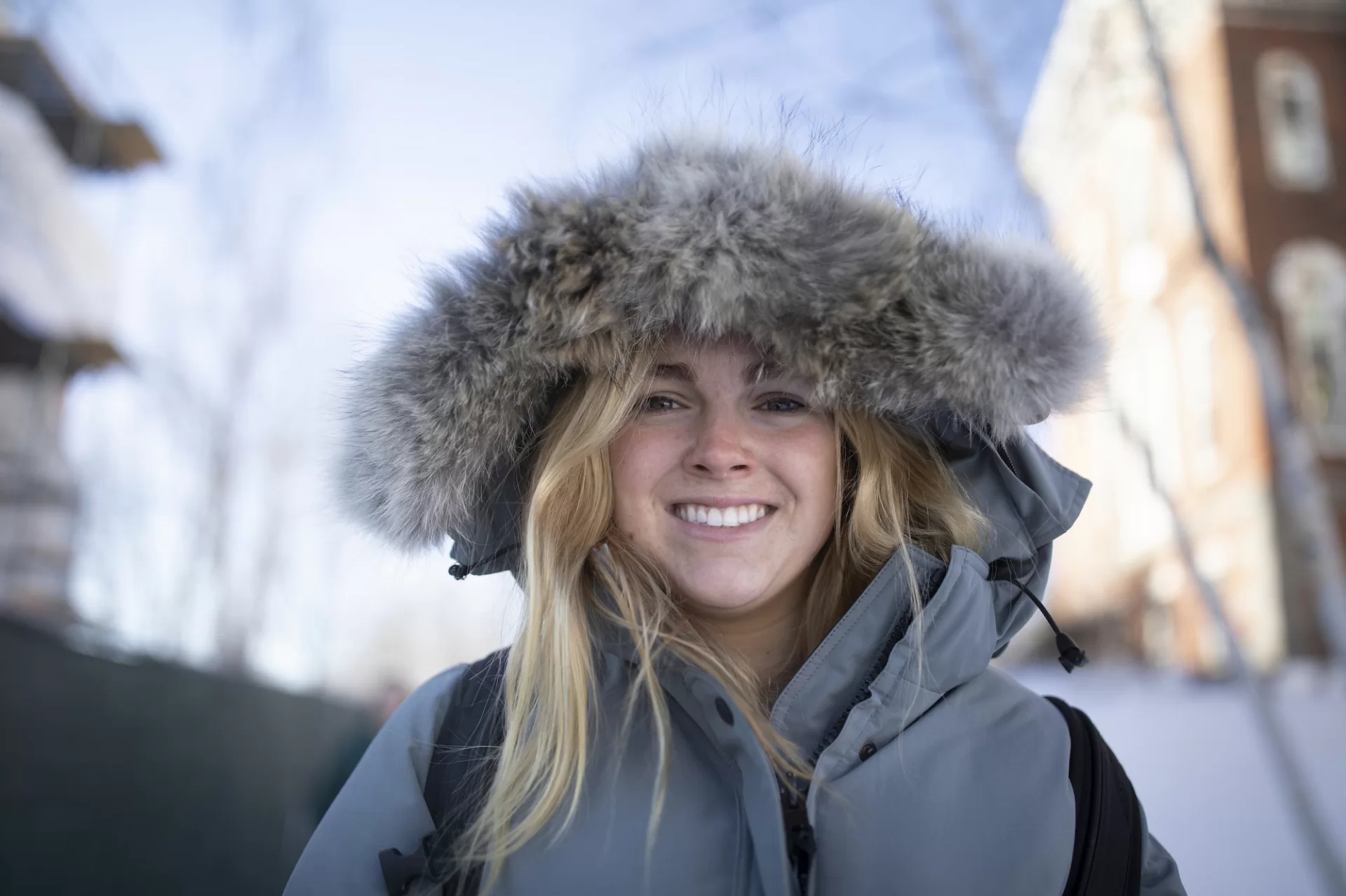 She got her hooded jacket as a Christmas gift from her family a few years ago. It's a winter staple, she says. And, when she puts it on, she thinks of home. "I am so grateful for them and all that they've given me."
"The best part about my coat hood is the warmth! It's so nice to have something to keep my head warm during these freezing months in Maine."
---
Ky Jenkins '22 of Potomac, Md.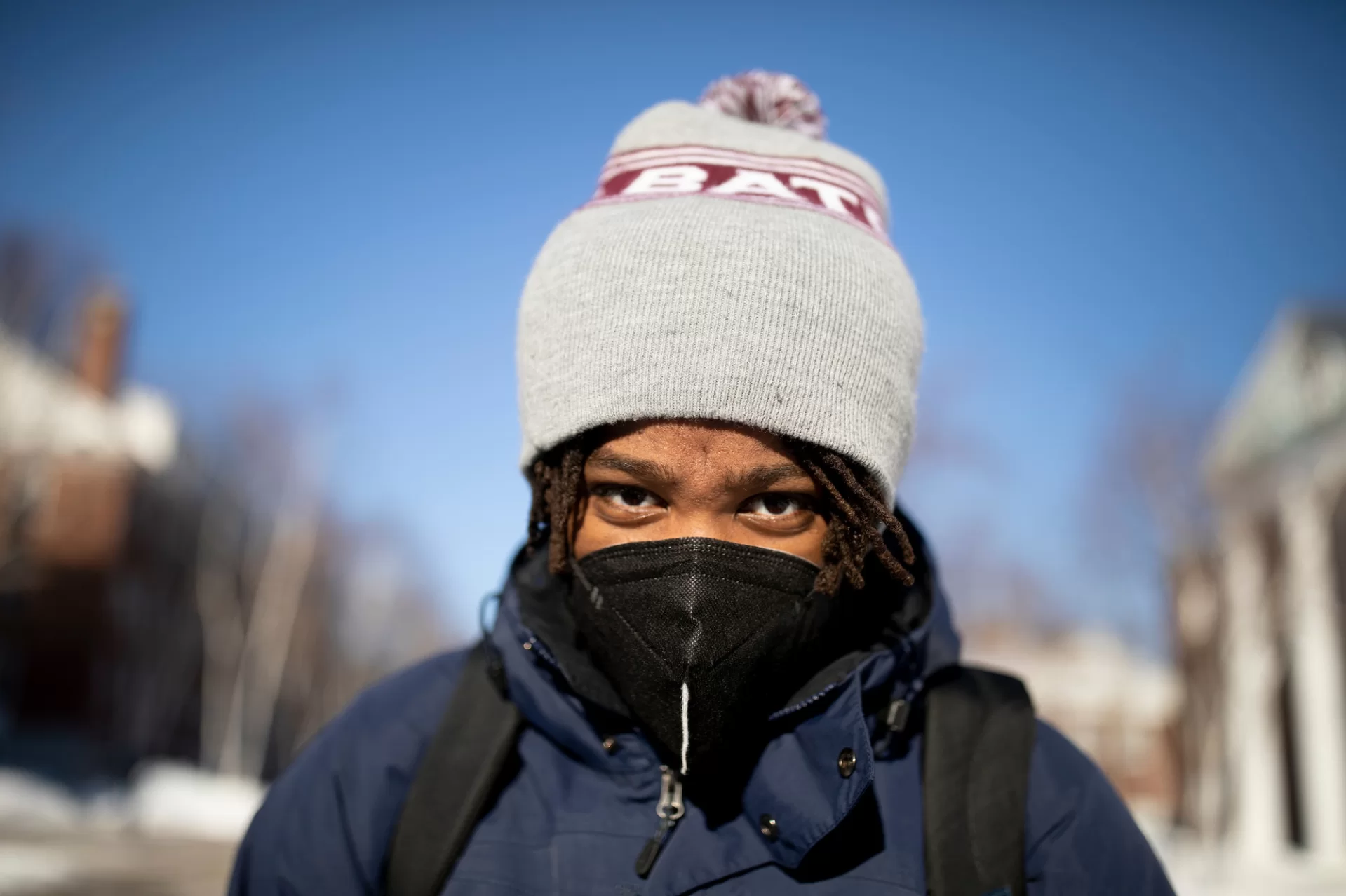 Jenkins purchased this gray Bates pom hat at the Bates Store during his first year. He appreciates the way it represents his college. "It's noticeable but not overbearing because it has relatively soft colors to it."
The hat's best feature is that it covers his dreadlocks. "There are tons of hats that just do not cover my hair all the way." An ill-fitting hat, he says, "does not look good and does not help me keep warm when it goes below zero."
Jenkins' first winter Bates hat — his first piece of Bates swag — suffered shrinkage when he put it the dryer. "I was quite bummed, being that it was one of my first pieces of Bates gear. "But I like [this one] way more than my previous one."
The lesson? "Just take care of the material things that you have. There's something nice about an item being used to its full potential and having it run its course. I can say with ease this hat has lived up to what I intended!"
---
Katherine Merisotis '23 of Coventry, Conn.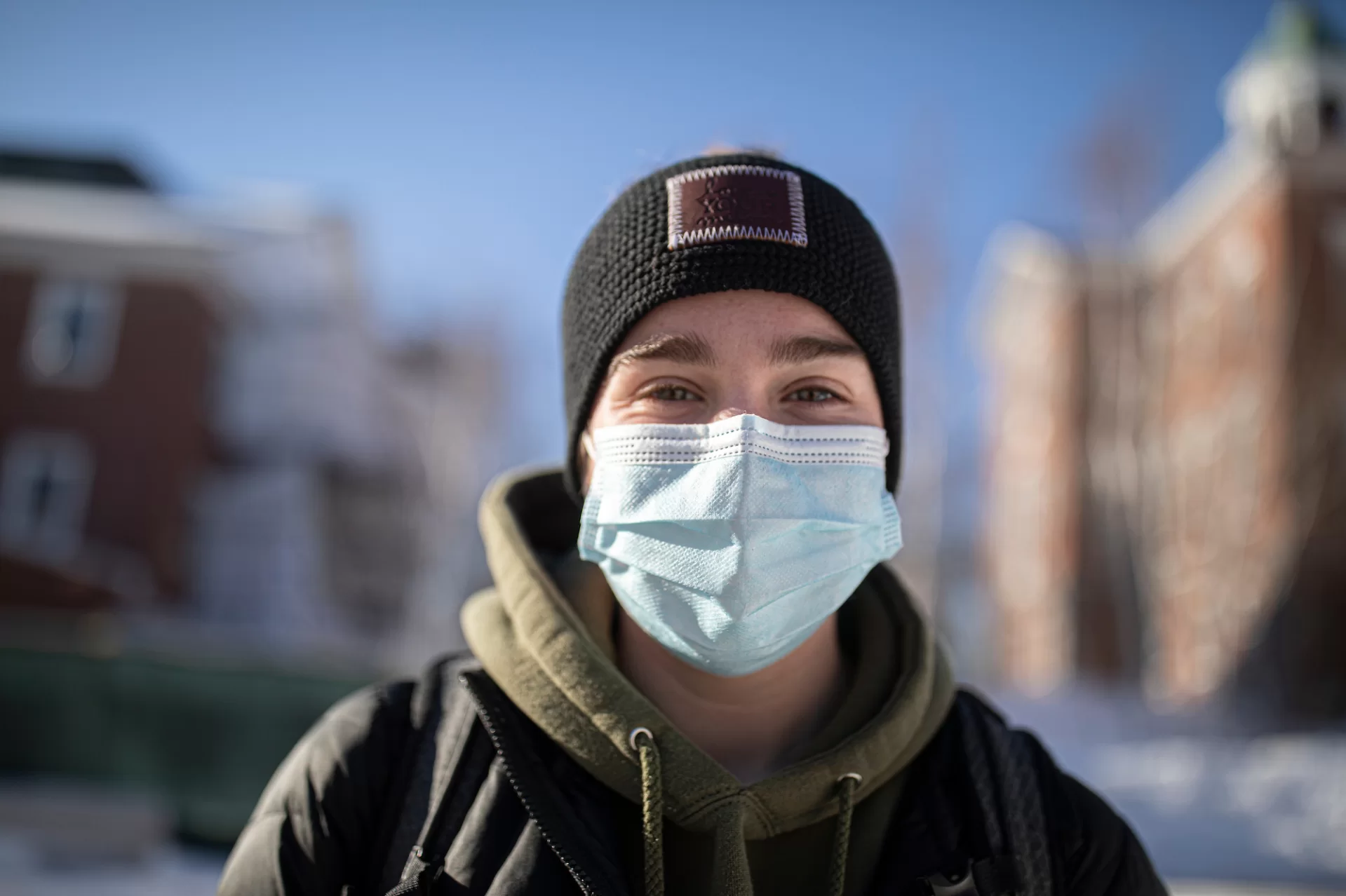 Merisotis also appreciates how her headwear, a winter headband, works with her hair. "I can wear my hair in a bun and still keep my ears warm."
It's head-friendly too, "a great alternative for people (such as myself) who look terrible in hats.
And there's more, says Merisotis. The hat is "also a symbol for all of the children fighting pediatric cancer everyday."
She got the headband from her mother one Christmas in high school from Love Your Melon, a company that donates to pediatric cancer research.
"My neighbor had childhood cancer when she was a baby, and her brother started a local fundraiser and awareness campaign called 'PJ Day,' which has now become statewide, where thousands of people wear their favorite pajamas as a way to show solidarity with all of the children fighting cancer."
---
Daisy Kettle '24 of Homer, Alaska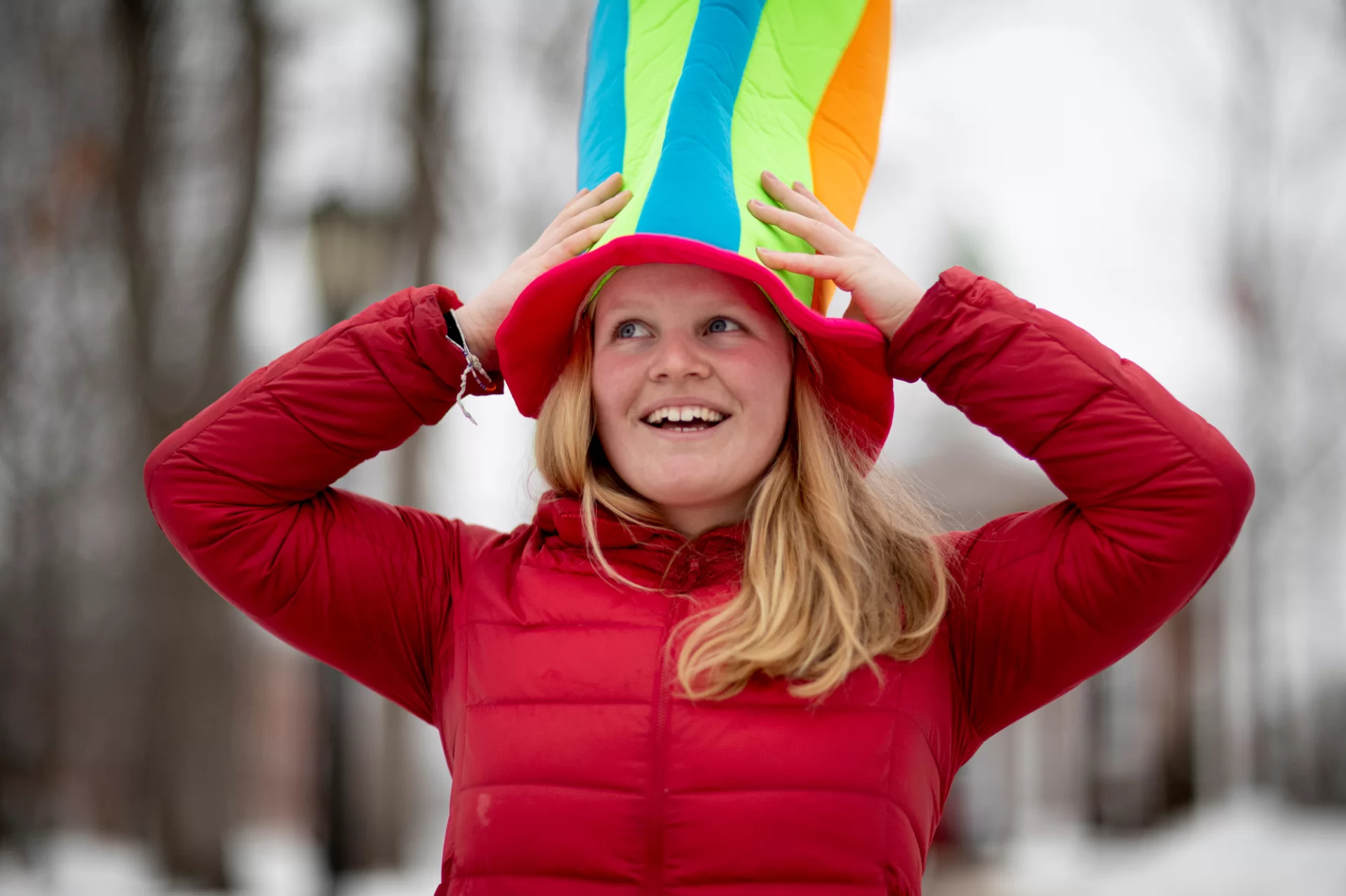 Kettle got her multicolored stovepipe hat at Goodwill in Auburn. "It was in the Halloween section for $2," she says. "It reminded me of my childhood dream to be in a circus."
"The best part of my hat is that it's second-hand. Somebody before me loved and wore that hat for many grand occasions. Now I get to be its home and take it on fun adventures."
Kettle debuted her hat during a snowball fight during a recent snow storm. "The hat and I are just starting to get to know each other."
---
Brennan Kelley '25 of Huntersville, N.C.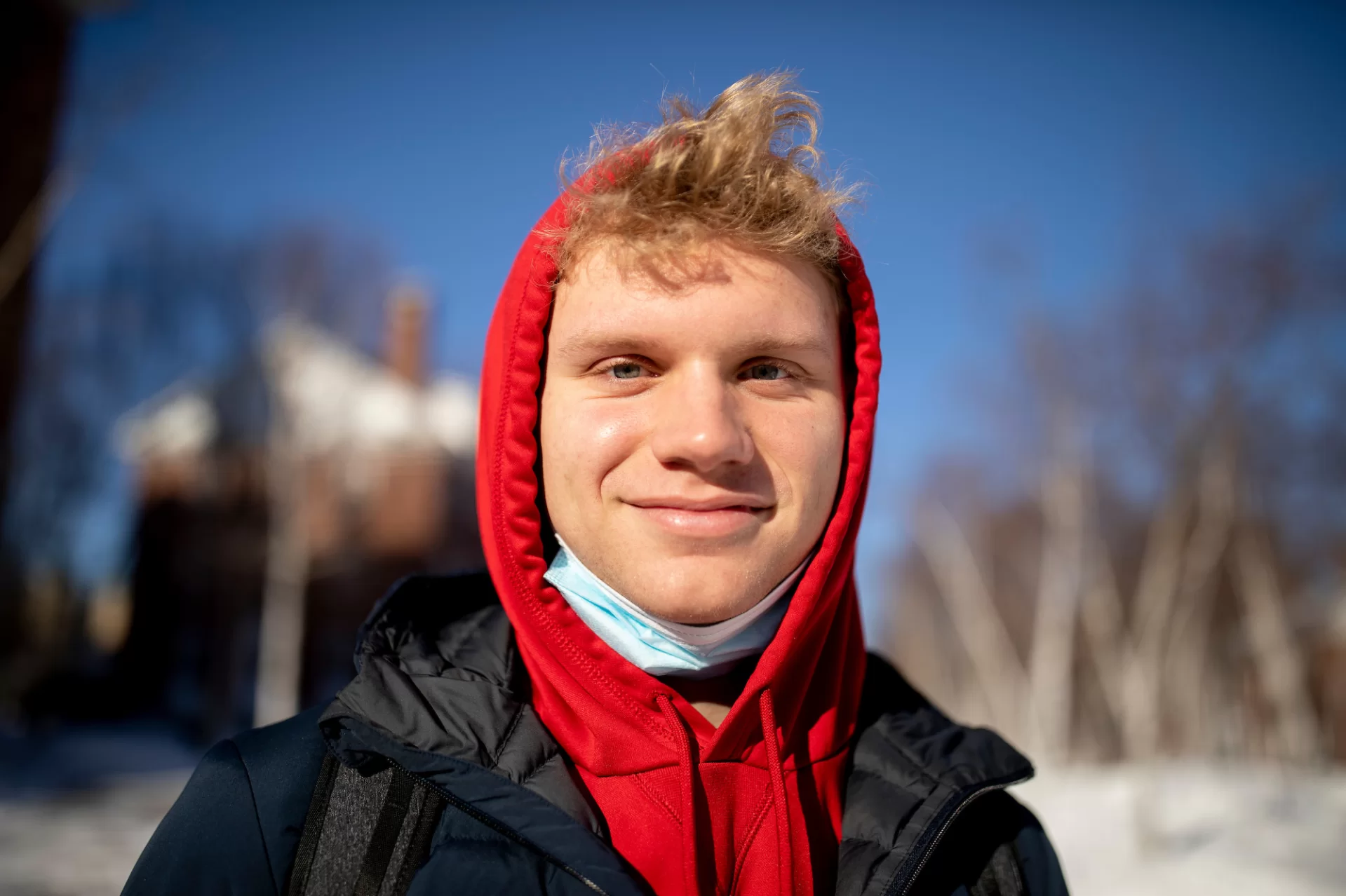 "The best part of my hoodie is the team it represents," says Kelley. That would be the Boston Red Sox. Kelley was was born and lived in Boston for six years. "I have always been a huge Sox fan. I got it at the team shop outside of Fenway Park. It doesn't have any personal meaning: It is just a hoodie I enjoy wearing."
---
Nimco Jama '25 of Hargiesa, Somalia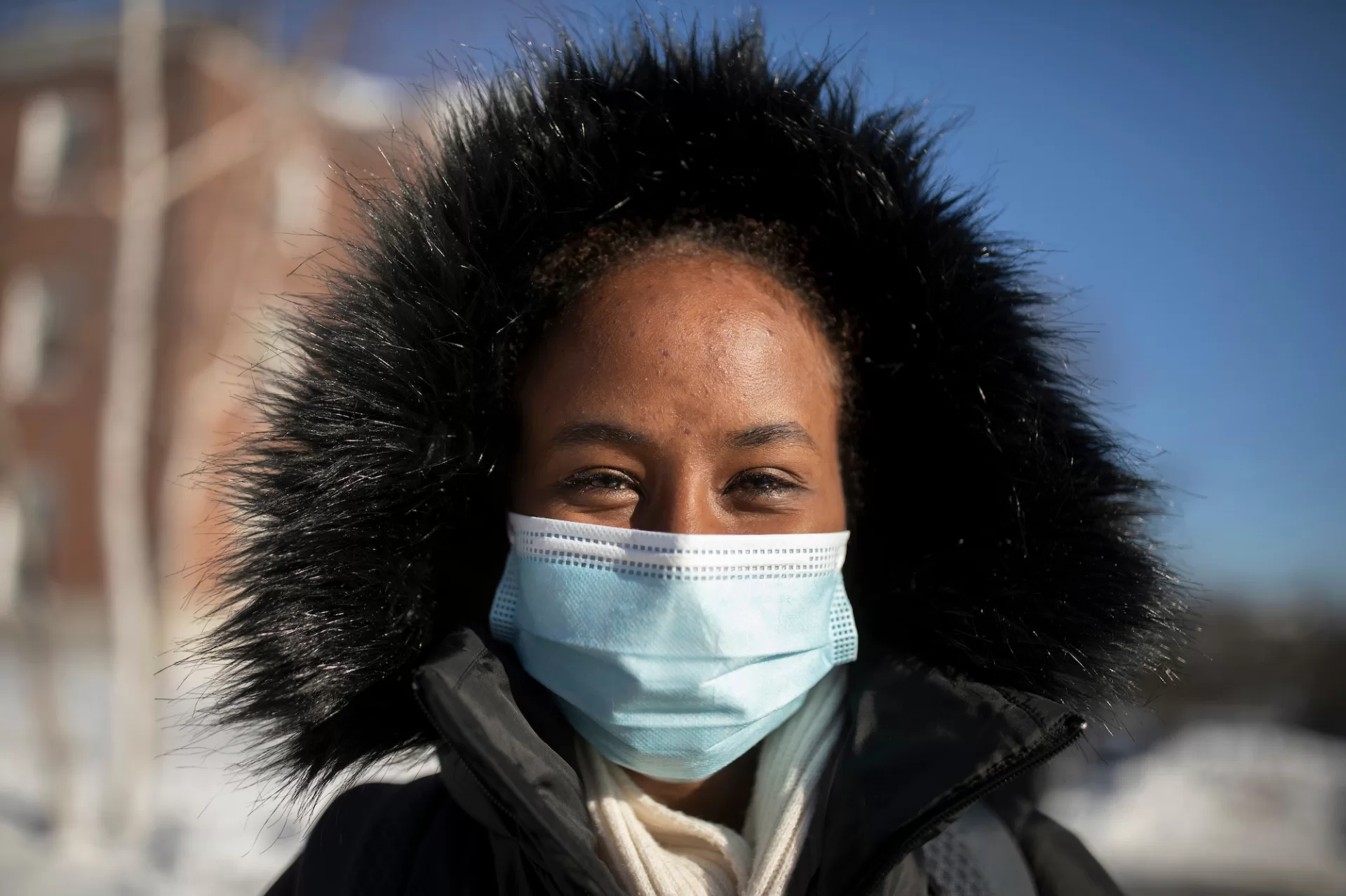 Jama got her hooded coat at L.L.Bean in Freeport.
The hood works better than a beanie, she says. "It isn't too tight on my head. I just slip it on when it gets too chilly outside. I love the fluffy part of it at the front; it's very comforting, simple, and soft."
---
George Miller '25 of Charlotte, N.C.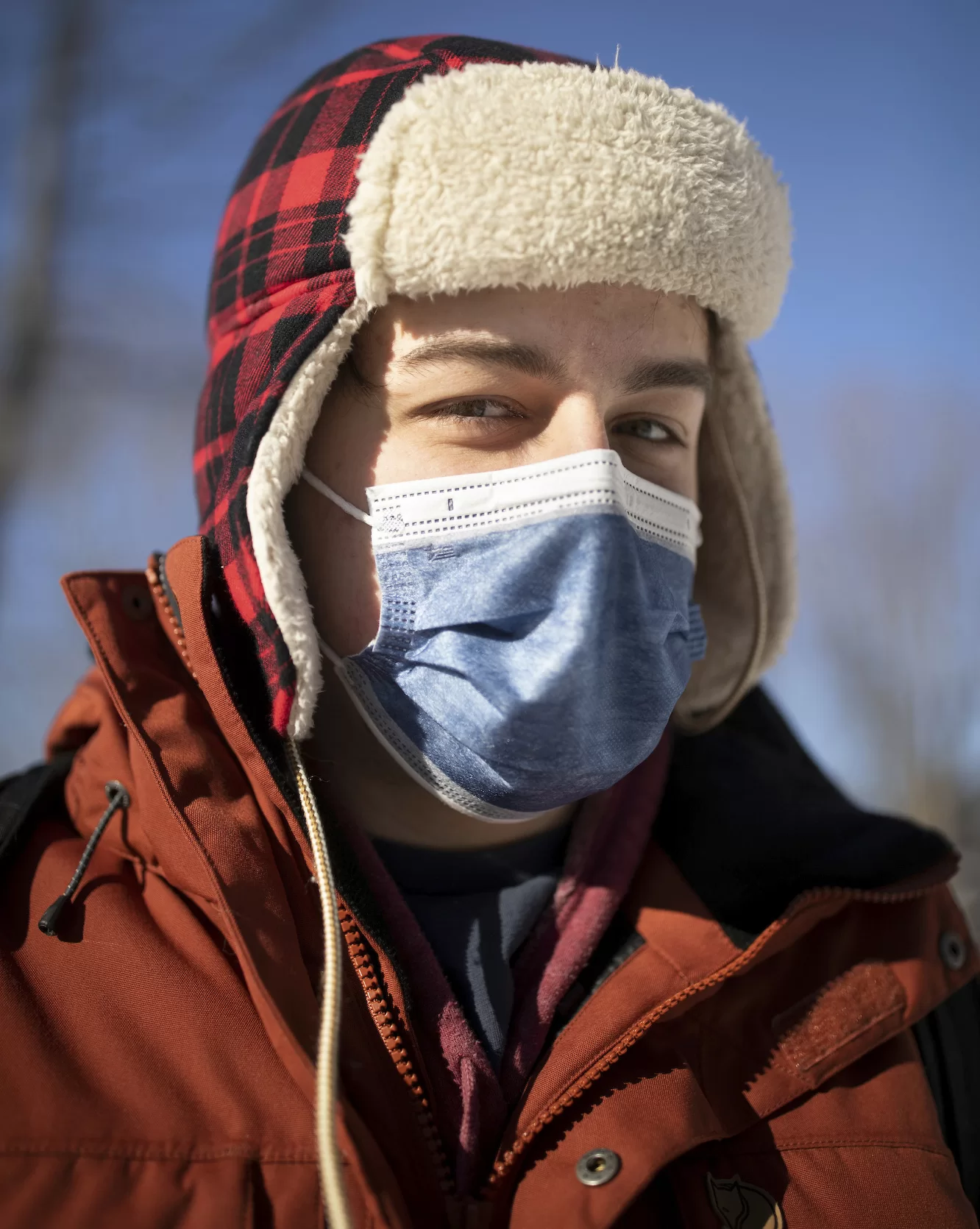 Miller's classic red checkerboard hat with flaps was a Christmas present from his mother. "The best part about the hat is that it's quite warm. It covers my ears and forehead."
---
Kilston-T'Naya Lee '23 of the Bronx, N.Y.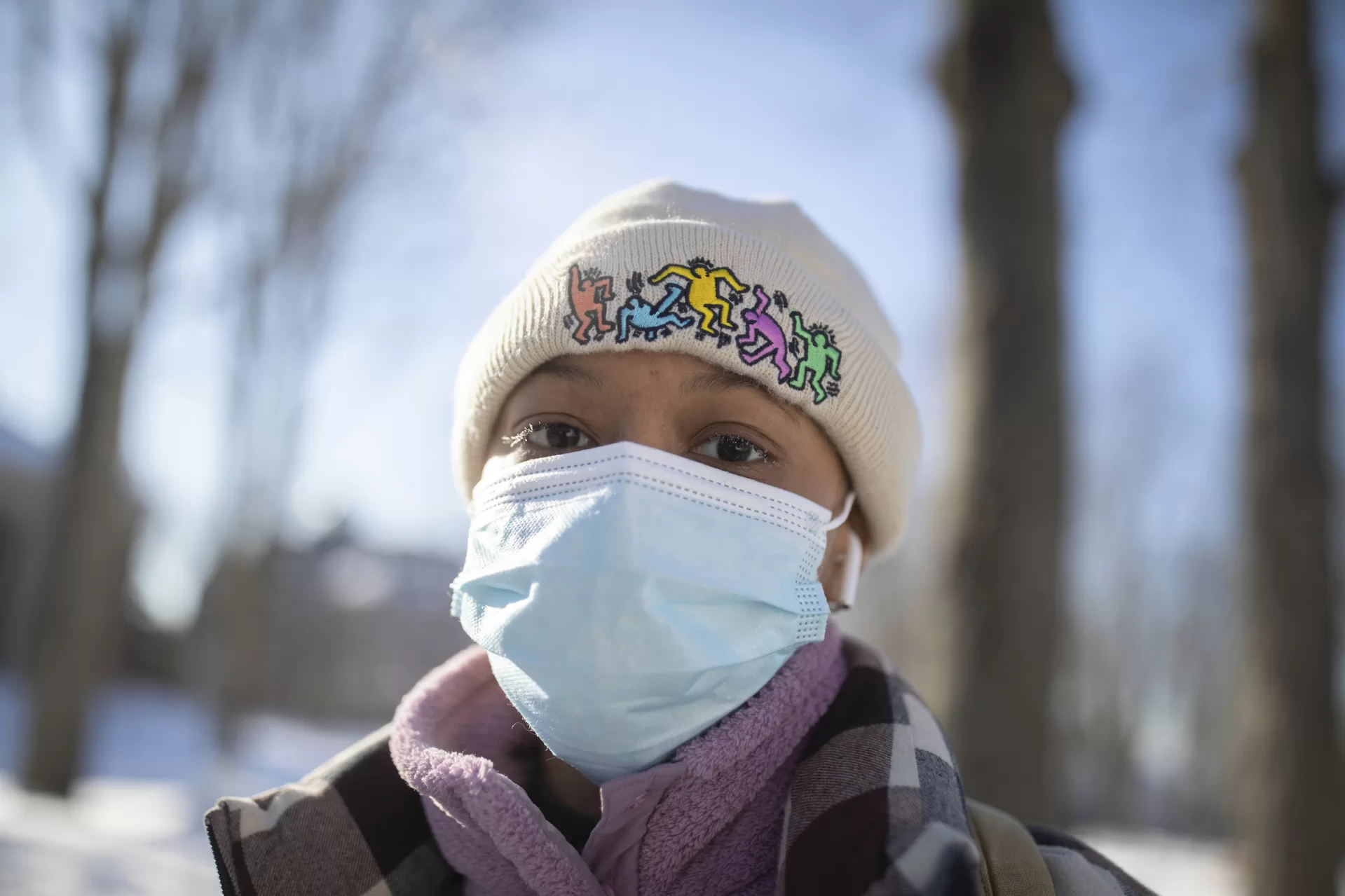 Lee's hat, a gift from her best friend, Kayla Bridgeman '23, was a Christmas present.
"The best part of my hat is that it has artwork by the late Keith Haring, a New York City–based graffiti artist who drew images in response to social and political events around the '80s," she says.
---
Michael Sommer, visiting assistant professor of chemistry and biochemistry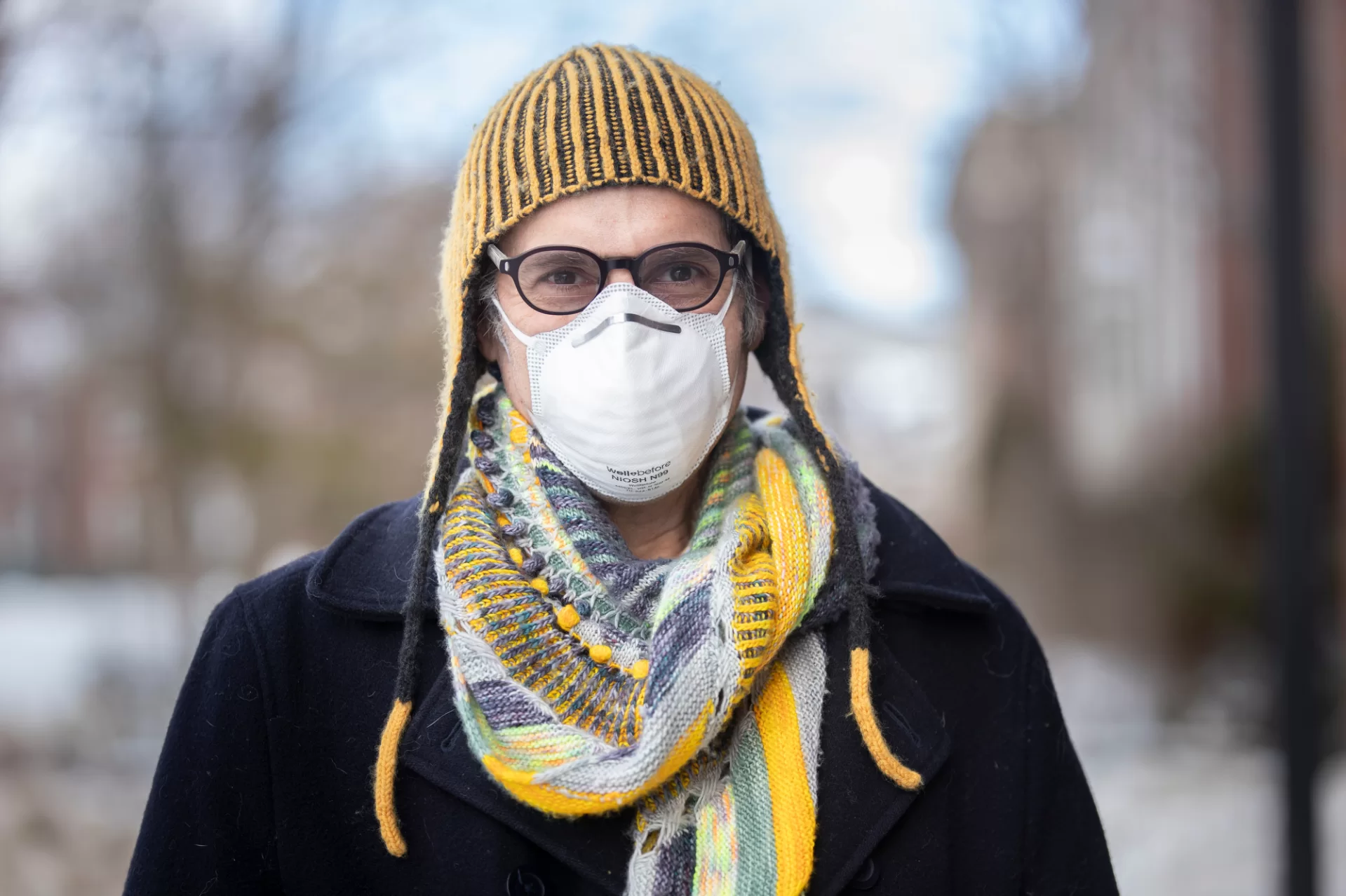 Sommer's hat and scarf were knitted for him by his wife earlier in the winter. "One was a birthday present and the other was a Hanukkah gift. I can't remember what was which!" he says.
The hat is reversible and, depending on his mood, "it can be yellow with black stripes or black with yellow stripes." The ear flaps keep the wind away. "When they are not in use, I can tie them over my head. It is like having four hats in one!"
The hat was a challenge. "It needed to be redone a few times because the pattern wasn't very clear." But his wife persevered. "It will always represent her love. I wish I could do something like that for her."
The scarf has too many "best parts" to list, he adds. "The colors, textures, design elements — and, oh yeah, it keeps me warm!"
View Comments