A film festival requires movies, lots of movies. In the case of the 2022 Bates Film Festival, which ran from March 29 through April 3, there were more than 25 documentaries, feature films, and shorts.
It's also great if some actors and creators show up, and the BFF, which has been on hiatus since the pandemic started in 2020, was lucky enough to host two actors who are also writers and directors, John Turturro and John Shea '70, as well as one of Hollywood's top animators, directors, and producers, Bruce W. Smith. In addition to being the key animator for the villainous character of Dr. Facilier in 2009's The Princess and the Frog, Smith created Disney's groundbreaking, animated sitcom about a Black family, The Proud Family (2001-2005) and its revival series, The Proud Family: Louder and Prouder, which debuted in February on Disney Plus.
A welcoming audience and venue is also key, and this Bates Film Festival had multiple venues, with screenings on campus in Lewiston and for the first time since BFF's 2018 founding, a second location, at the Nordica Theatre down the road in Freeport.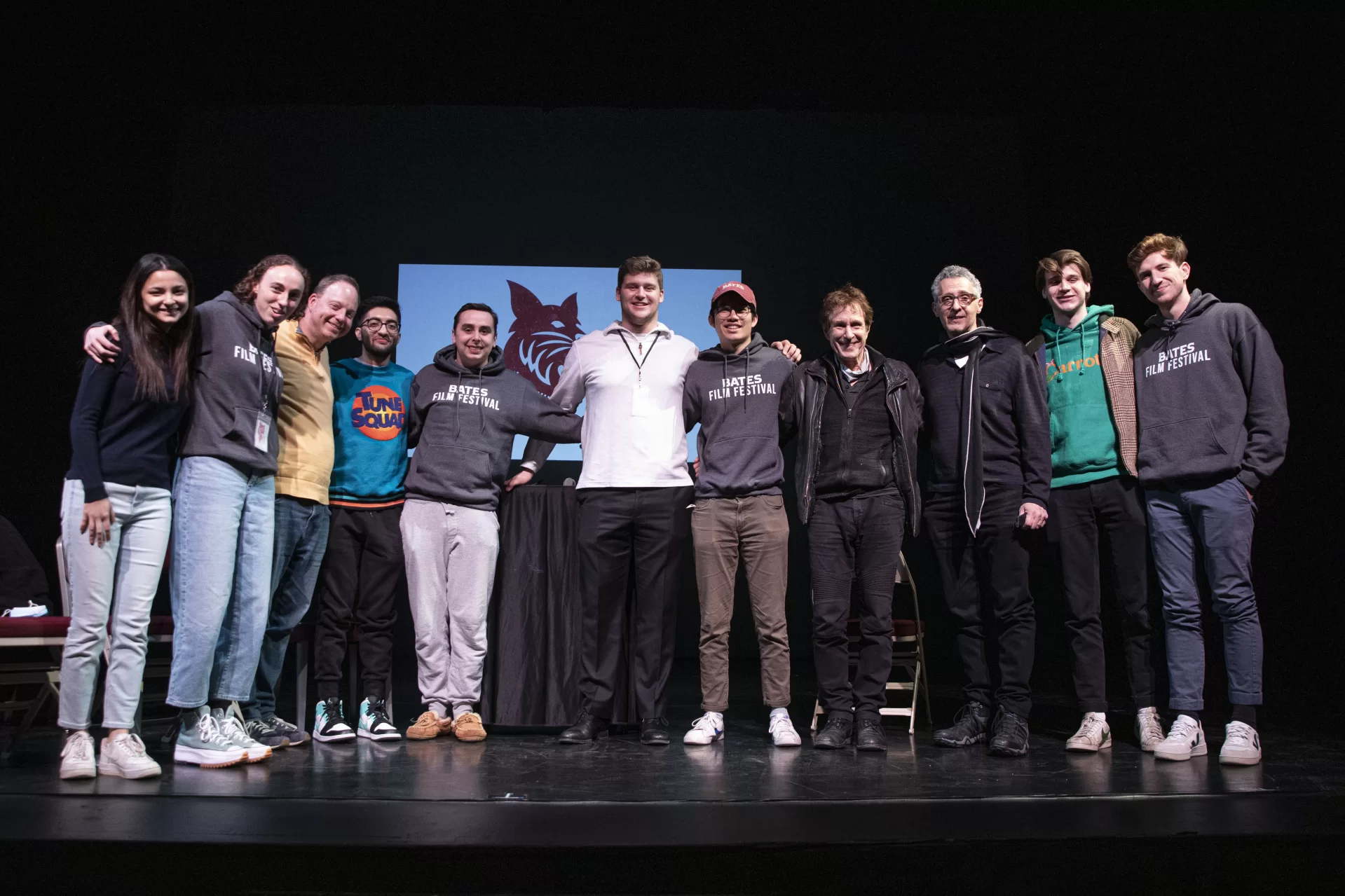 Naturally, a film festival also requires a tremendous amount of work from its organizers, in this case, the 17 students in Associate Professor of Rhetoric, Film, and Screen Studies Jonathan Cavallero's course "Film Festival Studies." Since January, they, as board of directors, have been screening prospective films, soliciting sponsors, booking guests, advertising the festival, working with partners in Freeport, and creating a series of panels to enrich the festival.
These students transitioned from organizers into festival staff from opening night Tuesday, March 29, with the Maine big-screen debut of Oscar-nominated critical favorite, The Worst Person in the World, until the last event five days later, a Sunday afternoon talk about craft with actor, writer, and director Shea (whose career extends from 1982's acclaimed Constantin Costa-Gravas film Missing into TV fare such as Lois & Clark and Gossip Girl), on the very same stage where the alumnus made his acting debut more than five decades ago.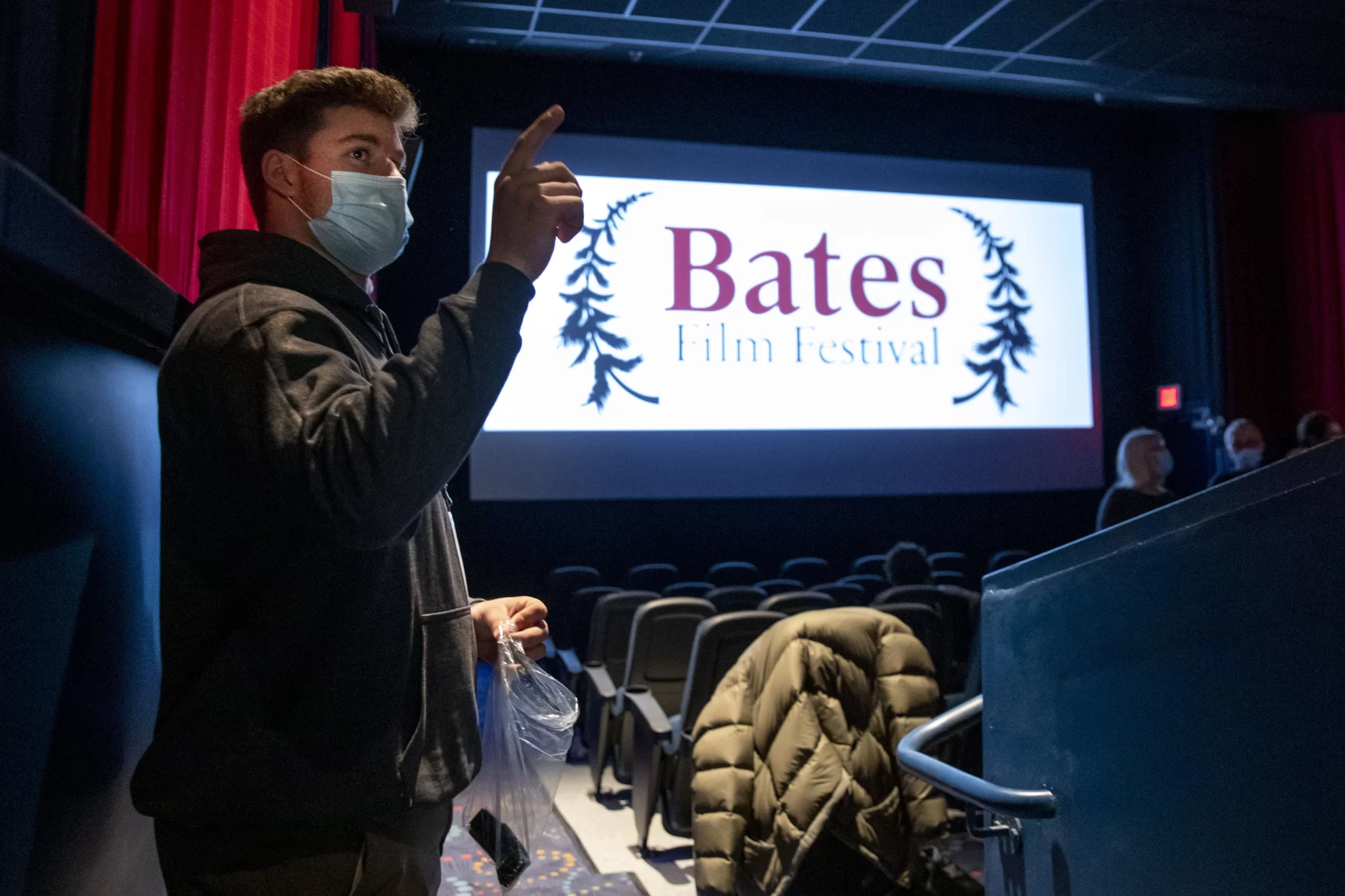 "Everyone just stepped up," says Cole De Magistris '24, a double major in economics and in rhetoric, film, and screen studies from Emerson, N.J. "If someone was running late for something, someone else filled in. Whatever was asked of us, we just did. And everyone was excited to do whatever because it's just a great experience."
"When you take a step back you can really feel the magnitude of this event," says Amanda Taylor '23, a psychology and RFSS double major from Fair Lawn, N.J. She had been waiting for a chance to take the course, not sure if it would be an option because of the pandemic, but jumped when she saw it on the schedule. "I really subscribe to the idea of taking part in things unique to our school. I was looking forward to having this be a part of it, whether as a viewer or an organizer."
The coursework was as rich as the festival itself, she says. "Our classes were always so full and interesting that I felt like the festival snuck up on us." She particularly relished the democratic process by which they picked films. "Professor Cavallero is the genius behind it all. He guided us so well and in his planning — I never really felt a lot of pressure. It's pretty amazing how this all came together."
De Magistris' whirlwind week included staffing an opening reception in the Fireside Lounge at Commons on Tuesday (complete with branded popcorn and cider, courtesy of Dining Services, and a performance by the campus band Glass of Water). He handed out ballots to moviegoers (the students asked audience members to rate the films from 1 to 5, with an eye on giving awards), put up promotional posters, worked Instagram to generate publicity, and ran his own panel, on music in the movies.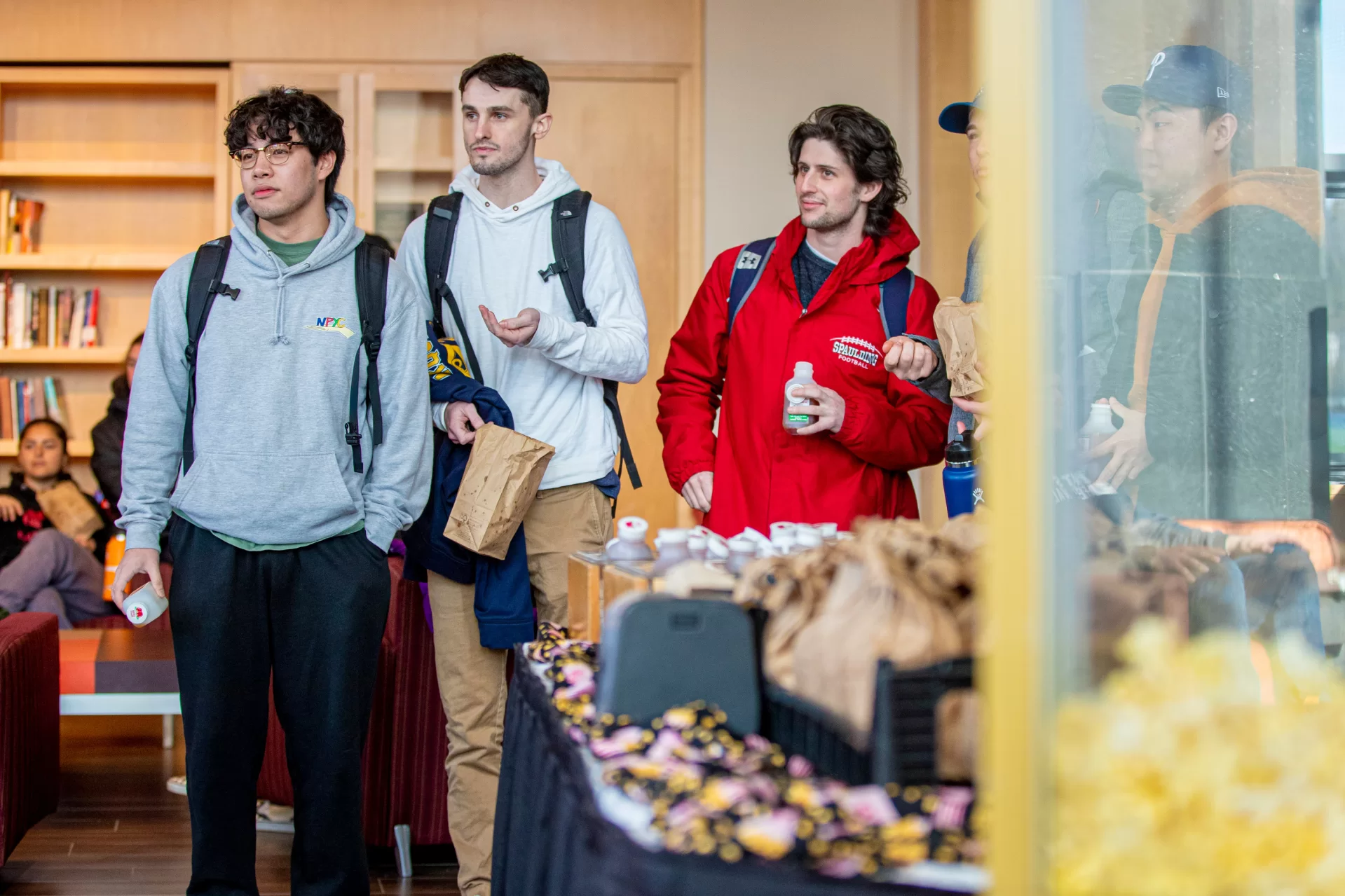 Along the way he learned to love an old fashioned musical, 1944's Meet Me in St. Louis — "I think it's a really great movie" — which screened Saturday as part of a celebration of Judy Garland, who would have turned 100 this year. He had brunch with John Turturro in Commons and all week answered a lot of audience questions, including the two most popular: "Is this movie really free?" (yes) and "can I buy one of those cool Bates Film Festival-branded sweatshirts?" (no, you had to be in the course to get them).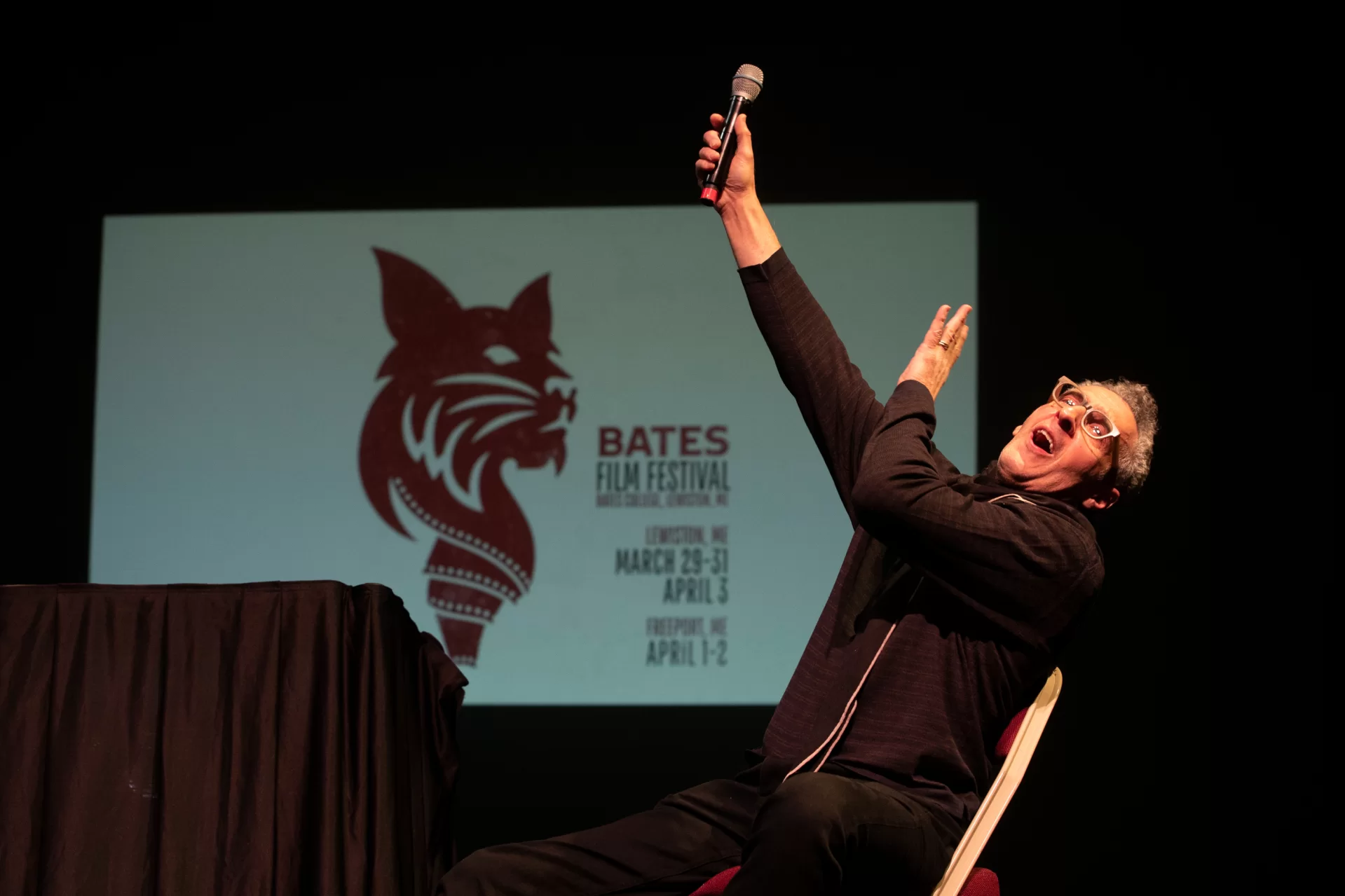 De Magistris' panel on music in the movies was inspired by how vital the soundtrack is in Romance & Cigarettes, a 2005 film written and directed by Turturro that also screened at the festival. The panel covered topics like the iconic Star Wars theme and included a lesson on scoring techniques from panelist ​​Vineet Shende, a Bowdoin music professor, and input from Clarissa Carter, a young creative executive at Disney who is also a singer-songwriter. "It didn't attract the numbers I wanted but the conversation we had far outweighed the numbers," De Magistris says. "That's where the meat of the festival is."
His experience was in line with what Cavallero had been telling his students throughout the semester, that what film festivals are really about are the things that happen between one movie and the next.
"It is about the conversations that the movies make possible," Cavallero says.
In the crunch weeks before the festival started, he reinforced that message in class, spelling out various popular perceptions of what film festivals are versus the realities.
Popular perception: The films make the festival. Reality: True, but the festival can also help to make the film.
Popular perception: Festivals are there to entertain their audiences. Reality: For some festivals yes, but the BFF is also about challenging them.
Popular perception: When a festival shows a film, they are endorsing its view. Reality: Festivals like ours program films to start conversation around complicated issues.
Case in point, the BFF created and deployed around a dozen panels and artist talks to address topical issues related to the festival's selected films. For instance, the students had, as a whole, embraced a 2021 documentary called Try Harder!, about the college admission process. So to widen the conversation, they asked Bates Admission leaders Darryl Uy and Audrey Burns '17 to lead a discussion about how Bates selects a class, and sought to lower the pressure that a student has to get into the "right" college. "Exceptional students are going to be exceptional wherever they go," said Burns.
Cavallero encouraged students to seize opportunities and be open minded to possibilities as the third Bates Film Festival kicked off. The festival officially debuted in 2018 (prior to that Cavallero and students collaborated with a local festival called Emerge) and is now planned as an event that happens every two years. De Magistris felt Cavallero guiding his students into personal growth, giving them a chance to "gain new confidence to ask questions and be like, more participatory and have tougher conversations."
For Audrey Soss '24, a double major in RFSS and English from San Francisco, missing the shuttle back to Lewiston from Freeport on Friday led to one of those unique opportunities. A classmate offered her a ride, but said he was having dinner with Shea first, did she want to come? Soon they were all sitting down at Maine Beer Company, eating wood-oven fired pizza while Shea signed posters for his 2015 film The Grey Lady, which he'd just screened at the Nordica.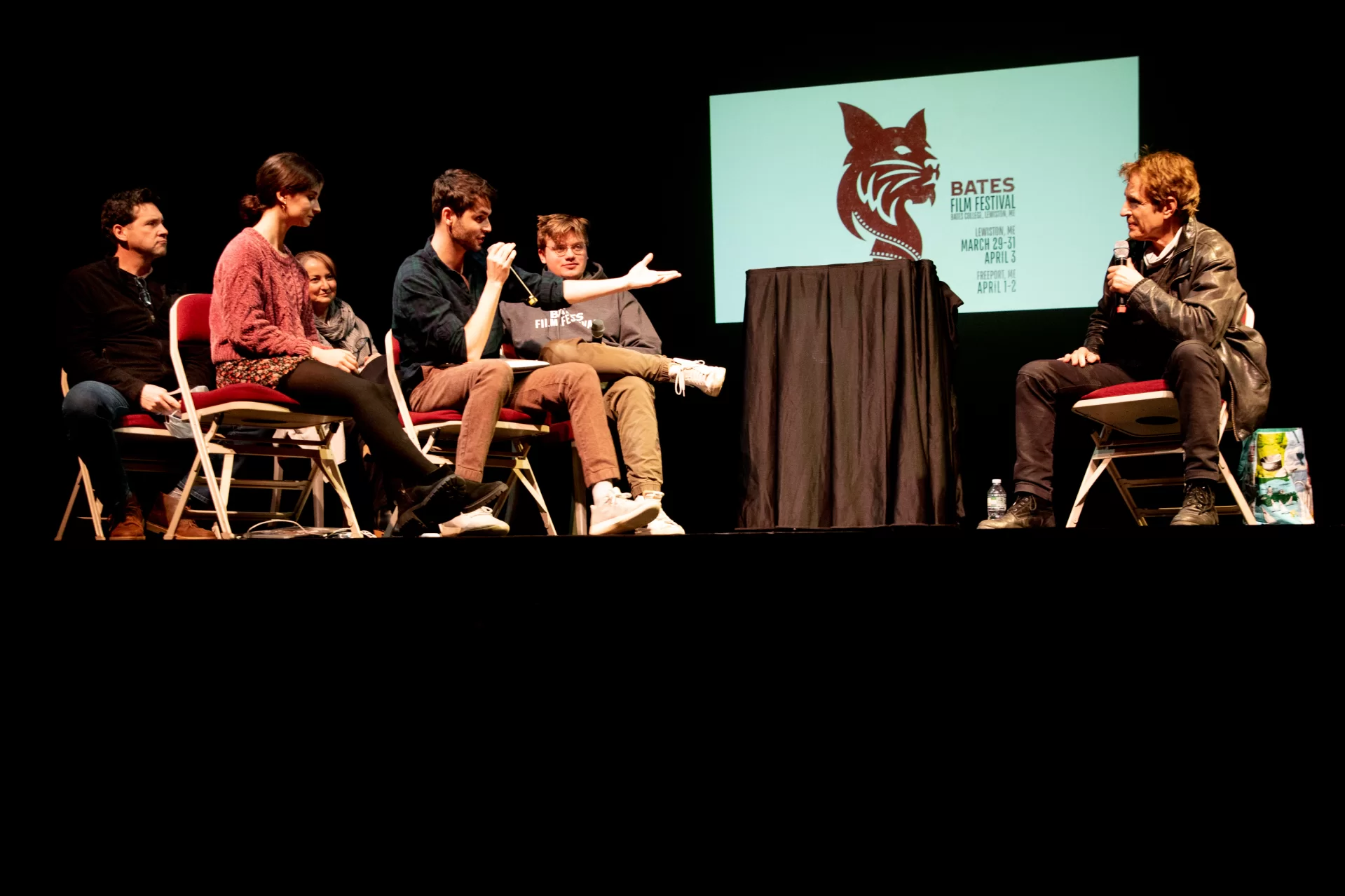 On Saturday Soss and Benjamin E. Mays '20 Distinguished Professor of Rhetoric, Film, and Screen Studies Charles Nero participated in a panel on a topic she's explored in her coursework, reclaiming LGBT+ representations in film, discussing two of the festival's entries (Framing Agnes and Sweetheart) as well as "interrogating the tropes" in movies like the popular 2018 release Love, Simon. By Sunday afternoon, she was up on the stage in Schaeffer with a group of classmates, asking Turturro about what it was like to direct himself in Mac, his film about an Italian-American family of builders. The semi-autobiographical film, which turns 30 this month, was featured on Saturday, and followed by a Q&A with Turturro.
Shea was a committed participant at the BFF, present at many events. In addition to talking about The Grey Lady, a thriller that speaks to his love of Nantucket, where he lives year round, he attended panel discussions, made a guest appearance at Assistant Professor of Theater Tim Dugan's directing course, and dispensed advice to those who might want a career like his: "I would be studying, acting, and directing and writing and business and producing. I would get as many arrows in your quiver as possible."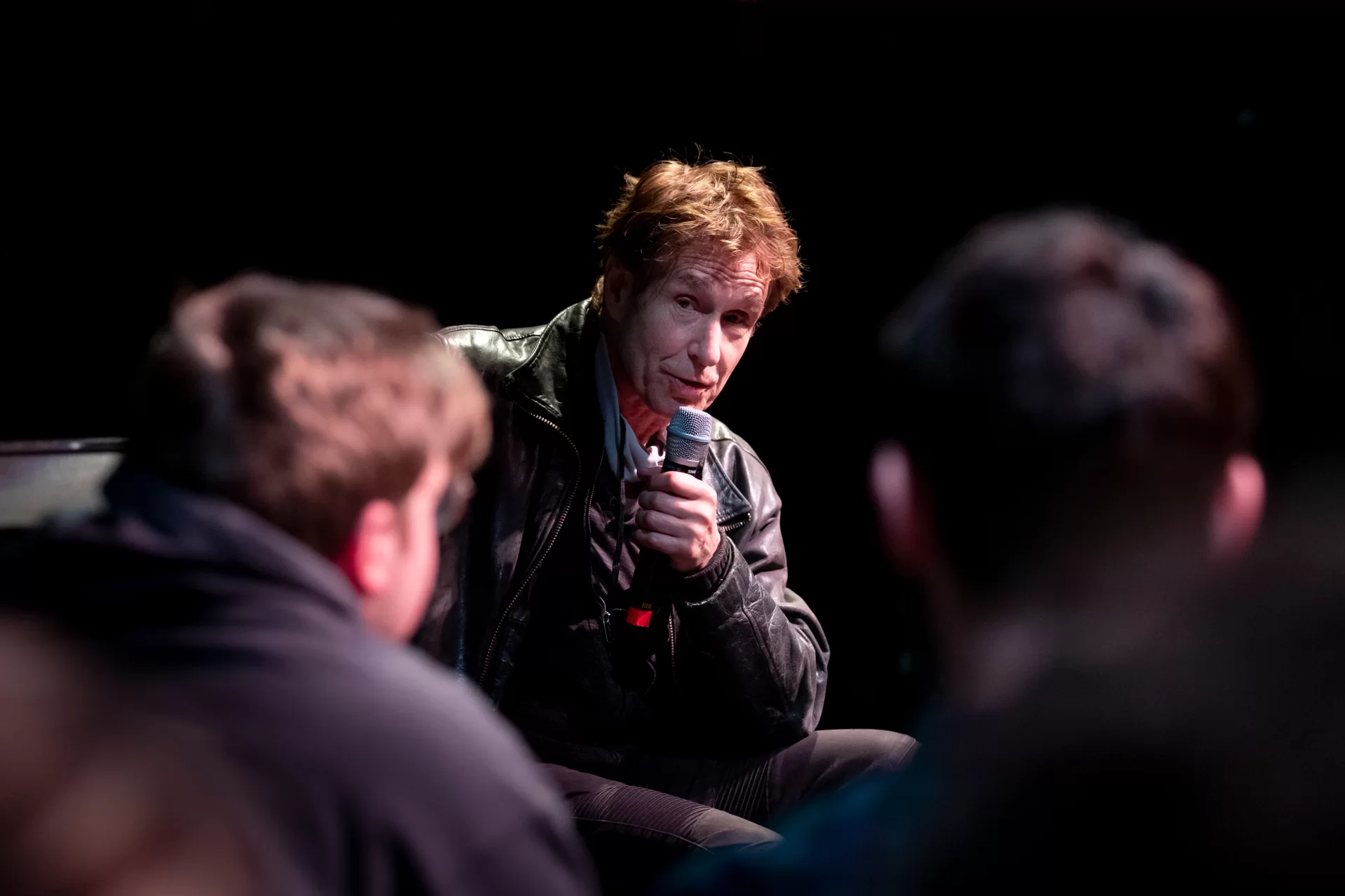 Over brunch on the last day of the festival, students got a chance to sit with the festival's special guests in Commons. Rabih Chughtai '23, a double major in neuroscience and in RFSS from Farmington, Conn., had a "really, really great conversation" with Bruce W. Smith as well as the producers and director of Street Gang: How We Got to Sesame Street, a 2020 documentary about the long-running children's program.
Chughtai may be a STEM major on a medical school track, but since he finished high school, he's developed a serious side interest in writing screenplays. "I'm just movie obsessed at this point." He was the TA in Cavallero's film theory course last fall and helped him prep for the course and the festival starting last October. "I would send emails to film distributors and potential guests," he says. "That's how we ended up getting to Turturro." Master gaffer Andy Day, a parent of a Bates grad, had worked on Romance & Cigarettes with Turturro, who has a son at Bowdoin, and helped make the connection.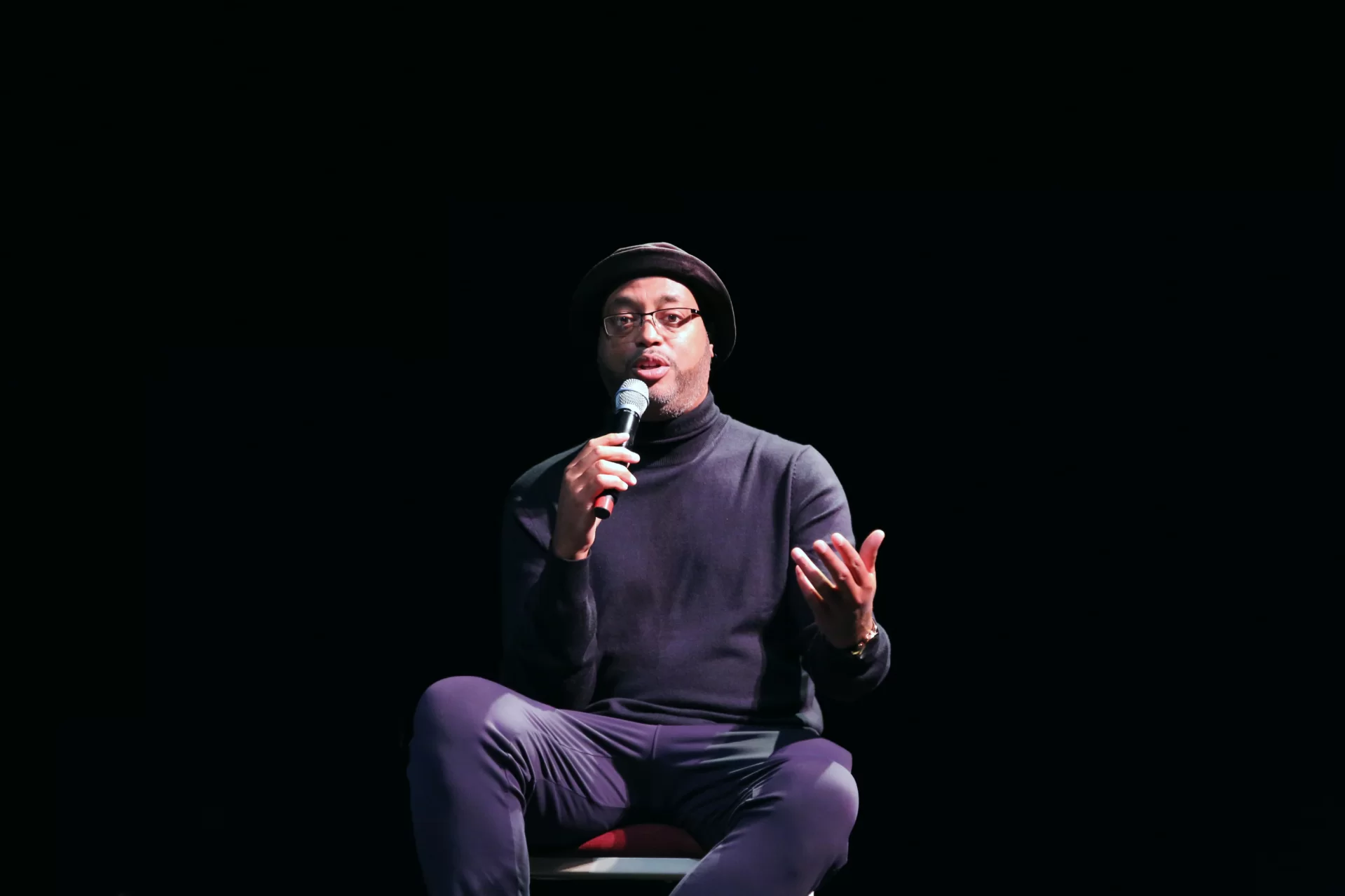 Chughtai's duties at the festival included running a screening of Coming Home, the Wayne Wang movie based on a personal essay by Pulitzer Prize–nominated author Chang-Rae Lee P '23. (Lee, whose books include The Surrendered and A Gesture Life, couldn't make it to Lewiston, but participated in a Zoom Q&A after the Coming Home screening.)
At the Sunday brunch Chughtai had a quick chat with Turturro, telling him how much he'd appreciated the actor's work in projects like the 2016 HBO miniseries The Night Of, as well as how warmly Chughtai's family, who had driven up from Connecticut, had felt about Mac, with its story of immigrants making it in America. It particularly touched his father, who immigrated from Pakistan. "My dad loved it," Chughtai says.
Then Chughtai headed to Schaeffer for the creator talks. After Turturro's presentation, Chughtai was standing with Cavallero, hoping to ask one more question of The Batman star when Turturro asked if anyone could drive him back to Brunswick. "You wanna give him a ride?" Cavallero asked his student.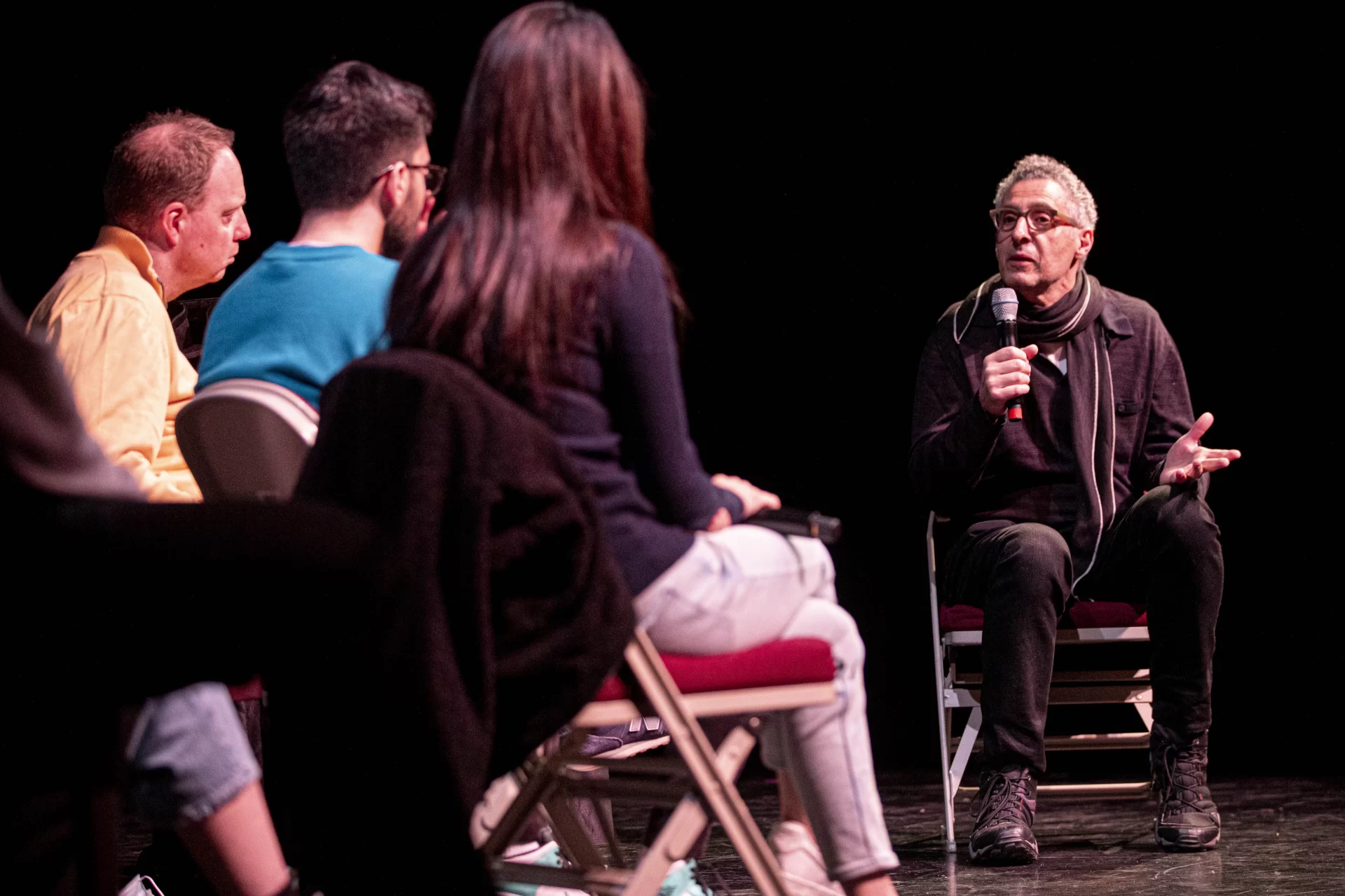 The answer was a definitive yes. The movie star and the student set off across campus to pick up Chughtai's car at Chu, with a few delays for Bates "paparazzi." "He got stopped for some pictures," said Chughtai. Ashe drove, they talked film, writing process, and goals.
Was Chughtai's car clean?
He laughs. "That's the first question people ask me when I tell that story, 'How dirty was your car?' Thankfully, I kept it pretty clean."
The whole experience was, he said, super. "It's pretty surreal to think that that even happened, to be honest."
With the winter semester now winding down — finals begin in less than two weeks — the students are processing ballots for the audience winners and doing the administrative followup that will set their peers who take the course in 2024 up for similar success. The group relied heavily on an advisory board from previous years to guide them. And, of course, on their professor, worthy of multiple metaphors: "He was like, the glue. He was the rock for this festival," says De Magistris.
"From the first day of class, Professor Cavallero was like, 'It may seem like a lot of work now, but you're going to be looking back on this day, once we're finished with the festival, you're going to be amazed by how much we did and how great of a product we were able to produce by working together.'" At the time, De Magistris shrugged. "I was like, 'OK.' But I could truly say that that is the case now."
View Comments