When Bates studio art majors reach their senior year, they embark on a thesis project that ultimately leads them to a professionally mounted exhibition at the Bates College Museum of Art. These young artists work in many mediums, but all have the same directive: to use sustained studio time to create a collection that coheres into an expression of their individual artistic beings at this particular moment in time.
Even though the work presented in the annual Senior Thesis Exhibition is decidedly individual — the 15 artists from this year's Class of 2022 work in paint, colored pencil, rotoscope animation, photography, and installation and collage — collective themes sometimes emerge from these seniors who are about to enter the broader world.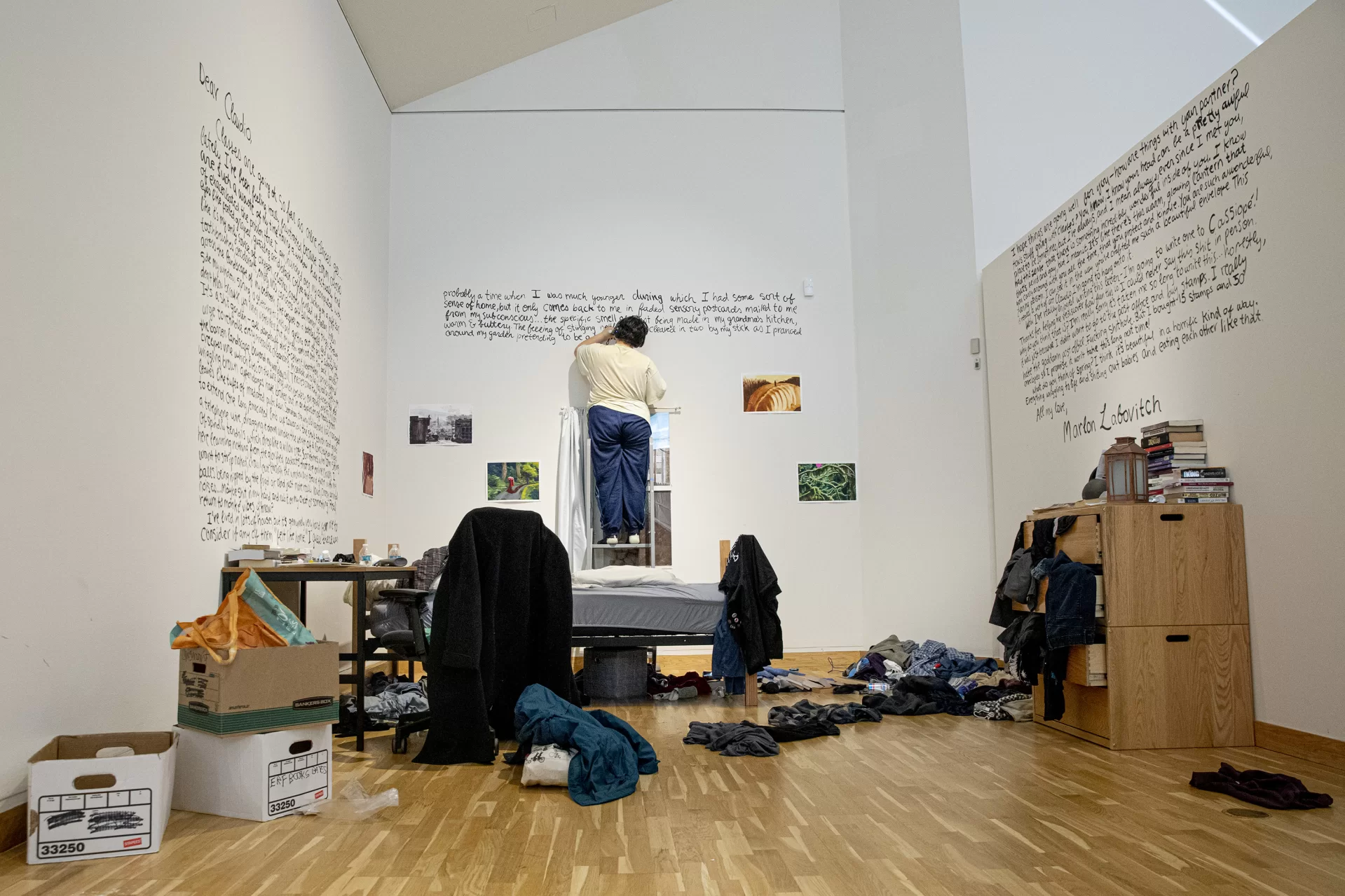 With this year's group of talented young artists, who have been advised and guided during their thesis year by Senior Lecturer in Art and Visual Culture Elke Morris, there are strong commonalities thematically, many of which can be related to sharing the life-altering experiences of living in the era of a pandemic, and others which can be traced to the rite of passage of truly leaving childhood behind as they prepare to "commence" adulthood.
Consider the striking role the concept of home — where so many of us spent at least part of the pandemic, if not most of it — plays in this year's exhibition, which opens April 15 and runs through May 28.
Anna Gouveia '22 of Jenkintown, Pa., who also has a major in biochemistry, focuses her thesis on images of homes, presented in diptychs and triptychs. When she left home for Bates in the fall of 2018, she had made peace with her departure, as she says in her artist's statement. Indeed, she was "prepared for the spin cycle of trying to define a sense of home as I expected to move from place to place for the majority of my 20s."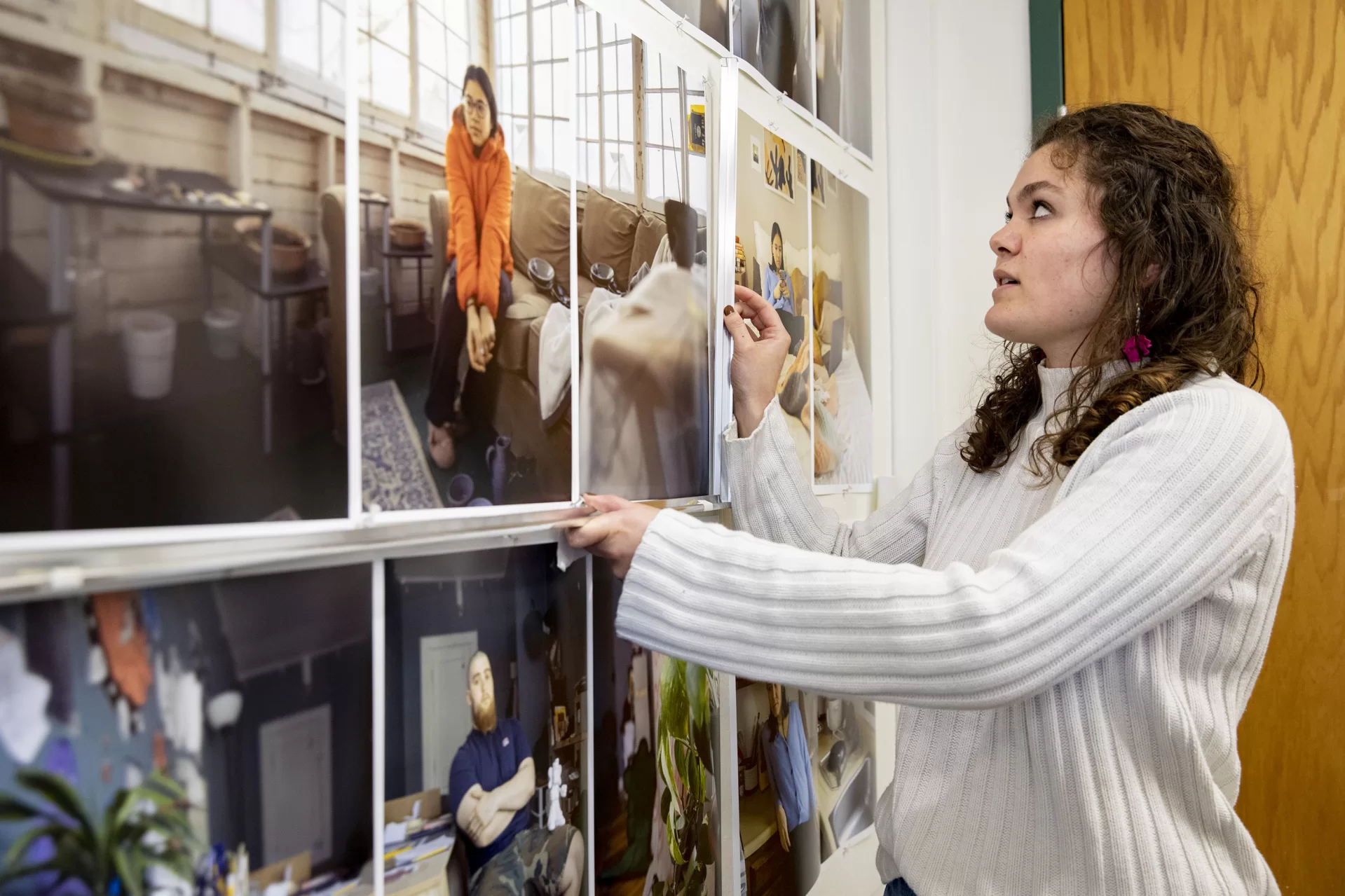 Instead, the global pandemic sent Bates students back home in March 2020, Gouveia's sophomore spring. Gouveia landed back in Jenkintown with her family, in a house that was relatively new to them and very new to her, since she'd been at Bates when they'd moved into it.
Life came to a halt, and in the stillness, she says she sought to look deeper into the concept of home. "I am not interested in simply documenting the private domain," Gouveia says. "I want to capture the feeling of home. That feeling is almost indescribable, but it feels simultaneously comfortable and fleeting."
Fellow studio art major Emily Graumann '22, who is a double major in English, also took a deep dive into home, specifically where she grew up in Wenham, Mass., using watercolor — one of her earliest artistic mediums — and rotoscope animation, her most recent, to "best capture the essence of my home and the love I have for my family."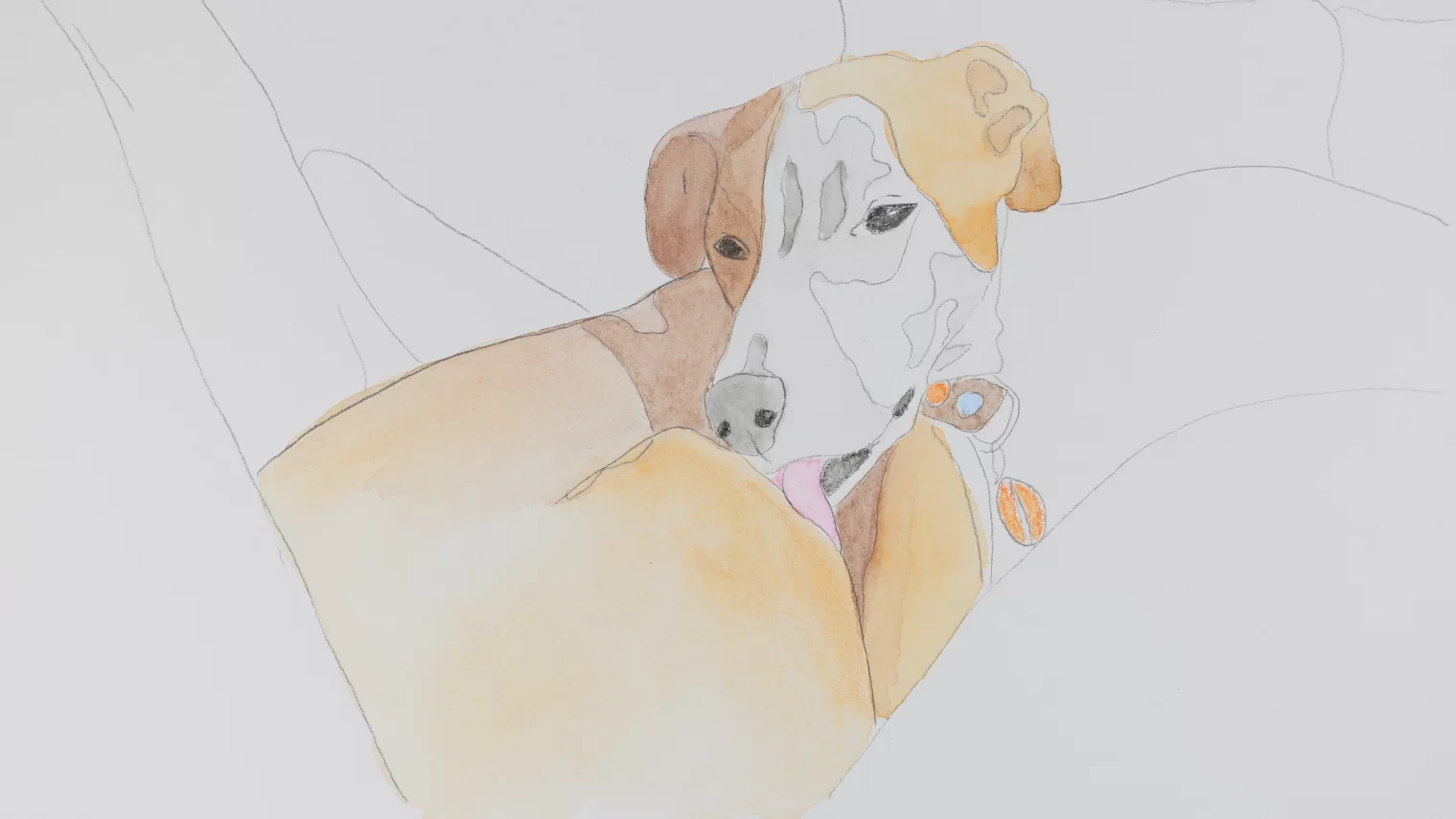 That family includes dogs, who have always been in her life. "Their presence within my home is characteristic of warmth, coziness, excitement, and joy. Seeing the happiness they bring to me and my family, an animation about my home would be incomplete without them."
Family Albums
Charlotte Collins '22 of Woolwich, Maine, went back to photographs of her childhood to spur her thesis project. "These memory archives fuel curiosity about the relationship I have with my childhood."
She's examining her own nostalgia for childhood, capturing "memories" that are already fading. "My work aims to question what it means for me to look back and visit these childhood archives and explore the juxtaposition of what is a memory and what is instead just a photograph in a family album." Citing Alice Neel among her influences, Collins recognizes that her work is simultaneously keeping childhood memories alive and letting them fade away.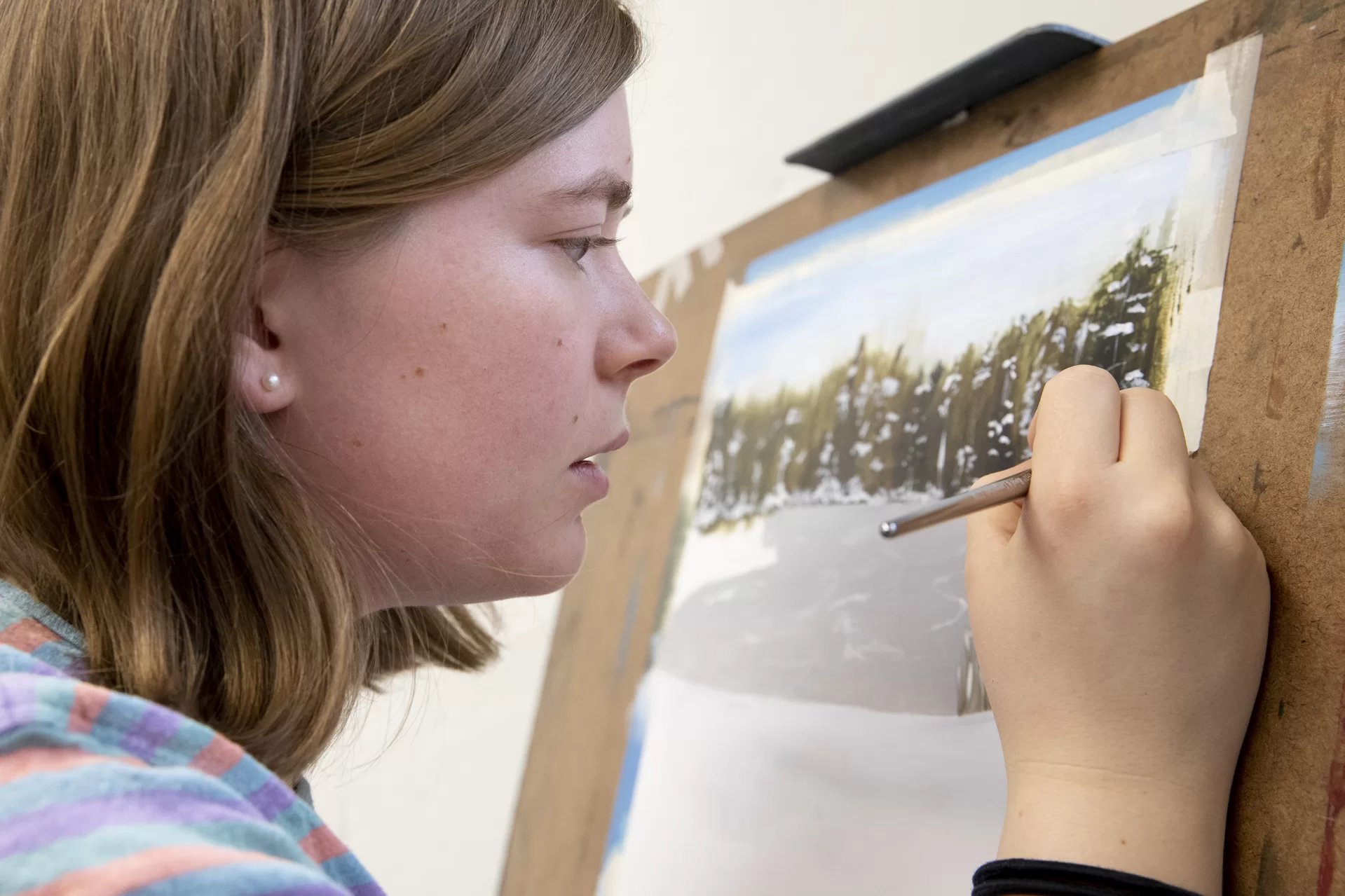 Her classmate Jeremy Bruce '22 of Portland, Maine, also depends on childhood memories to inform his work. He combines paint with ready-made images "to explore how memories exist on the cusp between reality and fantasy, as imaginative and emotional entities." That cusp includes distortions of past life, "fusing real-life happenings with unique interpretation." For Bruce, the canvas is a "sacred space" to document his own memories.
"In my practice, I am strongly influenced by Hannah Höch, Jennifer Packer, Mark Rothko, and Virgil Abloh," he says. "These creators have shown me how to use vivid colors, compose expressive collages, and translate personal memories into visual artworks. They have guided my creation of pieces like Growing Pains, 2022, which focuses on the progression of my identity and mental well-being throughout my life so far, and how persisting through this progression felt uncomfortable at times."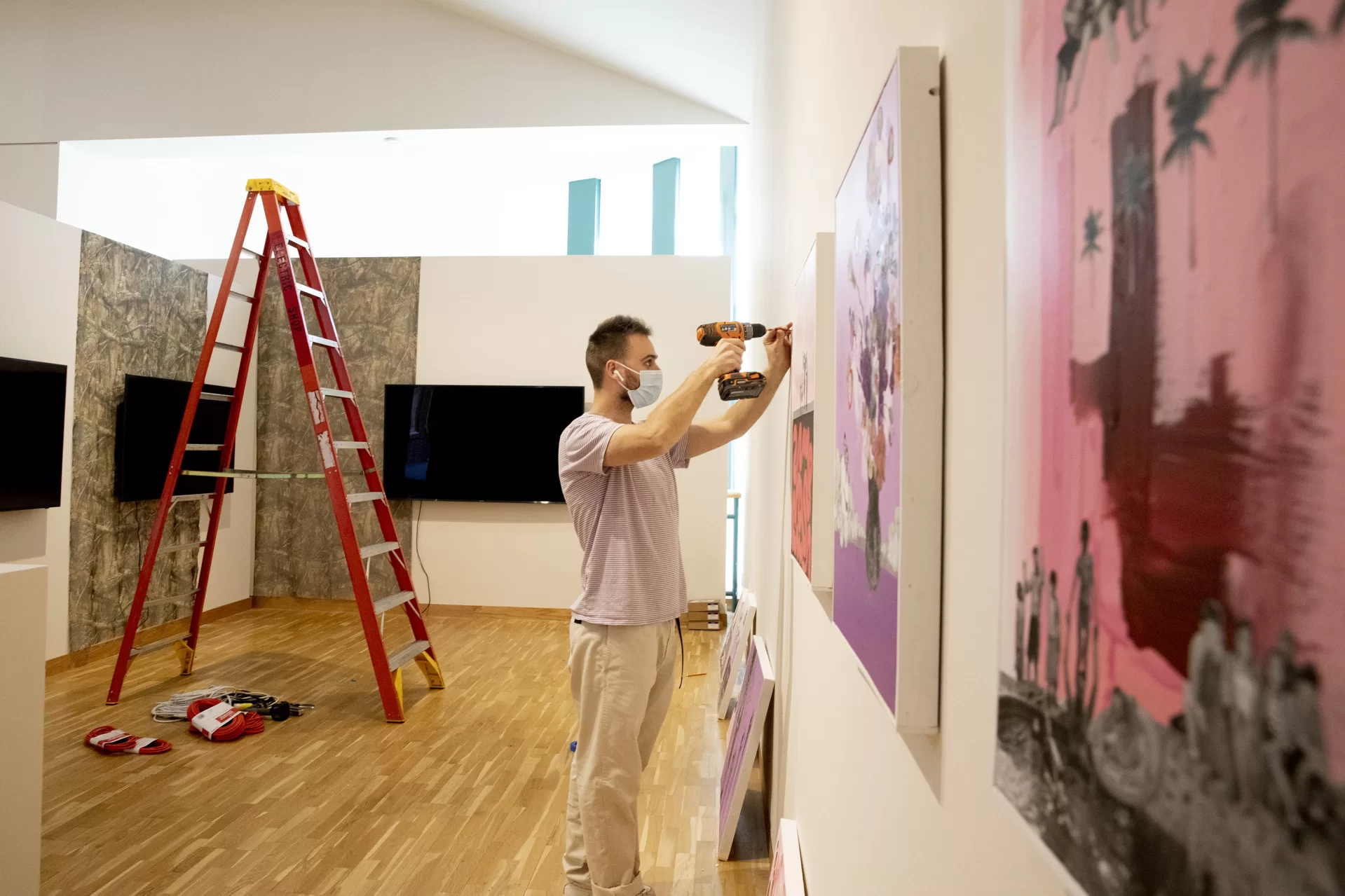 Claudio Jimenez '22 of the Bronx, N.Y., lost someone dear to him, his friend Marlon, last May. In tribute, Jimenez has created an art installation built around a mélange of painting, installation art, and found objects. He has covered the walls of the museum with the words Marlon wrote to him in their first and last letter exchange.
He also created a gift for visitors, what Marlon called "sensory postcards," paintings of "feelings of home from his childhood that came back to him every once in a while." Jimenez wants viewers to take the postcards away with them, "so that you can take these feelings of home to your homes, and send them to other homes."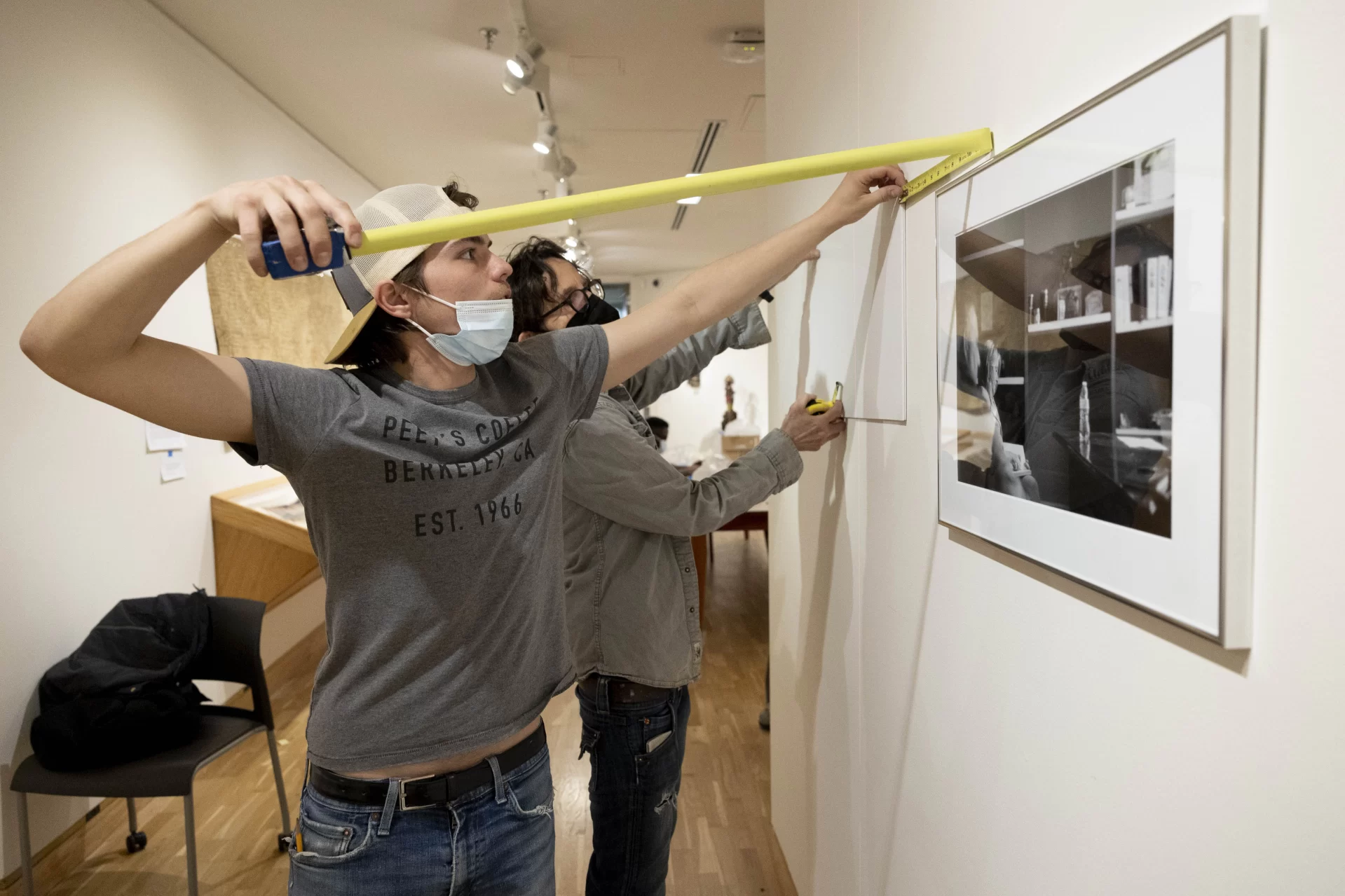 Photographer John Loftus '22 trained his film cameras (a Nikon F3 and a Hasselblad Xpan) on people in Lewiston and the surrounding areas who are struggling with substance abuse and, especially, those who are helping them.
Capturing imagery that is engaging and approachable, putting the "focus on the family… the support system that is most needed when fighting for sobriety," he hopes to help change the narrative and stigma around substance abuse disorder. "I purposefully aim to avoid aspects of addiction that get a lot of attention, like the shocking, gritty, and harsh imagery associated with drugs."
He is not just documenting people with substance abuse, but advocating for them. "The intention of my work is to help the people who are battling addiction and I am committed to a process that is collaborative and trustworthy."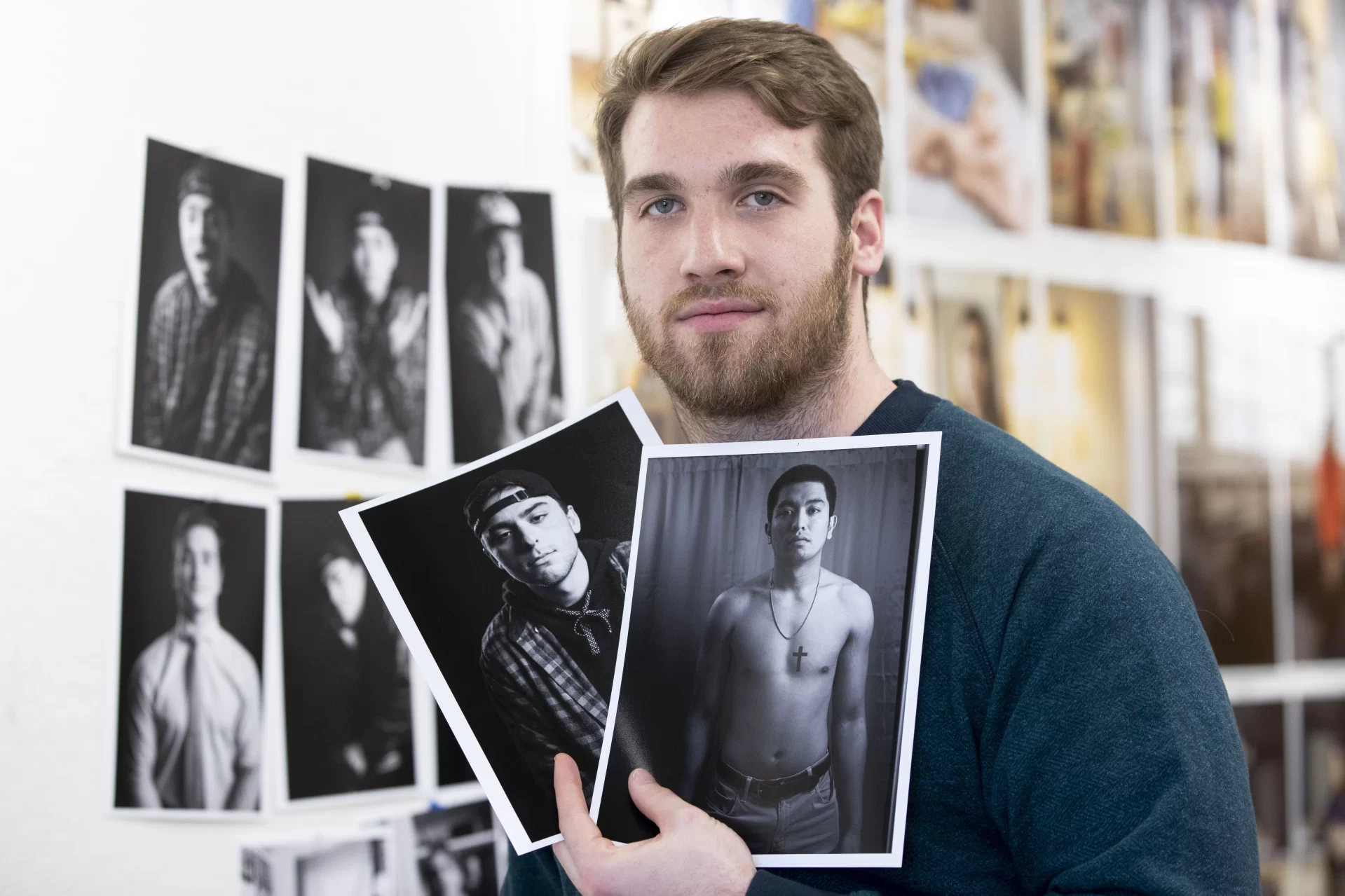 Also working in photography, Jack Ryan '22 of Cornwall-on-Hudson, N.Y., created a series of portraits for this thesis project, all drawn from his Bates community, including many who are religious on what Ryan describes as "an increasingly secularized college campus."
Ryan says he's influenced by many photographers, but that this series in particular is inspired by Nick Ut's coverage of the war in Vietnam as well as work by Steve McCurry, Herb Ritt, and Richard Avedon. "I aim to emulate the same raw emotion and personality that these photographers are able to convey in their work."
Home Kitchen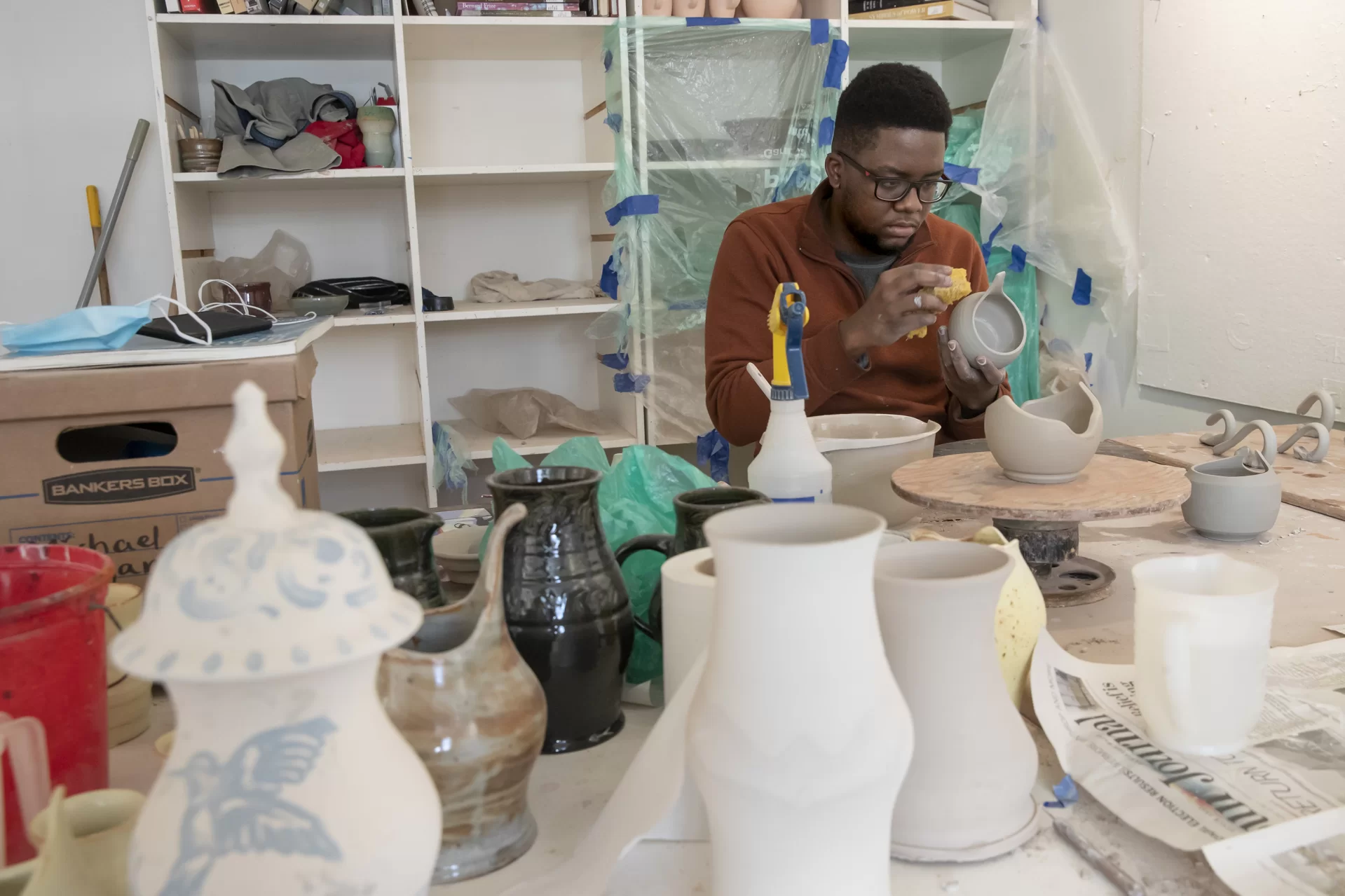 The elegant, classical-influenced but modern-feeling pottery by Michael Morgan '22 was inspired by his first experiences with ceramics in his home.
From Kingston, Jamaica, he grew up gazing at his family's cabinet of "prized English dinnerware sets." The dinnerware was rarely used but it was treasured, particularly by his mother, who would spend hours polishing it and making sure the glass of the cabinet was spotless "so that visitors could easily see the variety of crockery that belonged to the home. As an artist, my ceramic pieces are meant to do the same as elegant timepieces that elevate a space." He also cites ancient Islamic forms as influences.
Another ceramics artist, Jack Fruechte '22 of Minneapolis, rebels against the construct of art in his work, but speaks to the rootedness of home. Fruechte, who counts the Mingei pottery movement of Japan among his influences, says he's not trying "to make a social statement or create a complex cultural narrative with my work." Instead he wanted to make work that can be used in daily lives. "This work demands to become part of the house," he says. "And have a purpose within your daily routine."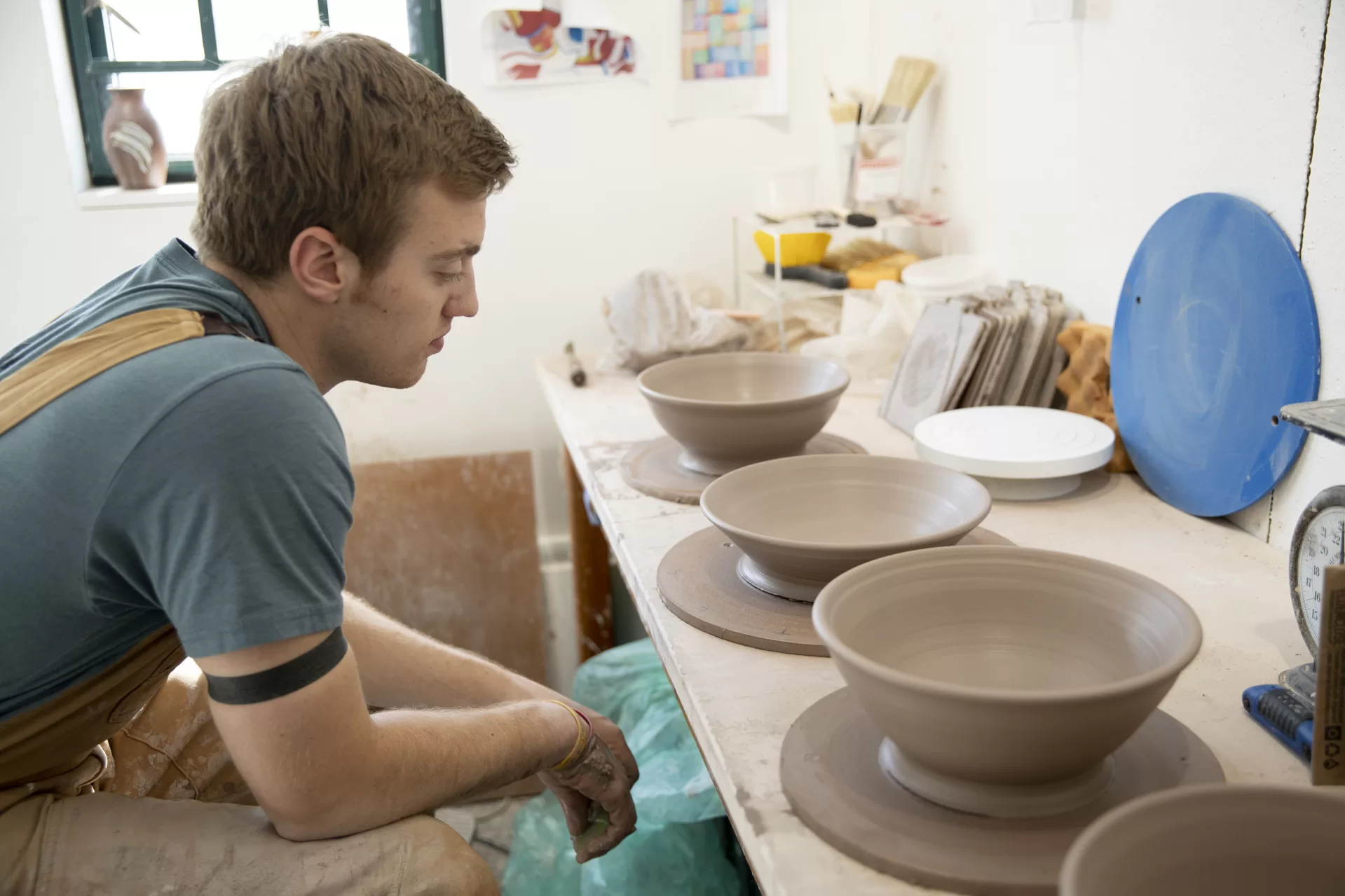 Homes Away from Home
Memories of their longtime homes inspired many of these student artists, but it also compelled others to create homages to what in the end, were fleeting homes. Helen Pandey '22 of Nashville, Tenn., spent six months living in Hawaii during the pandemic, a time that she says caused her to grow and evolve. She chose to create an entire body of work based on a photograph she made on Oahu. Every painting she presents is a study from that photography.
"My goal is to immortalize the dream-like qualities of my life at that time as well as the landscape of Oahu." She used techniques drawn from the Impressionist movement, and was especially inspired by artists like Maurice Prendergast. In using dripping paint, she tries to evoke the fading of memory, linked to that window of time when Hawaii was, however briefly, her home.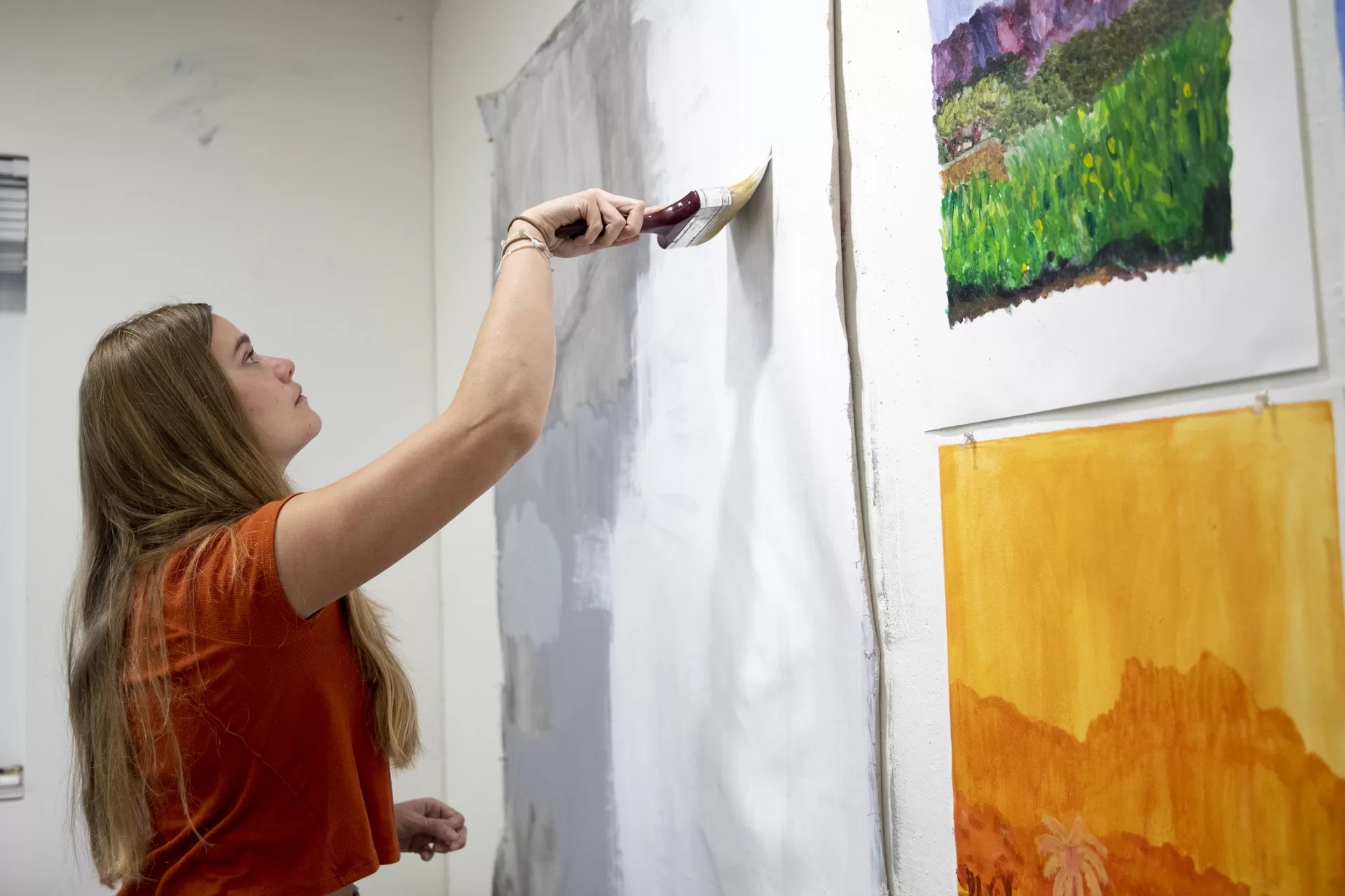 The same might be said of the approach Nick Charde '22 of Concord, Mass., took in his thesis work, chronicling Lewiston as he experienced it in the last two years. His project draws from his surroundings and focuses on its "eclectic character" and evolving nature, old mixed with new, abandoned with revitalized.
He's been roaming the city with his camera, focusing less on the places than on his journey to find and photograph them. Then he used a mix of mediums, including graphite, colored pencil, pen, and markers on a variety of papers (Bristol and tracing) as well as acetate film and cutouts of inkjet prints. He works in layers, which leave him room to go back and add other elements later if he chooses, in much the same way that a city grows and evolves.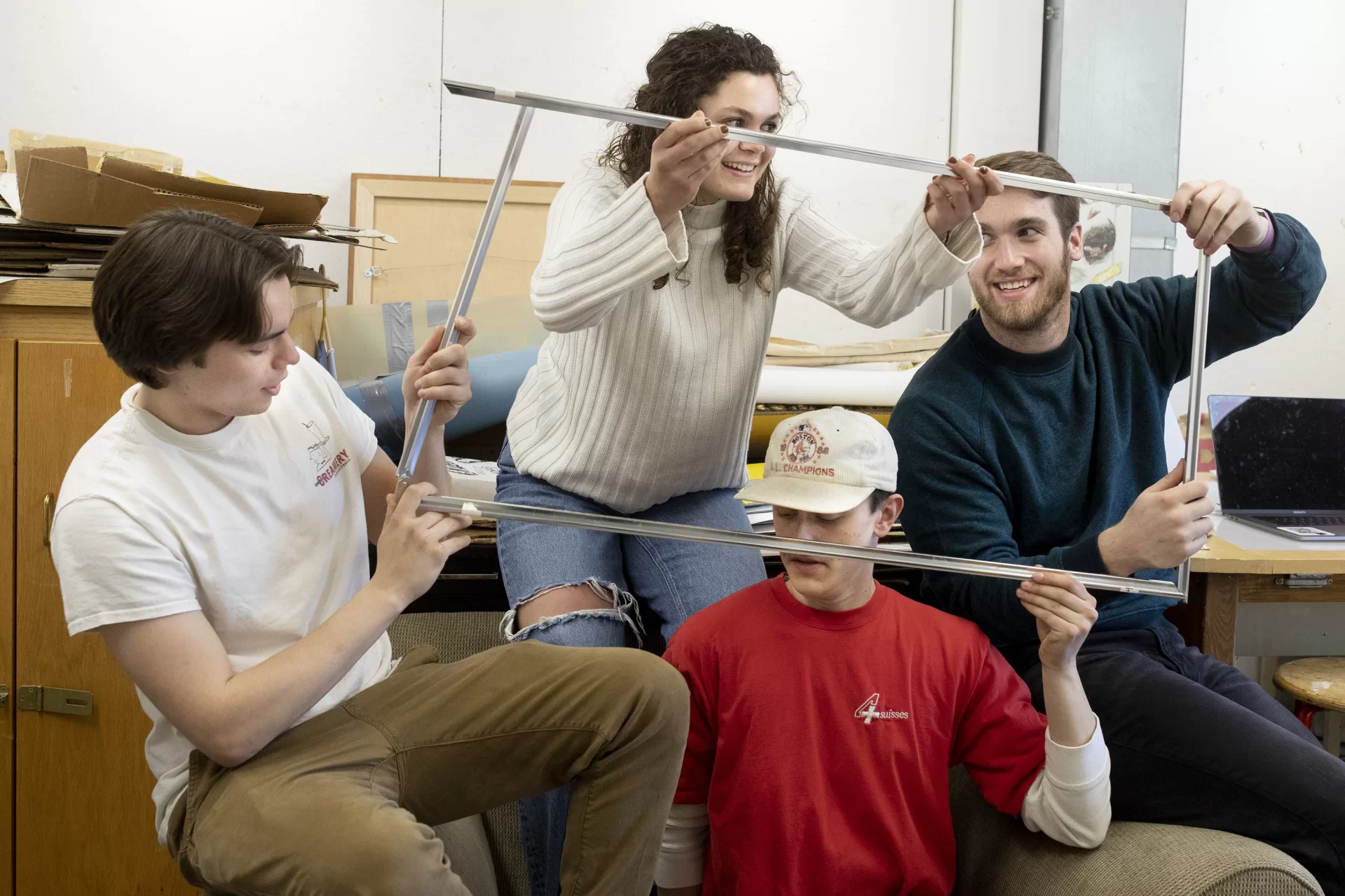 "This project has allowed me to explore the city that has been my home for the past four years in new ways and under new contexts; it has given me a way of expressing my experience in Lewiston with more clarity and insight," Charde says. He hopes his work will inspire its viewers to go see Lewiston for themselves.
While Charde was exploring Lewiston's streets and buildings, Katy Boehm '22 of Denver was designing her own little world, complete with homes and businesses. Influenced by the ways in which Chris Ware, Marjane Satrapi, Norman Rockwell, Jennifer and Matthew Holm, and N.C. Wyeth create work that "encourages viewers to assess imagery for narrative elements," she uses digital drawing, pen, ink, and paper.
"Like the artists' works that influence me, I want viewers to immerse themselves in the world I have created," Boehm says. "I hope viewers are challenged to imagine their own living space and how their relationships and interactions exist within that space."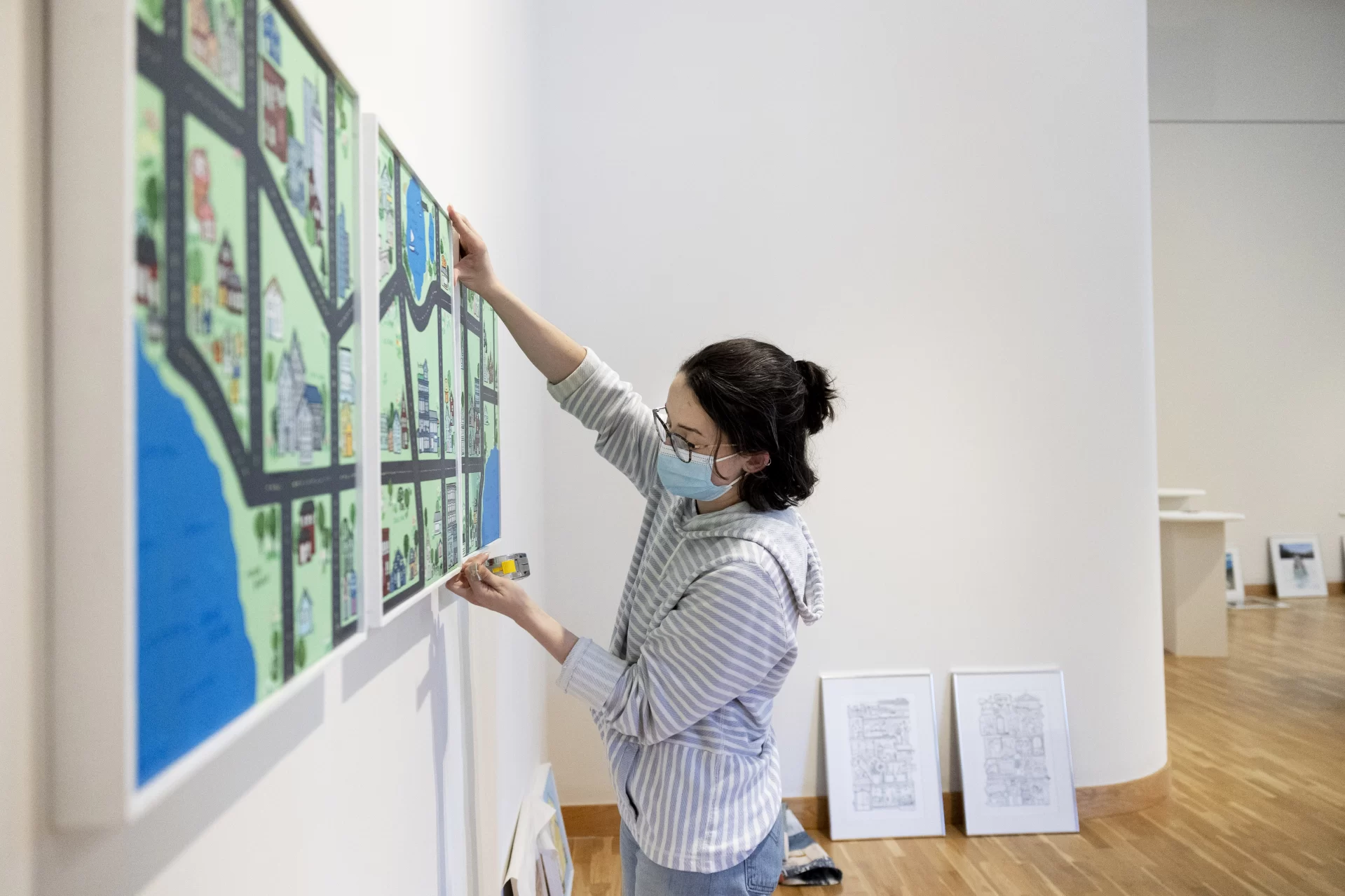 Ollie Penner '22 of Pasadena, Calif., a double major in American studies, works in mixed media, starting with photographs taken with his Fujifilm X100F camera as well as scans of grids and diagrams he finds in books and online. "I use Photoshop to layer different elements and create relationships with my photographs." His work is inherently architectural and political.
Penner counts Indigenous researcher and writer Marisol de la Cadena's work as a big influence: "Their essay 'Indigenous Cosmopolitics in the Andes' inspires my questioning of the dichotomy created in Western society between humans and nature. I take inspiration from going on walks and bike rides around California and in Maine and observing textures and forms which are deemed 'natural' but also appear to look manufactured. I am also fueled by my ongoing uncovering of how settler colonialism has shaped the way in which we view and interact with 'nature.'"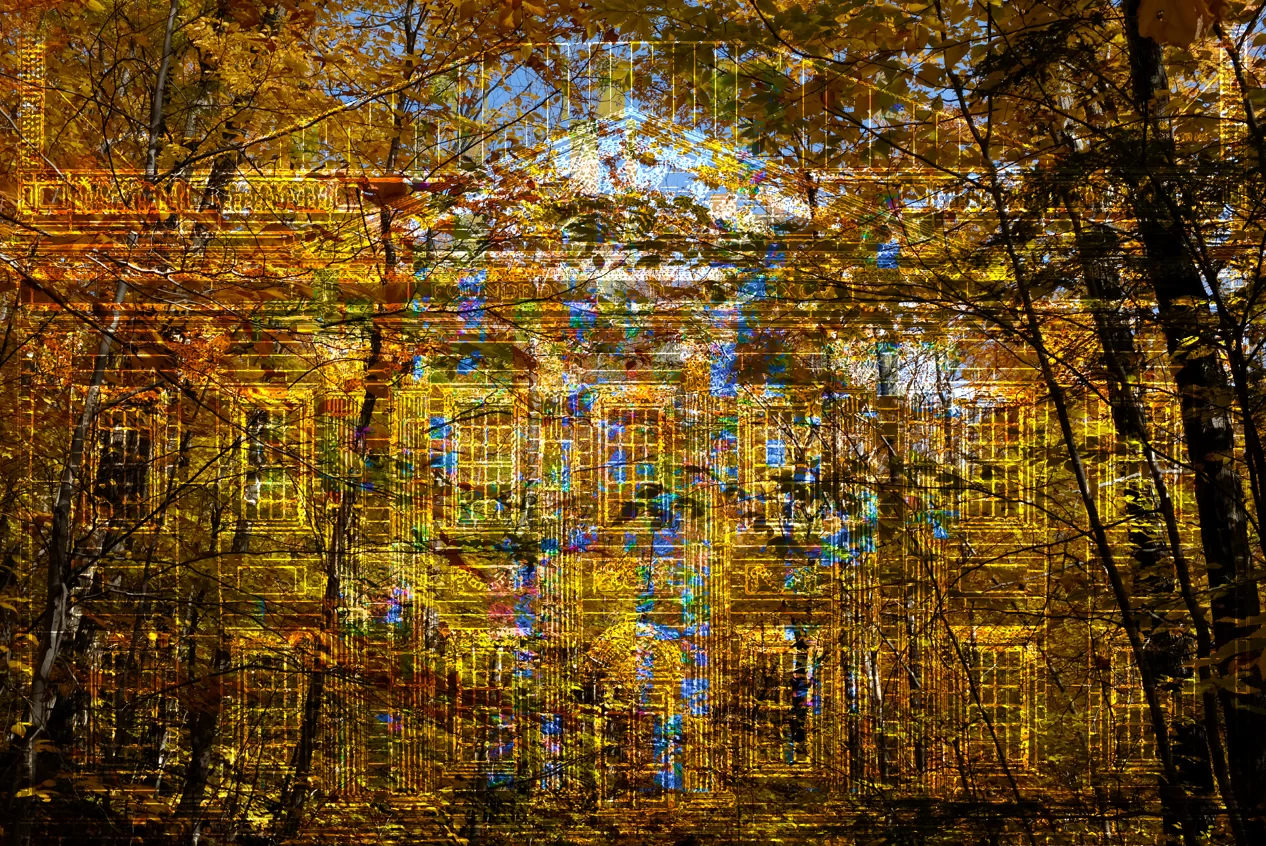 Home Body
Two seniors, Kate Weinberg '22 of Wayland, Mass., and Mary Richardson '22 of Blue Hill, Maine, focused on issues of self-confidence, validation and how we see ourselves in what one might describe as the ultimate home: our bodies. Weinberg used sculptural stoneware ceramic pieces, including vases and pitchers fired in a gas reduction kiln, to explore two main themes, starting with the female form.
"My work is an unfiltered portrayal of the female body. It emphasizes the curves, shapes, and form of real women. As a previous Division I athlete, I found myself in a community that greatly influenced the perception of my body. Since then I have found clarity in accepting and celebrating my body, and want this confidence to be emulated in these pieces."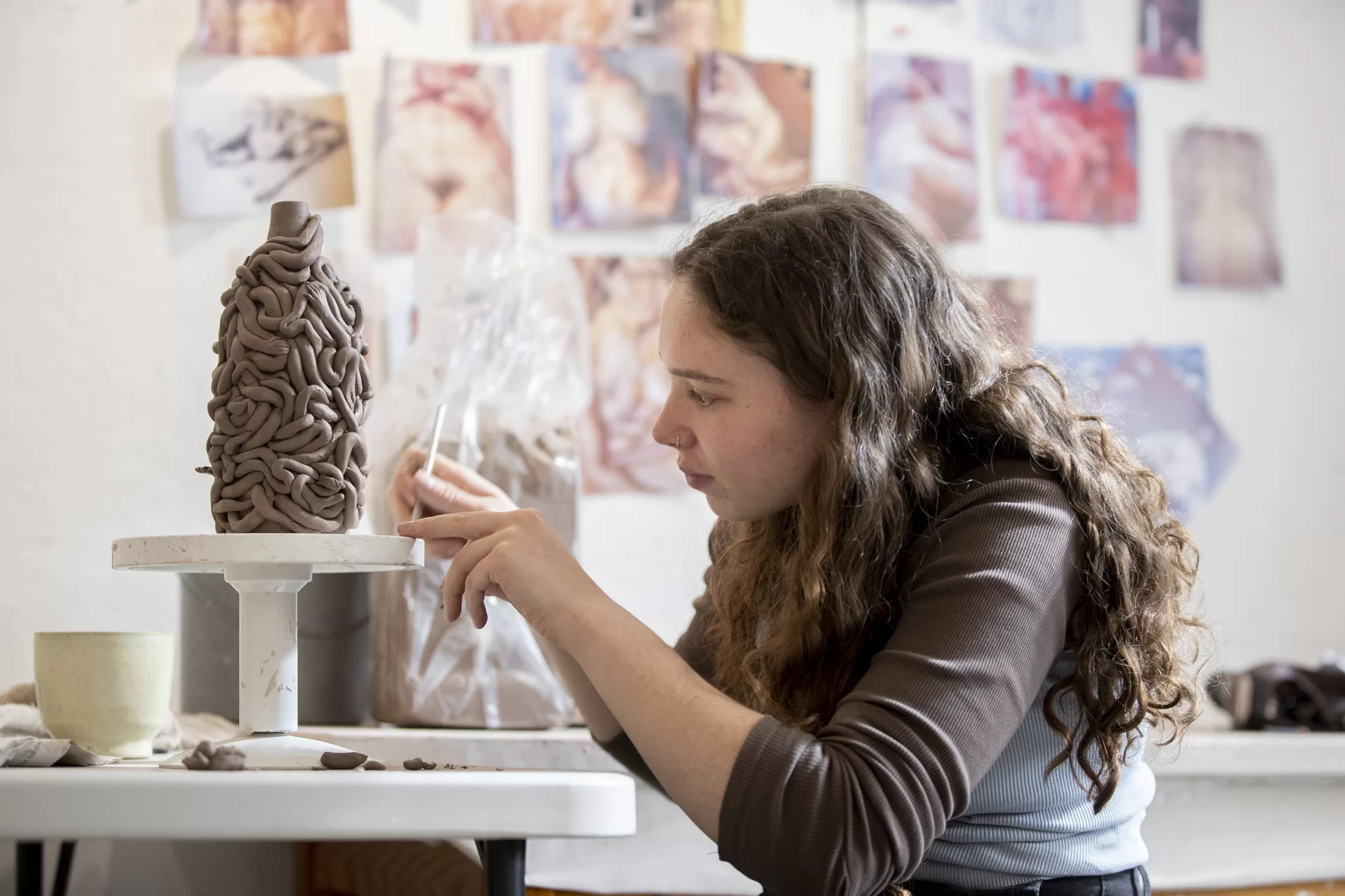 Her second focus is on physical connection, the chemistry between two people. In her sculptural vases, directly influenced by seeing Louise Bourgeois's The Couple last summer at Mass MOCA, feature bodies morphing together. "It is easy to lose track of where one person starts and the other begins." For Weinberg, Bourgeois' sculpture embodies what it feels like to be connected to someone. "I wanted others to experience that feeling from my work as well."
Mary Richardson '22's body of work combines similar themes of womanhood, including her own struggles with an eating disorder. "I primarily use colored pencils, pen, and letter stamps. One of my pieces, Untitled, illustrates how I struggle with 'filling others' cups" before filling my own. The emptiness and limited palette of the piece is meant to suggest a glass of water being emptied."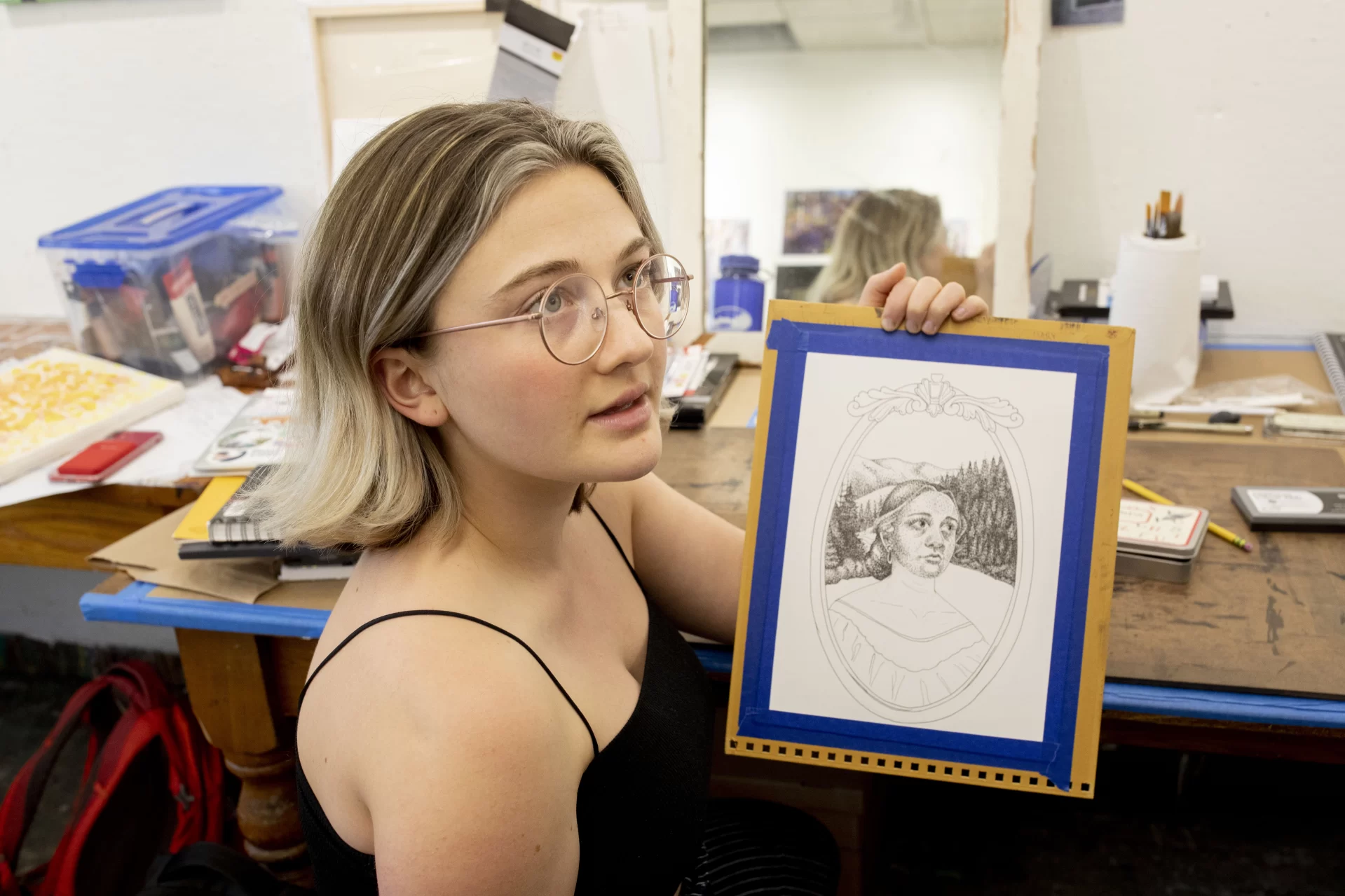 Another of Richardson's pieces, Facetime Unavailable, speaks to her "history with male validation issues." Like some of her classmates, Richardson, who is from Blue Hill, Maine, also focuses on childhood nostalgia, particularly poignant at this critical moment in time for all of these seniors.
"This body of work draws from this stage of my life as I reach the conclusion of my childhood," she says. "There is something very bittersweet about growing up, but I also think that it is a very telling and metamorphic transition."