Manuel Machorro Gomez Pezuela '25 of Mexico signed up for his first Short Term course, "Writing War: National Security Journalism," so he could learn more about a profession that fascinates him.
A similar impulse motivated Chloe Arons '23 of Montclair, N.J. A politics major with a minor in history who transferred from McGill this year, she's a voracious consumer of news, listening to WNYC ("every morning"), reading The New York Times and The New Yorker, and watching CNN.
Their instructor is national security correspondent Paul Shinkman, who took time off from his day job at U.S. News & World Report to teach Bates students the basics of war reporting. He's reported from Ukraine, Iraq, and Afghanistan as well as the U.S. detention facility at Guantanamo Bay, and on the May days when he's not teaching, he's dialing into Zoom press conferences at the Pentagon and such to write his own stories.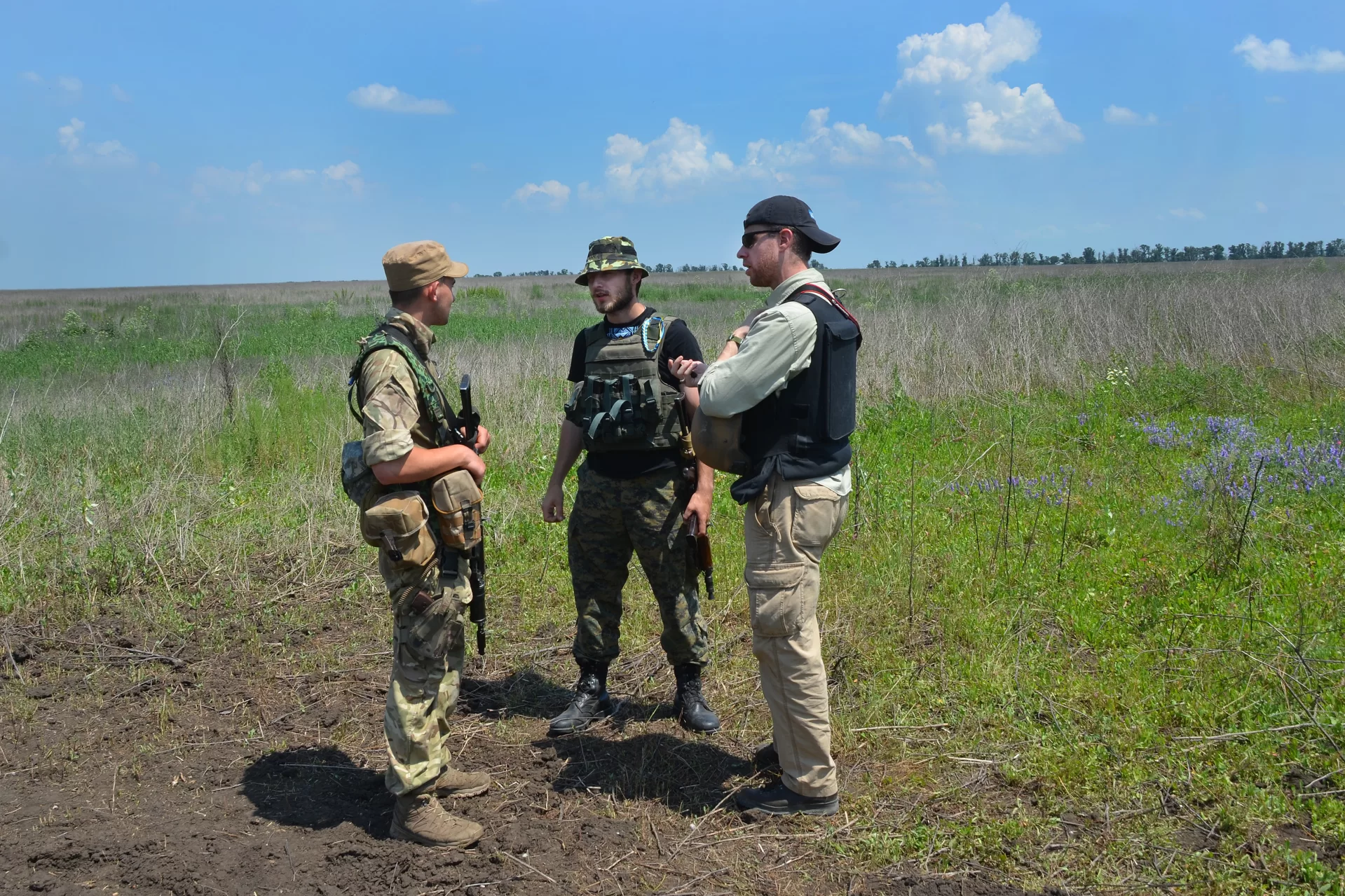 But neither Pezuela nor Arons were expecting the first day of their practitioner-led course to unfold quite the way it did.
"We walked in, and immediately he's like, 'We're going to do a writing test.'" Arons says. As they took their seats, Shinkman launched into a mock scenario in which a real high-ranking member of the military had just died in an accident. Shinkman gave them a few facts about this fictional breaking news story and told them to start writing. They had 15 minutes. "I'm like, 'What?'" Arons says, laughing. "We're not going to like, go around and say our names and our favorite ice cream flavor?"
This kind of immersive work is the core of a distinctive type of Bates academic during Short Term offering known as a Practitioner-Taught Course, which offer opportunities for students in areas of study that the core liberal arts curriculum are less likely to include.
Each Short Term, practitioners-in-residence come to campus to teach applied knowledge and skills in their field; students not only get that exposure but are able to expand their professional networks. Four such courses were offered this Short Term: Shinkman's, a "Practicum in Mediation and Restorative Justice," "Music and Health," and "Digital Marketing."
Every few minutes during that first day in "Writing War," Shinkman fed his students a little more information. And every few minutes, they revised their stories accordingly, until eventually, they'd written complete stories on a tight deadline.
It was scary, disorienting, and, for Pezuela, also exhilarating as it dawned on him how hands-on this class was going to be. No researching 10 facts about journalism and turning that in as homework, but rather practicing the trade. (Peter Moore '78 created a similarly immersive and popular journalism course in 2016.) Pezuela said he realized that "this was clearly a teacher who cared and who knew that he was only here for three and a half weeks and he had to make the most of it. "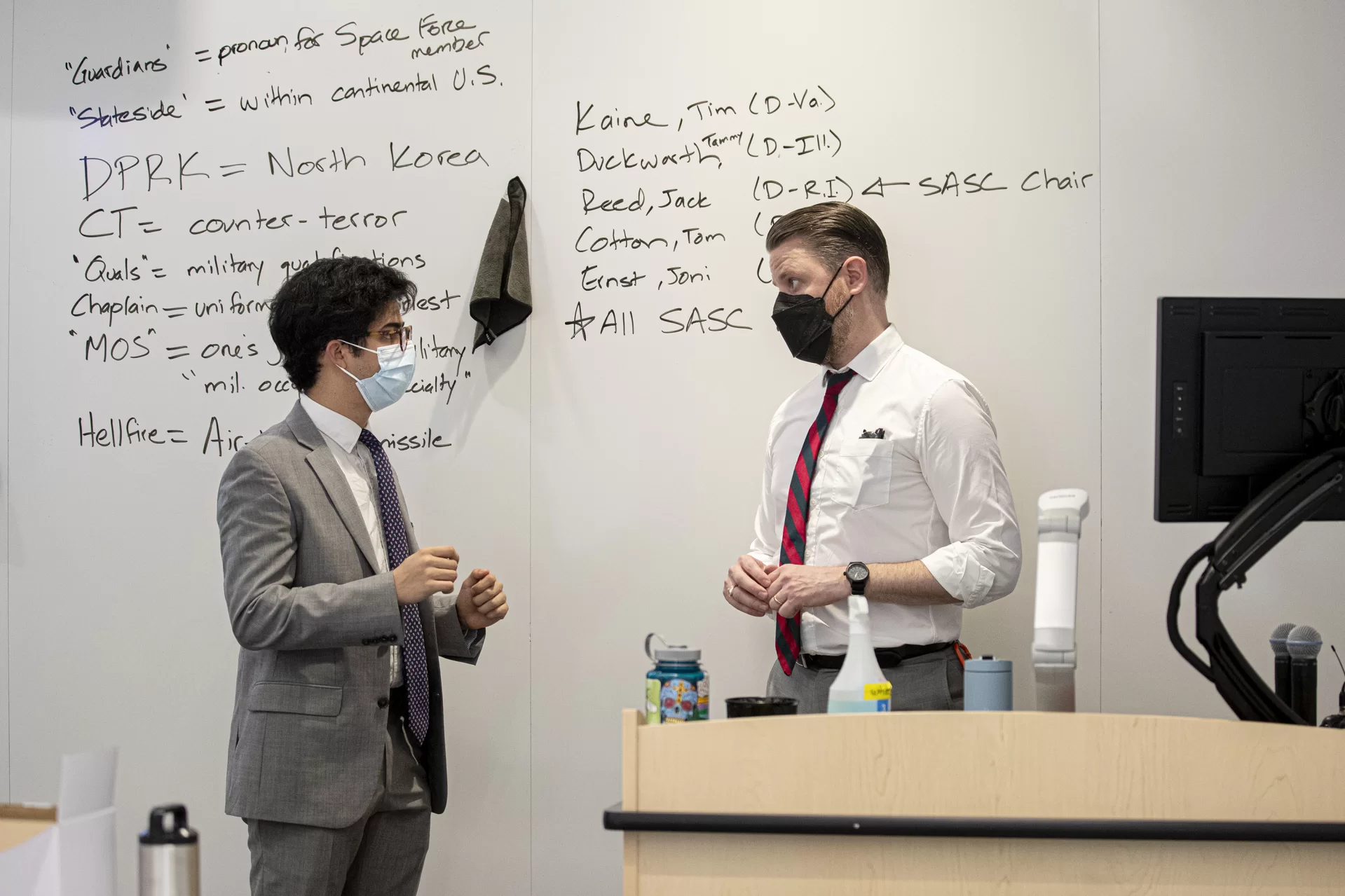 By the next week, Pezuela, wearing a suit (Shinkman recommends dressing the part), was sitting in a second floor classroom at the Bonney Science Center, attending a Zoom "press conference" with Katey van Dam, a contact Shinkman had made as a reporter. Van Dam was among the first women to pilot a U.S. Marine attack helicopter. After a career that included combat deployments in Afghanistan and counter-piracy operations in the Horn of Africa and Gulf of Aden, in 2017 van Dam testified to Congress on behalf of women in the military and to advocate for including women in the draft.
Shinkman had devised a place and a time for the simulated gaggle: in a hallway in the U.S. Capitol right after that 2017 testimony. The students had the assignment of looking for hard news, the kind of followups that went beyond van Dam's public testimony.
The students were all business and well-prepared, having spent the previous afternoon proposing and editing questions in groups of four divided by news bureaus. Pezuela, identifying himself as a reporter from The New York Times, grilled van Dam about her motivations for pursuing more inclusion in an institution known for its bias against women, while Arons, as a Philadelphia Inquirer reporter, posed a skeptical question about the draft itself. "If the draft wasn't instituted after 9/11, when we had an attack on our soil, what makes you think it will ever be necessary to implement it again?" Arons asked.
Van Dam spent two hours with the students and as a source she was friendly, approachable and thoughtful. "That was my favorite scenario," Arons says now as the course nears its end.
Short Term is a beloved tradition at Bates, but it hasn't been held since 2019 due to calendar changes forced by the pandemic, which means most of this year's seniors have experienced only one Short Term. Some will graduate never having experienced it.
For their second and final Short Term, seniors Douglas Amirault, a double major in economics and math from Lexington, Mass.; Sofia Edgar '22 a physics major from Boise, Idaho; and Courtney Gray '22, a sociology major from Belmont, Mass., decided to take the Practitioner-Taught Course "Digital Marketing: Changing the Art and Science of Marketing" with Ashley Hart '91.
Hart, who previously taught the course in 2017, has been an executive in the tech industry for over 20 years and has worked as corporate vice president, digital experience, for Microsoft; senior VP at Oracle; and global chief marketing officer for Infor. Earlier, she founded her own digital marketing consultancy firm, Ashley Hart Marketing.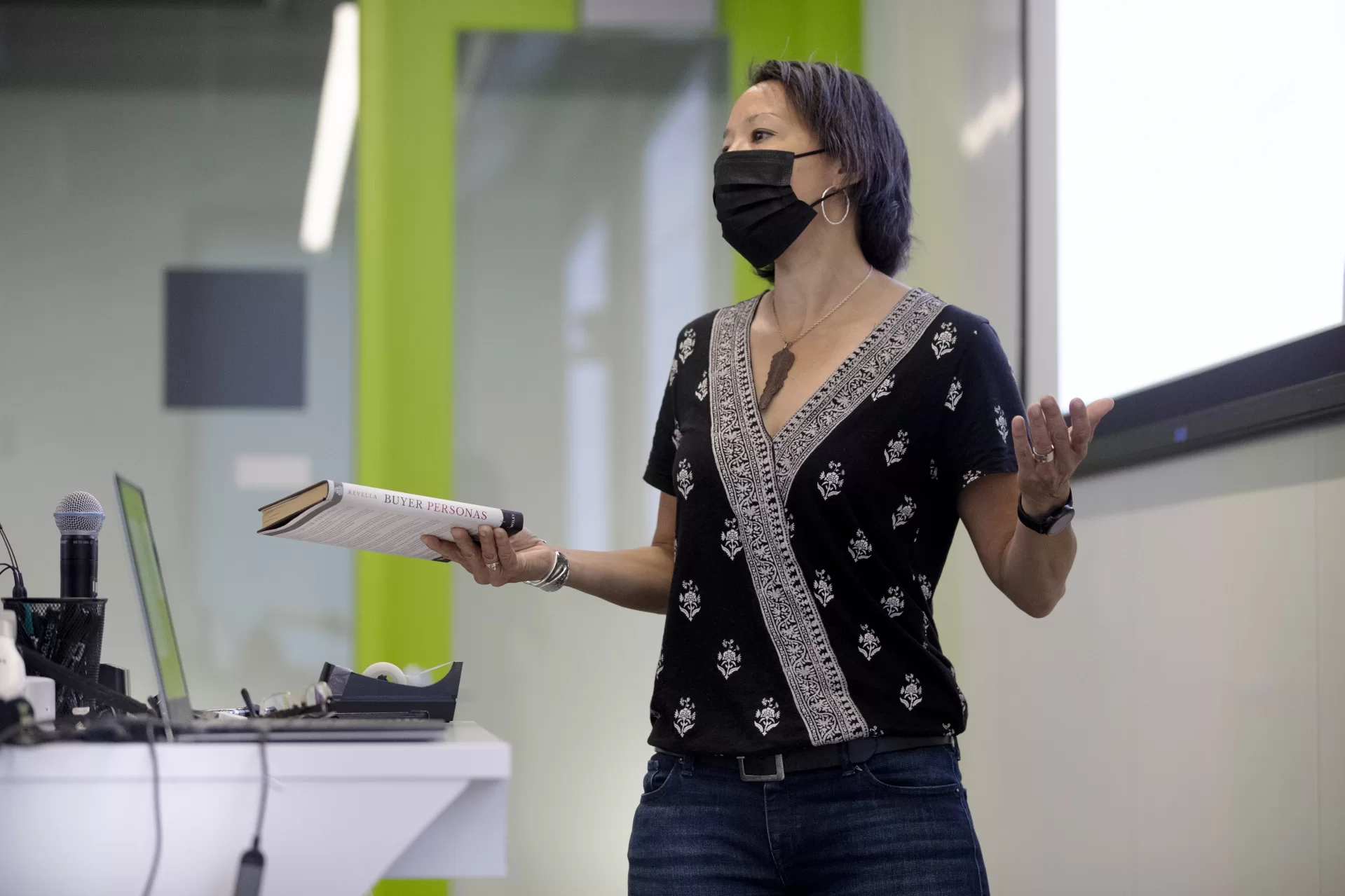 At warp speed, Hart's course takes students through the process of founding a digital agency, branding it, building a website and developing buyer personas. They're figuring out how to pitch themselves to companies who need help selling. Within that, it's essential they understand why consumers make the choices they do. Hart divided them into four groups, or four "agencies," many of which turned out to have a sustainability angle based on the student's interests. "They're very big into sustainability," she says.
But again, Hart's is a highly practical course. "So it's important for them to understand that maybe the buyer doesn't care about sustainability," she explains. "I'm also trying to teach them that just because something's important to you doesn't mean that it's important to your buyer." She's giving her students the analytical tools to figure out what does matter to a buyer.
While no course like this was offered while she was at Bates, Hart credits the student-led entertainment series led by what is now known as CHPB (Chase Hall Programming) as introducing her to the field of marketing. She loved promoting concerts and other events at Bates, and wanted to pursue that as a career. But as a recent graduate with a liberal arts degree, "I had to struggle to get a job," Hart remembers. "Nobody would hire me because I didn't have a marketing degree."
Her goal is to equip her students with what they need to actually get hired. "Even though they don't have marketing degrees, they'll have a marketing portfolio that they can show off, with a website, and their copywriting and which shows they know how to write Google ads." She's giving them the basics then, taught by someone who has seen every aspect of the business as it has evolved.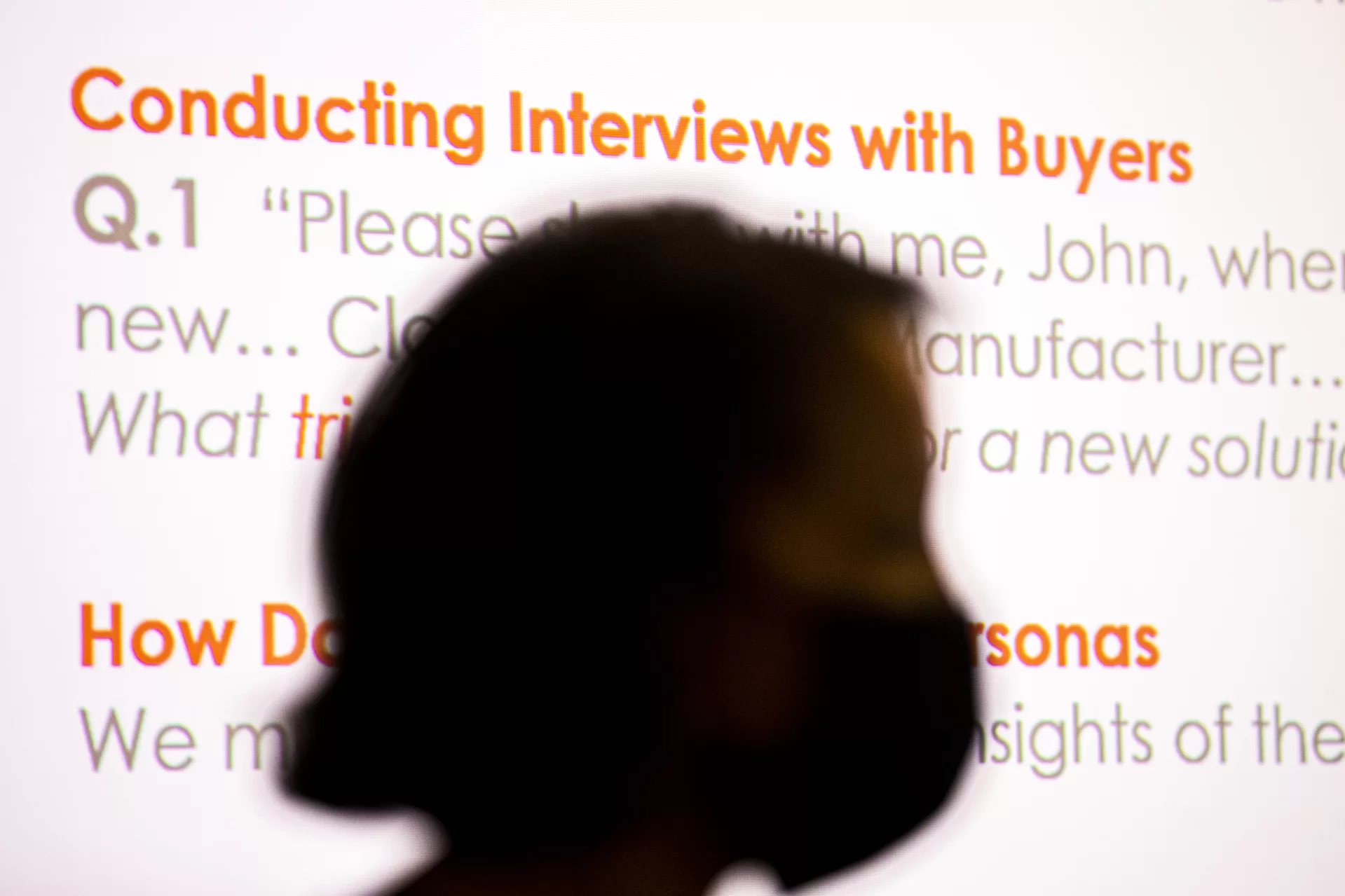 For Sofia Edgar, the chance to study with someone who has been a leader in the field for 25 years was enticing from both an academic and personal sense. She's spent her time at Bates immersed in the sciences, including astronomy research. "We do a lot of data science," Edgar says. "Obviously from a different data set. We look at galaxies, they look at user data. But it was interesting to see the aspects that are the same."
Edgar plans to put what she's learning about digital marketing to use in a creative side business (Hart notes that several of her students are entrepreneurs). Edgar makes and sells clay and polymer jewelry in the shape of fruit through an Etsy store, SilverLashesCo. "The class is mostly geared toward working at an agency," she says. "But I'm looking at the class through a small business lens and I've been picking out the pieces that I think would be valuable to my company."
By the second week of class, Douglas Amirault was writing blog posts about mistakes startups can make. By the third, he and teammate Edgar had a professional looking, credible website for a digital marketing agency called Drinc (oriented to beverages) that he'll be able to link to on his resume. Amirault already has a job lined up after graduation, as a health economist and data science, so he's not going into marketing.
But what he's enjoying, as someone who has done a lot of programming on the back end of things, is seeing how front end web development works. And when he shares Drinc's website — sleek and professional looking and featuring a nifty logo — it's clear he's proud of what he and his classmates created.
For many in the Practitioner-Taught Courses, that's the joy: getting a preview of and richer understanding of how a field works. Arons feels it when she looks at all the news she consumes now and understands the components of what goes into a news story, including the lede and nut graf, and sees how different that kind of writing is from the academic oriented writing she's used to. When she heads off to England for a summer course at Cambridge in international security and intelligence programming in July, she'll also be more prepared. "I thought I should get a little bit of background here before I throw myself into that."
And for others, taking a Practitioner-Taught Course could make the difference in getting that first job. Gray, a sociology major with a minor in French, has already had two marketing related internships. She liked both, but they were primarily focused on creating social media. The view she's had of digital marketing from Hart's class feels like it will be invaluable as she starts looking for jobs after graduation.
"Being able to learn from someone who's been so successful in the field is definitely a once in a lifetime opportunity that would be really hard to get if I didn't do it here," Gray says. "Going into the workforce, I think this would definitely give me a leg up."