On June 20, the Dana Hall renovation at Bates passed its inspection by the city of Lewiston, thereby earning the college a certificate of occupancy for Dana.
The next administrative hurdle to hop, as we reported previously, is so-called substantial completion, meaning that construction management firm Consigli has satisfied the contractual definition of a done deal and the college can again be the boss of the building.
"As you can see walking through, we're still a little ways from that," says Chris Streifel, Bates project manager for Dana. But most of the outstanding work falls into the broad categories of final corrections and technological testing.
"With a couple more weeks, we should have a very different look in most of the rooms," Streifel continues. By late July, substantial completion grows close, although Consigli will continue to have a role at Dana for some time thereafter. In the meantime, Bates can move equipment and supplies into finished spaces. Substantial completion isn't absolutely necessary until, as Streifel says, "we start bringing in people" later this summer.
Approaching the former Dana Chemistry Hall from the Historic Quad last week, we were struck by how normal it all looks — surrounded by lush grass and trees and showing no visible signs of a construction project, other than the two literal signs at the entrance proclaiming Consigli's presence and forbidding smoking.
The Alumni Walk side was a different story. Placed around the entrance were a table saw, a lot of cut wood, some dismounted doors, and a lawn mower. Subcontractor vans and trucks lined the walkway. Among the firms represented were Firesafe Equipment, Mechanical Services Inc., Minuteman Security Technologies, and Tekon Technical Consultants.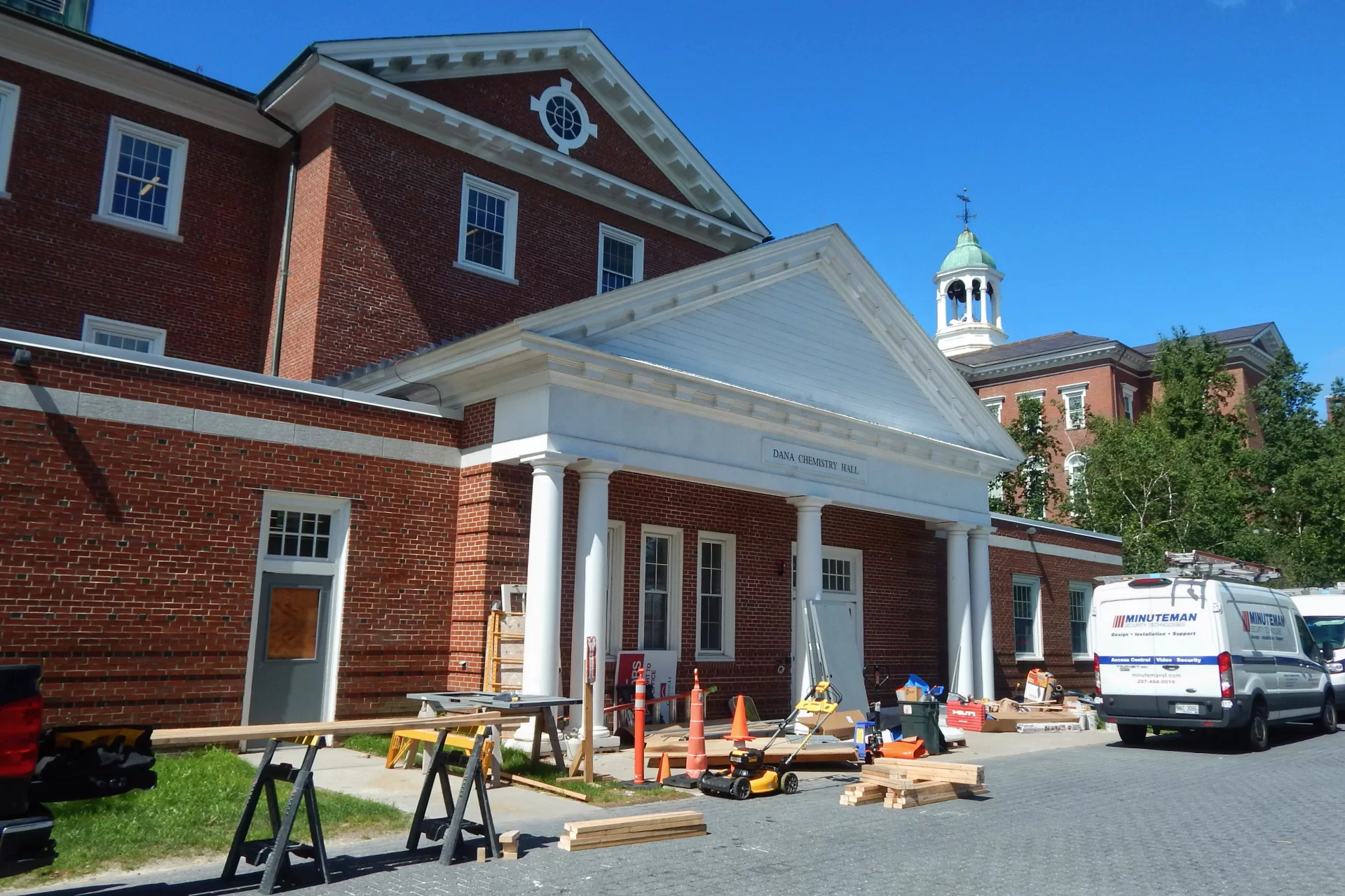 Tekon, of Portsmouth, N.H., is undertaking the complex task of testing and balancing flows of air and of water within the building's HVAC system. (Rather than being sprayed directly onto building occupants periodically to warm or cool them, the water has a covert role, as it's used to warm or cool circulating air. We have tried both the direct and the covert methods and can confirm that the latter is much neater and less likely to be misunderstood.)
On the water side, the testing and balancing experts are "making sure that they're getting proper gallons per minute at all the different devices that use it to condition the air locally," Streifel explains. "From an air perspective, they're looking to confirm they're getting the flows that were calculated for each location where there's a diffuser" — the device that actually pumps conditioned air into a space.
The goal is to balance air pressures so the overall HVAC system can maintain a flow throughout the building. "If you just open everything up wide, the very far end won't get enough air and you'll get too much out of the front end," Streifel continues. The proper balance "allows you to get flow consistently where you want it through the whole train of the ductwork."
Mechanical engineers calculate those correct pressures in the building-design process.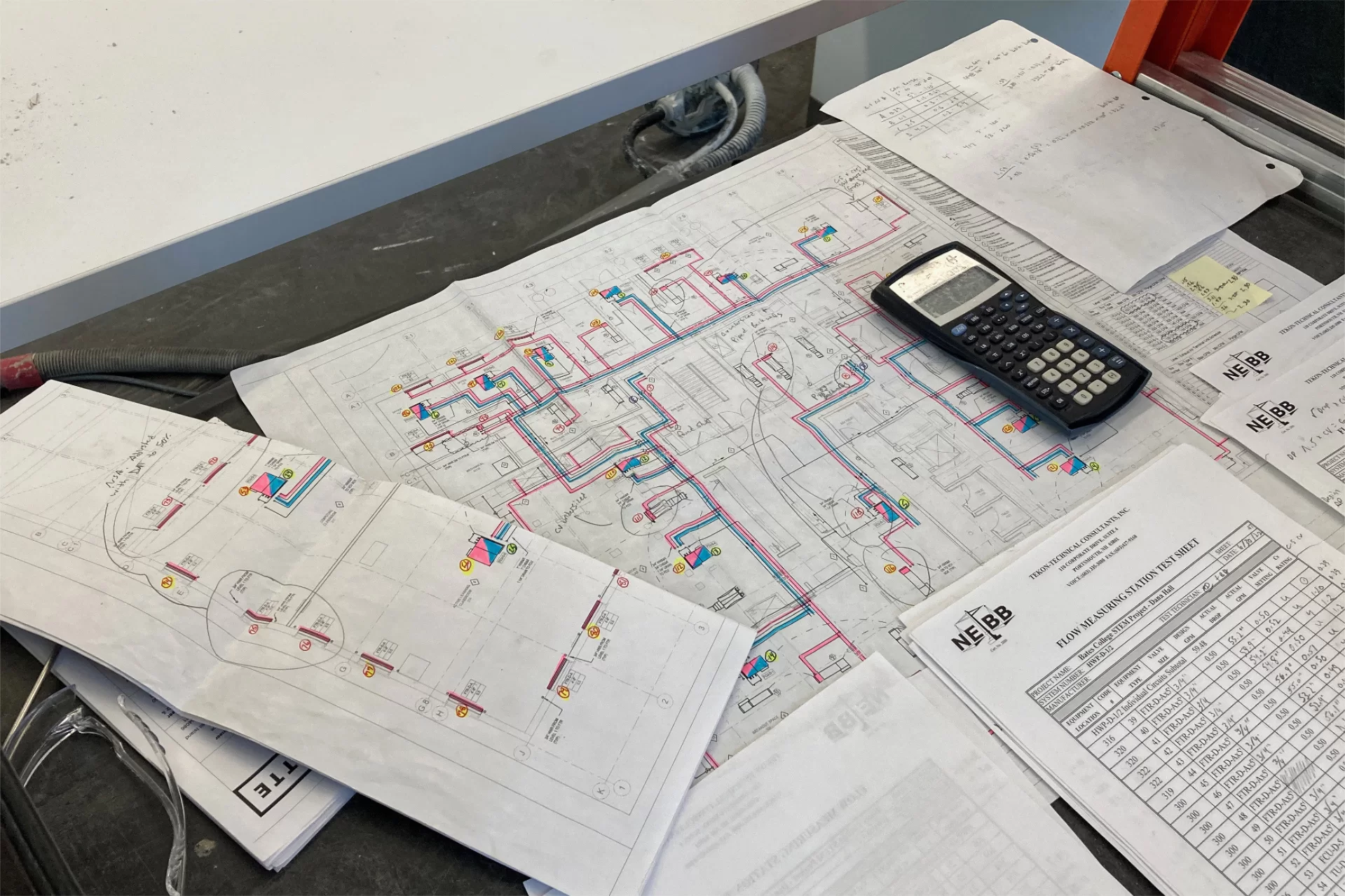 There is still primary work to do in Dana — applying some surface treatments and other decorative elements, placing lab furniture and other casework, completing a few installations in the mechanical, electrical, and plumbing realms (aka MEP). But the Tekon presence is typical of the main thrust of progress these days: closing-out processes like firing up and testing equipment, performing punch-list inspections and making the resultant tweaks, and clearing out tools and supplies.
Offices were punch-listed starting the first week of July. Classrooms come next, then the teaching labs, and finally, toward the end of July, mechanical and utility areas. MEP testing, including the phase of whole-system tests known as commissioning, will continue throughout. And movable furniture, as opposed to stationary furnishings like lab benches, will start to show up this month.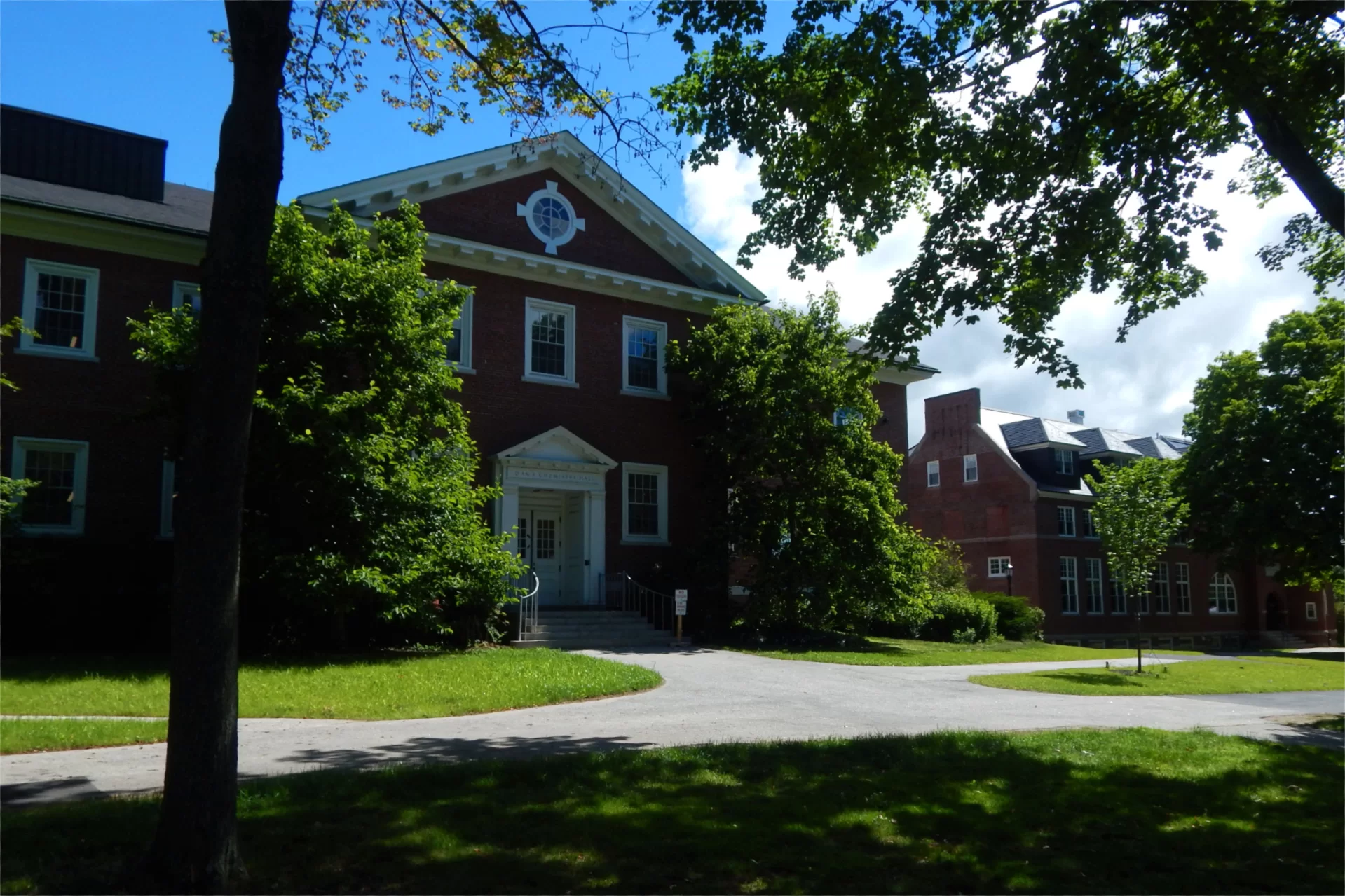 If Dana is, by and large, on schedule, Streifel notes that crimps in various supply chains are causing a bit of heartburn. "As we've tried to close things out, we've had a little trouble getting some of the final marker boards [that we need], for example. A few cabinetry pieces here and there. So that's holding up some things in some locations."
"There's a little bit of forest-for-the-trees going on," Streifel adds. Along with physical things like marker boards and cabinet fittings, definitive information can also show up late. Even Consigli has to rely on its subcontractors for updates, and the subs are waiting to hear from their vendors.
"It's just this chain of information that sometimes takes a little while to really catch up with the truth. We'll know more over the next couple of weeks what really is a problem and what isn't."
"Constant evolution": With most of its entrances closed, and one of them partially demolished, how does a person get into Chase Hall these days?
Well, not to be snooty, but most persons don't. Only at the start of the 2023 academic year, when Chase reopens after a 15-month renovation, will members of the campus and the public be allowed into the building again. Until then, only folks connected with the renovation (or those who, like Campus Construction Update, are irrationally convinced that they're connected) can get in.
For us, last week, entry was over the loading dock and through what, until 2008, was the service entrance to Dining Services. Kristi Mynhier, the Bates project manager for Chase, led us from the dock through the former receiving area, which has been stripped down to the bare wall masonry.
Just a short distance inside we paused to ponder a space where, in the coming months, a brand-new major stairway will touch down. This area will look pretty sharp when that's done, but at the moment its close resemblance to a dungeon is spoiled only by traces of now-removed facilities, including a dumbwaiter that was used into the 2000s to hoist meals upstairs and College Store deliveries downstairs.
Next we descended to what used to be the College Store and into the lower lobby, where the old mailboxes still stand, crossed out with big spray-paint X's. The Little Room, past and future site of student gatherings, is largely untouched. But its original entrance and the nearby landing for a different main stairway — the one adjacent to the P.O. boxes and original to the building — are enclosed in plastic sheeting.
This, a roaring air pump, and a "Danger" sign flapping on the poly sheeting were our clues that haz-mat abatement specialists from Acadia Contractors were at work inside.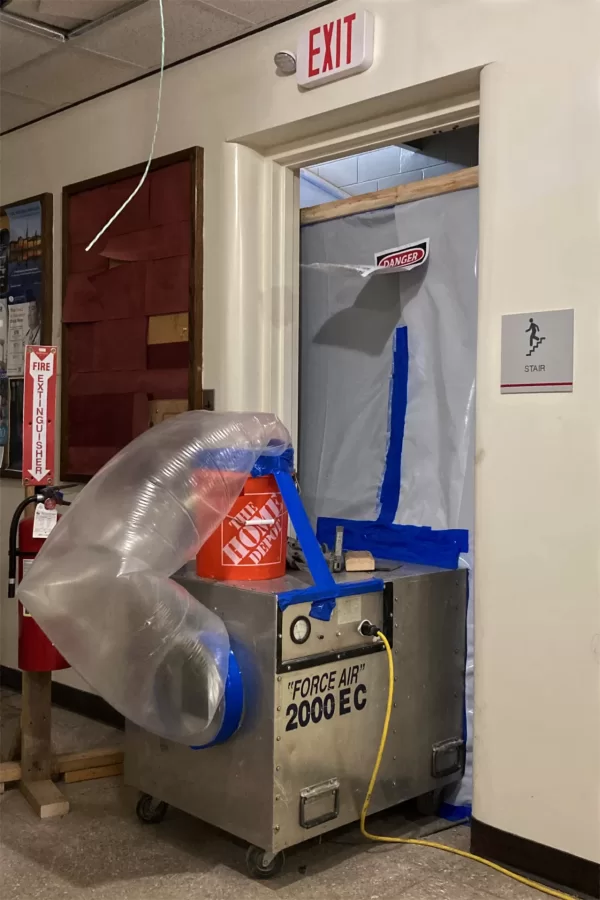 Having spent the early summer tearing out asbestos-bearing materials on the second floor, Acadia is now doing likewise with both that old staircase, which once led from the mailboxes and College Store up to Campus Avenue, and much of the southwest corner of Chase's first floor.
Abatement here will go on till around the third week of July. That will be followed by structural demolition and then the construction of a new and improved stairway connecting the building's three main levels (street access will be lowered to ground level). Acadia, meanwhile, will return to the second floor to take on additional abatement as decorative but hazmat-bearing (isn't that always the way?) arches in a main hallway are prepared for removal.
Mynhier took us up to the first level at a point where poly walls form a corner. Behind the plastic to one side is Chase Hall Lounge, which looks a lot like its old self, but in place of the contradancers and students playing billiards, we saw staffers from Consigli Construction, the firm overseeing construction in Chase. The corner's other wall extends all the way to the door facing the courtyard that Chase and Carnegie share.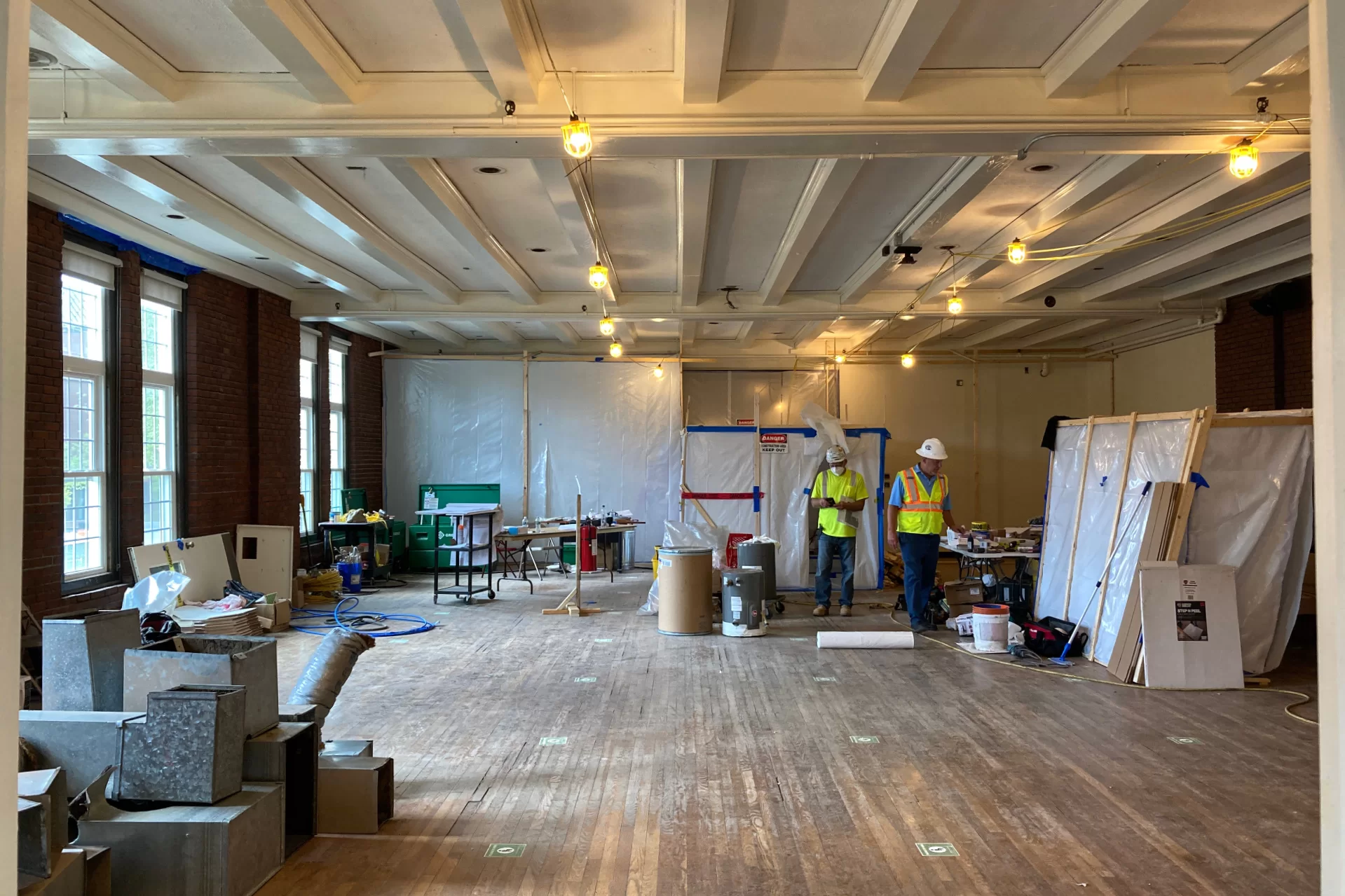 We climbed another half-level into Memorial Commons, which won't be involved in the renovation, and into back corridors where, until last spring, student musicians and others pursued various projects. Demolition of partition walls has opened this area wide, and that's to clear space for that new main stairway.
A landing here will also accommodate a new elevator, and this will provide, for the first time, convenient access to the Office of Intercultural Education. The Bates Musicians Union will return to reconstructed quarters in this vicinity.
Ending the tour, a back stairway we'd never seen deposited us on the second floor. Like the old Dining Services and College Store spaces, this too has been extensively gutted, but here the effect was even more dramatic, as enough wall structure remained to delineate the old floor plan.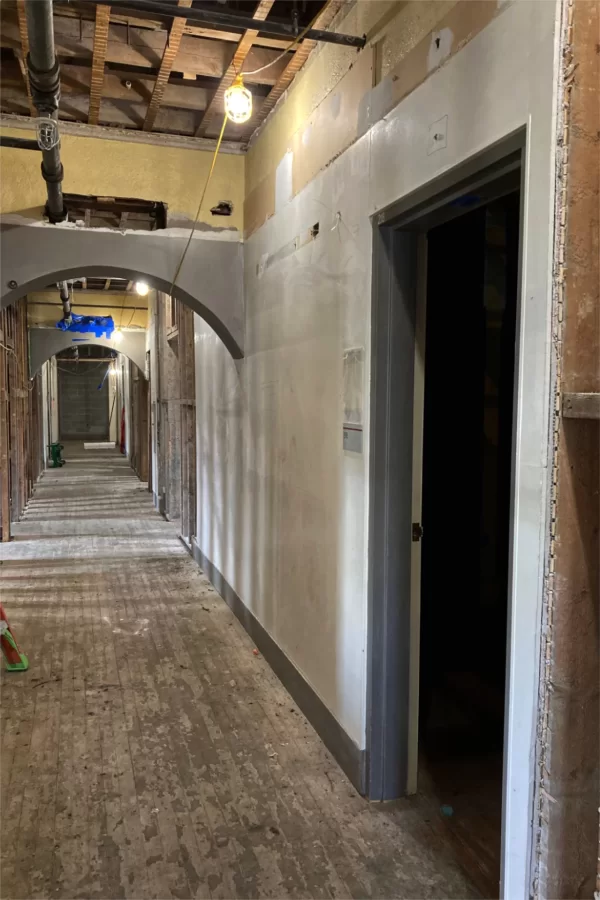 In fact, the old walls had concealed surprises that changed the project team's plans for this corridor, which most recently housed student-affairs offices. One such was that there were more layers of wall lining the corridor than the old plans indicated: In addition to the outermost layer, of modern wallboard, there was also old plaster-lath. (Proving once again that yesterday's builders do often get the last lath.)
This discovery means that in the interest of cost and expediency, the whole wall surface will have to be ripped out to make utility installations, instead of selectively slotting and then patching the wallboard.
Similarly, the removal of other walls along the corridor revealed load-bearing elements, both columns and a wall, that don't appear on original plans. This necessitates a change in floor plan and adjustments to furniture purchases. But at least there won't be any net loss of usable square footage.
"It's part of the constant evolution of a renovation," Mynhier says. "The entire project will go like this, where we'll just find unforeseen conditions and have to pivot."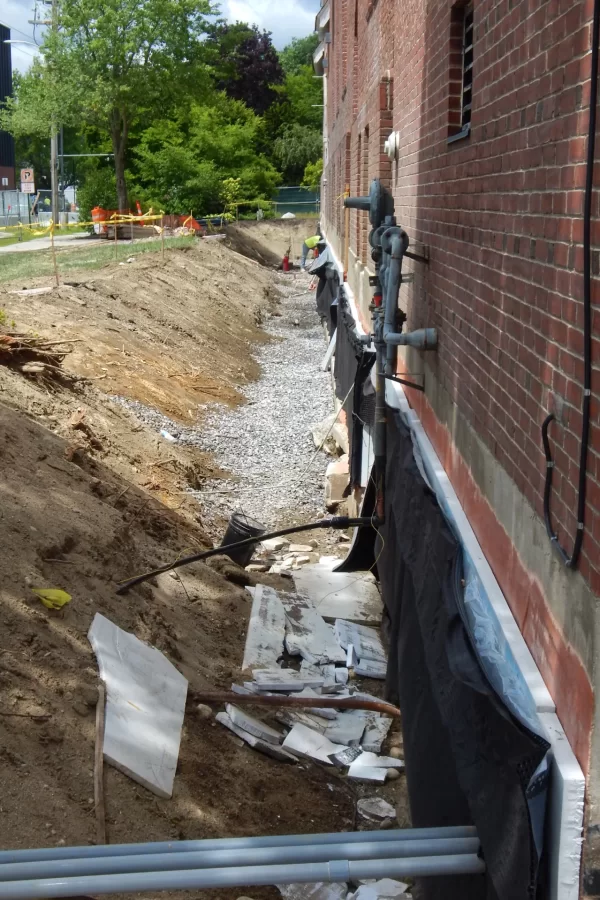 Finally at Chase, we were interested to see that in anticipation of two new exterior entrances, a new trench has exposed most of the building's foundation along Campus Avenue. White insulating foam and black fabric waterproofing have been applied to the foundation wall, and some gravel has been placed in the trench to enhance drainage, with more to come.
Not a lotta terracotta: The race to finish renovating the Russell Street Track is taking a brief breather as general contractor Miller Sports Construction of West Chester, Pa., awaits the delivery of the track and field facility's new surface.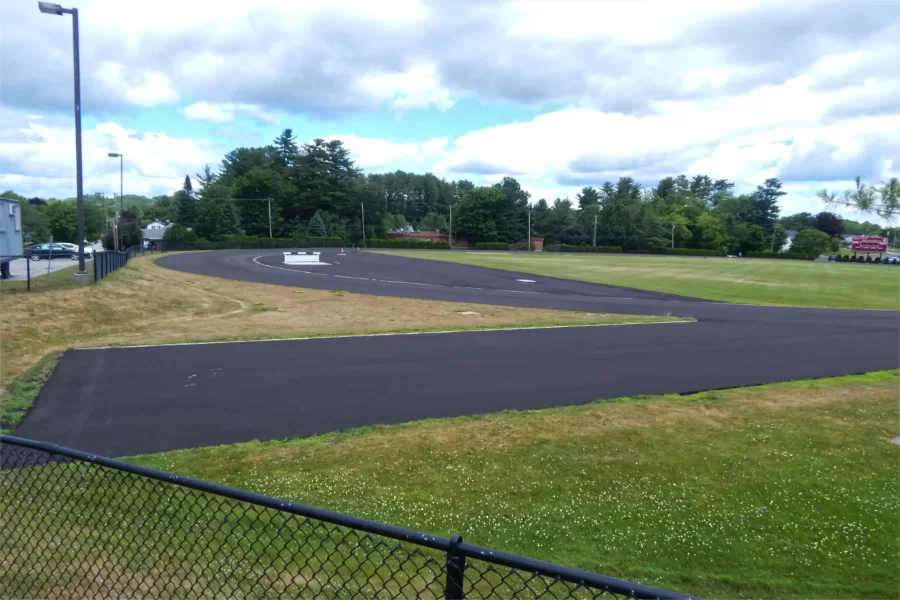 Originally scheduled to arrive this week or next, the many rolls of Mondo Sportflex Super X 720 surface are now expected by July 26. Installation will commence immediately, notes Paul Farnsworth, the Bates Facility Services project manager running the renovation.
Farnsworth explains that the manufacturer of the surface, the Italian company Mondo, encountered delays first in obtaining the pigment needed for Bates' choice of color — terracotta — and then in getting the many pallets of Sportflex onto a ship.
But now that vessel is en route to Montreal for unloading. "They don't expect any issues at Montreal or trucking it here," he says.
At the track itself, not much has happened since our last report. It's no disparagement to say that it's been about as interesting as watching asphalt cure, because, in fact, that's what's been happening. Oh, and a crew from Miller Sports did stop by on the 10th to flood the new coat of asphalt as a way of detecting low spots, which were outlined with spray paint and will be leveled prior to the Mondo application.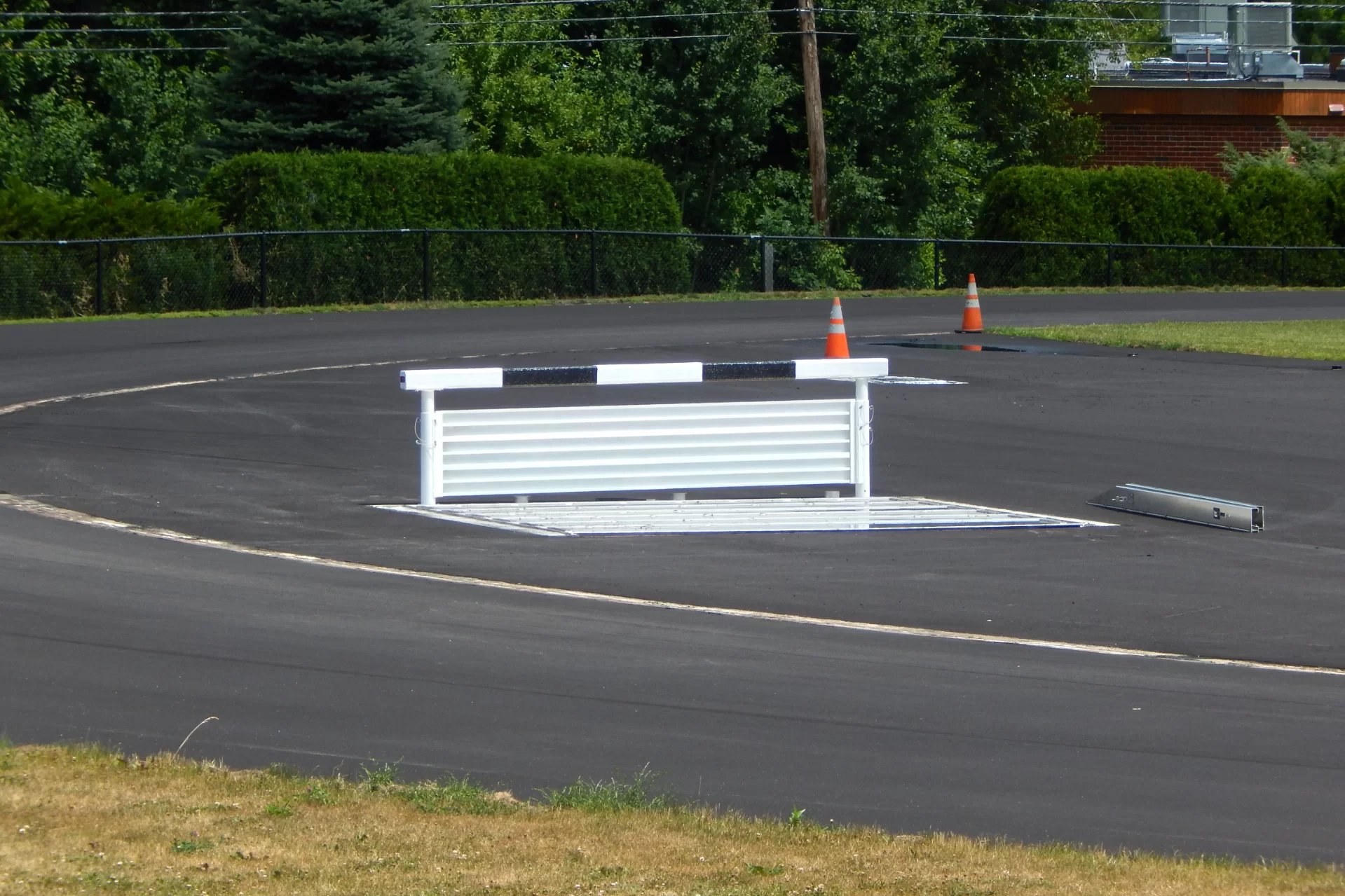 The only variable thereafter is weather, Farnsworth adds. But if there's any silver lining to this summer's worrisome lack of rain clouds, it's the lack of rain-related construction delays.
Also on the athletics front, Farnsworth notes that the new bleachers at the Campus Avenue Field — the facility's first permanent grandstand — are being erected this week. Finished by the end of June was the other major piece of that project, a new, accessible walkway from the field past John Bertram Hall and down to the intersection of Campus and Central avenues.
As noted previously, Farnsworth is overseeing work at the Olin Arts Center concerning heating, ventilation, and air-conditioning — HVAC. That multifaceted project is on schedule, with the original HVAC plant gone and two of three new air handlers being assembled. The third, assuming that no terracotta pigment will be needed, is due next week.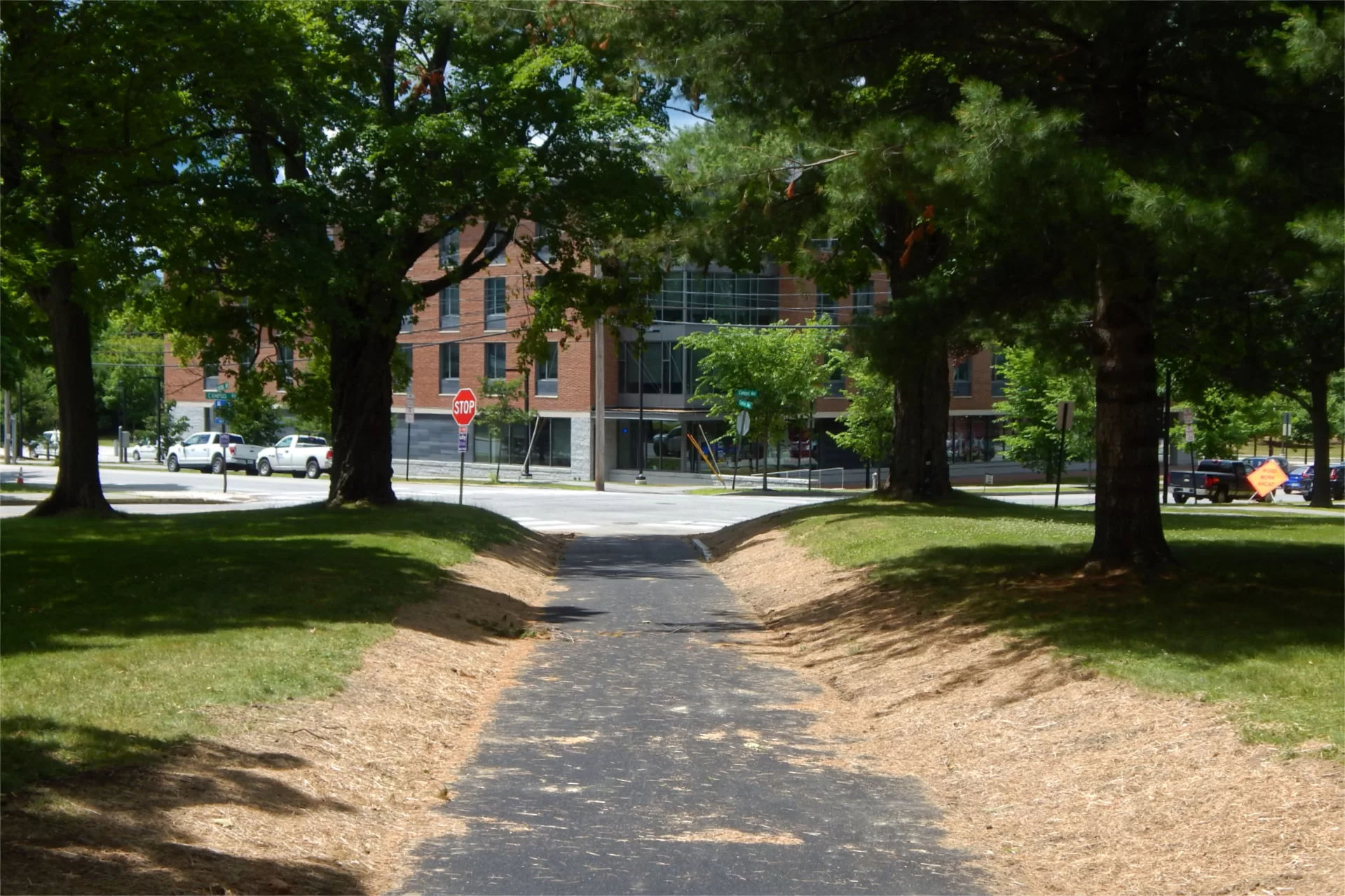 One air handler will serve the Bates Museum of Art, another the Olin concert hall and classrooms below it, and the third, the remainder of the building — classrooms, offices, practice rooms for musicians, and art studios for artists.
Meanwhile, HVAC experts have finished installing 76 variable air volume units, or VAVs. These are the diffusers that actually regulate the room-by-room flow of conditioned air throughout the building.
The project has also entailed the placement of new insulation, a spray foam, into the walls of the art museum, which has necessitated removing and replacing sections of interior wallboard.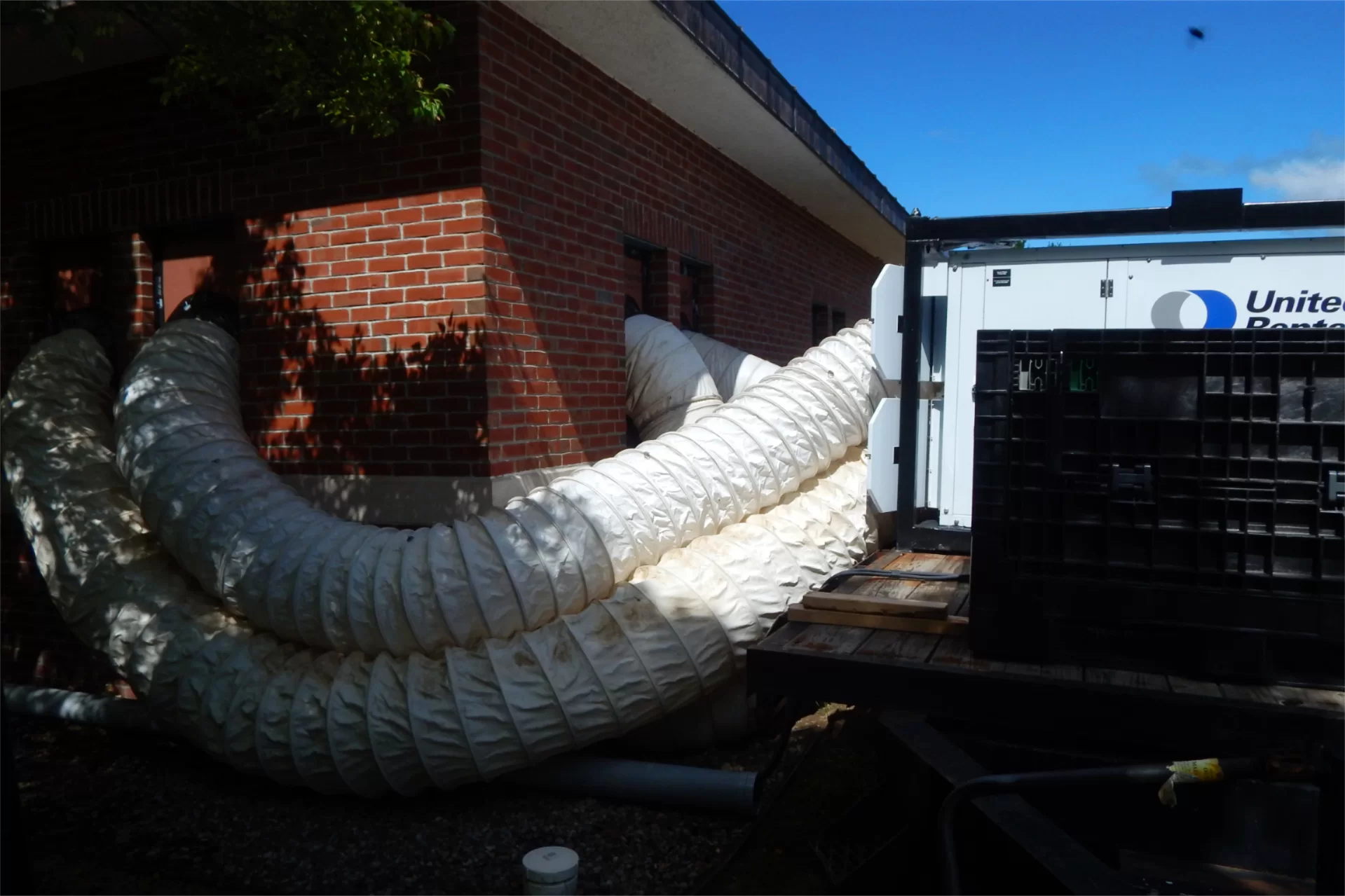 Zachau Construction of Freeport, Maine, is the general contractor for the Olin work.
Nearby, on College Street, plumbing rough-ins have been completed prior to replacing 16 toilets in Page Hall. The old johns were original to the 1957 building. At the same time, PVC pipe is supplanting much of the original cast iron piping, which is so brittle, even when new, that the tool used to cut it simply garrotes the pipe with a tight chain.
The new toilets, in six restrooms, will go in following wall tiling and a city inspection.
Finally, with Chris Streifel as project manager, Facility Services has rebuilt the three distinctively pointy bay windows on the front of Hopkins House. After 30 years of existence, they'd gotten leaky. It was a pilot project: Similar windows on the other two Residential Village dorms, Moody and Rzasa, will be rehabbed next year.
Can we talk? Campus Construction Update loves to hear from you. Please send questions, comments, and reminiscences about construction at Bates College to dhubley@bates.edu, with "Campus Construction" or "It's a lath a minute with you, isn't it?" in the subject line.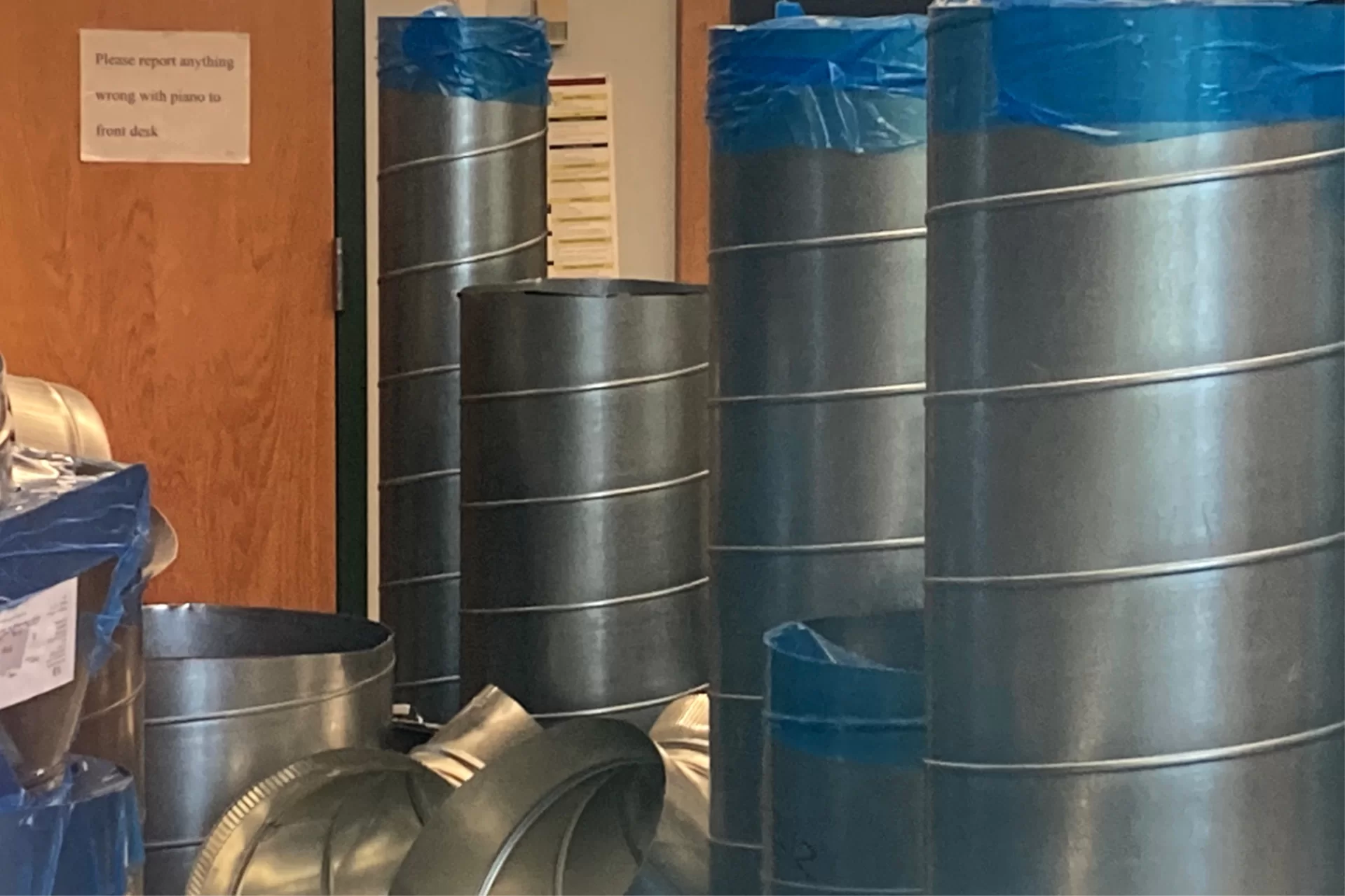 View Comments