Tracey Reeves to join Bates College as vice president for communications and marketing
Bates College President Clayton Spencer announced today that Tracey A. Reeves, associate vice president for research and academic communications at Georgia Institute of Technology, will become vice president for communications and marketing at Bates, effective Sept. 12.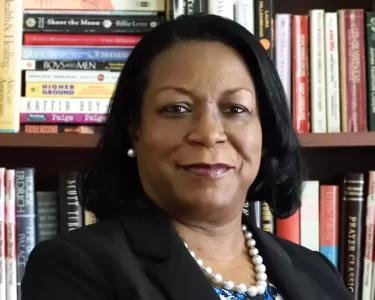 "I am thrilled to welcome Tracey," said Spencer. "Tracey is a highly accomplished communications professional, with deep experience in journalism, a track record of progressive responsibility in leadership and management, and 14 years immersed in the issues and challenges of higher education. She has a stellar reputation as an honest and accountable leader, with a proven ability to motivate and support her teams. In many conversations during the search, Tracey impressed Bates colleagues with her warmth, insight, and thoughtful approach to complex issues. I very much look forward to working with and learning from Tracey in the coming year."
"As a New Englander, I have long admired Bates and its rich history," said Reeves. "I have now come to understand and appreciate how Bates challenges itself — to find better approaches to educating students, to build a more inclusive and equitable community, and to raise its visibility and expand its reach. I look forward to helping Bates in all these endeavors by learning the culture and telling the stories that capture Bates' distinctive identity and invite engagement. Having worked at complex universities and as a journalist at major news organizations, I find purpose in the work of supporting mission-driven institutions. And while my recent experiences have been at large research organizations, I look forward to bringing my skills, knowledge, and perspectives into such a wonderful and distinctive liberal arts environment."
A leader in Institute Communications at Georgia Tech since 2018, Reeves was promoted to associate vice president in 2021, reorganizing her communications team to execute an integrated marketing and communications strategy to drive awareness of the Institute's $1.2 billion research enterprise as a local, national, and global leader in the research space. Reeves helped guide the division's COVID-19 communications for campus constituents, developed a crisis communications plan for the Institute, and created a Race at Georgia Tech: A Call to Action discussion series. In addition to managing the Institute Communications team, she also helped oversee communications professionals in two additional units, Diversity, Equity, and Inclusion, and the Georgia Tech Research Institute.
As a member of the senior staff at Bates, Reeves will lead the college's effort to create a college-wide strategic communications and marketing program that promotes Bates' identity, priorities, and accomplishments to internal and external audiences across all communications channels. As an adviser to Spencer and Bates senior leaders, Reeves will provide guidance on branding and marketing programs, communications matters, and crisis planning and response.
Prior to joining Georgia Tech, Reeves spent a decade as director of media relations at the Johns Hopkins University. She helped lead major initiatives, including Hopkins Local, to support economic growth, employment, and investment in Baltimore, particularly in predominantly Black and disenfranchised communities.
Before entering higher education communications, Reeves was a newspaper reporter and editor. At The Washington Post, she reported on major national events and stories, including the September 11 attacks, and served as Maryland bureau chief. She was a national staff writer for Knight-Ridder Newspapers, sharing in the Pulitzer Prize for public service awarded in 1998 to the Grand Forks (N.D.) Herald.
Reeves earned a bachelor's degree in mass communication from Illinois State University and received a certificate in leadership principles from Harvard Online Business School. She has served on the executive committee of the Association of American Universities Public Affairs Network and been a member of the Council for Advancement and Support of Education, Public Relations Society of America, and the National Association of Black Journalists.
Reeves' appointment follows a national search overseen by a committee composed of faculty and staff, with assistance from The Ward Group, a search firm that specializes in communications, and campus visits by several finalists. She succeeds Sean Findlen '99, who departed Bates in April for a position in the private sector after serving the college since 2015.