This year, 8,937 prospective students — the highest number ever — applied to join the Bates College Class of 2027.
Of those, 1,100 were offered admission. And in April, nearly 250 traveled to Bates on one of two days in April set aside for newly admitted students and families to learn more about the college.
On the first visit day, about a dozen of those admitted students, perhaps pointed in the right direction by their Guidebook app, made their way to a Pettengill Hall classroom to get a real taste of Bates academics, in the form of a master class led by a Bates history professor.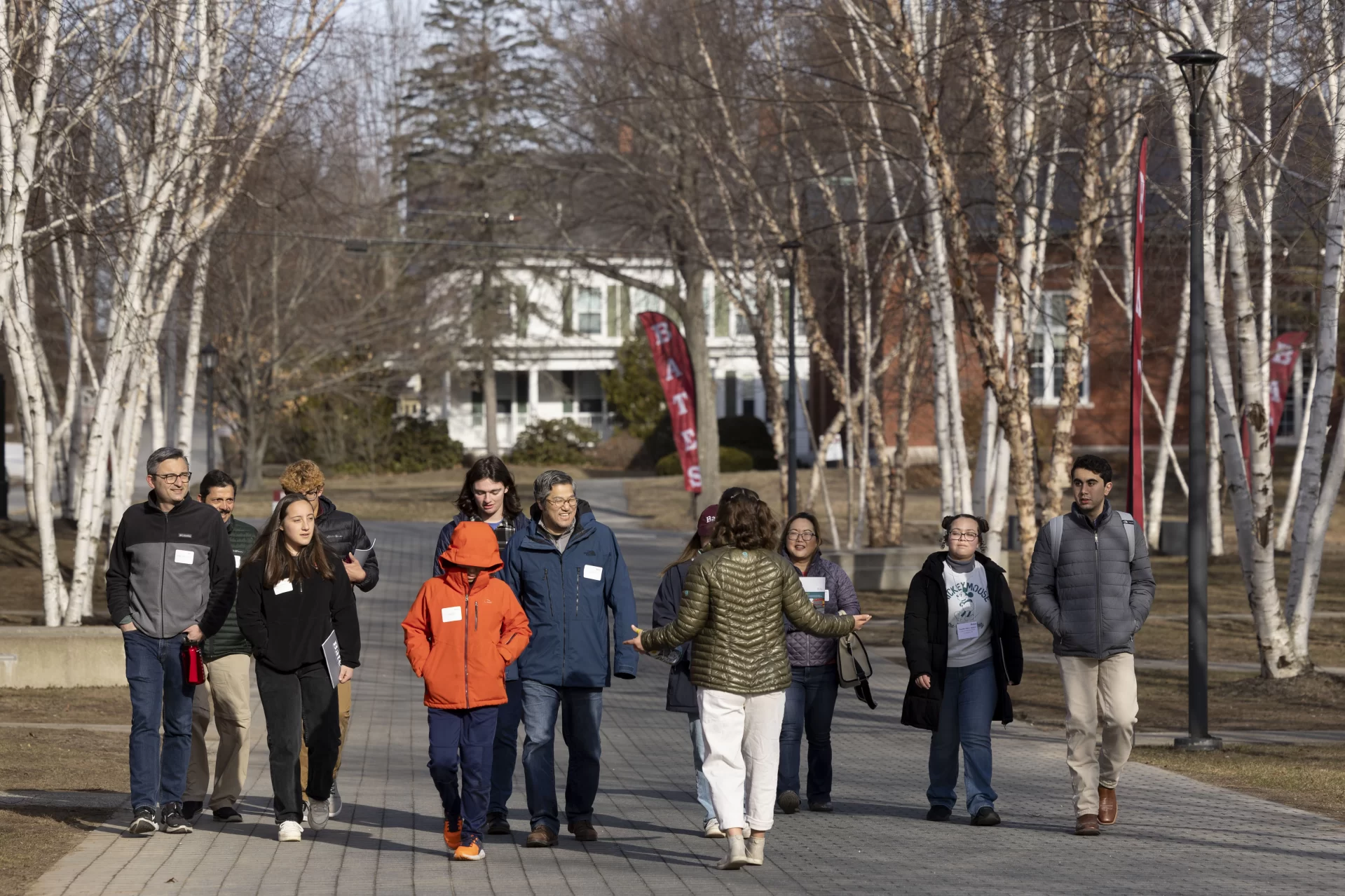 On the one hand, visit days are tightly choreographed, kicking off with a student a cappella performance and welcomes from President Clayton Spencer and Leigh Weisenburger, vice president for enrollment and dean of admission and financial aid.
On the other, the overall goal is to deliver authenticity. "It is a carefully planned event, but we also try to just roll with the day — allowing students and families to explore Bates as they wish," Weisenburger says. "And I think it keeps Bates real."
Helping to deliver that reality are master classes, including one led by Associate Professor of History Joe Hall about the who and why of the college's founding in 1855.
Freewill Baptist religious leaders founded Bates, he explained. They believed that "all human beings have a certain respect in God's eyes." So, all human beings should respect each other — "and thus slavery was evil." And not just white men should have access to education, but all people, a spirit of inclusion that led to the founding of Bates.
"It makes me think a little bit more critically," said a young woman from Texas. "How can I say that I'm opposed to these struggles but still funding them?"
Supporting the founders were Lewiston textile mill owners, including namesake Benjamin Bates, who were making bales of money from cotton grown in Southern slave-holding states before the Civil War. After explaining these facts, Hall invited the would-be Bobcats to think about that contradiction — abolitionist founders and cotton profiteers — and what it means today. "What do you do with it?" he asked.
"It makes me think a little bit more critically," said a young woman from Texas, noting that the smart phone in front of her might have metals sourced from problematic mines. "How can I say that I'm opposed to these struggles but still funding them?"
That's the kind of experience — a student having one-on-one time with a Bates faculty member — that President Clayton Spencer says can help a prospective student make their final college choice, whether it's Bates or another college that has offered admission.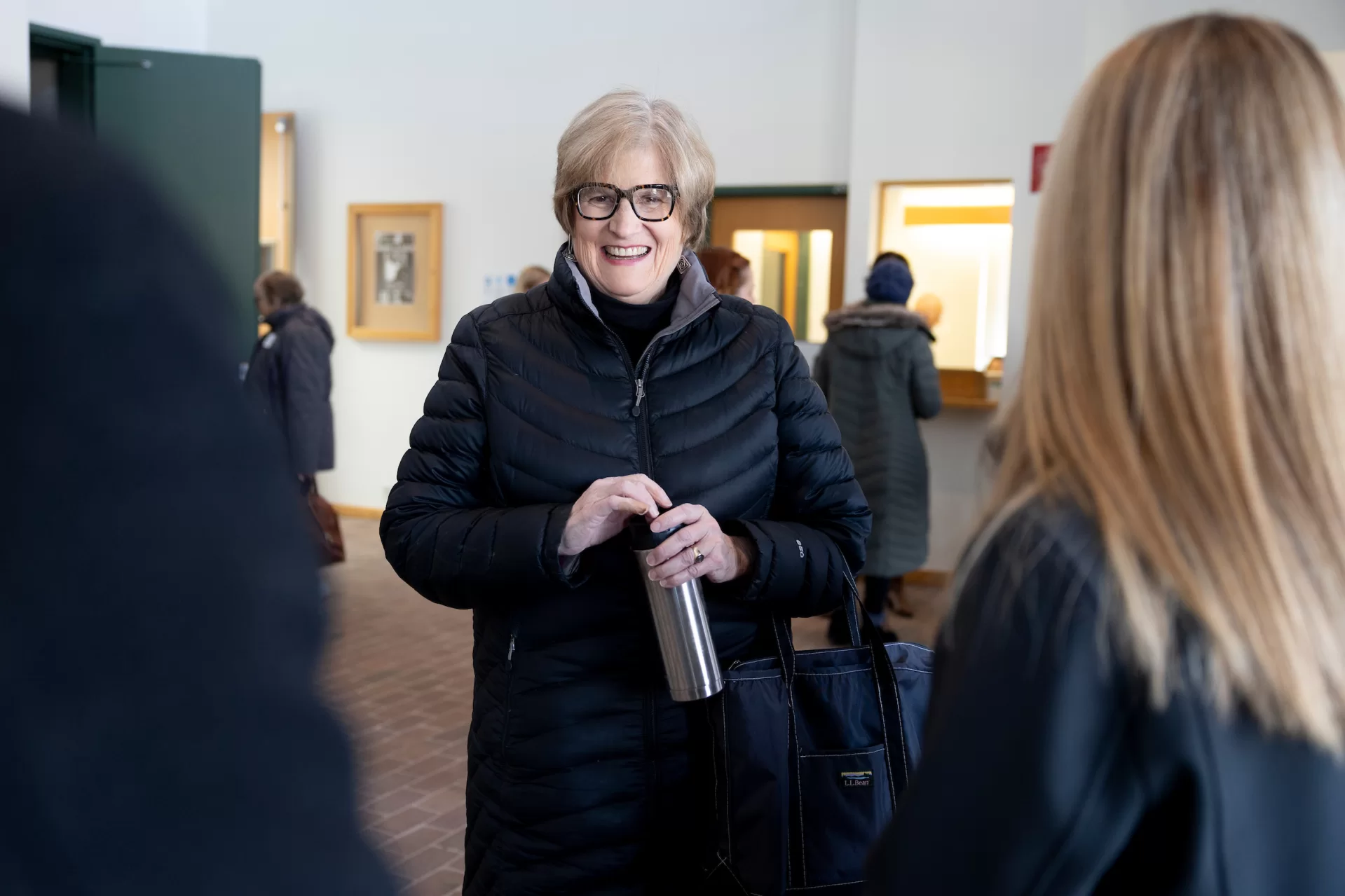 "What I've learned in life is that even if you have only great choices, it can be hard to figure out which one is right," said Spencer.
Like her own choice to accept the Bates presidency in 2012, Spencer said that making a big decision means taking in both facts and feelings, "not just the 'what' information — Bates is in Lewiston, Maine — but also the feel of the place. Does it kind of hit me right in my gut? You take in factual criteria plus emotional criteria and decide if Bates is right for you. That's making an informed judgment."
In getting to know Bates, for example, Spencer's intuition told her that the student culture was distinctive, "very down to earth, more collaborative than competitive, which I love. And it's been proven to be just incredibly true since I've been here."
This year's cohort of admitted students came from two rounds of Early Decision plus Regular Decision. The latter group's deadline for informing Bates of their decision is May 1. In addition to the two visit days, Bates offers other ways for admitted students to engage with Bates, including a fly-in program called Bates Beginnings, giving invited students who are traditionally underrepresented in higher education a chance to visit campus.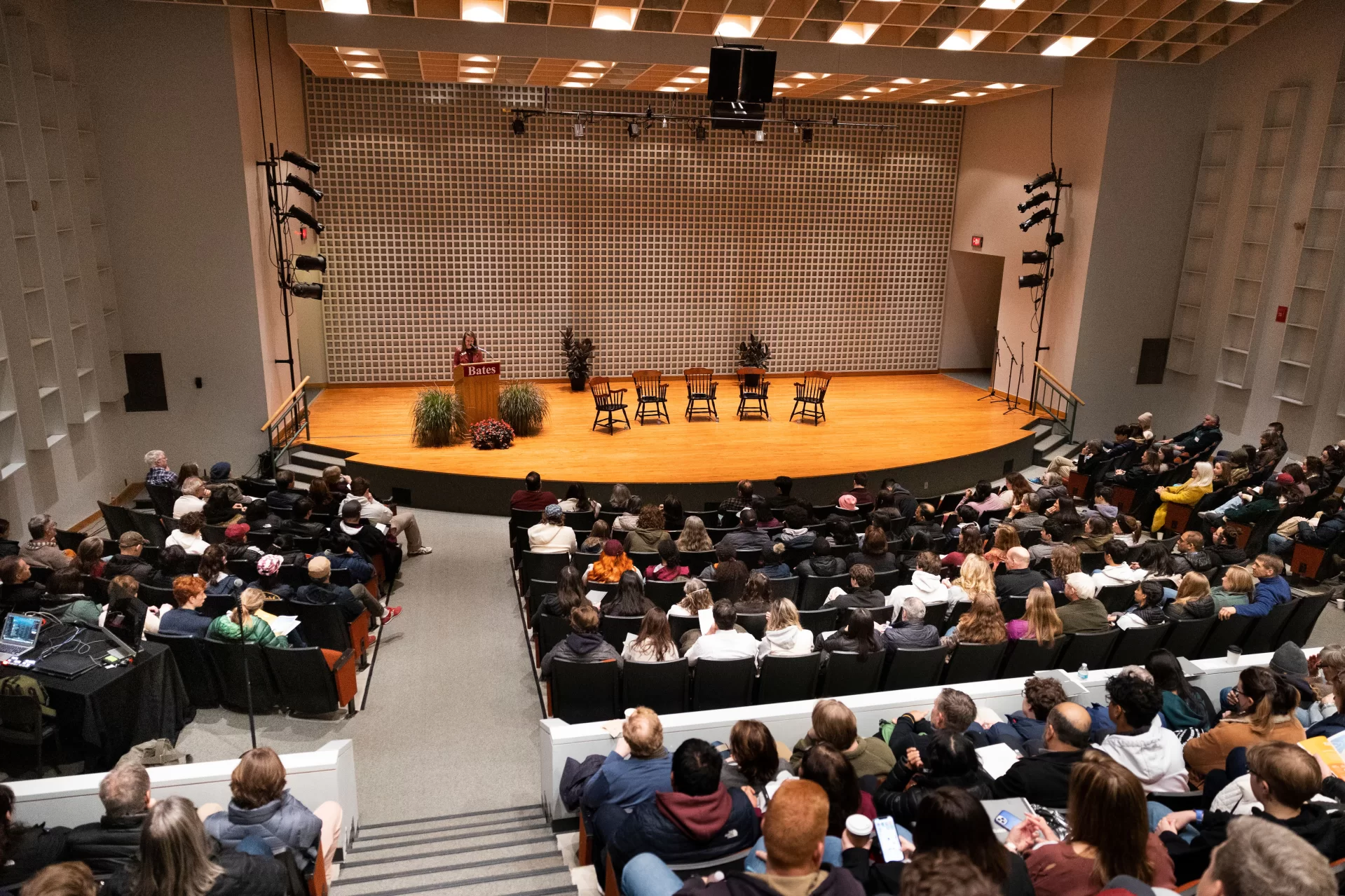 When Weisenburger welcomes students and families to visit day, she hits Bates high notes, and an octave above the rest this year is the recent appointment of the college's next president, Garry W. Jenkins. Other highlights that get a mention are the 2021 opening of Bonney Science Center, the 2022 reopening of renovated Dana Hall as a science teaching center, and the fall reopening of historic Chase Hall (dedicated in 1919), significantly restored and revamped for student-facing programs.
This year's visit days were the first since the pre-pandemic year of 2019 to offer a wall-to-wall day of activities, which allowed Admission to give the day a vivid arc.
So after morning greetings, a few master classes, and topical discussions, such as sustainability at Bates, the mid-day hour featured a keynote talk in Gomes Chapel. The theme was Bates engagement with Lewiston, and the featured speaker was alumna Julia Sleeper-Whiting '08, co-founder and executive director of Tree Street Youth, an important Lewiston nonprofit focused on leadership and youth development.
The keynote theme sends a key message, says Weisenburger. "We want students to understand that they can really ingrain themselves in the community." She makes the point during her morning introduction saying that "Lewiston will be as much a part of your four-year experience as Bates will."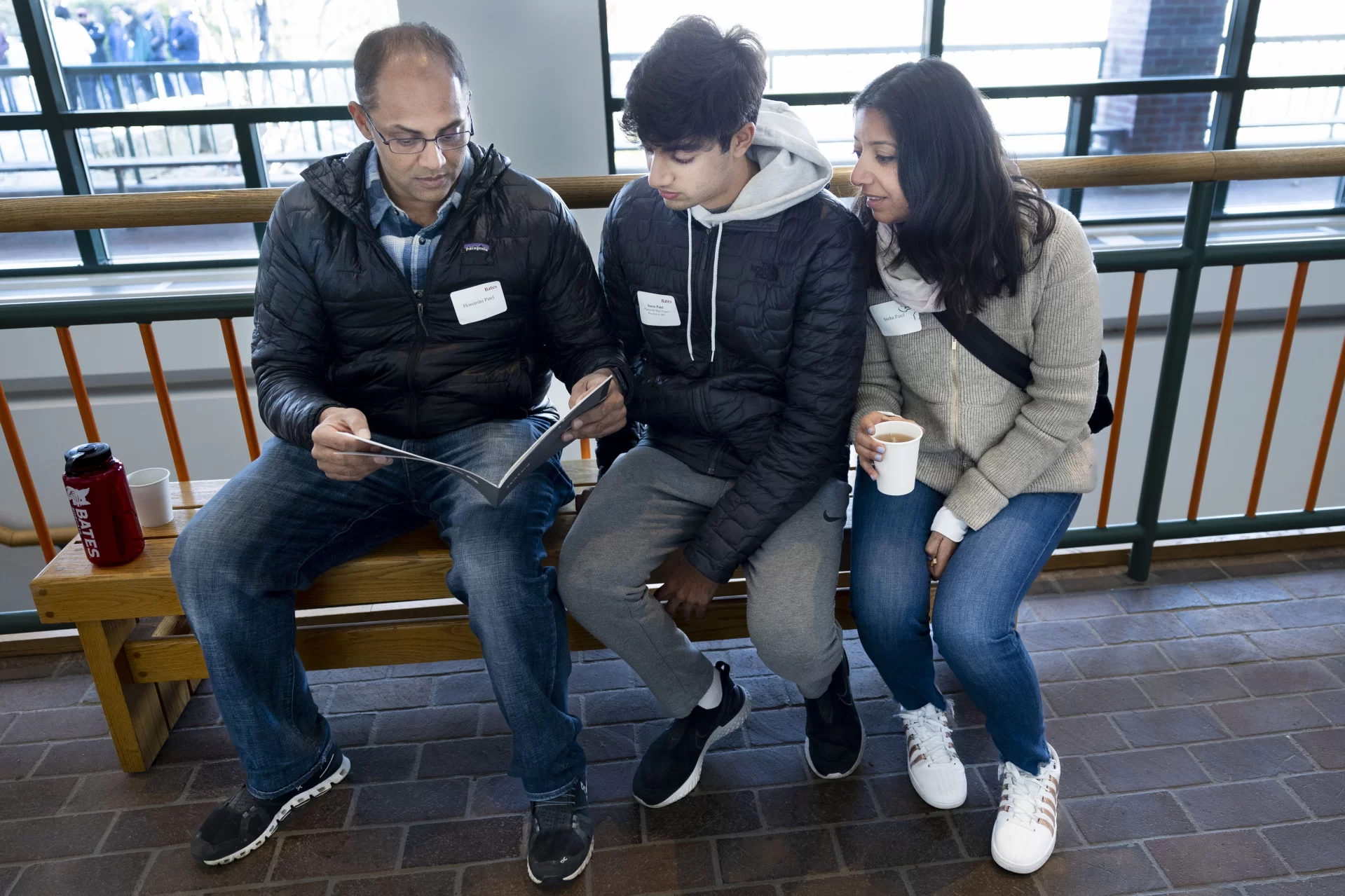 Sleeper-Whiting, who co-founded Tree Street Youth as a student, personifies that reality, telling her audience how profound it was for her when she graduated from Bates that her students from Lewiston came to Commencement — she felt her worlds come together.
"You can come to Bates and make community here, and also make community in Lewiston," Weisenburger said. "That's important for all of us. And certainly important to show our new students."
In admission-speak, the process of enrolling first-year students is described as a funnel because it starts with a big number — folks who have an inkling of interest in a college — at the top and ends with a much smaller number, students who decide that Bates is for them.
Here's what the Bates funnel looked like this year:
35,410: inquiries from students who engaged with Bates through a visit, requesting information, or other way
8,937: total applications from first-year students
1,100: total admitted students
505: target number
This year's admit rate — the percentage of applicants admitted — was 12.3 percent, the second lowest for Bates.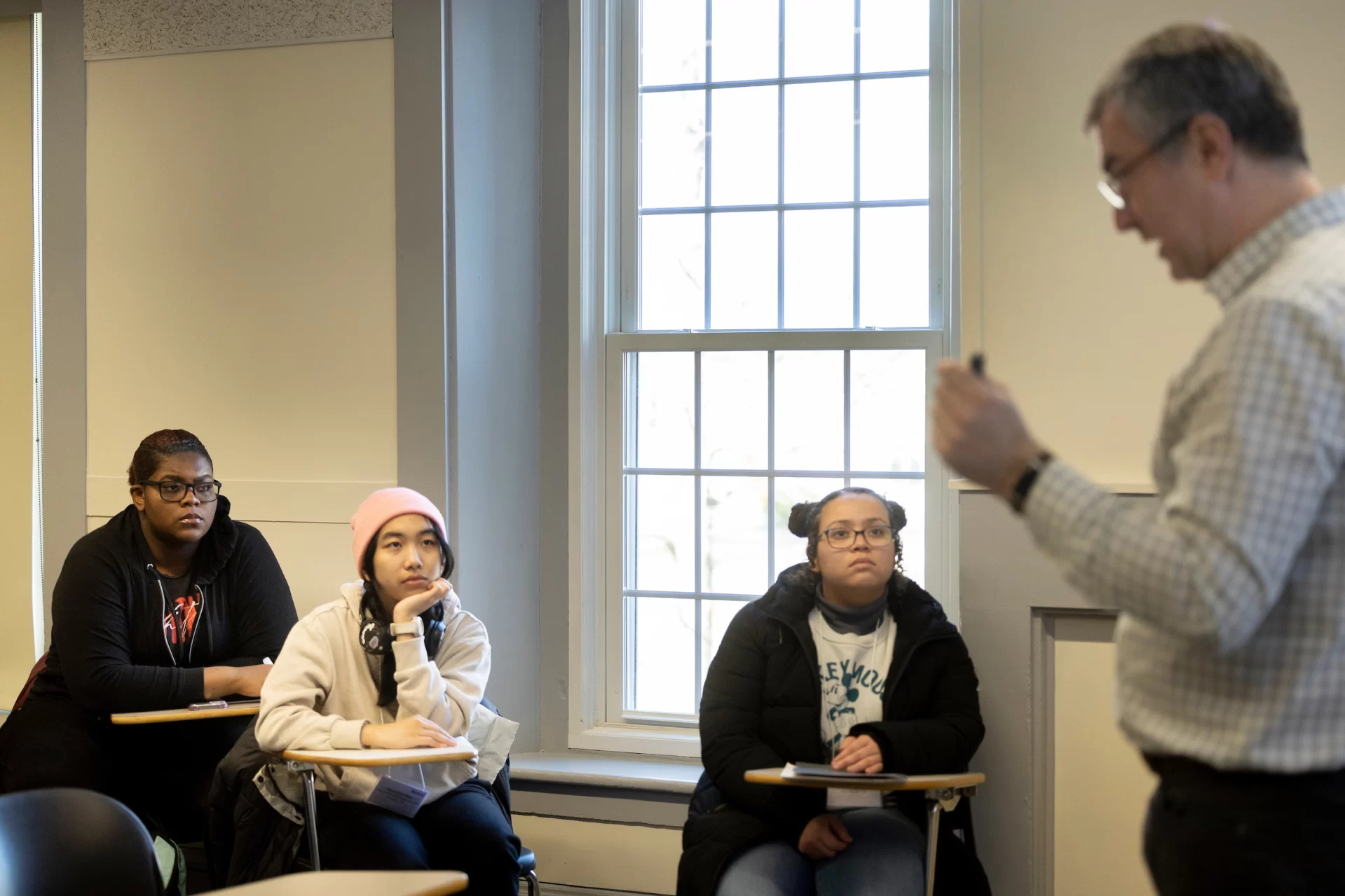 Of the 1,100 students offered admission, 49 U.S. states are represented, plus Washington, D.C., Puerto Rico, Guam, and the Northern Mariana Islands, and more than 60 countries. Thirty-nine percent self-identify as students of color, and 13 percent will be the first in their family to attend college. Eleven percent are non-U.S. citizens.
Here's the U.S. geographic breakdown:
New England 26%
Middle Atlantic 25%
Midwest 8%
Southeast 8%
Southwest and West 20%
After the U.S., the countries with the largest number of admitted students are China (19), United Kingdom (12), India (11), Canada (7), Costa Rica (5), Pakistan (4), and Switzerland (4).
In terms of secondary education, the public school / private school split is about 50-50, and Pell-eligible students represent 13.5% of admitted students. This year's incoming class will receive financial aid in part from the Schuler Access Initiative, a $100 million expansion of financial aid to enroll students from the lowest-income families.
The Class of 2027 arrives at Bates on Aug. 31.