Over the past two academic years, Bates College has welcomed 13 new professors who are tenure-track appointees or who were appointed as tenured faculty members.
Below are profiles of these new professors, featuring their photographic portraits, areas of scholarly expertise, an example of a Bates course they teach, and a telling moment from the nearly completed fall semester.
"Recruiting each new cohort of talented tenure-track and tenured faculty members is one of the most important investments that Bates makes," said Malcolm Hill, vice president for academic affairs and dean of the faculty.
"These new professors bring to Bates energy, scholarship, art, and new approaches that will invigorate our students as well as their faculty colleagues. In their short time on campus, we have already seen the positive effect these professors are having on the intellectual and creative life of Bates. Bates is incredibly fortunate."
---
Erik Bernardino, Assistant Professor of History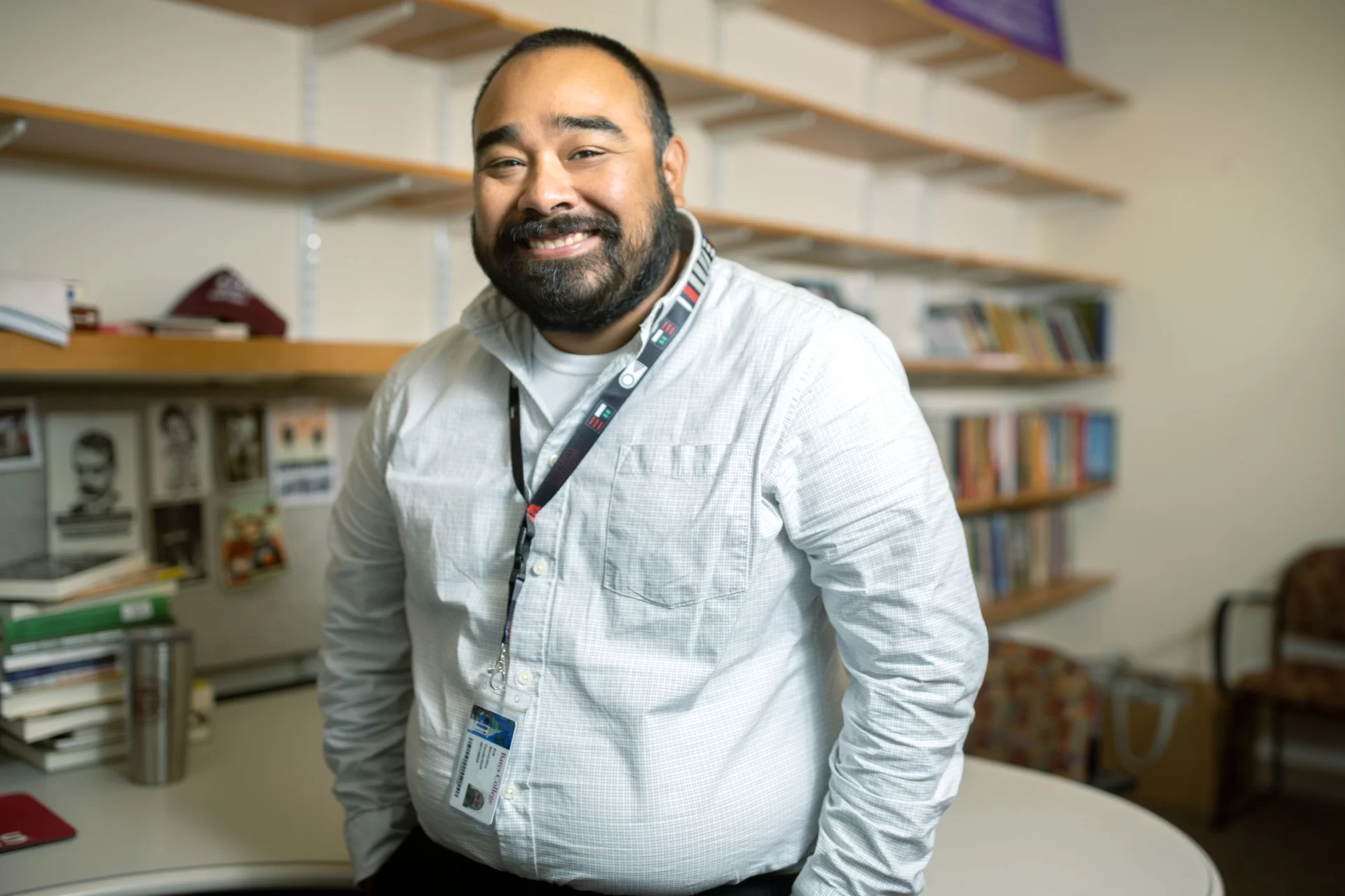 Research interests: History of the 20th-century U.S., specializing in Latinx, immigration, and borderlands histories, with a particular interest in the intersection of immigration policy and labor migrations.
Courses taught include: "U.S. Immigration: From the 'Uprooted' to the Rise of the Immigration Regime," which explores the oversimplified idea that the U.S. is a nation of immigrants by looking at the various reasons people migrate, acculturate, and what it means to be an "American" and an immigrant.
A moment from the fall semester:
"As a class we watched Bisbee '17, a documentary that discussed the forceful deportation of 1,200 men from Bisbee, Ariz. in 1917. As we began our post-film class discussion, a fire alarm went off. After a few minutes of uncertainty the class moved outdoors. Sitting outdoors in the grass, I realized how much the film had resonated with students. They grappled with the past but also how it informs the present. We enjoyed one of the last warm fall days outdoors discussing the legacies of the U.S. immigration regime to help us understand how the governors of Texas and Florida can forcibly remove migrants to Martha's Vineyard."
---
Sandra Goff, Associate Professor of Economics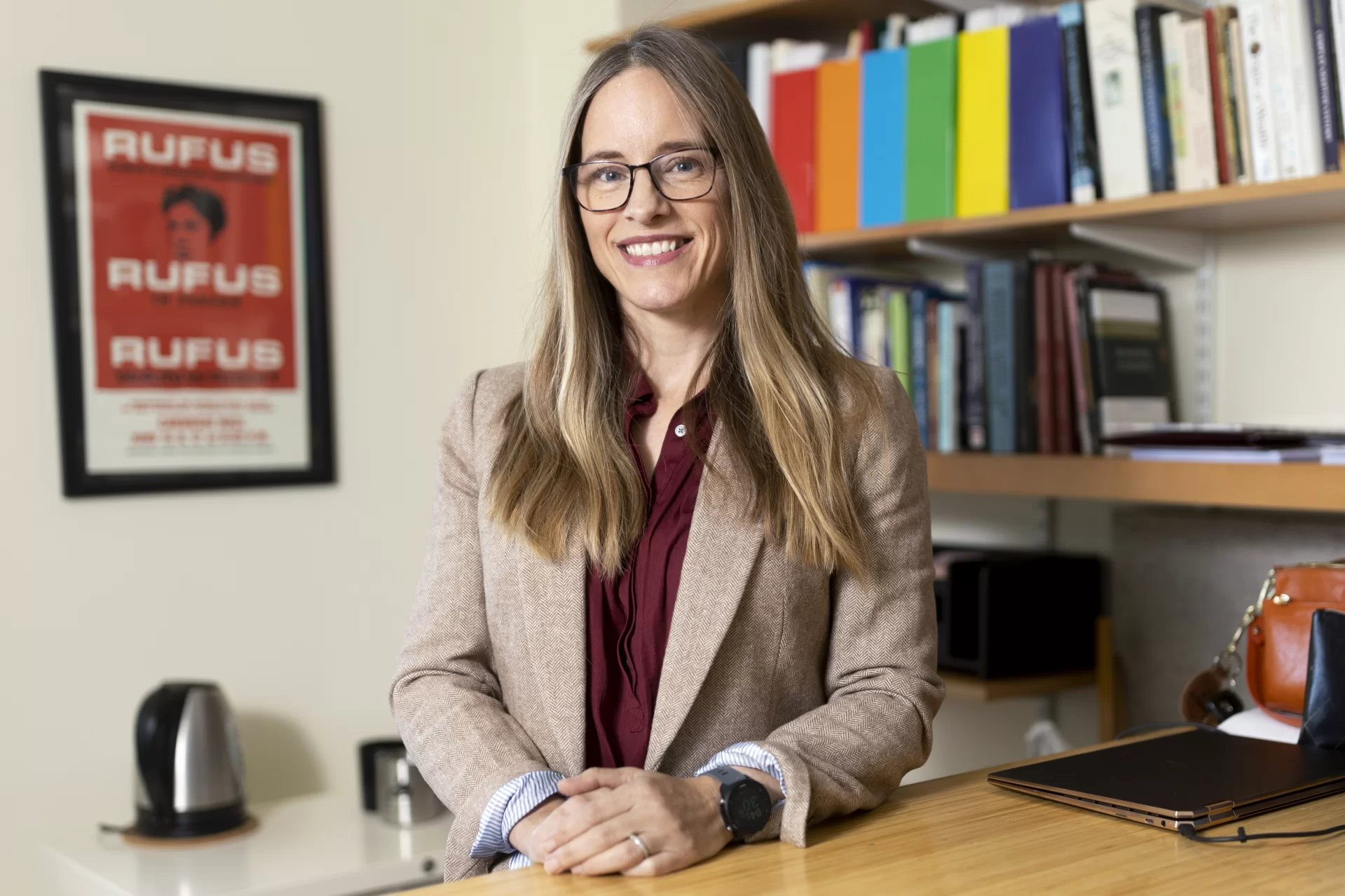 Research interests: Exploring prosocial economic behavior using agent-based computational models and experimental methods in the lab and field, including recent work on "sucker aversion" — people's aversion to being perceived as exploited — and the effects of emotions, especially guilt, on ethical consumption.
Courses taught include: "Experimental Economics," which presents the methodology of experimental economics and the various findings obtained by analyzing markets, human rationality, and human social behavior.
A moment from the fall semester:
"Commons has really been at the center of my transition to Bates, and volunteering as a cashier during Harvest Meal was one of my favorite moments of my first semester here. I took a short video of students singing 'Take Me Home, Country Roads' to share with my son, I laughed with students as they came through the line, and I ate my weight in lobster mac 'n cheese! I left that night feeling incredibly grateful to be a part of the Bates community."
---
Jennifer Hamilton, Professor of Anthropology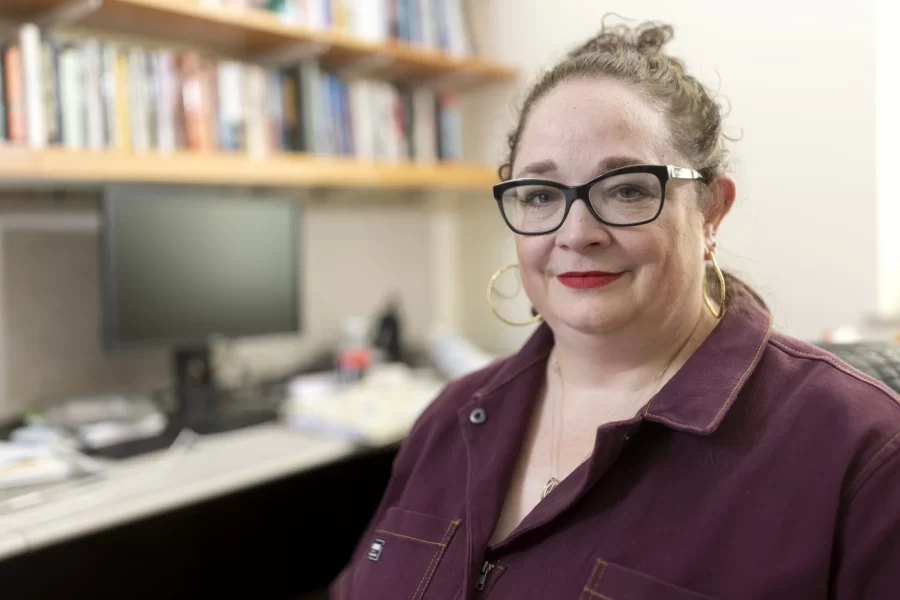 Research interests: Feminist science and technology studies, medical and legal anthropology, ethnography, and the politics of indigeneity.
Courses taught include: "Race and Gender in Biomedicine," which explores conceptualizations and representations of race and gender in health and medicine by looking at the history of race, sex, and sexuality in Western science, and the creation of global health disparities through factors including colonialism and imperialism.
A moment from the fall semester:
"I had many wonderful moments teaching and interacting with new students and colleagues, but my favorite was being invited to attend one of the home games of the Bates women's basketball team by four team members who were also students in my 'Introduction to Anthropology' course."
---
Myronn Hardy, Assistant Professor of English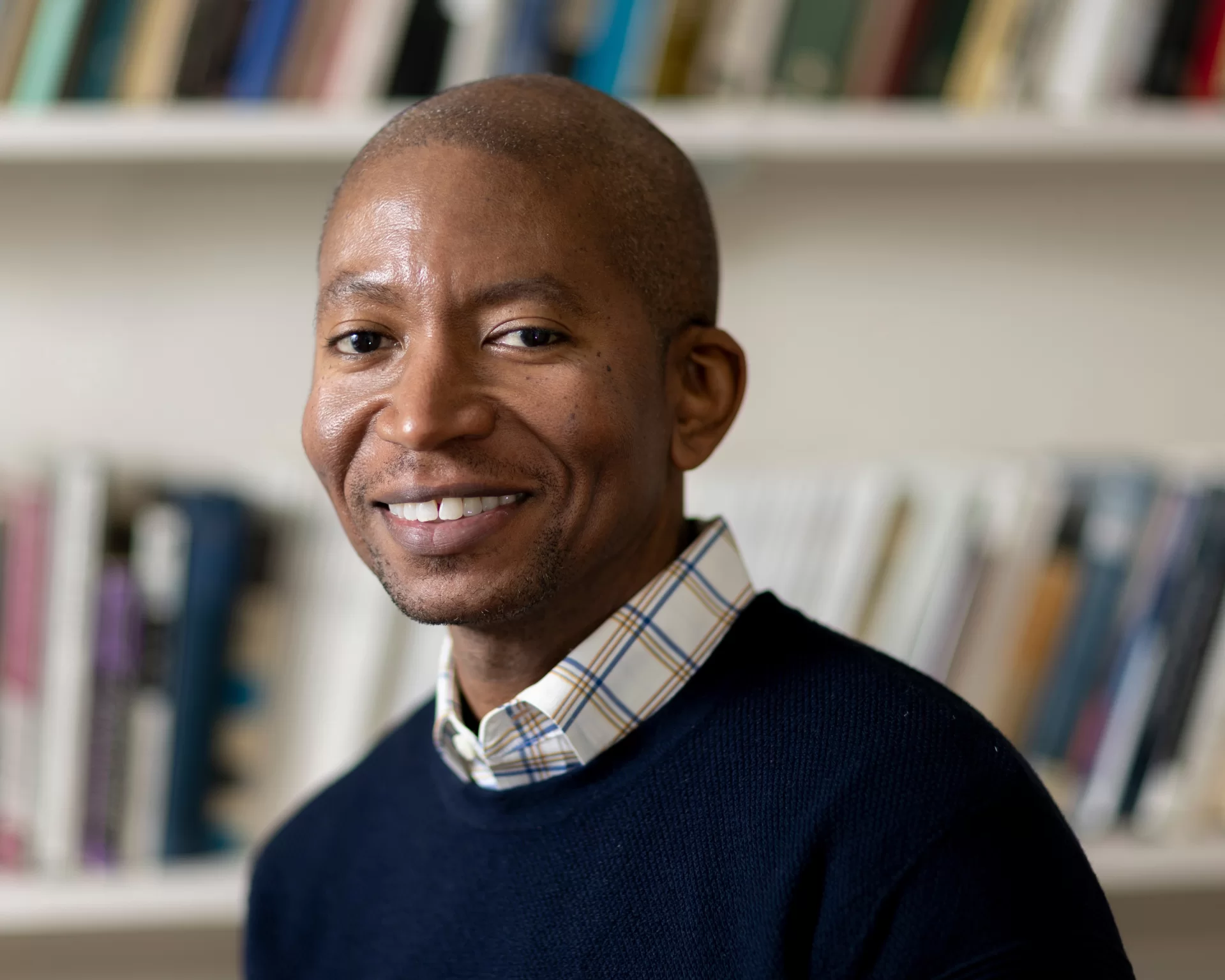 Research interests: An award-winning writer who has authored five volumes of poetry and whose work has appeared in leading literary publications including Ploughshares, POETRY, The New York Times Magazine, Virginia Quarterly Review, Washington Square Review, and The Baffler.
Courses taught include: "The Aesthetics of Seeing: Poetry as Witness," which explores poetry profoundly influenced by poets' lived experiences as witnesses, which are often based in the traumatic: war, abuse, exile, and injustice, and how the poets use what they have seen and witnessed to make poems.
A moment from the fall semester:
"Nearing the end of the semester, as students present their final projects, realizing how their seeing and thinking and imaginations have profoundly advanced over the course of the semester. Realizing this as I sit in the back of the room observing what has been, and is being made here."
---
Jamie Haverkamp, Assistant Professor of Environmental Studies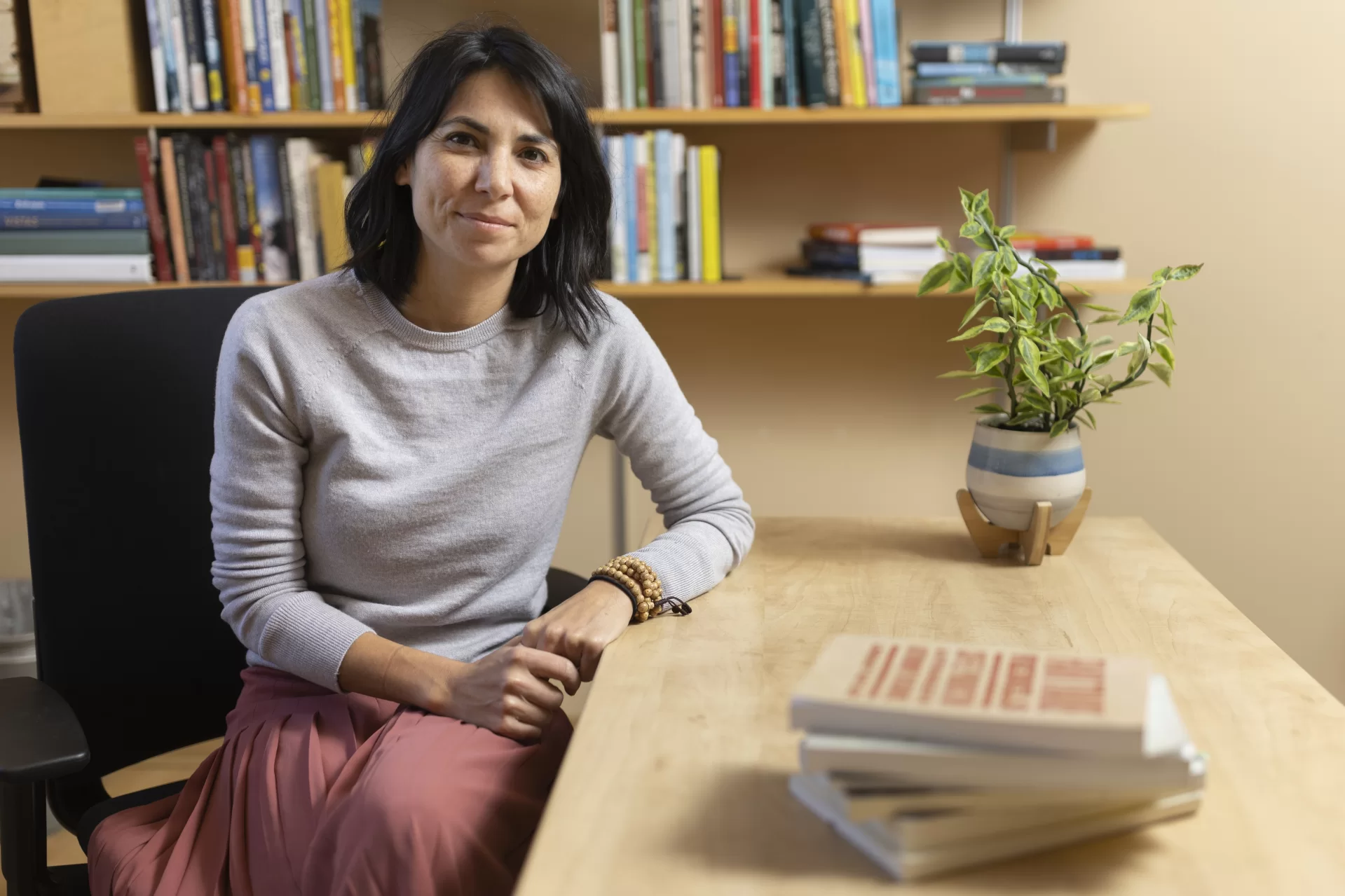 Research interests: The ethical and political dimensions of climate resilient development and adaptation planning, specifically how the twin projects of modern colonization and nation-building shape the current climate crisis and so-called solutions.
Courses taught include: "Climate (In)Justice," which explores the ways in which the uneven distribution of various climate harms and benefits are deeply linked to structural inequalities along axes of race, class, gender, and nationality, including topics of sacrifice zones, environmental racism, climate gentrification, green grabbing, disaster capitalism, climate apartheid, and climate displacement.
A moment from the fall semester:
"Teaching my first semester at Bates has been an enriching experience in general, with specific moments standing apart as distinct. Particularly, engagements with students who are deeply committed not only to the intellectual exercise of understanding climate change, but also to engendering an empathetic, care-based approach to redressing the structural conditions of the climate crisis has been particularly unique and inspiring. I have found this deep commitment to climate and environmental justice among Bates students particularly exciting and a source of hope in our collective future."
---
Barry Lawson, Colony Family Professor of Digital and Computational Studies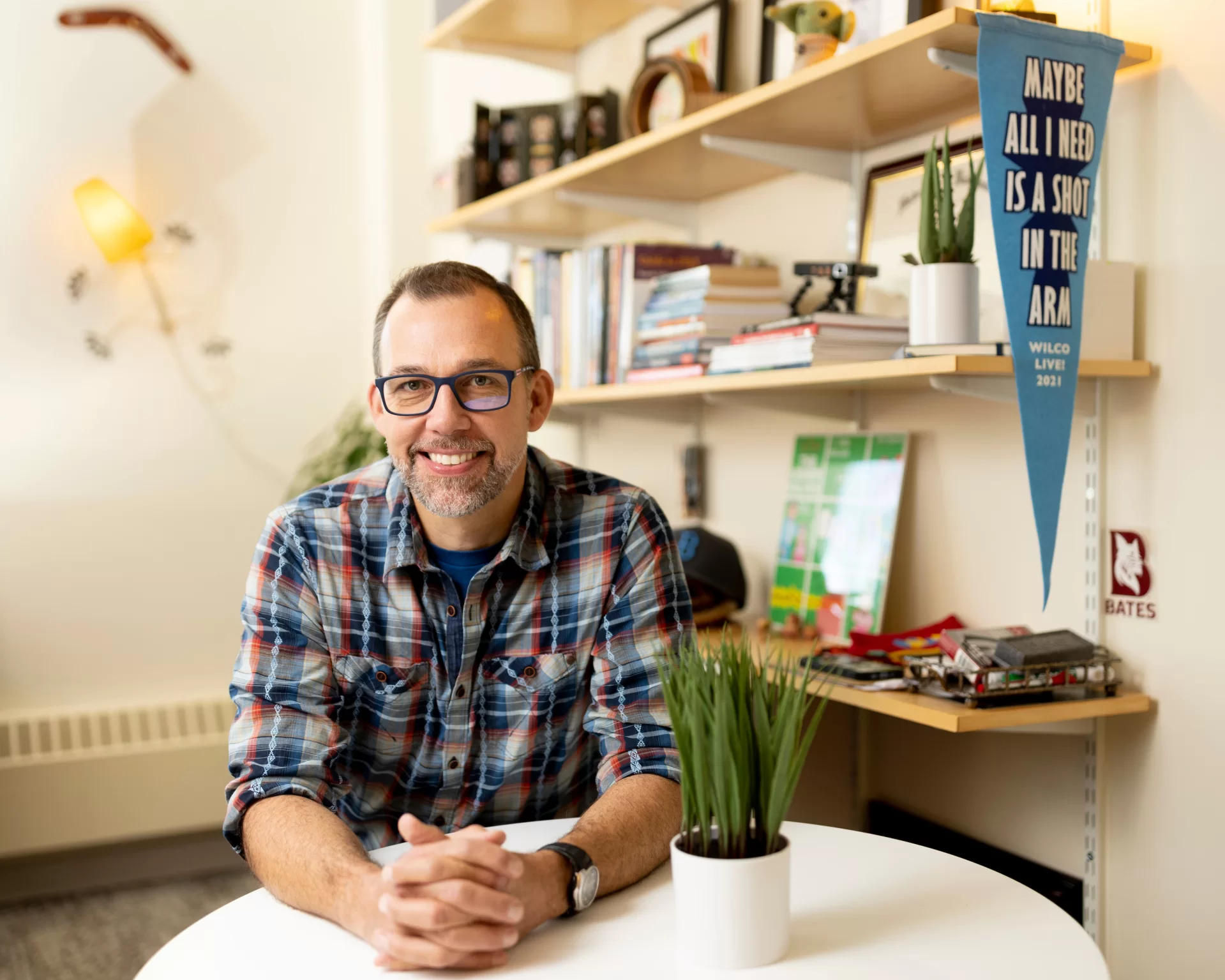 Research interests: Agent-based simulation, with applications to ecological, biological, and health care systems, and computer-science and STEM education.
Courses taught include: "Data Structures and Algorithms," providing an introduction to common data structures, selected algorithms, and their computational efficiency, used to solve more complex problems, like finding a path through a maze containing obstacles.
A moment from the fall semester: "In an attempt to keep things interesting during lectures, faculty regularly intersperse related — or sometimes unrelated — anecdotes. This semester in DCS 229, "Data Structures and Algorithms," when covering the stack data structure, I made the analogy to a can of Pringles: You cannot access any Pringle below the topmost one, so all you can do is either consume the top Pringle, or put another previously removed Pringle as the new top (but why would you do that?!).
"My related digression commented on my love of paprika-flavored Pringles, which are very hard to get in the U.S. Armed with that info, two students brought a can back from their trip to Europe during fall break, and surprised me with it at the start of the next class. We took a group photo — me holding the Pringles — then passed them around. They generally agreed: Paprika Pringles are far superior to the typical barbecue flavor available in the U.S.!"
---
Amanda Lindsay, Assistant Professor of Economics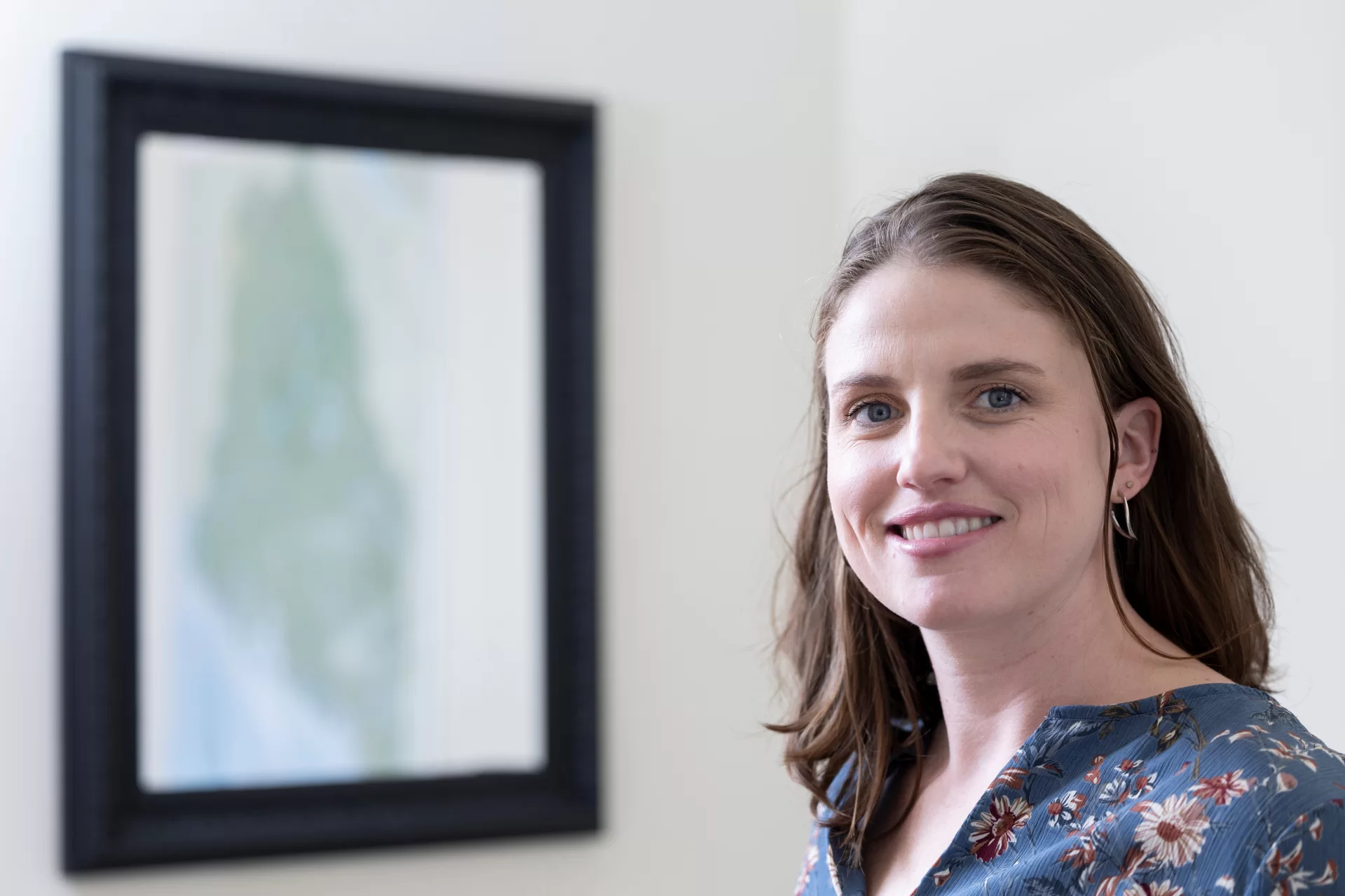 Research interests: Environmental and resource economics. Research focuses on evaluating management of natural resources and quantifying impacts to resource users. Current work studies small-scale and artisanal fisheries in developing countries.
Courses taught include: "Prices, Property, and the Problem of the Commons," which examines water resources and fisheries economics, including water allocation, scarcity and pricing, water rights, cost-benefit analysis, valuation, water markets, common-property resources (e.g., underground aquifers), and economic incentives for pollution control.
A moment from the fall semester:
"My favorite moments this semester have been gathering with students and faculty for Women in Economics lunches. It has been such a joy to regularly meet students who are excited about economics and to bond with the other female professors at Bates. The support we can provide one another is a true gift, and makes me feel proud to be part of the Bates community."
---
Zhenzhen Lu, Assistant Professor of Chinese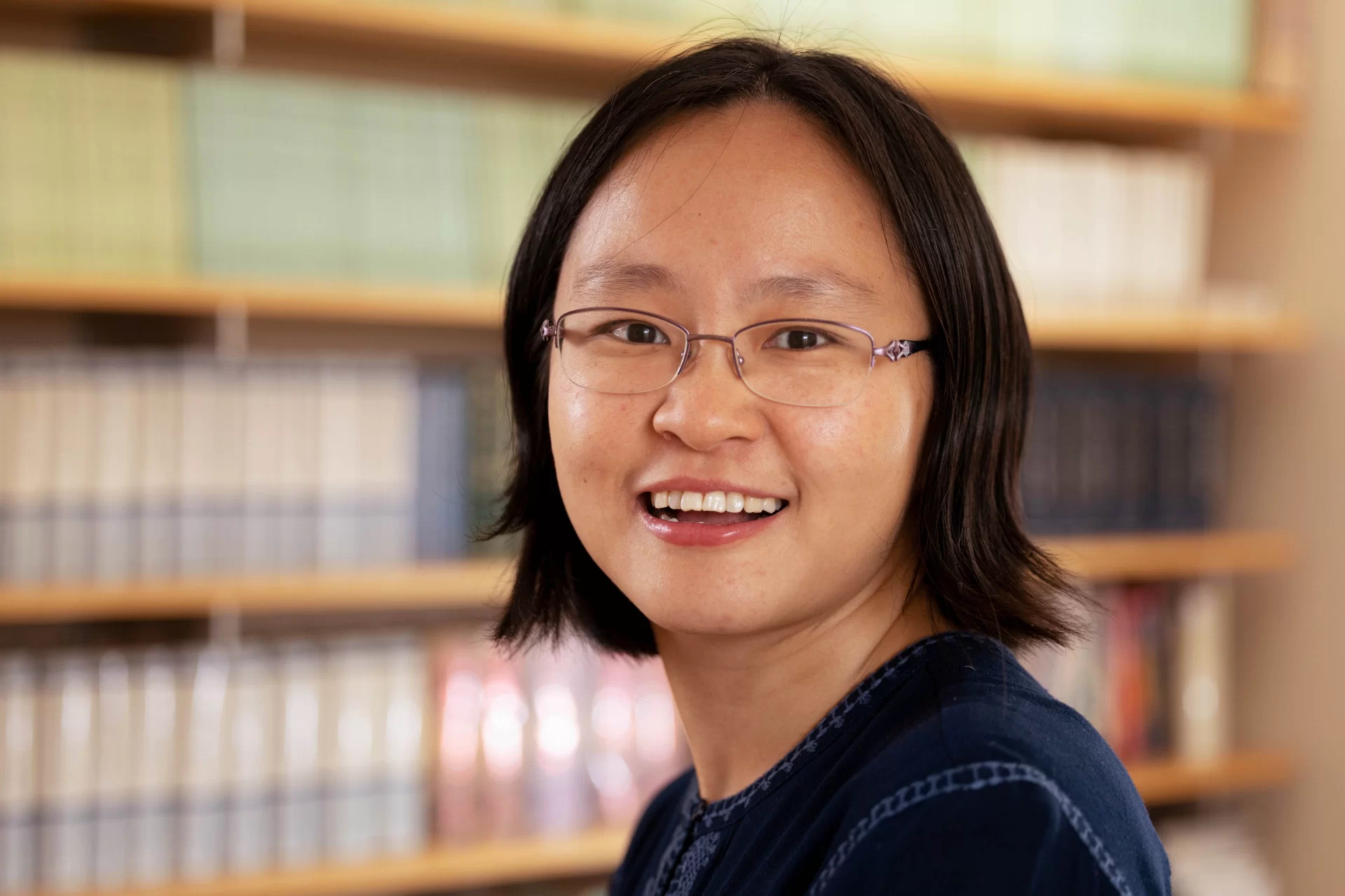 Research interests: The scribal circulation of Chinese literature in the 16th to 19th centuries; vernacular writings of village scholars; entertainment literature in Beijing; literary scholarship and collecting in 20th century East Asia.
Courses taught include: "Chinese popular culture," which explores varied cultural landscapes of the Chinese-speaking world from pre-modern times to the present.
A moment from the fall semester: "A really cool moment was discovering the collection of ritual objects from the Yao communities of rural Vietnam at the Bates Museum of Art. After the first fall faculty meeting I wandered into the Pedagogy exhibit and came across a curious display case containing masks and swords of Yao shaman priests — and found out that Bates had plenty more in its archives!
"It was a cool discovery because the next week in my course, "Traditional Chinese Literature in Translation," we were going to read these verses with deep connections to ancient shamanistic culture, which actually came from the same area in central China as the ancestral land of the Yao. And here was this great opportunity for a field trip and for thinking across temporal and geographic boundaries! I had to bring my class; the museum staff brought out all these things from the archives for us — ritual paintings and manuscripts and even a priest's robe — and Trian Nguyen, associate professor of art and visual culture, graciously gave us an expert's tour. All in all, it was quite a treat!"
---
Sam Bird, Assistant Professor of Economics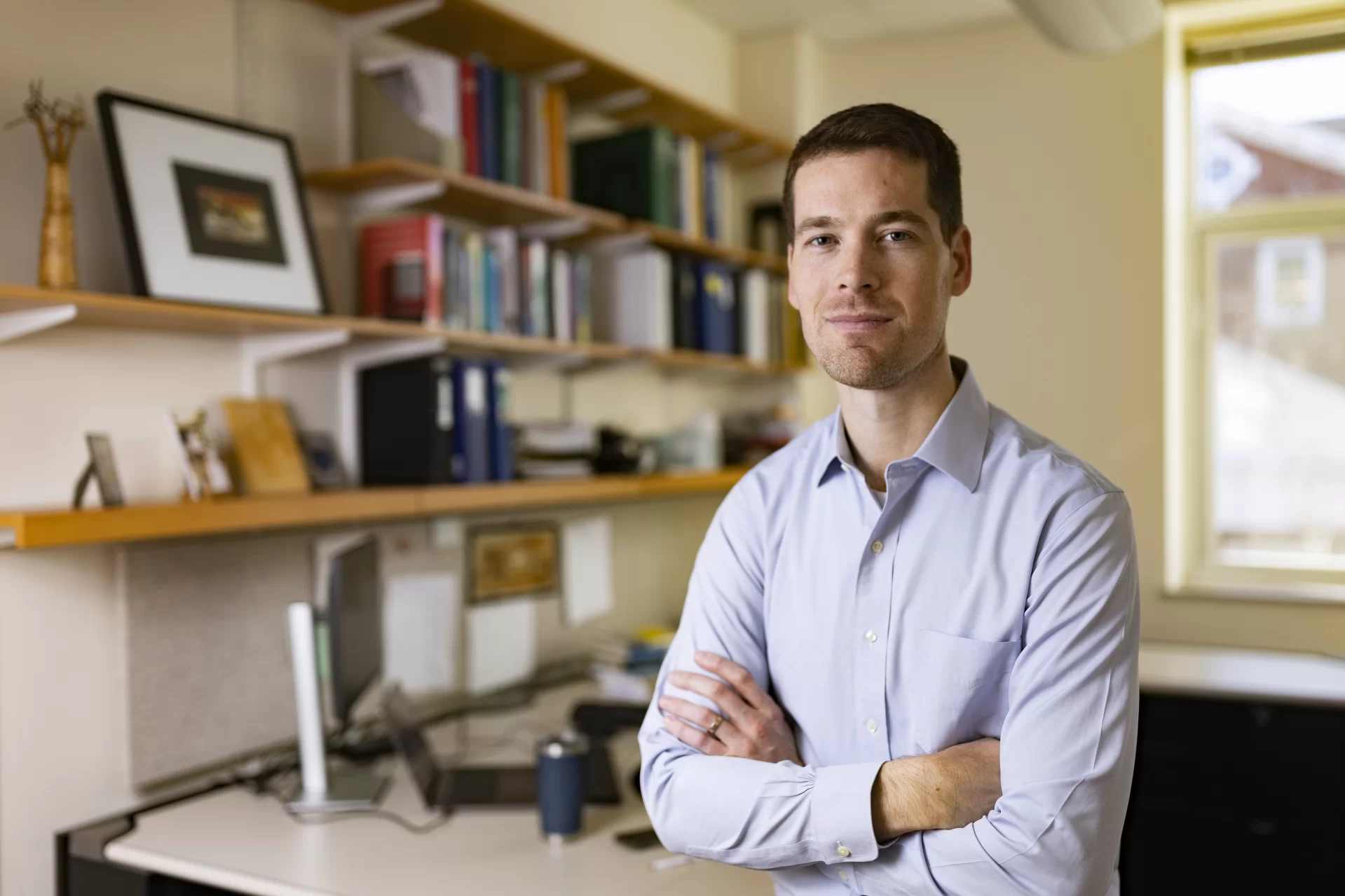 Research interest: Development economics, focusing on sub-Saharan Africa, agriculture, and the economics of small-scale agricultural households.
Courses taught include: "Senior Thesis Seminar," in which senior economics majors gather for group meetings and build on experience from previous economics courses to produce new independent research.
A moment from the fall semester:
"From the first day of 'Senior Thesis Seminar,' students get practice presenting and discussing their research at various stages. A few weeks into the semester, I invited a visiting researcher to join our class to discuss the students' research with them. I sat back and listened as each student pitched their research and responded to feedback on the direction of their research. It was great to see each student put their skills into practice and it sticks with me as a concrete example of the synergies between teaching and research at Bates."
---
Sarah Lynch, Assistant Professor of Classical and Medieval Studies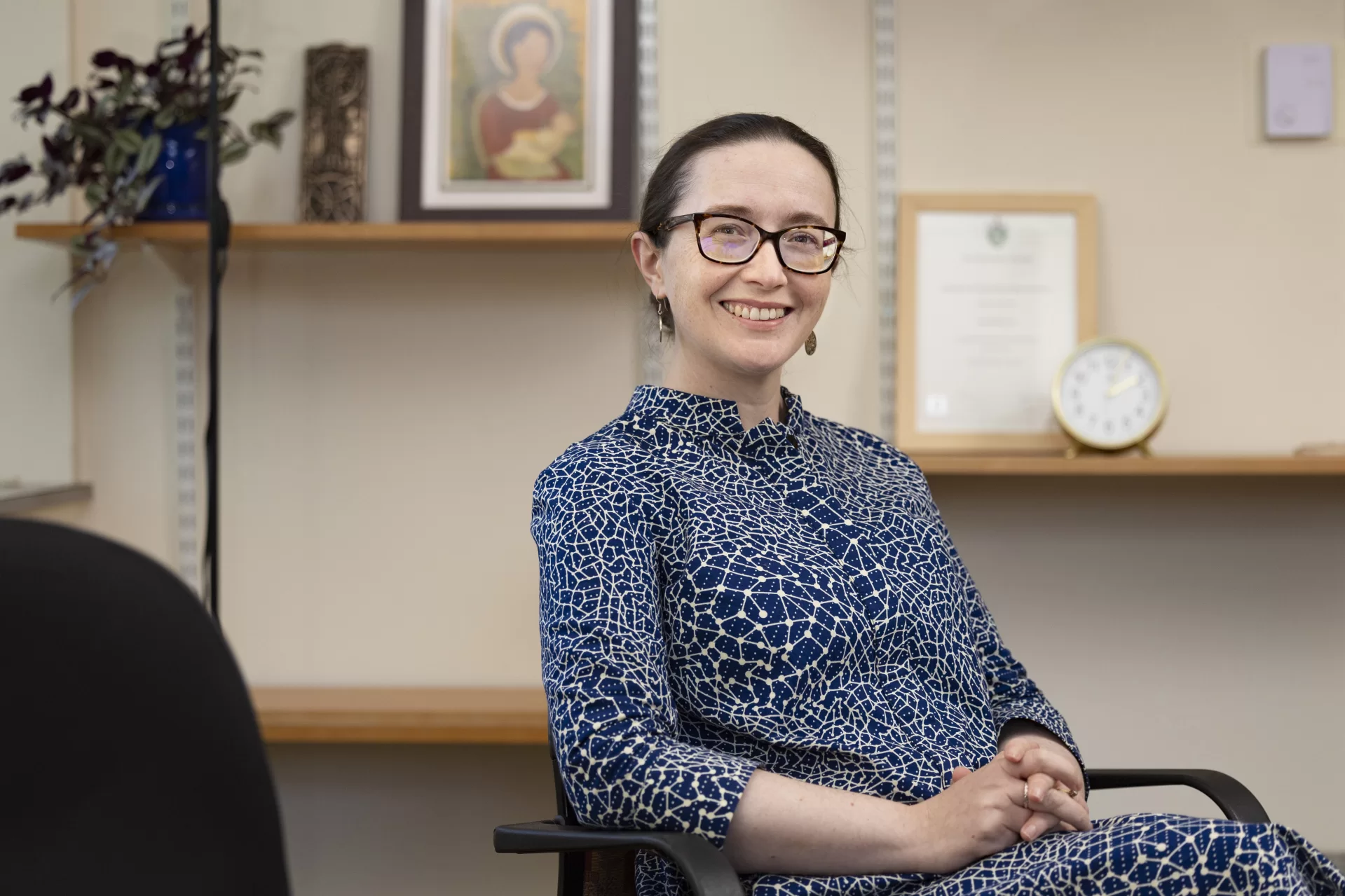 Research interests: Medieval education, especially elementary and grammar schools, education as social formation, and transregional education across Europe and the Middle East. Also interested in how medieval temporal cultures (timekeeping, seasonal festivals etc.) created and maintained community cohesion.
Courses taught include: "Medieval Worlds," which explores the complex historical evolution in Europe, the Mediterranean, and the Middle East. The class grapples with the problematic perceptions of the Middle Ages as well as topics ranging from the transformation of the Roman Empire to questions of alterity and race-making.
A moment from the fall semester:
"Probably the best moment so far has been helping organize CMS's inaugural "Ancient and Medieval Tales of the Supernatural" evening. A lovely group of students, staff, and faculty crowded into the lounge at Frye Street Union to exchange terrifying stories of revenant priests, lewd witches, and shapeshifting foxes, with a few campus ghost stories thrown in for good measure!"
---
Fatoumato Sanogo, Assistant Professor of Mathematics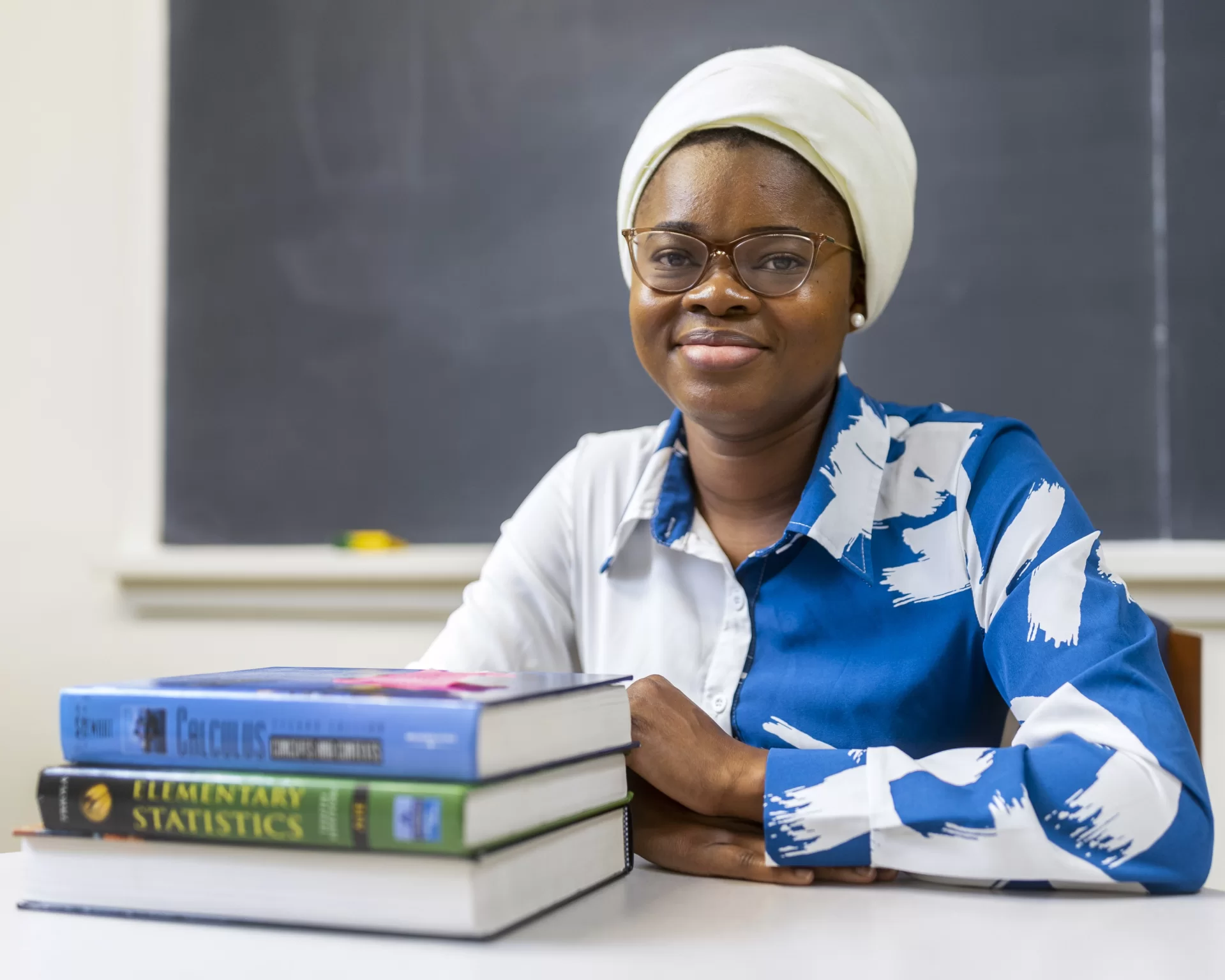 Research interests: Applied mathematics, including tensor-completion algorithms for digital image and video reconstruction and compression, data mining, machine learning, computer vision, signal processing, and neuroscience.
Courses taught include: "Calculus II," which focuses on techniques of integration, both symbolic and numerical, and treats applications of integration to problems drawn from fields such as physics, biology, chemistry, economics, and probability.
A moment from the fall semester:
"A moment from the semester was probably meeting the Colleagues of Color group over a potluck during lunch time. I enjoyed trying all those different flavors over some great discussion."
---
Austin Smith, Associate Professor of Economics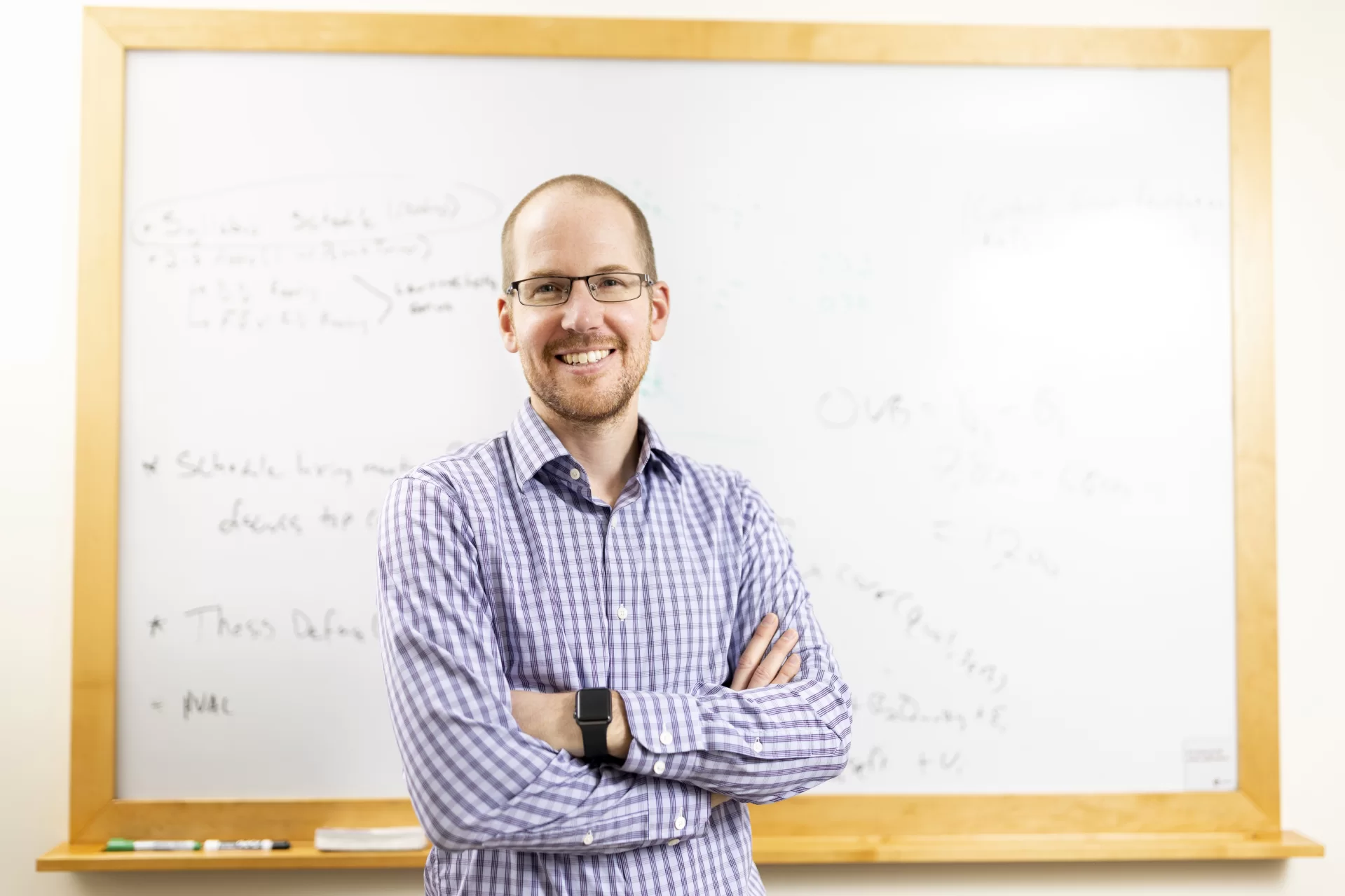 Research interests: Health consequences of public policies, worker behavior, occupational licensing, and factors affecting the academic and early career outcomes of college students.
Courses taught include: "Econometrics," which examines topics such as multiple regression using time series and cross-sectional data, simultaneous equation models, and an introduction to forecasting.
A moment from the fall semester:
"During my first week, I was walking by the football field and a student waved with a big smile and said, 'Hi, Professor.' While the moment may seem small to long-time Bates faculty, it was a nice change for me. I relocated from a large public university that had almost 20,000 students, and it was uncommon to encounter my students outside of class. These interactions have happened almost daily since then, and one of my students even invited me to pick-up soccer…but I am too worried about the injury risk!"
---
Laura Storch, Assistant Professor of Mathematics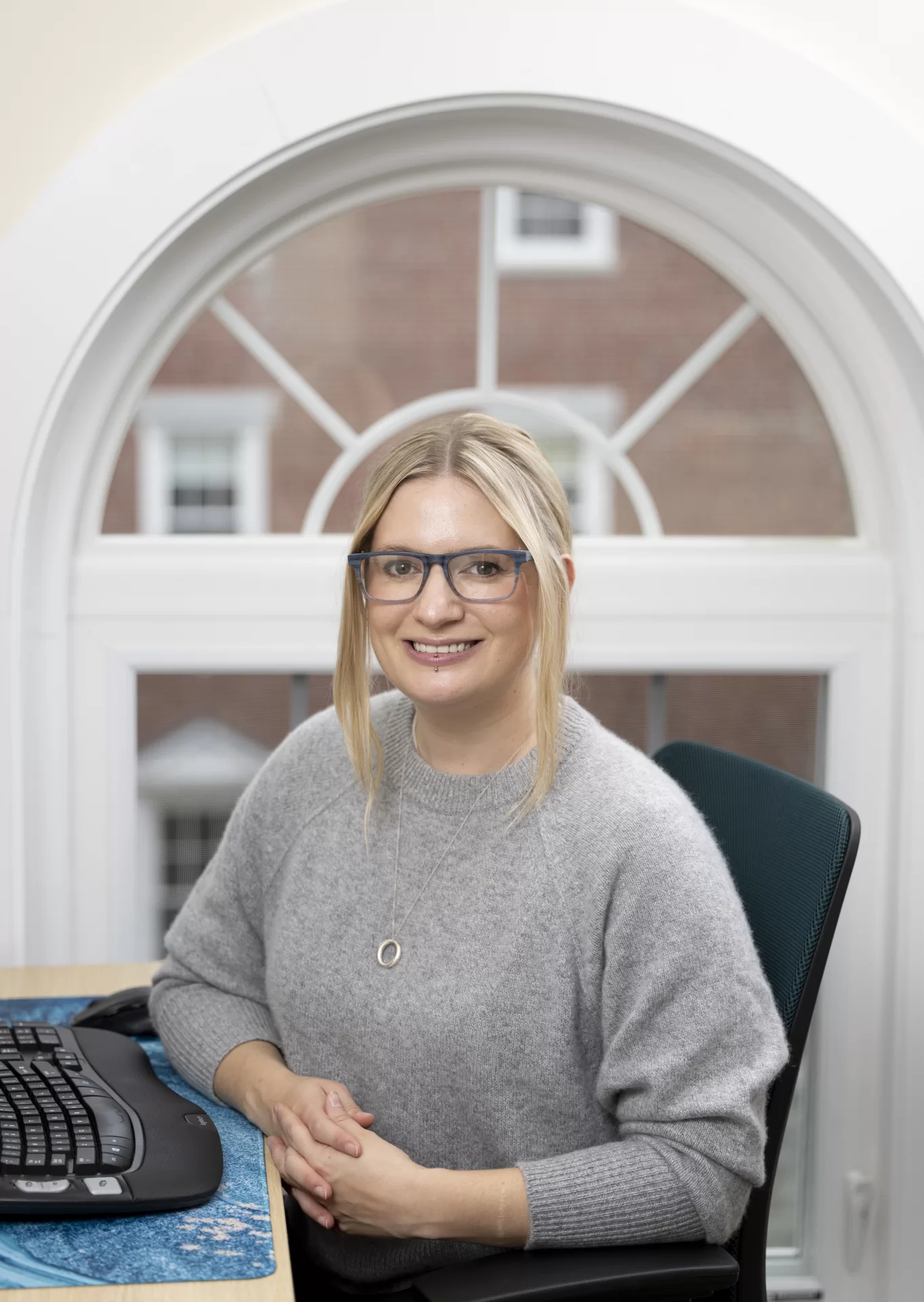 Research interests: Applied mathematics, chaotic dynamical systems, theoretical ecology, spatial pattern formation, critical transitions, population dynamics, and topological data analysis.
Courses taught include: "Numerical Analysis," which studies the best ways to perform calculations previously developed in other mathematics courses by examining factors including speed and accuracy, and topics such as interpolation techniques, approximation of functions, and solving equations.
A moment from the fall semester:
"Perhaps not just one, but favorite moments from the semester: conversations with new colleagues over lunch in Commons."