It's one thing to count apples. Or oranges. But when counting or measuring how folks engage with social media, it's not one-person, one-vote territory. Words like "impressions," "engagements," and "views" are all in the mix.
For the purposes of these two lists, the top 10 Bates Instagram posts and the top 10 Bates Facebook posts of 2022, we looked at our most engaging posts, the posts that got the most likes (reactions), comments, shares (and, for Instagram, saves).
We've also included the "reach" metric for each post, which shows the number of individual users who saw the post at least once.
Over the entire year, the Bates Instagram published 677 posts and stories, making 3.45 million impressions, attracting 219,000 engagements, and garnering 68,000 video views.
On the Bates Facebook, 334 posts made 1.34 million impressions, got 51,880 reactions, attracted 53,670 total engagements (counting shares and comments), and had 25,750 video views.
And, on to the countdowns:
Top 10 Instagram
10. Brad McArthur makes the eggs
As we dove into the world of meme-based vertical video on TikTok and Reels, this audio of a British football commentator cheering on a Lionel Messi goal jumped out as something we could use to highlight a Bates staffer. But who?
Consulting with our hippest coworkers — Bates Communication student workers — chef Brad McArthur working his breakfast egg station topped the list. McArthur swaggering to his station and showcasing his culinary skills, synchronized with the sound, secured the No. 10 spot for engagements, and the largest reach of the year.
Reach: 15,300
Engagements: 1,636
---
9. Commencing again
After a remote graduation in 2020 and alphabetically split morning/afternoon graduations in 2021 (to lower the density of folks on campus), Commencement 2022 offered a return to tradition, including a Bates senior class marching as one from Alumni Walk to the Historic Quad. The Bates community's joy was reflected in the engagements on this post.
Reach: 9,427
Engagements: 1,658
---
8. Maple sweetness
This one's not complicated. We all know that Bates is home to some of the most beautiful foliage in the area and that the Hedge Hall maple tree is the shining star of the Historic Quad.
So it came as no surprise when this vertical shot of the Hedge maple shining bright red, with a bold blue sky above, two students picture-perfectly walking below, and Hathorn tower in the distance resonated with our community and beyond.

Reach: 9,226
Engagements: 1,706
---
7. Opening day for the new class
In this post, we chose some of our favorite moments from our Opening Day for the Bates Class of 2026, on Aug. 31. There's nothing quite like the energy on campus when a new first-year class and their families arrive to start their Bates journey.
Engagements: 1,725
Reach: 9,622
---
6. Classy photo
Line 'em up and tell them to say, "BATES." The official class photo on Garcelon is always popular, and this post is no exception. Was it the timelapse video of how it all came together that pushed it into 6th place? Whatever it was, the 2022 class photo comes in as the sixth most-engaged with post of the year.
Engagements: 1,788
Reach: 8,663
---
5. Victory in CBB
Winning a football game is always great. Beating a historic conference rival that also happens to be in Maine on what's now known as Alumni Big Game Saturday is even better. Bates' victory over Bowdoin was certainly sweet, bringing this carousel post featuring the fans and game action to the No. 5 spot. (Did you know that it's 18.05 miles from the Bates Bobcat statue to the Polar Bear statue? Now you do.)
Engagements: 1,823
Reach: 9,141
---
4. Baccalaureate on May 28
Students and their families sharing moments of reflection. Faculty and staff adding to the feeling of community. Moving and inspiring words spoken from the lectern by Professor Josh Rubin. And a poignant gift of dance for the class, frozen in time. Yep, we'll like that.
Engagements: 1,844
Reach: 9,264
---
3. Time to Grab 'n' Growl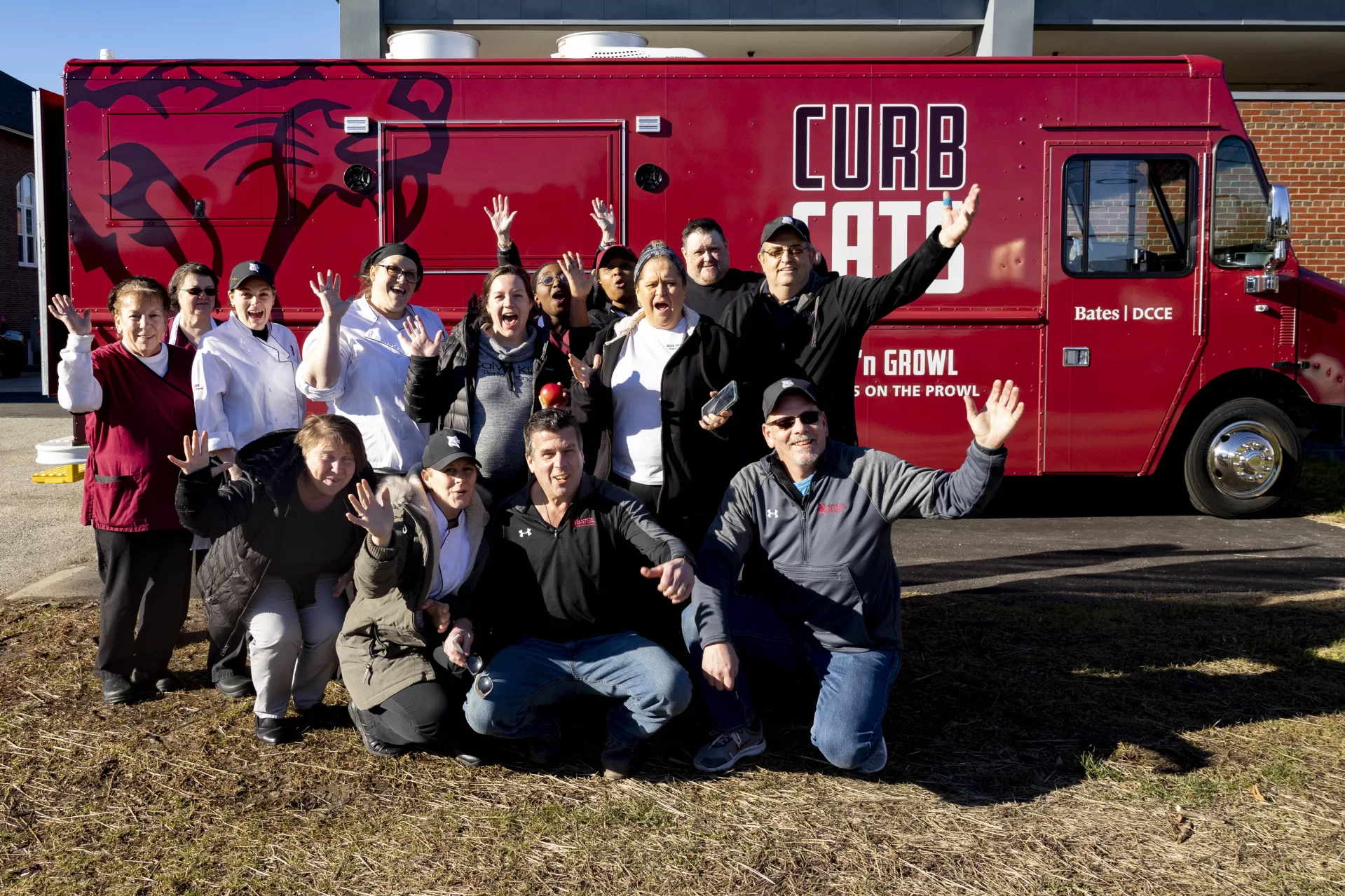 The latest entry to the top 10 slid into the competition when it was published Dec. 2 and quickly raced to the top of the heap. While the Bobcat Den is closed due to the full-scale renovation of Chase Hall, the Bates dining team got opportunistic with a new culinary option, the Curb Cats food truck.
The truck arrived Dec. 2 after a 1,160 mile, three-day journey from Indiana, driven by John Lajoie, associate director of dining services, with Todd McCullough, assistant manager of cash operations, as co-pilot.
Engagements: 1,957
Reach: 10,741
---
2. Hoops history
We don't think we can improve on what this post said, "For the first time in program history, Bates women's basketball is the NESCAC Champion!"
Perhaps come 2023, we'll be saying, "Hoops, we did it again."
Engagements: 2,274
Reach: 11,614
---
1. Getting jumpy
Big smiles despite chattering teeth, wild sartorial choices and screams of simultaneous fear and delight. You know it's Puddle Jump time when students line up to jump into Lake Andrews on a chilly winter day.
An annual winter Bates tradition since 1975, the Puddle Jump took a year off in 2021 due to the pandemic. Its return on Feb. 11, 2022 delighted students, and Bates' intrepid photographers were there to capture it all in this carousel.
Engagements: 2,331
Reach: 11,100
---
Top 10 Facebook
10. Trashion Show photographs
Aneeza Ahmad '25 of Sharon, Mass., an EcoRep, the group that produces the annual Trashion Show, says the event is a chance for students to have some fun, not take themselves "too seriously," and experience the spotlight, all while sharing some important messages about recycling and sustainability.
Reach: 8,071
Engagements: 260
---
9. Two years later, a class photo
The Class of 2020 came back to campus for its long-delayed, in-person graduation celebration, and Bates folks far and wide joined in to congratulate them.
Reach: 7,324
Engagements: 267
---
8. James Reese and Ozzie Jones '92 reconnection
Outside Commons on June 29, award-winning theater director Ozzie Jones '92 reconnected with his friend and mentor, Associate Dean for International Student Programs James Reese. Jones grabbed Reese for a hug as he recalled the support Reese provided for Jones and his Black classmates during their four years at Bates.
"This is my brother. He made being here emotionally possible, not just for me, but for literally all of us," said Jones.
Reach: 6,677
Engagements: 297
---
7. Paul Bunyan snow sculpture
Hmmm. What to do on Paul Bunyan Day? How about sharing the famous photo of the Bunyan-esque snow sculpture created for the 1962 Winter Carnival celebration?
Reach: 15,069
Engagements: 312
---
6 The Puddle Jump returns
As it did on Instagram (No. 1 post), coverage of the annual Puddle Jump spoke to folks on Facebook.
Reach: 10,135
Engagements: 316
---
5. The Bates food truck arrives
Dubbed "Curb Cats," the stylish Bates food truck arrived on campus in December and, shortly, rolled into the college's social media feed, ranking third on Instagram and fifth on Facebook.
Adrian Allannic '25 of New York City, summed up popular opinion: "It's beautiful."
Reach: 9,306
Engagements: 327
---
4. Commencement: 'Be someone who builds trust'
Commencement speaker Dr. Nirav Shah called upon the Class of 2022 to "Be Someone" by embracing their humility, humanity, and humor. Shah directs the Maine Center for Disease Control and quickly became a trusted public resource during the state's COVID-19 response. "Be someone who builds trust," he said.
Reach: 10,615
Engagements: 378
---
3. Commencement preview
After a remote graduation in 2020 and morning/afternoon graduations in 2021 (to lower density of attendees), Commencement 2022 delivered a return to tradition, including a Bates senior class marching as one from Alumni Walk to the Historic Quad to celebrate their graduation from Bates College.
Reach: 8,897
Engagements: 504
---
2. NESCAC title for women's basketball
Ranking second on both Facebook and Instagram was coverage of the Bates women's basketball team winning the program's first NESCAC championship on Feb. 27.
With the win, Bates qualified for the NCAA tournament for the first time since 2005-06. "Our program has grown exponentially because of the women who every year committed to building a culture and believing in our vision," said head coach Alison Montgomery.
Reach: 11,635
Engagements: 776
---
1. Yvon Chouinard, L.H.D. '21 donates Patagonia
The announcement by Patagonia founder Yvon Chouinard that he would donate his $3 billion company to protect our planet resonated around the world, and particularly so within the Bates community. Chouinard, who was born in Lewiston, was awarded an honorary degree from Bates in 2021. A deserving No. 1 post!
Reach: 13,029
Engagements: 1,009