Dr. Nirav Shah, director of the Maine Center for Disease Control who delivered insight and delight as the 2022 Bates Commencement speaker in May, will become the No. 2 leader at the U.S. Centers for Disease and Control and Prevention in March.
"Thank you to all my friends at @BatesCollege," Shah responded to a congratulatory Bates College tweet shortly after yesterday's announcement. "Commencement at Bates was one of my favorite days of 2022."
Shah has been appointed principal deputy director at the U.S. CDC, second in leadership under U.S. CDC Director Rochelle Walensky.

As director of the state's Center for Disease Control under Maine Gov. Janet Mills beginning in 2019, Shah became something of a folk hero for leading Maine's pandemic response, both in Maine and more broadly. Shah is also credited with rebuilding Maine's overall public health infrastructure.
As COVID-19 barreled into the state in 2020 and throughout the pandemic, Shah used his "powerful intellect and profound humanity" to become Maine's "calm and sure-footed guide through uncharted territory", said Dean of the Faculty and Vice President for Academic Affairs Malcolm Hill in delivering the citation for Shah's honorary degree.
Whether leading daily media briefings, joining public radio call-in shows, convening Zoom discussions with community leaders, or through his own deft and often witty forays into social media, Shah became "not just our doctor in chief but our counselor, philosopher, and sage," Hill said.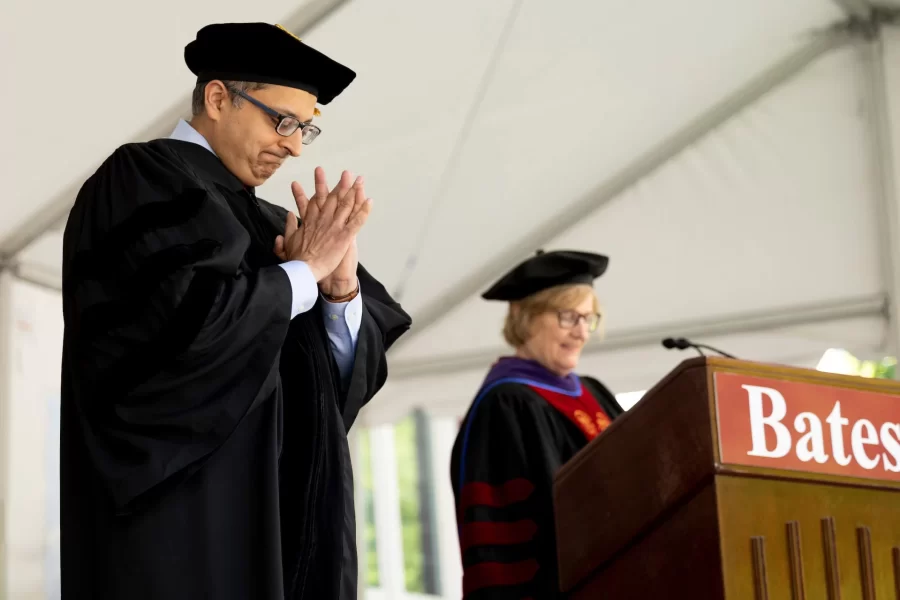 The admiration between Maine and Shah was mutual. "My heart will remain in Maine," he said in his video resignation announcement. "I'll still be working for all of you — I'm just adding 330 million people to the mix. I am so grateful to everyone in Maine for your kindness and support. Please know: I will always fly the Maine flag high."
He concluded his message yesterday with the advice that had become his trademark, "As always, please, be kind and take care of one another."
View Comments