From the Bobcat cheers coming from the women's soccer team to President Garry W. Jenkins' promise to the Class of 2027 that Bates is a place where "you get to be who you want to be," the resounding message at Opening Convocation on Sept. 5 was that Bates is a community centered on caring and kindness. 
Associate Professor of Biology Andrew Mountcastle put a fine point on that message in his Convocation address, inviting the Class of 2027 to "embrace the process of learning in all of its messy imperfection" and then promising: "You are not alone. You see all of these folks up front in colored robes? We are literally here for you."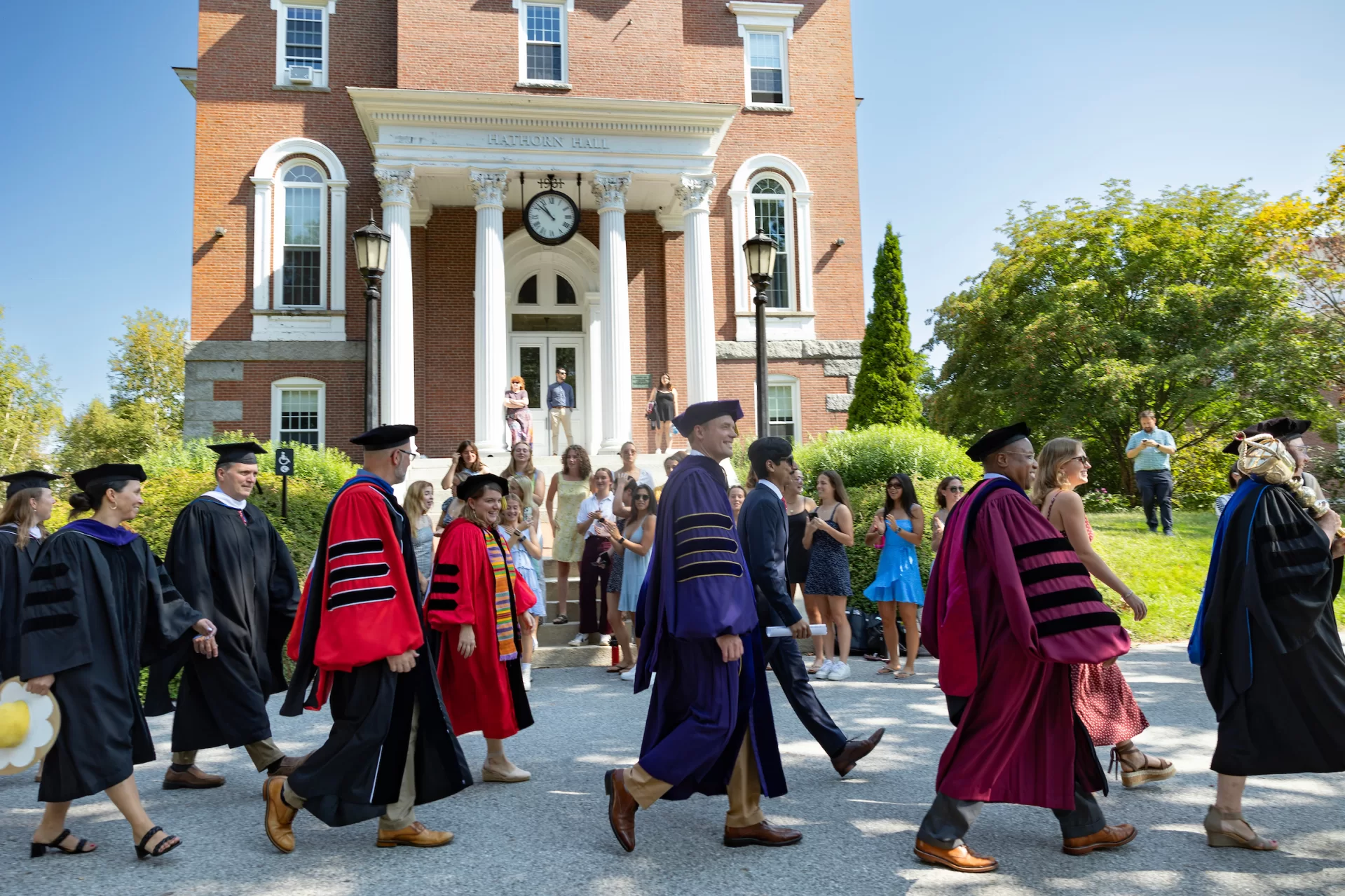 As the 509 students in the Class of 2027 paraded across the Historic Quad on Sept. 5, they walked past the Mouthpiece, a gift from a class that graduated exactly 100 years before them, the Class of 1927 — a telling reminder that they were taking part in a Bates ceremony in a Bates place that is steeped in history and traditions, old and new.
On a hot and humid Convocation day, where the morning temperature soared to 80 degrees, the academic procession stepped off from Alumni Walk on its way to Coram Library, led by Jenkins, his senior leadership team, and faculty members including mace bearer Professor of French and Francophone Studies Mary Rice-Defosse, and followed by first-year students.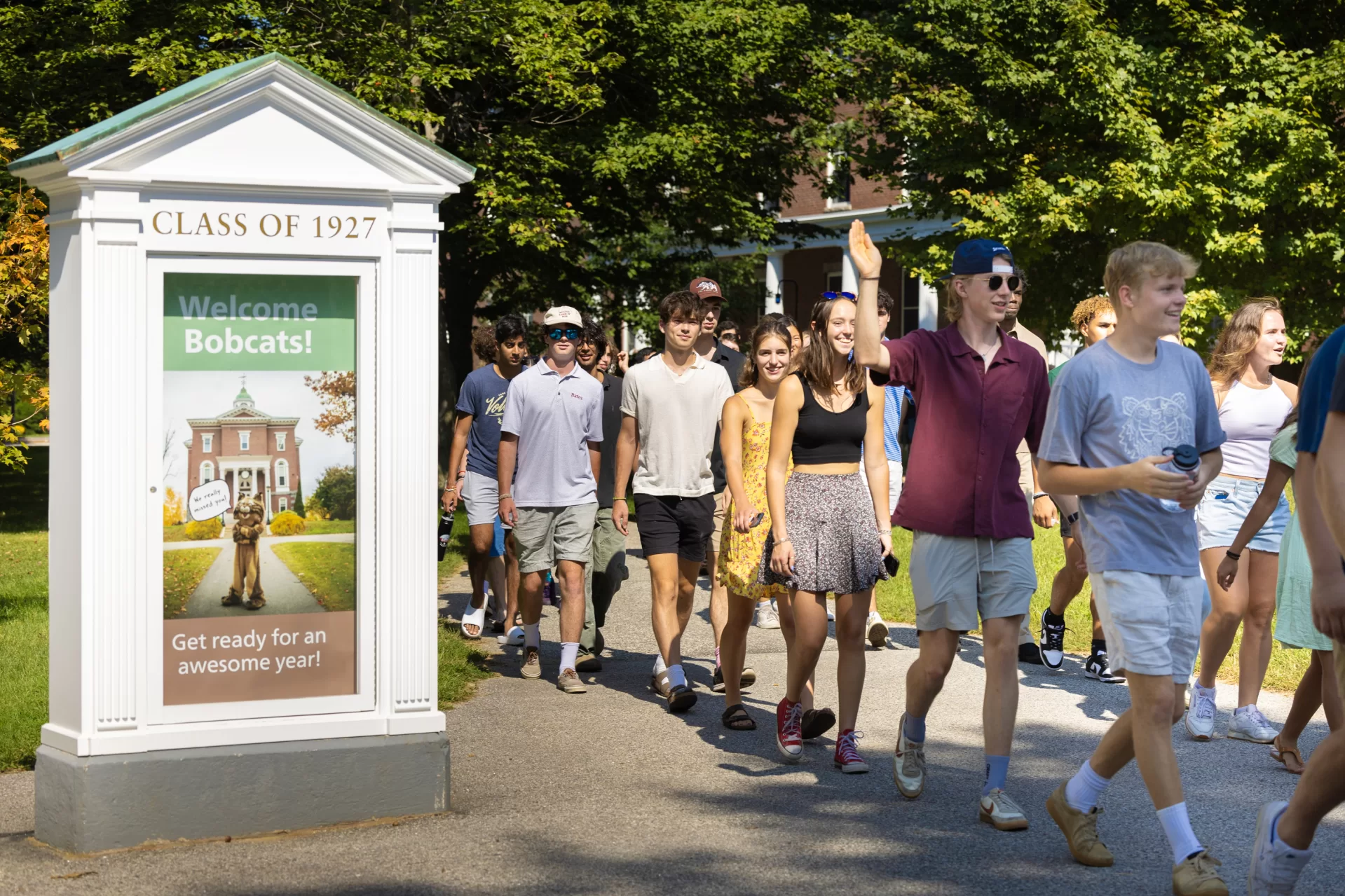 The ceremony opening the college's 169th academic year was the first for Jenkins, who took office on July 1. "I'm Garry Jenkins. My pronouns are he/him, and I'm the new president at Bates," he said, prompting one of the biggest cheers of the day.
He noted how the terrace of Coram Library is the site of bookend Bates ceremonies.
"I love that this ceremony takes place in the same spot every year. It's also the same spot where Bates holds its Commencement each year. So, it's here…at the heart of this beautiful campus, where generations of Batesies have come to both celebrate the start and the end of their studies."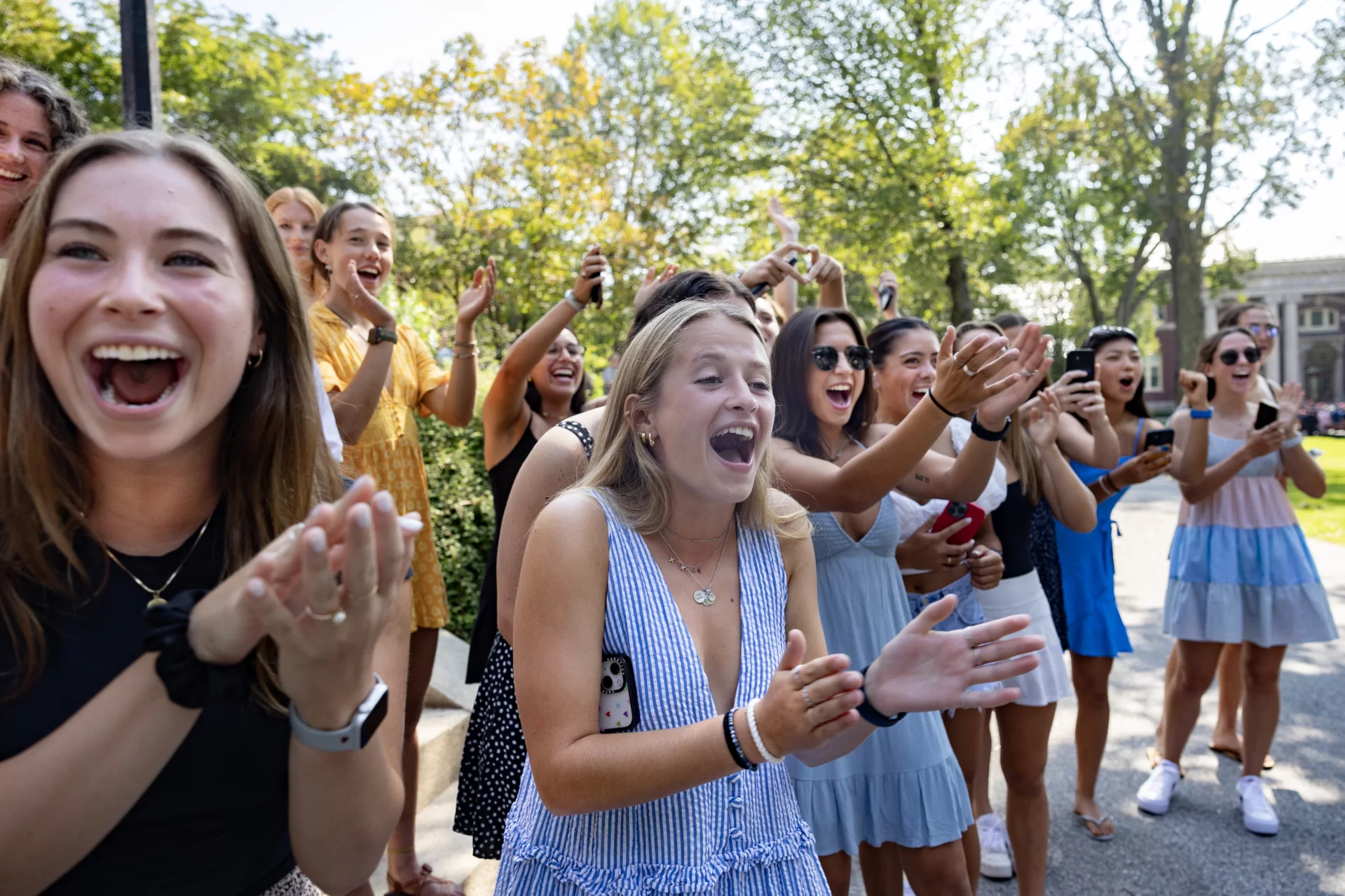 It's a campus spot, he said, that "reminds us of what a rich, rich legacy we are all a part of, one that is grounded in the liberal arts as a dynamic force for public good, in the affirmation of human potential and the power of embracing and celebrating our differences, that's grounded in the opportunity, in the value of open inquiry, of dialogue, and the power of ideas, that's grounded in seeing and growing and developing the whole person in all of our humanity, all of which is rooted in a powerful sense of place and being part of local, regional, and global ecosystems."
But Jenkins also promised the first-years that the Bates ethos is grounded in compassion.
"We can pledge to be gracious to one another, and we can expect to be treated graciously. We can commit to kindness, and expect others to hold the same commitment."
Jenkins asked the Class of 2027 to "please treat each other with kindness and a generous spirit." The new president's request drew a few claps, to which Jenkins, with humor in his voice and a nod, responded: "You can clap for that."
With that, the audience of students, faculty, and staff burst into applause.
To help them on their journey, Jenkins offered a few of his "strategies for success." But the president also counted himself among those who would be learning in the year ahead.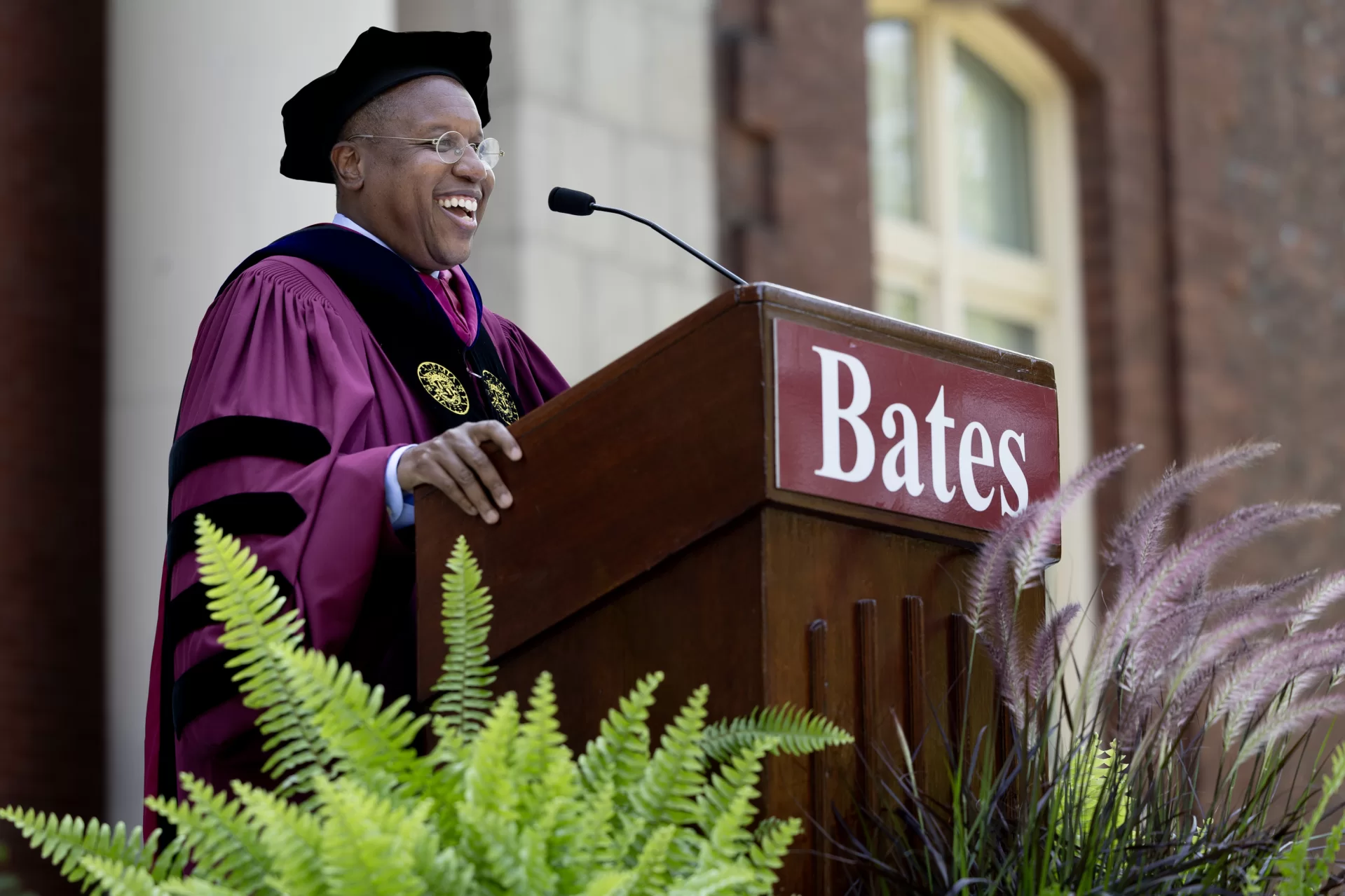 "And, by the way, I'm right there with you," Jenkins said with gusto. "I'm totally plunged into the newness of Bates and, because of that, I feel a special connection to the Class of 2027."
Jenkins suggested the first-years "set expectations, but know that they won't always be met and that's okay." He advised them to "be a learner and a leader" and to "find ways to be part of the solution."
Bates is a place of high ideals, but because it is a community of humans, it is hardly perfect, Jenkins said. "We do not always achieve these ideals. But as a community, we work together to do better…There's no us versus them at Bates. There's only us. And each of us is part of the solution."
Jenkins concluded his welcome with the down-to-earth advice his mother would give: "Learn, care, share, and enjoy."
Mountcastle's presence at the lectern reflected another relatively new tradition: a gift from the newly graduated Class of 2023, which chose him to give the Convocation address. He recommended the first-years be patient and compassionate — particularly to themselves.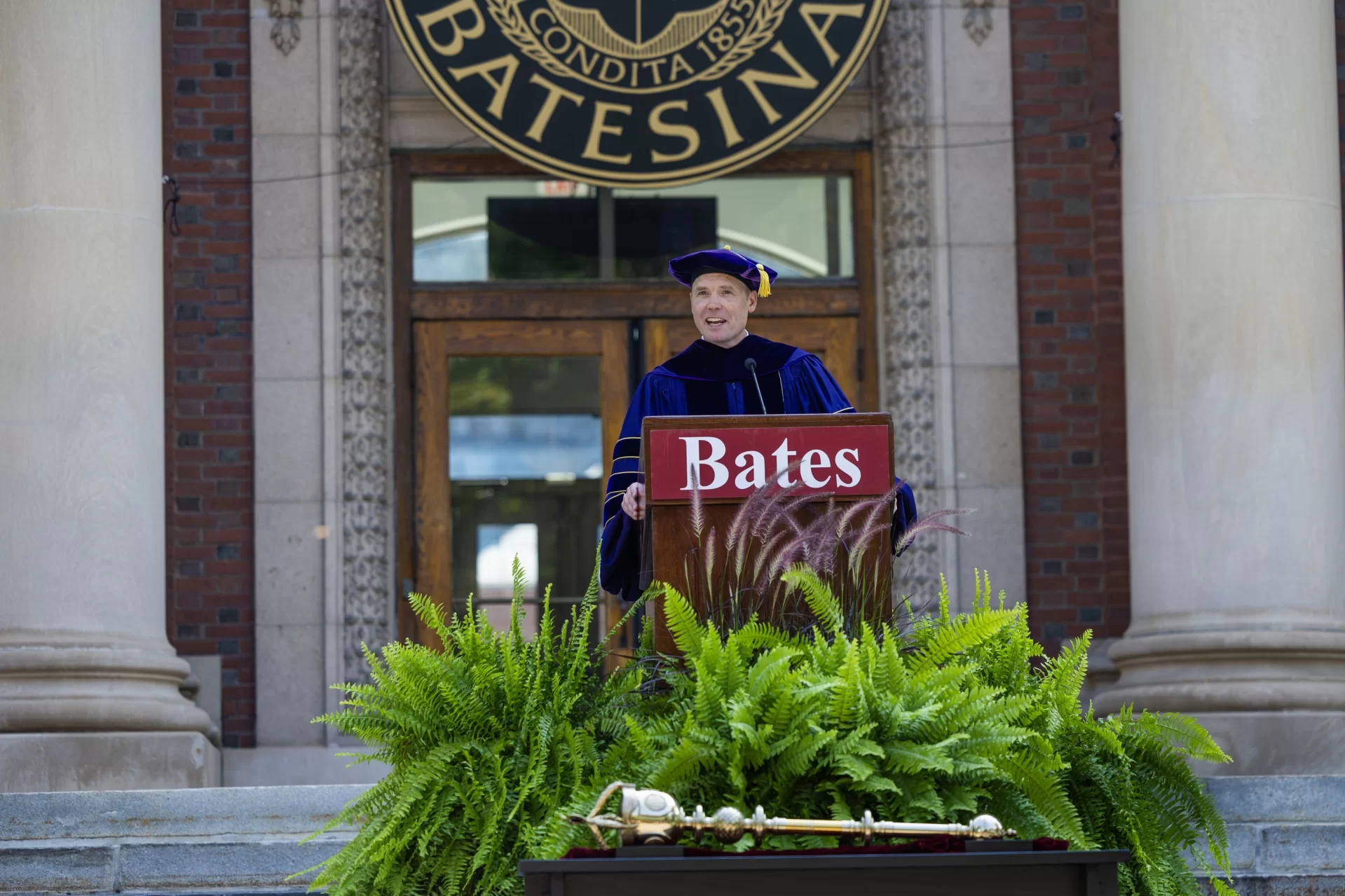 Mountcastle delivered his message through the story of the famous rock climber Alex Honnold, who became the first to successfully execute a free solo climb of the roughly 3,000-foot-high vertical rock formation in Yosemite National Park called El Capitan, so named by the California state militia that in 1851 forcibly relocated the Indigenous population there, though Mountcastle noted the First people first named the monolith Tutokanula. This remarkable climb of the half-mile high rock face, completed without ropes or anchors, was captured in an Oscar-winning 2018 documentary, Free Solo.
During Honnold's amazing climb, Mountcastle explained, neuroscientists performed an fMRI scan of his brain to observe the brain's activity in real-time. They concluded that the area in his brain associated with processing emotions responds differently to fear than it does for most.
The scientists theorized this was because Honnold was born with a unique brain that gave him an edge in free climbing, but Honnold contested their theory, pointing to the 25 years he spent conditioning not only his body to ascend daunting rock faces, but also his mind.
In fact, Mountcastle explained, Honnold at first feared free climbing the famous rock face, but discovered a way to train his brain in a process neuroscientists are now studying called "brain growth." Mountcastle asked the Class of 2027 to embrace the possibilities suggested in this amazing story.
"Let's take a moment and appreciate just how profoundly liberating and empowering this knowledge is. Each and every one of us has a 3-pound bundle of nerves between our ears that we are free to mold however we like. We all have the potential to excel at math, or learn Chinese, or understand Kantian deontology."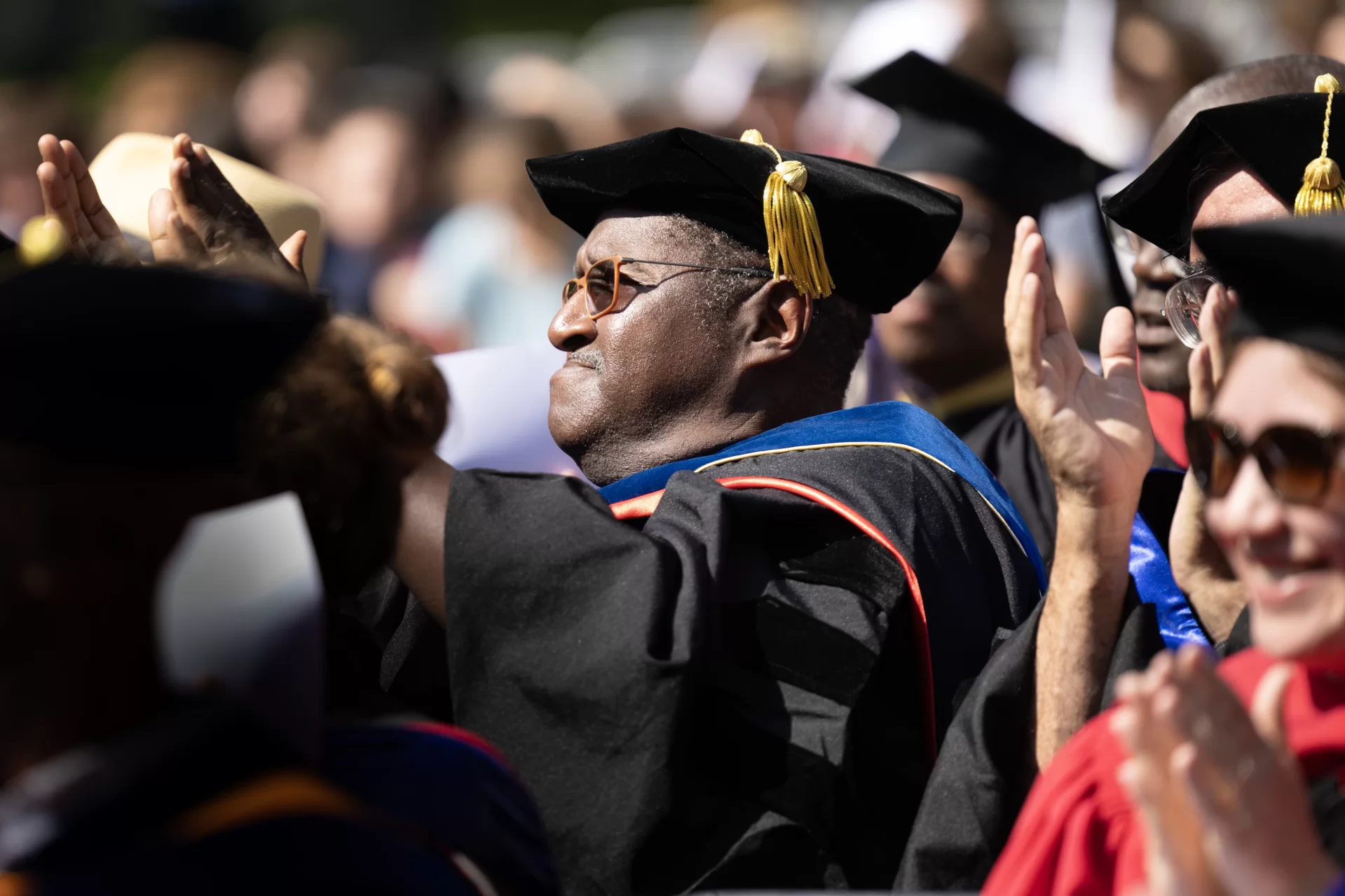 Then he reminded them: "Here's the rub, to realize this incredible potential, we have to put in the work."
Such work, he acknowledged, may bring frustration, even doubt. Mountcastle urged the first-years to have faith. To help on their journey, he asked them to remember three things: "You are doing it right," "you are not alone," and "every single one of you belongs here."
"Learning is not a steady, linear progression. It's disorderly and tumultuous," Mountcastle promised, and added: "You will learn how to ask questions, how to construct arguments, how to develop and test theories. You will learn how to critique and how to create. You will learn how to learn."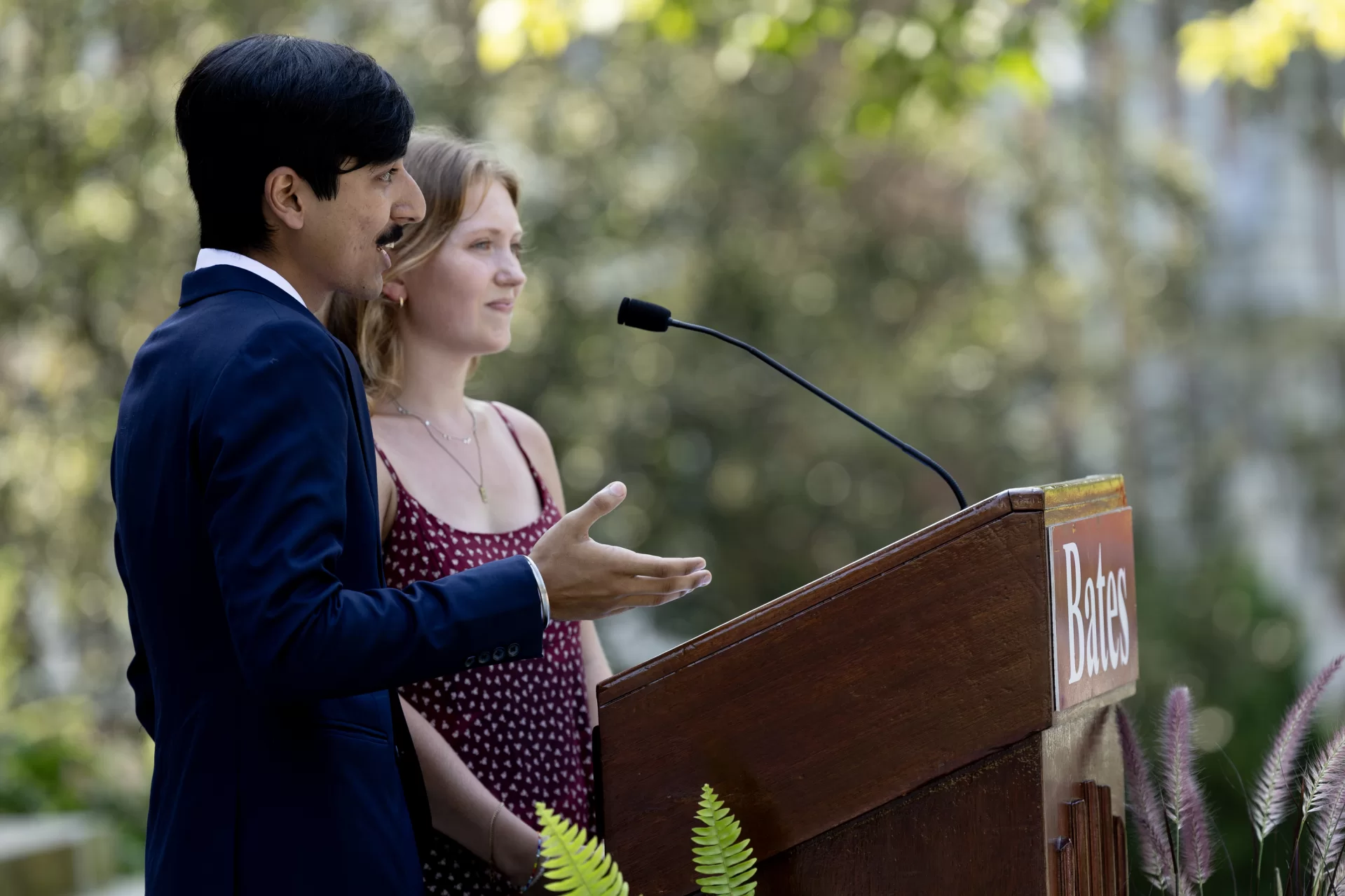 Student Government co-presidents Rebecca Anderson '24 of Boone, N.C., and Dhruv Chandra '25 of Kolkata, India, also encouraged the first-years to try new things, talk to everyone, say hi to people on your floor, and to "form relationships with people from across campus."
As they shared their speech, alternating back and forth throughout it, they promised, "you will soon realize that Bates is a community of collective support."
The day's hopeful, supportive welcome struck a chord with Ella Blum '24 of South Salem, N.Y., who, with classmate Emma Upton of Amherst, N.H., served as senior class marshals, reprising the role they had last spring as junior class marshals at Commencement.
After she listened to the advice and encouragement from the speakers, she felt buoyant.
"It gave me a sense of security in not knowing exactly what I want to do with my future, to know that's OK," Blum said. "I think that can be true for the rest of your life: You don't have to know where you want to go or what you want to be and still be at peace with that."
Indeed, she added, "whether you're a first-year and you don't know what your major will be or a senior and you don't know where you'll be in the next 10 months, there is a joy in that, and an excitement in that."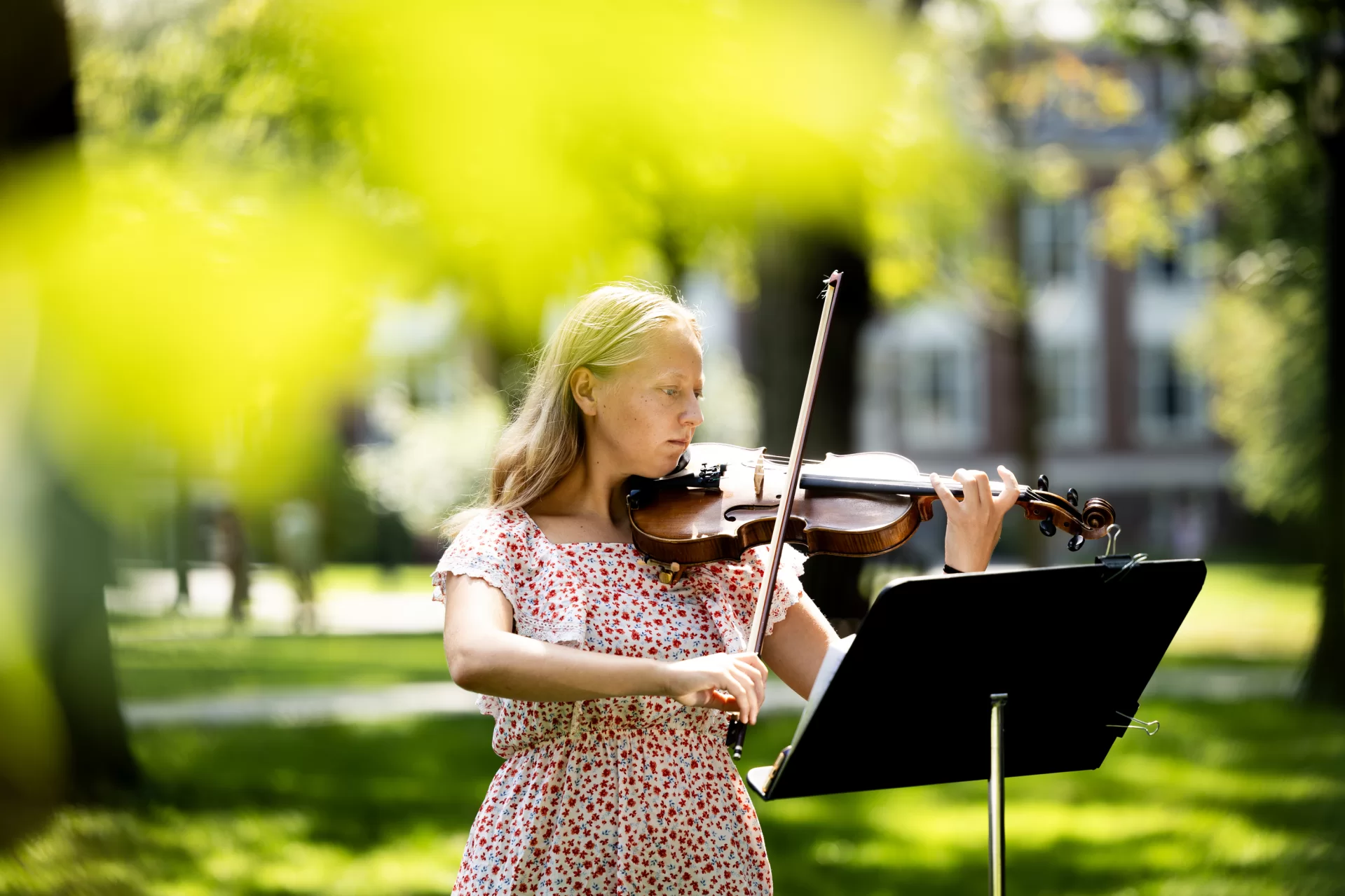 Convocation was followed by the memorial tree planting service, a tradition started by the college's Multifaith Chaplaincy in 1997, offering the Bates community the chance to gather and remember those members of the campus community who died in the past year.
The short service included live music, including "Ashokan Farewell," performed on the violin by Maple Buescher '25 of Cleveland Heights, Ohio. The musical offering was "from a Maple to a maple," quipped the Rev. Brittany Longsdorf, the college's multifaith chaplain, referring to the gifted performer and the newly planted maple tree.
The ritual of watering the tree with water from Lake Andrews drew nearly 50 who lined up to share in the practice, with some getting down on their knees.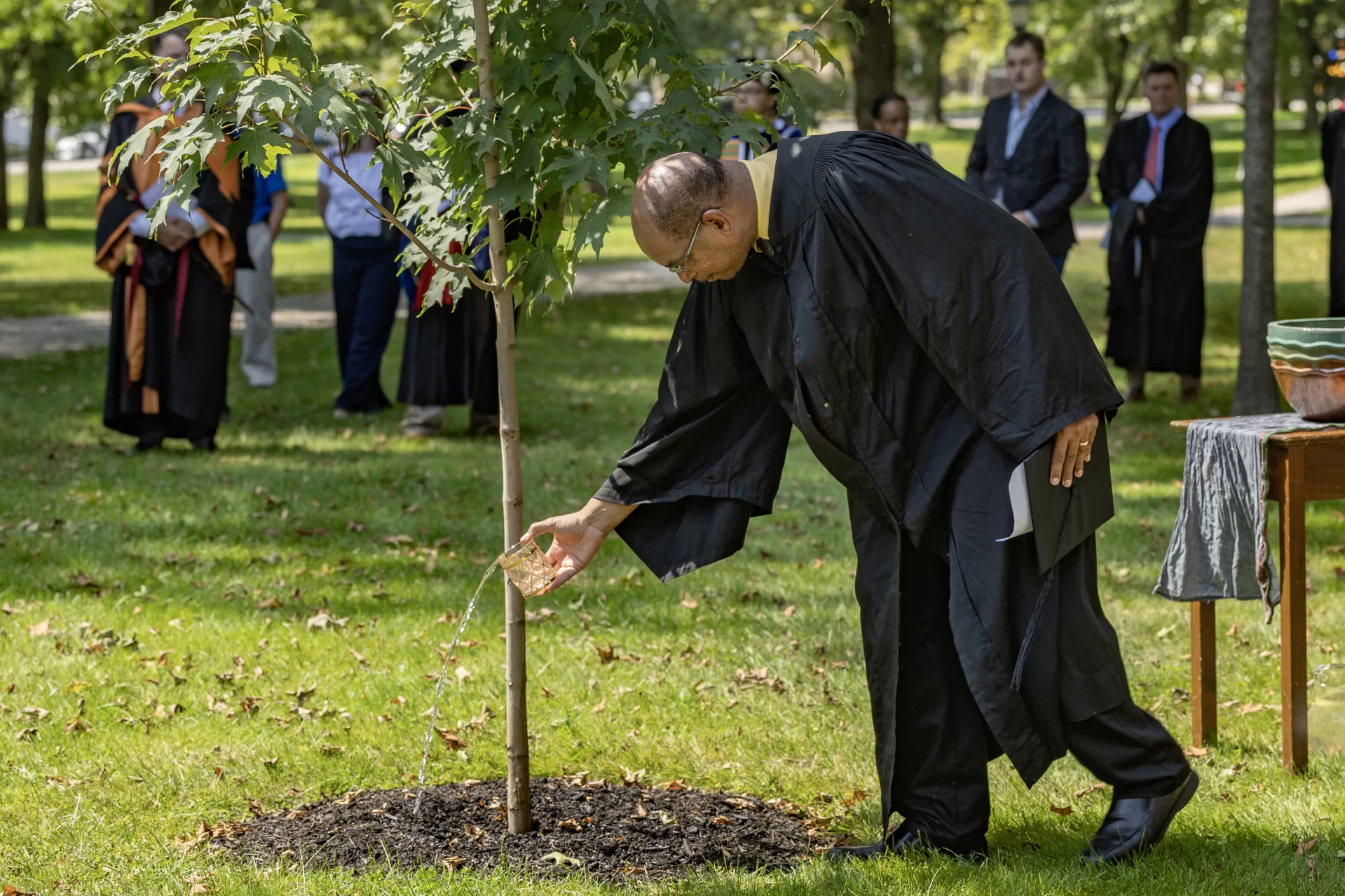 The closing reading was "grandfather: a dialect of water," an award-winning poem by Assistant Professor of Gender and Sexuality Studies Ian Khara Ellasante, inspired by Ellasante's late paternal grandfather, which ends with the line, "cry with me, walk with me."
These members of the faculty and staff were remembered this year:
Vincent J. LePage, Dining Services
Issack A. Barrow, Dining Services
Donald J. Smith, Facility Services
Michael A. Landry Jr., Dining Services
Lewis Afton Turlish, English faculty
Theresa N. Giguere, Facility Services
Pauline C. Benjamin, Dining Services
Victoria M. Devlin, Advancement
Gerald G. Dawbin, Information and Library Services
Stephen Hasson, Campus Safety
Dolores "Del" Preo, Facility Services
William Quenga, Information and Library Services
Pauline E. Longtin, Dining Services