With students, faculty, and staff sitting shoulder to shoulder late Wednesday afternoon in Gomes Chapel, President Garry W. Jenkins reminded the Bates community of the capacity for human acts to help lift the darkness left in the wake of the Oct. 25 shootings in Lewiston that resulted in the deaths of 18 people.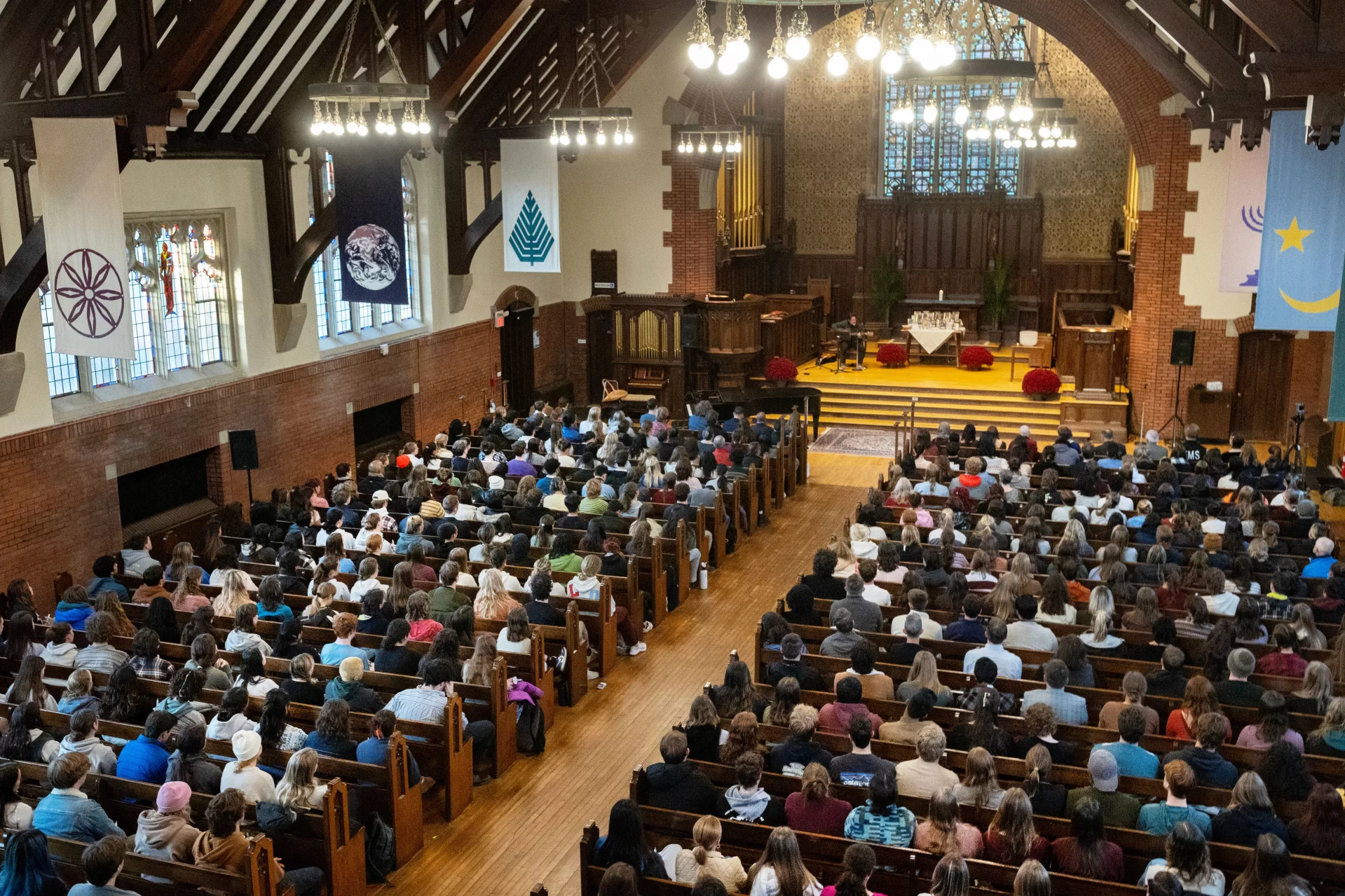 "The brightness that shines through the dark of a tragedy such as we have suffered here in Lewiston, our home, is what it always is in times like these: the immense capacity of our shared humanity," Jenkins said. He called on those gathered — filling the chapel — to continue to support each other.
The Vigil for Grief and Remembrance, presented by the college's Multifaith Chaplaincy, was held on Nov. 1, the one-week anniversary of the Lewiston shootings. Many Bates students had attended a large vigil three days before in downtown Lewiston at the Basilica of Saints Peter and Paul, but the on-campus vigil offered an opportunity for the Bates campus community to grieve and reflect together.
The mood in the chapel full of students, faculty, and staff was somber. A few held hands. Some in attendance dabbed at their eyes.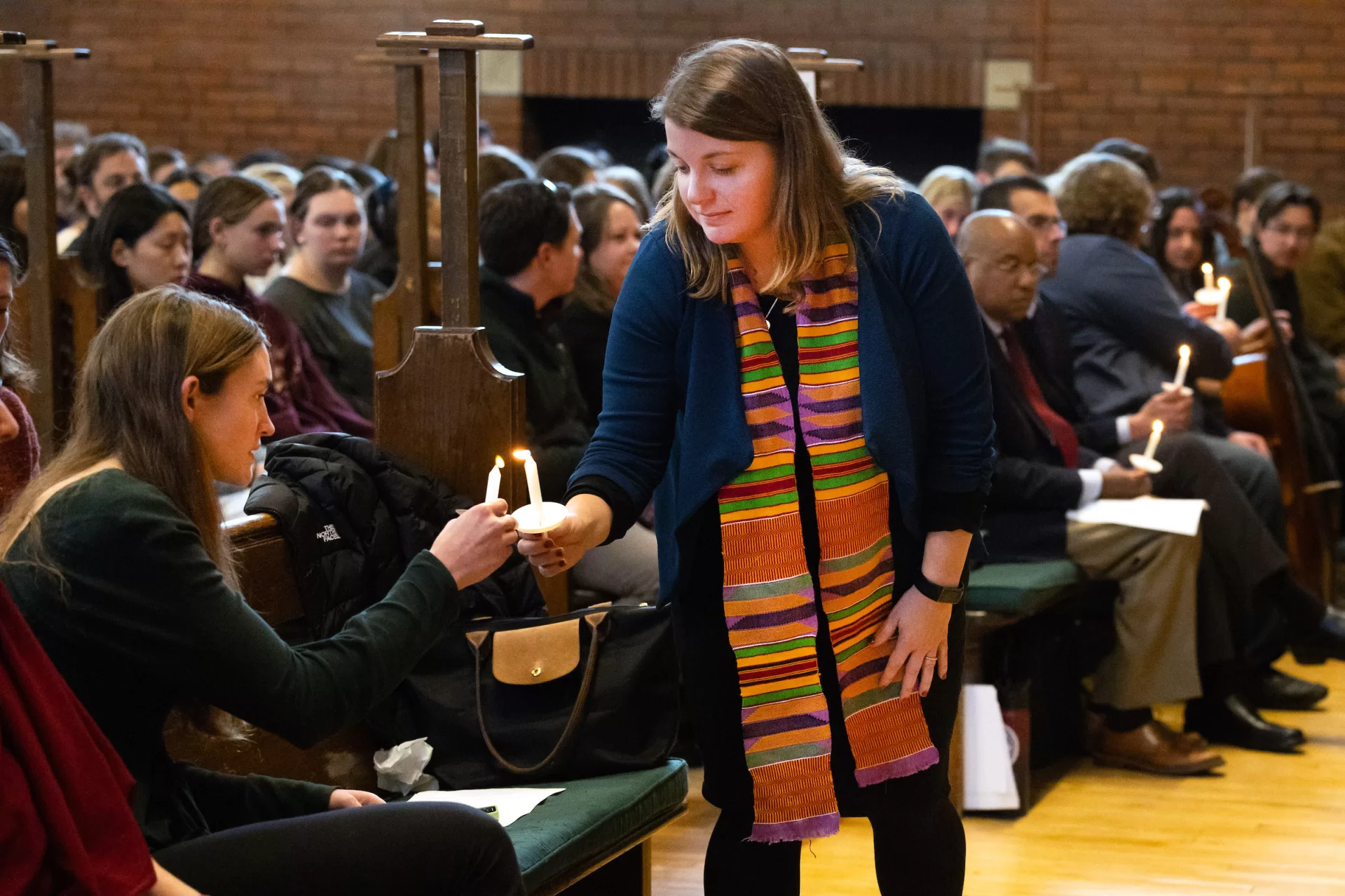 "Let us be a loving community and carry all the things we are feeling and sifting through together," said the Rev. Brittany Longsdorf, Bates' multifaith chaplain, speaking from the pulpit to the chapel as daylight started to fade.
People have gathered to grieve for centuries because it's vital in the healing process, Longsdorf said as she prepared for the vigil earlier in the day. She said this simple, human act of coming together binds us — and also frees us of the guilt that can follow a horrific tragedy.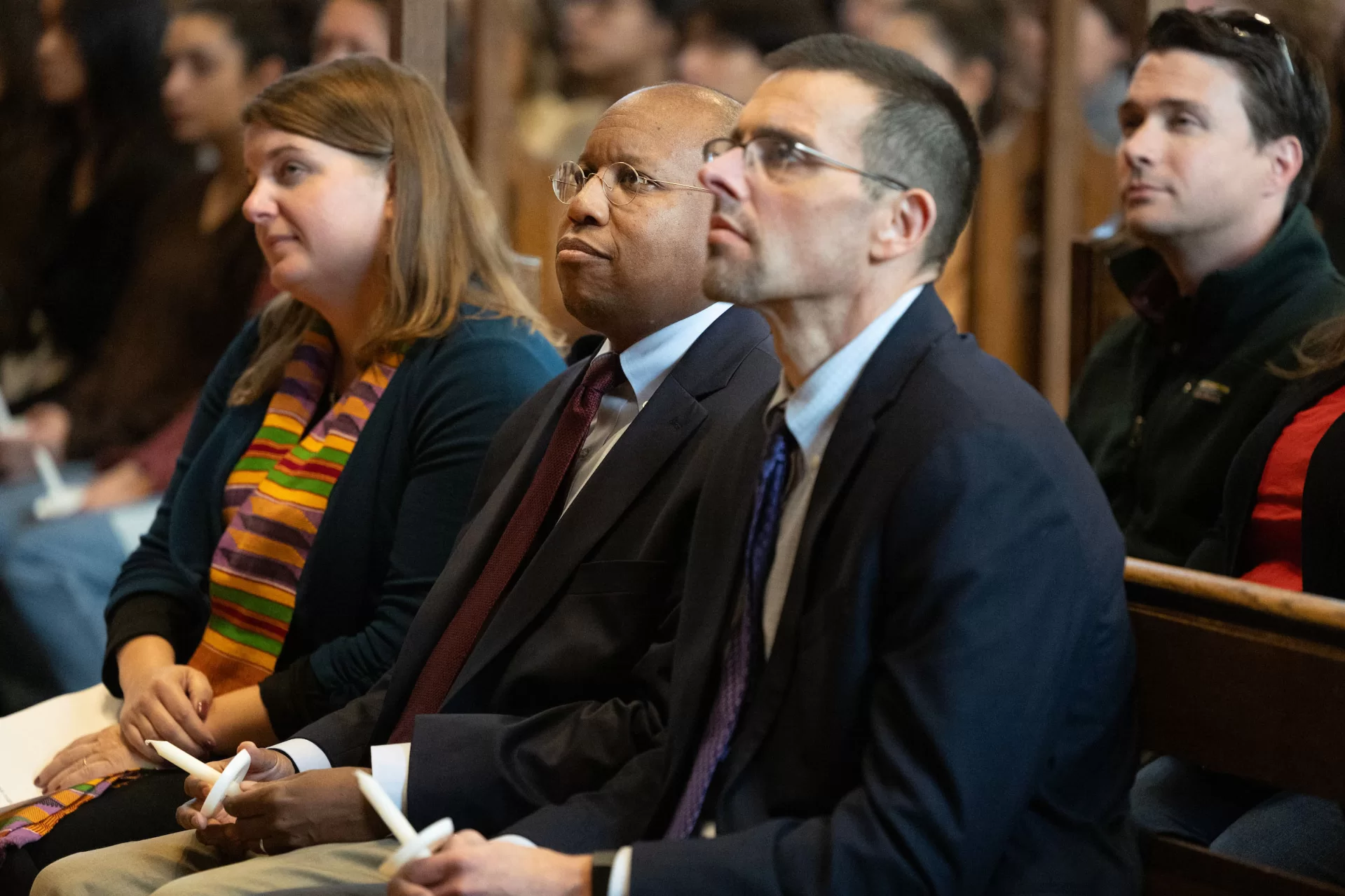 "Grieving together is essential to come out of this hard moment. That's why societies have done things like this vigil for thousands of years," said Longsdorf. "When you see other people in that space, it helps us lean into it in a special way. I think doing it together, it's why at Bates we love Lewiston, and why Lewiston loves on us. We love this city that is our home."
In his remarks, Bates' new president also offered his vision for the way forward — a journey made together that is guided by love:
"Generosity and care and eagerness to help, to support, to embrace have emanated from every corner of this city and this college community like a beacon of light, filling our hearts and mending our souls," Jenkins said. "They remind us of human goodness. They remind us to hold onto hope. They remind us that together, over time, we will recover and heal. In that, I have faith."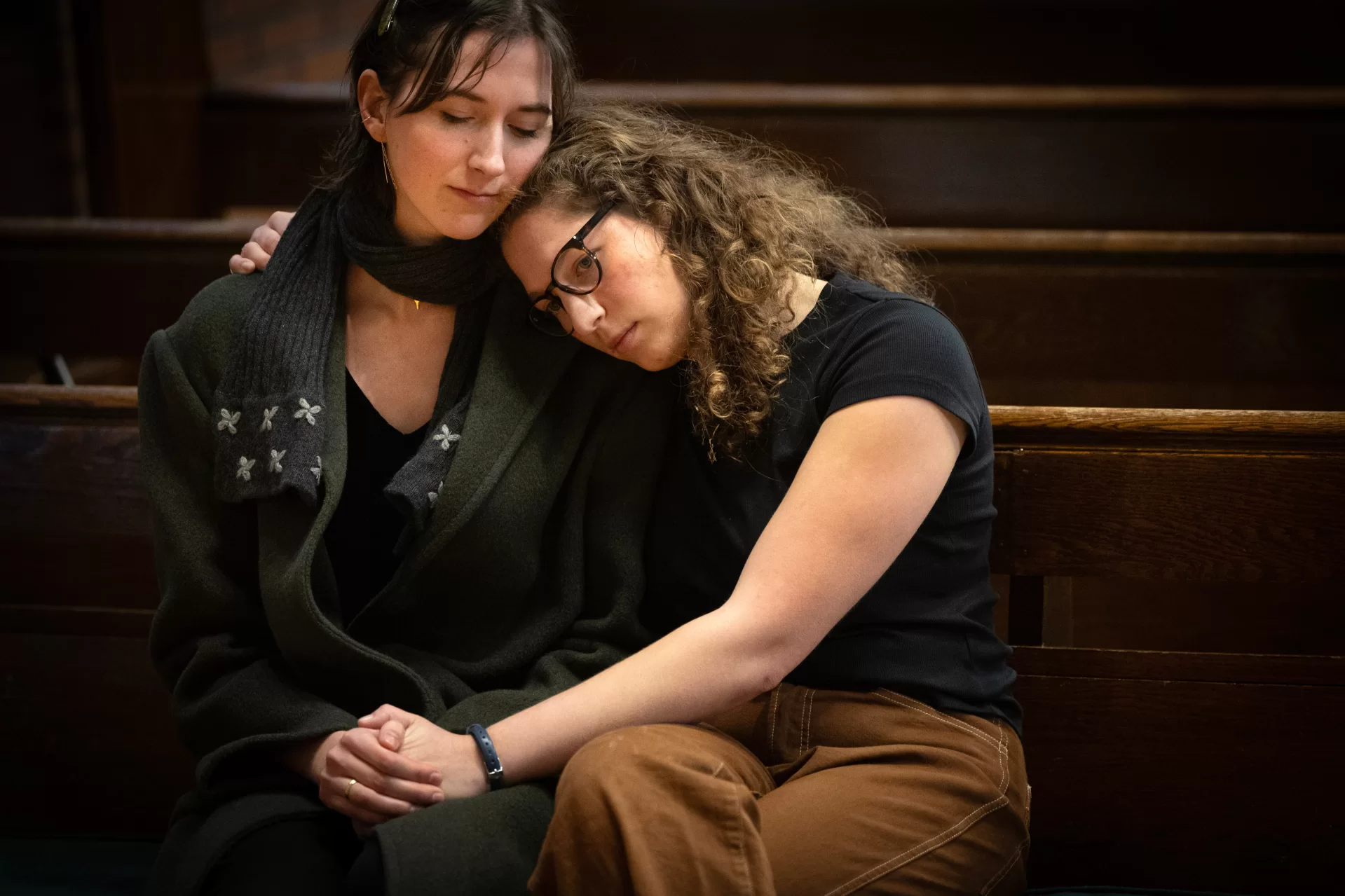 Lewiston mayor Carl Sheline echoed that oath of togetherness. Sheline, who said he was on campus by chance on Oct. 25 when the shootings occurred, promised those gathered: "We will rise together."
"Most of you, like me, are from away, but while you are here, you belong to us. Lewiston is your city, just as we are sharing in this tragedy," Sheline said. "We are not going through separate events, but the same dark time."
The Lewiston community and Bates students "will stand shoulder to shoulder" Sheline said, as the area works to heal.
---
Watch the full video of the Vigil for Grief and Remembrance at the Gomes Chapel on Nov. 1:
In her remarks in the chapel, Longsdorf spoke of the power of sharing grief as a community.
"Some may think that grieving is weak, or a form of surrender. But I believe that grief is a form of rest and a method of love. When we grieve together like this, in community, we powerfully hold each other and are held. When we grieve, we continue loving amidst loss. When we remember, we root to purpose and commit to change. When we remember, we connect the threads of the dead to how we still want to live our one precious life."
The vigil continued as Longsdorf, with a suede-covered mallet, rimmed a singing bowl, creating a continuous and harmonious sound to open up space for those in attendance to turn to each other and share a few words about how they were feeling. For many, the fear and shock had passed, to be replaced with sorrow, exhaustion, and gratitude for being in community. And safe.
Then, following a musical interlude, the Rev. Raymond Clothier, associate multifaith chaplain, read the names of the 18 people killed in the shooting, pausing between each name, while Longsdorf lightly struck the suede-covered mallet on the singing bowl's rim, creating a single sustained musical note for each.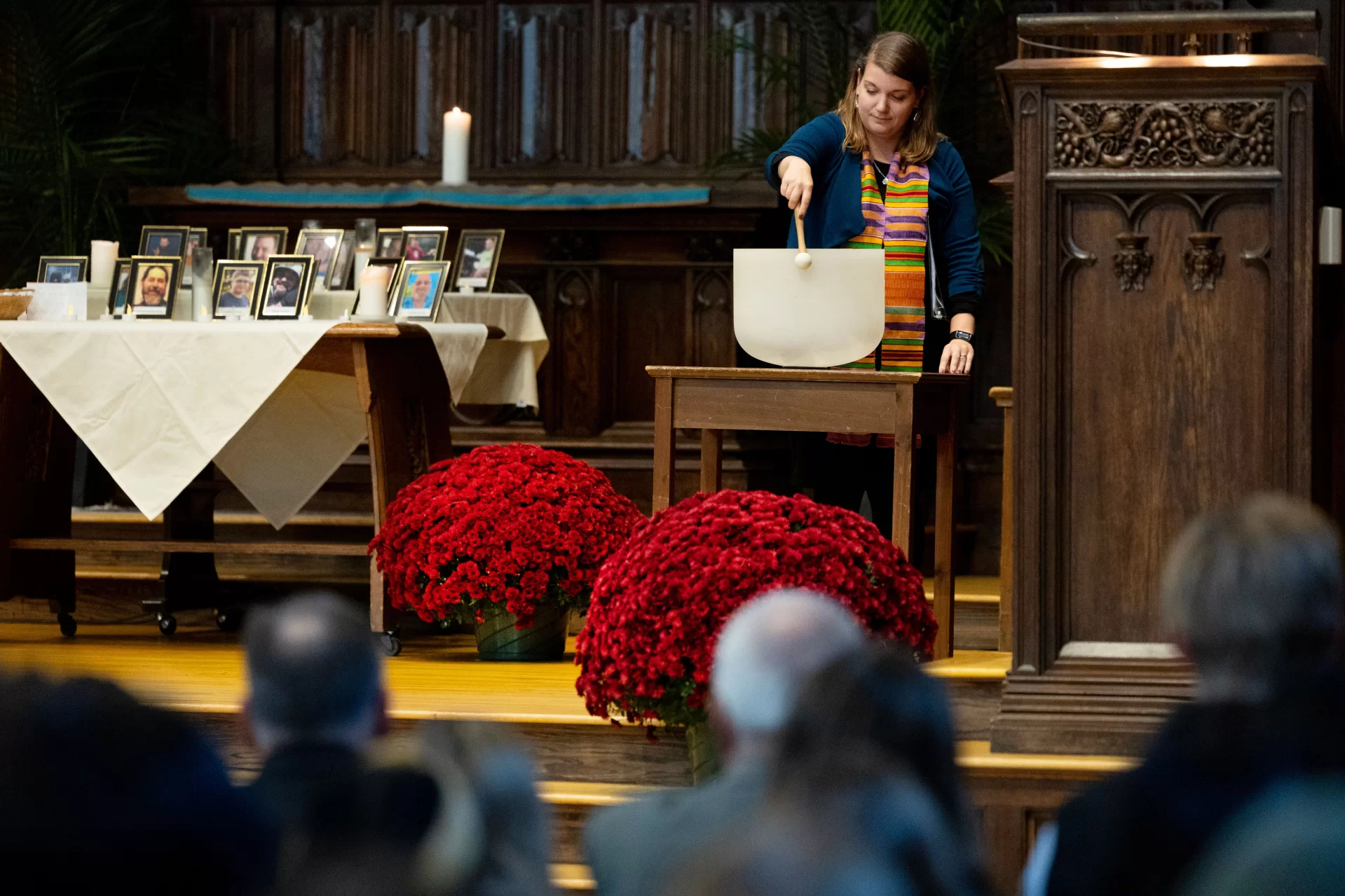 Behind Clothier and Longsdorf, displayed on a table covered with a white cloth, were framed photos of the victims.
Tricia C. Asselin.
Peyton Brewer-Ross.
William Frank Brackett.
Thomas Ryan Conrad.
Michael R. Deslauriers.
Maxx A. Hathaway.
Bryan M. McFarlane.
Keith D. Macnear.
Ronald G. Morin.
Joshua A. Seal.
Arthur Fred Strout.
Stephen M. Vozzella.
Lucille M. Violette.
Robert E. Violette.
Joseph Lawrence Walker.
Jason Adam Walker.
William A. Young.
Aaron Young.
It took nearly four minutes to read all the names. Then Clothier asked the gathered crowd to hold a minute of silence, for these "beloveds" and those injured or left behind. "May their memories guide us forward in love," he said.
On the way into Gomes, attendees had been given unlit candles to hold. Longsdorf brought a flame from the candles of remembrance on the altar to the first row, and participants in the front row passed it back, the light spreading quickly.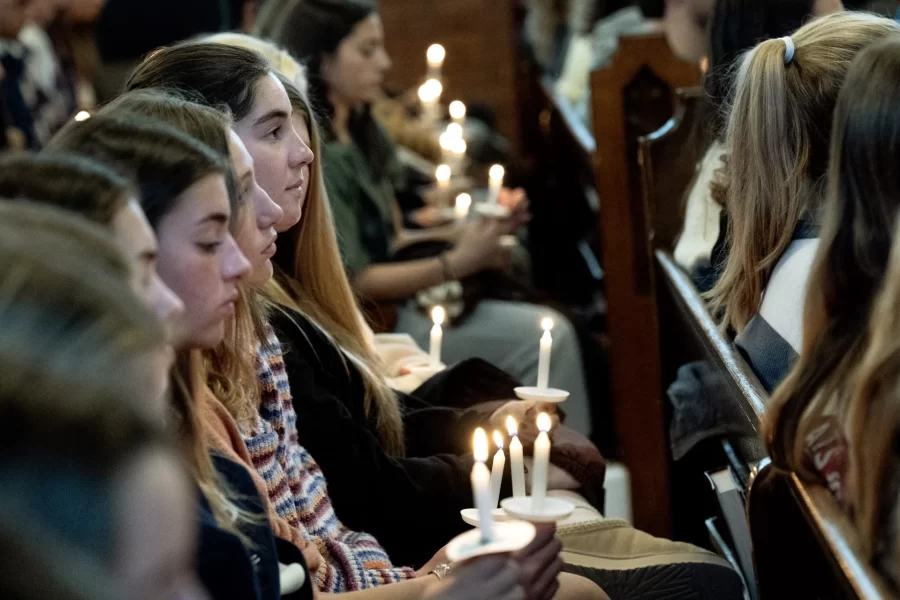 The vigil included two songs performed by singer-guitarists Barry Kilmister '24 of Poway, Calif., and Levi Mindlin '24 of Portland, Ore., and, later, haunting music played by student cellist Eli Kushner '24 of Philadelphia. Eight others read prayers, palms, and poems.
Aneeza Ahmad '25 of Sharon, Mass., and Alaina Rauf '25 of Yarmouth, Maine, who are both members of the Bates Muslim Student Association, read prayers from the Islamic faith to offer hope and solace.
"Like all of you, we are so saddened and heartbroken about the recent events that have taken place in our home of Lewiston," Ahmad began. "At the same time, we are so, so grateful to have a community and to be part of a community that has held each other's hands and endured this really difficult moment together."
"This fear will not resolve soon, nor will the emotions subside. That is the burden of our generation. And yet we continue the fight, and we will continue to respond."

Ethan Baker '24 reading his poem "The North Star of Maine"
Candlelight filled Gomes by the time the venerable Tenzin Dasel '88, a volunteer spiritual advisor to the Bates community and the founder of the Maine Mindfulness Project, welcomed those gathered, calling them "precious Bates and Lewiston community." She read from the Dalai Lama's daily prayer, which reverberated with images of hope and prayers for peace everywhere.
Students, staff, and faculty cradled their candles as Ethan Baker '24 of Jackson, N.H., walked to the podium and offered a personal prayer in the form of a poem he wrote the morning after the shootings, after he experienced the aftermath as a first responder with the Bates Emergency Medical Services.
Baker was still on duty when he wrote a poem he titled "The North Star of Maine." The poem concluded:
This fear will not resolve soon, nor will the emotions subside. That is the burden of our generation. And yet we continue the fight, and we will continue to respond.
May the power of patience, kindness, and love allow us to find peace in ourselves, in our community, and together we remember those souls who left us for the North Star of Maine.