As we were setting out the display of items for this edition of Ladd Library Lost & Found, Professor Emerita of Mathematics Bonnie Shulman stopped by because something had caught her eye: a Texas Instruments TI-84 Plus graphing calculator.
"I need one of those," she said — not to add up grocery or heating bills but, as she explained, for a course she's coming out of retirement to teach during the winter semester.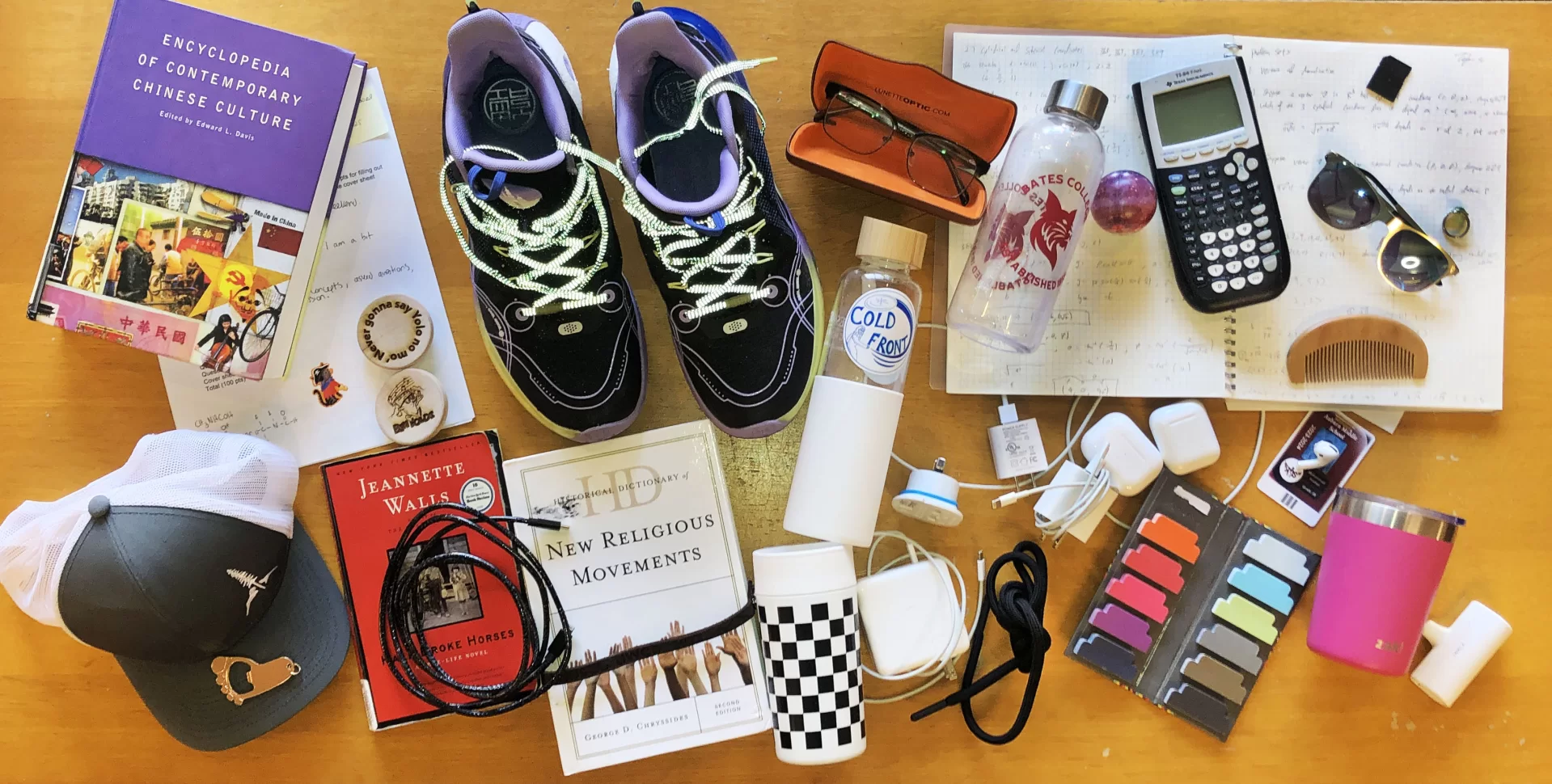 The course is "Mathematics for Social Justice," which teaches students how to put their math skills in service of real-world, socially relevant issues. In fact, Shulman herself created the first iteration of the popular course about a dozen years ago.
"I consider it the crown jewel of my teaching career. I couldn't resist the offer to come back and teach it!"
And need for calculators? Her students will use the venerable TI 84 on a simulation probability model for a unit on "Driving While Black or Brown," she explains.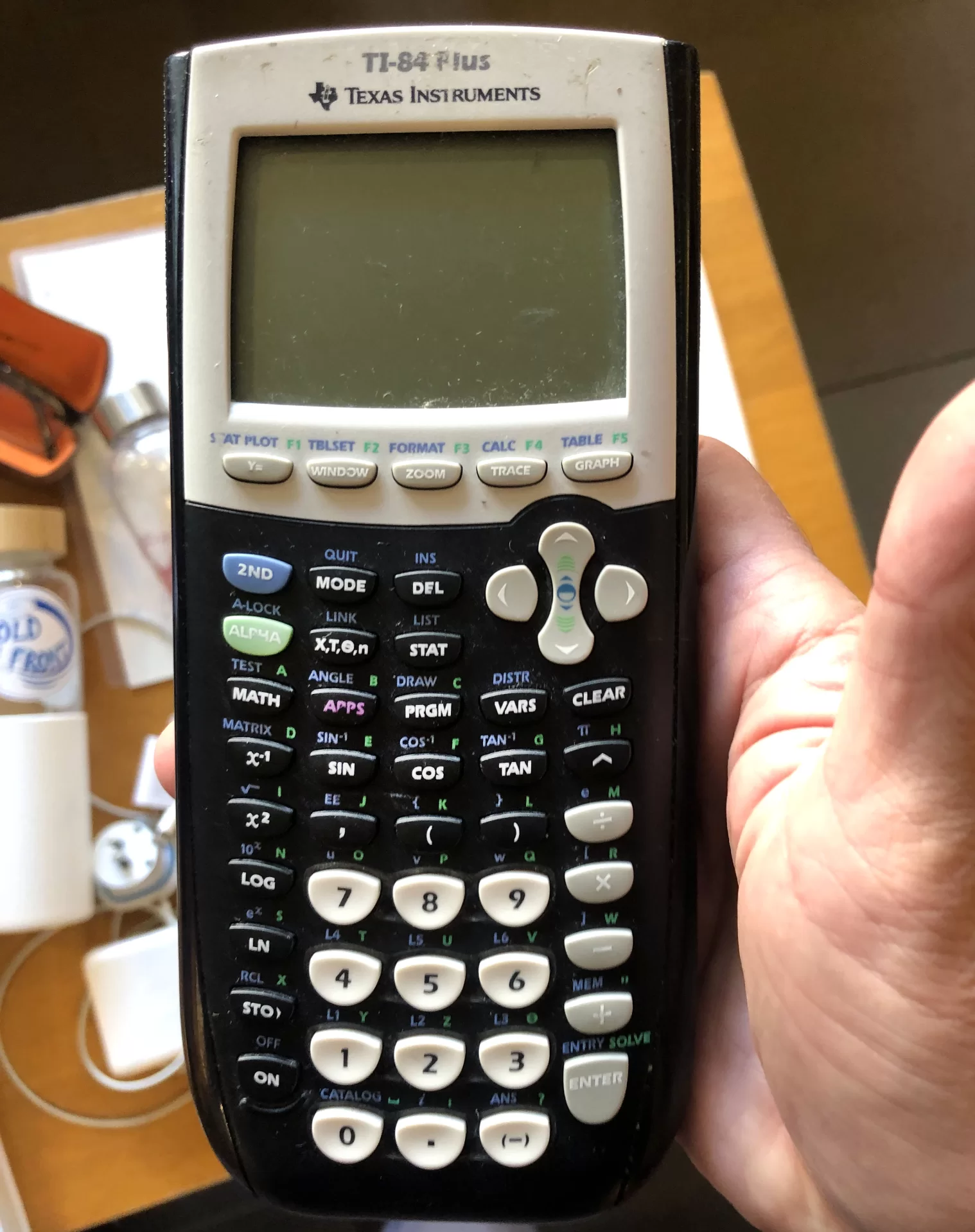 In addition to the TI 84, here's what we saw:
Book, Encyclopedia of Contemporary Chinese Culture, a series of nearly 1,200 entries about Chinese cultural subjects written by an international team of specialists and edited by Edward L. Davis
Men's basketball shoes, size 12, by the Chinese sports apparel company Li-Ning, specifically the Yu Shuai XiV Boom Low, with an Orlando Twilight design.
Notebook with multivariable calculus math problem set
Apple AirPods Pro
Apple AirPods
Book, New Religious Movements, by George D. Chryssides explains that an organization founded "within the past 150 or so years" cannot be easily classified within one of the world's main religious traditions
Broken Ben Folds yo-yo with words: "Never gonna say Yolo no mo,'" a lyric from his song "Exhausting Lover"



Black iPhone charger by POWERTEK, 6 feet long
Leather bracelet bearing the characters "UWCD 2023," which might refer to a United World Colleges school, Dilijan College, is the 14th member of the UWC movement
White iWALK mini portable phone charger
White MacBook charger
Glass water bottle featuring the wordmark of the Kessler Scholars program, part of Bates' first-generation-to-college Bobcat First program, with sticker of the Bates Student Writing and Language Center and Cold Front, an ultimate frisbee team on campus
Reading glasses by Lunette Optic in orange-lined velvet case
Silver snake ring with green gem and blue detailing 



Dummy SD card by Dell, used as a place holder to protect the socket's electrical contacts and mechanical mechanism
Galaxy print stress ball
Glass Bates water bottle
Book, Half Broke Horses, a true-life novel by Jeannette Walls depicts the freedom of rural life, its joys and struggles, and celebrates the courage and spirit of its protagonist, Lily Casey Smith
Chemistry exam with a celebratory sticker of a cat dressed as a pirate. (The exam's "coversheet" asks the student a few non-chem questions — such as "What did you do for fun this week?" and "How are you feeling about the exam?" — which gives the professor a chance to check-in on their students' well-being.



Silver costume sunglasses
Wooden hair comb by Beijing W-Town
Fuscia-colored tumbler by zak!
Student ID card from Auburn Middle School
Travel electronic adapter by Trans-World International
Sticky-tab pad by Semikolon with a mustache-shaped sticky note bearing the words "don't ask, don't know" on the outside cover
Black-and-white checkered stainless steel tumbler with plastic inner liner by Room Essentials
Green and white trucker hat by Pacific Headwear
Foot-shaped bottle opener