Stories about "Rob Farnsworth"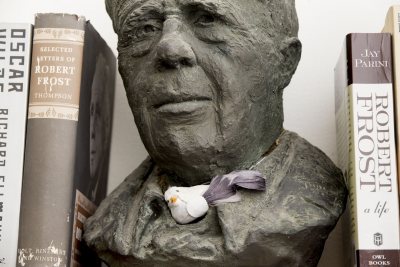 Tuesday, September 12, 2017 2:11 pm
On a bookcase facing Rob Farnsworth sits a bust of poet Robert Frost, "presiding over everything that gets said in here."
Thursday, September 7, 2006 12:00 am
Convocation is about the new, and novelty abounded at the 2006 Bates College convocation. Of course, the ceremony always opens a new academic year — this is the 152nd — and welcomes new students, some 500 of them this time around. Yet this year's convocation, held Sept. 6, also included the public debut of the College's new chaplain, Rev. William Blaine-Wallace, and marked the start of an important tradition. Where Bates for years has invited outside speakers to give the convocation address, that honor this time went to a faculty member, the poet and English professor Rob Farnsworth.
Monday, August 28, 2006 11:27 am
Bates College begins its 152nd academic year with a convocation address by Robert Farnsworth, a member of the English faculty and a nationally known poet, at 4:10 p.m. Wednesday, Sept. 6, on the college's Historic Quadrangle.