Stories about "Veterans Day"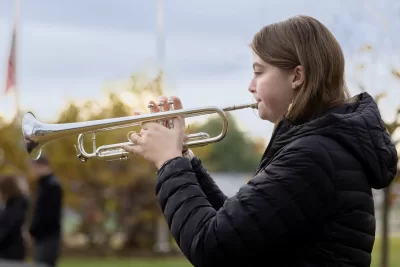 Friday, November 10, 2023 2:50 pm
Sophia Cattallani '25 of Skaneateles, N.Y., kept her trumpet zipped in her…
Tuesday, October 26, 2010 12:02 pm
With country singer Elizabeth Cook performing at Bates College on Veterans Day, the college's Olin Arts Center Concert Hall is offering military veterans and currently enrolled military personnel two free tickets to the concert. The offer is good while ticket supplies last. Please contact 207-786-6163 or olinarts@bates.edu to reserve tickets. Cook performs at 7:30 p.m. Thursday, Nov. 11, in the Olin Arts Center Concert Hall, 75 Russell St.