Sophia Cattallani '25 of Skaneateles, N.Y., kept her trumpet zipped in her jacket, protected from the chilly November air, until midway through this morning's Veterans Day observance. Then it was time to play, and she did, offering a slow, haunting rendition of taps.
Nearby, Kevin Michaud, a Campus Safety officer, stood at attention. He wore a U.S. Air Force cap and offered a firm salute as fellow members of the Bates community listened in silence.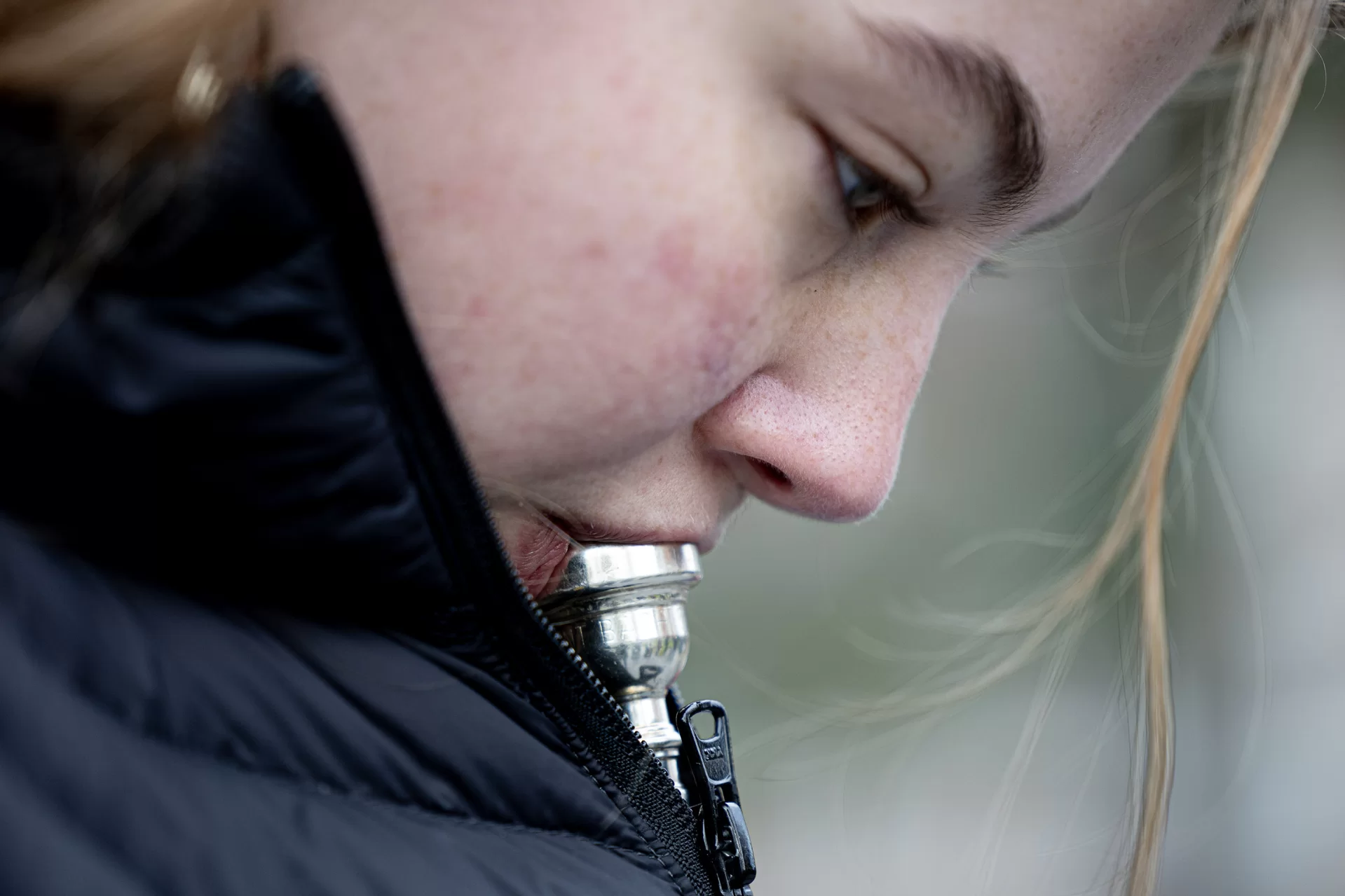 For Michaud, this Veterans Day is a day to remember the service of his late brother, George, who was also a veteran of the Air Force. "It's the same when I'm working a football game and they play the national anthem," Michaud said of his salute. "It's a sign of respect."
This is what the Rev. Brittany Longsdorf, the college's multifaith chaplain, asked those gathered around the plaza to join her in doing: To think of the veterans in their lives — the cousins, uncles, neighbors, friends, and colleagues.
During the gathering, Longsdorf invited attendees to join in the ritual of laying flowers of remembrance on the plaza. When Cattalani placed her flower, she remembered her grandfather, who had served in the Vietnam War and died two years ago. He was one reason she wanted to come play the iconic bugle call that is played at military funerals.
"I felt I was playing it for him today, in his honor, and for the people here, for those they hold in their hearts," said Cattallani, who offered last year's taps as well.
Longsdorf reminded the group that for 105 years, Americans have stopped once a year "to pause and reflect on all that has been sacrificed and shared in a continual journey towards freedom and peace."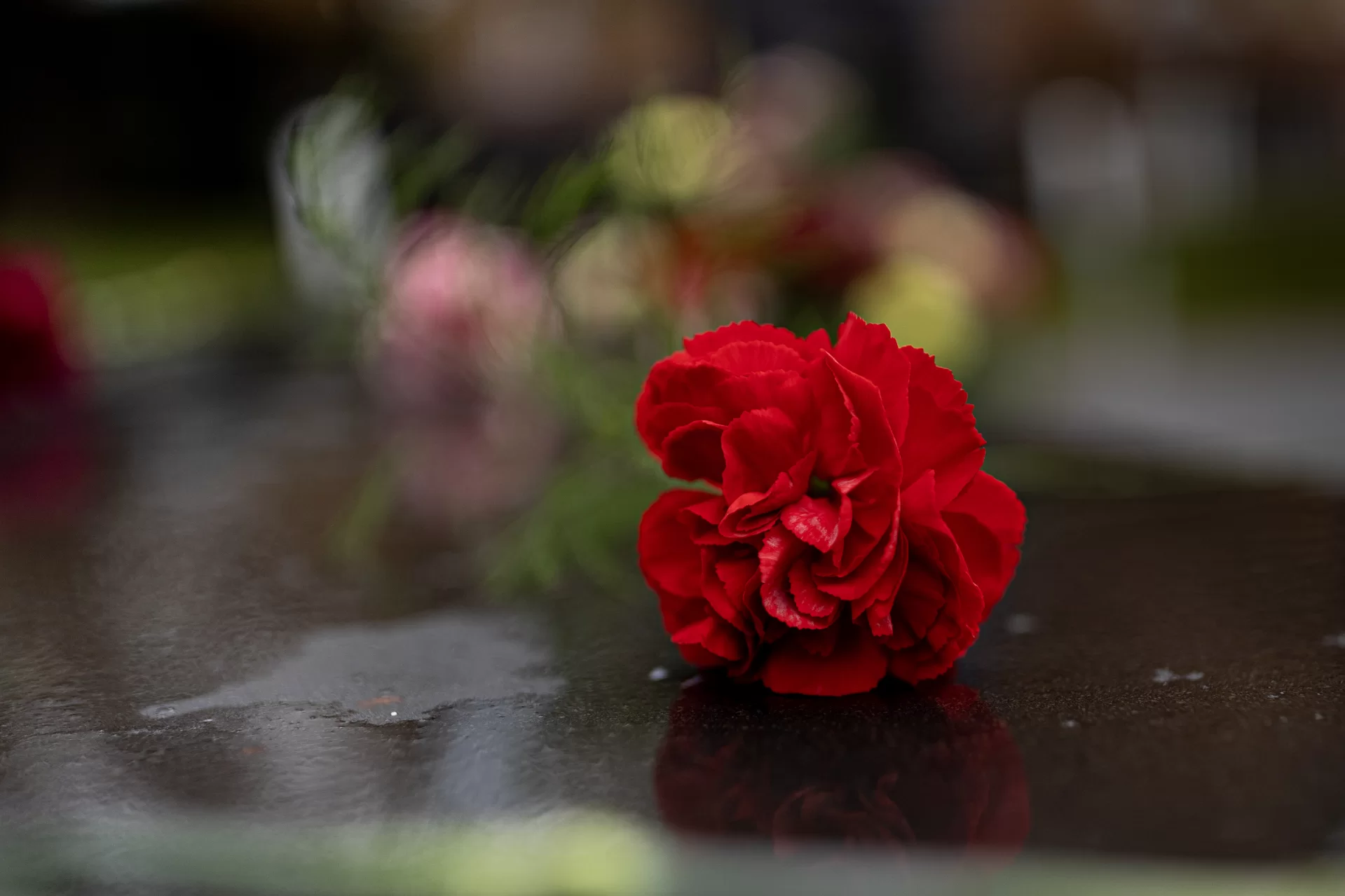 And, she emphasized: Everyone knows someone who has served our country. "We all have veterans in our lives in ways both big and small."
In Longsdorf's family, "my Papa served in the Navy, my cousins in the Army, a close friend in the Marines," she said. "My aunt worked for the Coast Guard for a while, my 3-year-old daughter's best friend's dad is currently deployed. We have new neighbors who are becoming close friends who served in the Navy."
Longsdorf called the experience of knowing and being cared for by the work and sacrifice of veterans "one of the most shared human experiences." Unfortunately, she shared with the group, many veterans have told her about the pain of feeling unseen for their service, which they consider a contribution to society, even a part of their identity.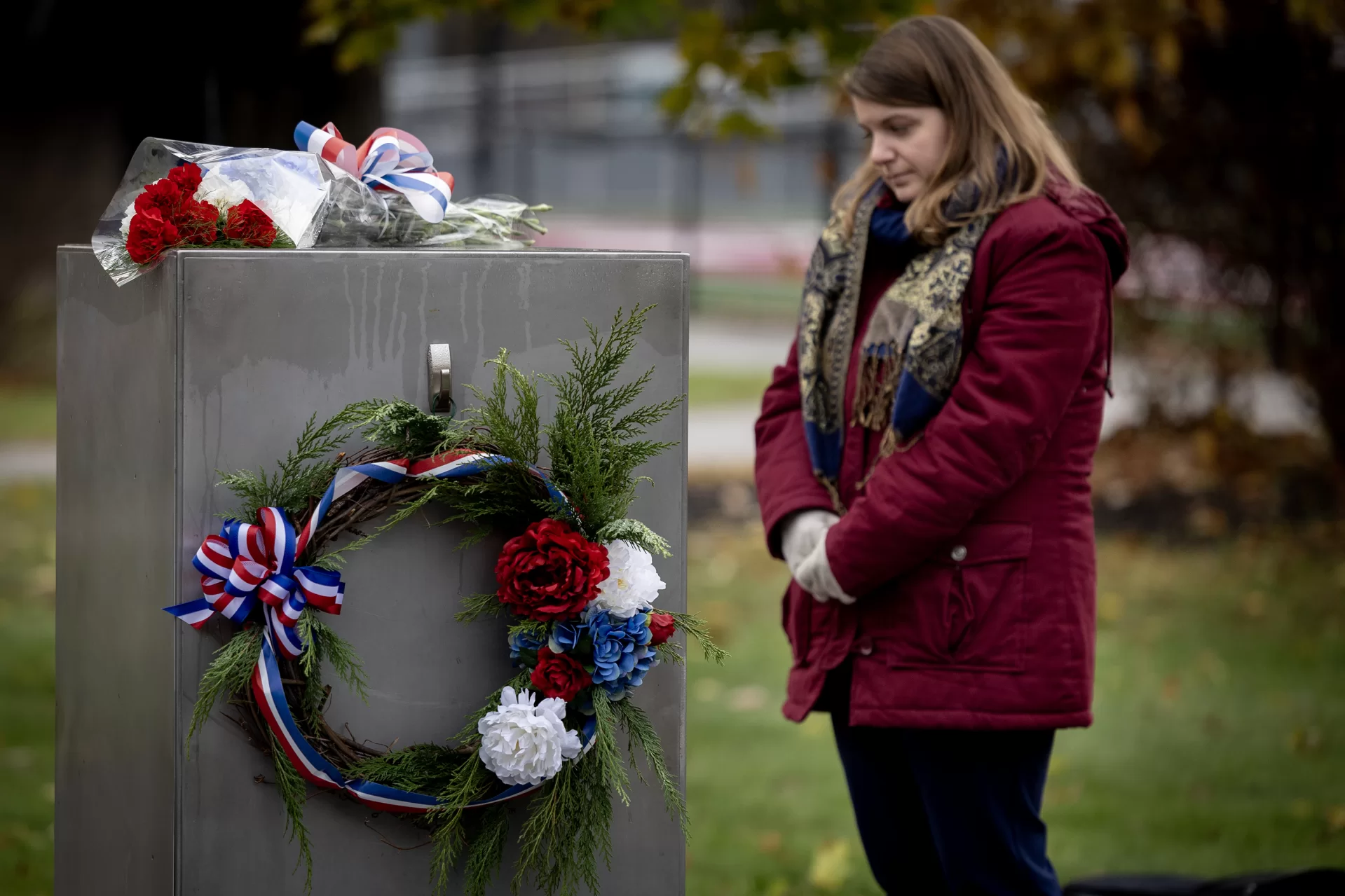 She asked those gathered to think of one veteran they knew when they placed their carnation on top of the plaza's smooth, reflective black surface.
"It means something — it really means something to pause today to acknowledge all of the ways our country, our communities, and our lives have been shaped by the veterans in our midst," Longsdorf said.
Michaud, who served in the Air Force for 13 years, appreciated that Bates created Veterans Plaza three years ago, offering a place he can visit on a more regular basis to remember all the veterans he has known. Michaud also appreciated that Bates President Gary W. Jenkins sent letters to all the veterans on the Bates staff and faculty this year, to thank them for their service.
"It means an awful lot. It's nice to know Bates remembers us," Michaud said.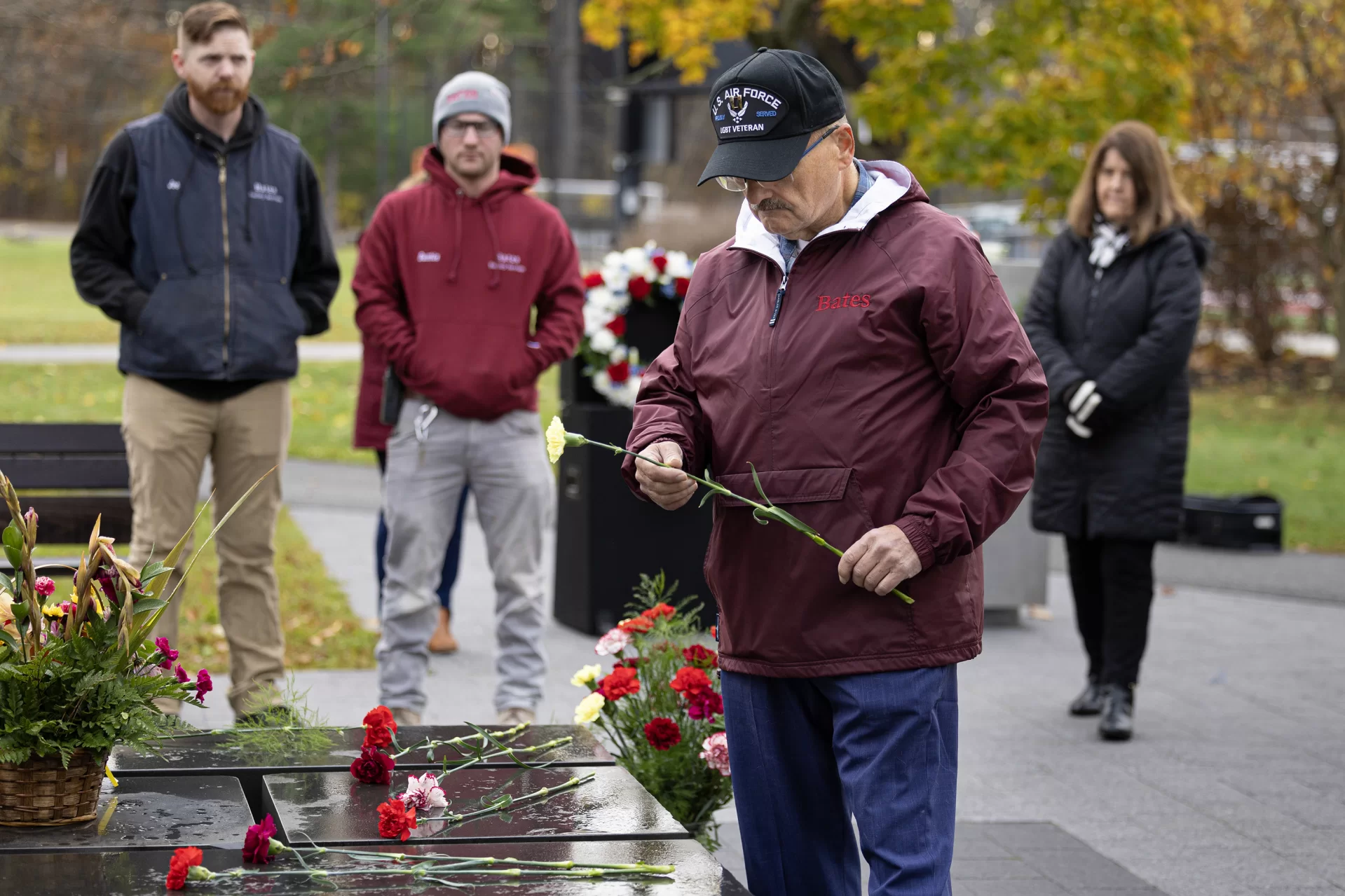 Michaud, who at times has worked nights during his nearly nine years at Bates, often has stopped by the plaza at the start of a night shift "to pay my respects."
As James Reese placed his flower, he remembered his uncle, Charles Kennedy, a career Army soldier stationed in Georgia. Kennedy didn't talk much about his time in the Army, but Reese knew he was proud of his service.
"You could tell he was very sincere," said Reese, associate dean for international student programs at Bates. "His commitment and what he thought about it, his place amidst the struggles of society going on at that time. He wanted to be of service, to help improve society."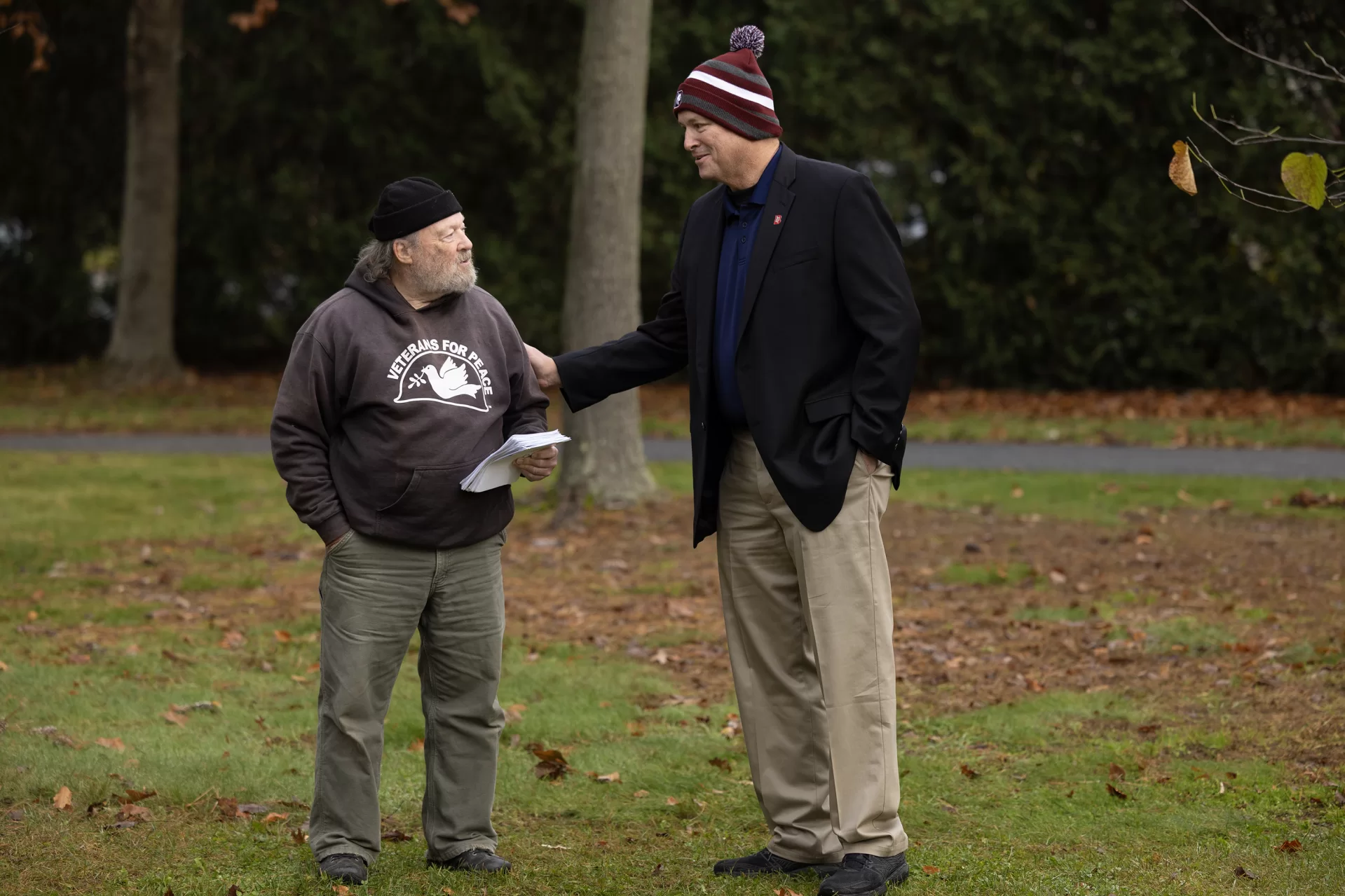 Peter Morgan '72 of Raymond, who served in the U.S. Coast Guard during the Vietnam War, came to honor three young men with whom he served and who died while they were stationed in New Jersey. He had their names on a card he was considering leaving on the plaza's granite stone, alongside the flowers.
"Thank you for doing this," Morgan said of the multifaith gathering.