Dale E. Chapman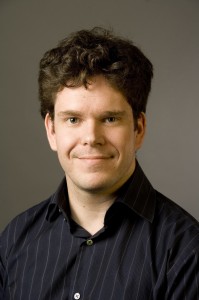 Associate Professor of Music
Chapman is one of six Bates faculty members who have received tenure appointments or promotions that will take effect Aug. 1, 2012.  (Read the story.)
He is a music scholar who specializes in the study and performance of jazz.
At Bates he has taught courses on music theory, the works of jazz artists including Miles Davis and Duke Ellington, the "mashup" culture and the role of music in cultural politics.
Chapman's published articles include: "'That Ill, Tight Sound': Telepresence and Biopolitics in Post-Timbaland Rap Production," in The Journal of the Society for American Music special issue on Black Music and Technology (May 2008). He has a book chapter forthcoming on "Music and the State of Exception in Alfonso Cuarón's Children of Men" in the Oxford Handbook of Sound and Image in Digital Media. He is also under contract with the University of California Press to write a book, The Jazz Bubble: Neoclassical Jazz in Neoliberal Culture. He is currently working with Museum L-A on "The Power of Music," an ongoing exhibition devoted to the history of music in Lewiston and Auburn, Maine.
Since his arrival at Bates, Chapman has played saxophone with the Bates College Orchestra and is currently the saxophonist for the Three Point Jazz Trio and Moment's Notice Jazz quartet.
He received a bachelor's degree, with honors, in music history and culture from the University of Toronto and a doctorate in musicology from the University of California at Los Angeles.