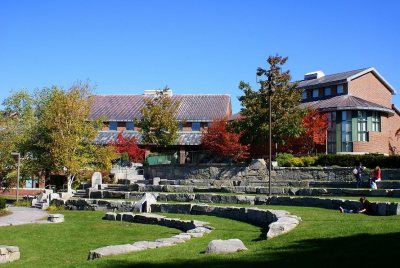 The Olin Arts Center, dedicated on October 11, 1986, is an important addition to the Bates campus and the entire central-Maine community, and is a place for both the creation and presentation of the arts. The Department of Music has extensive facilities in this building which celebrated its 25th anniversary season in 2011.
Facilities and Resources
The Olin Arts Center houses ten practice rooms with pianos, three teaching studios, five classrooms and seminar rooms and a 300 seat acoustically superb recital hall. The Department of Music owns a Steinway concert grand piano, a new Disklavier, a William Dowd harpsichord, an 18th century replica fortepiano, and a magnificent tracker organ located in the College Chapel. The Bates Computer Music Studio includes up-to-date Macintosh computers, synthesizers, and recording equipment. Software for sound synthesis, MIDI, and for music notation is available to all students in music courses. Students may work in the studio in connection with course work, and introductory workshops to computer music tools are offered at the beginning of each semester.
The Bates Computer Music Studio and the recording studio are electronically connected to twelve classrooms specially equipped to receive audio and video signals. Mobile sound systems, including CD players, amplifiers, and equalizers, can be moved easily to all parts of the building. Individual and group practice rooms, two soundproof seminar rooms, a rehearsal studio and a music library are also used by the Department of Music.
The Olin Concert Hall, located at the heart of the Center, can accommodate an audience of three hundred. Its semicircular stage, large enough for a sixty-piece orchestra, is acoustically suited to both large and small ensembles. The space is also used for dance performances, lectures, and film showings.
Directions to the Olin Arts Center
From the Maine Turnpike:
The College is located approximately three miles from Maine Turnpike exit 80 (Lewiston exit). From Exit 80, proceed on off-ramp to stop sign. Turn left at stop sign, following signs for Lewiston, which will take you onto Lisbon Street (Route 196 West). Continue 1.6 miles to a major intersection. Turn right onto East Avenue (Route 202 and 4 North).
Continue straight on East Avenue for 1.6 miles through four lights. Turn left onto Russell Street at the fifth light. Proceed through one more light (at Central Avenue and Russell Street) and turn left onto Bardwell Street; the Olin Arts Center will be on your right, and parking will be on your left.
View detailed calendar and current information about concerts and other performances. For other information, call the Olin Arts Center at (207) 786-6135.