Donald West Harward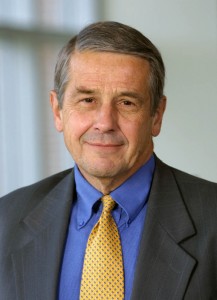 In 1989, an observer of the Hedley Reynolds presidency noted that Bates was somewhat isolated geographically and by temperament. Could the next president, it was asked, open Bates up to the challenges and problems facing the rest of the world?
From 1989 to 2002, Donald West Harward answered that question by affirming the important idea that "learning is a moral activity that carries responsibility beyond the self." Harward helped Bates see how traditional College values of egalitarianism and social justice created a moral imperative to connect academically to the world beyond Bates. Students achieved greater opportunities to study and conduct research off campus and with their professors, and the capstone thesis program enjoyed greater integration with the rest of the academic offering.
Harward oversaw the creation of two dozen new academic programs, giving faculty the proper resources to investigate the new questions emerging where traditional disciplines bumped into each other. "You can't just study the molecular structure of a substance," he would say as an example, "without learning about the people who might be using the substance to create things that can destroy our environment."
Under Harward, Bates for the first time in many years reached out institutionally to the Lewiston-Auburn community. Bates faculty and students built relationships with the community through one of the most active service-learning programs in the country. As a college, Bates has played a leadership role in the strategic alliance of community leaders known as LA Excels. While upholding the notion that a College's intellectual activity must remain for the most part cloistered, he would help Bates provide a national model for ways colleges and universities can nevertheless connect to and support their local communities.
Bates infrastructure saw major improvement during the Harward presidency with the planning and building of 22 essential academic, residential and athletic facilities. These include Pettengill Hall and its Perry Atrium, the Bates College Coastal Center at Shortridge, Dunn Guest House, Keigwin Amphitheater and the Lake Andrews restoration, Residential Village, Benjamin E. Mays Center, Wallach Tennis Center, John Bertram AstroTurf field, track and soccer field, softball field, Underhill Arena and the Davis Fitness Center.