Petrella, Christopher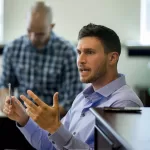 Dr. Christopher Petrella is a historian of 19th & 20th century racialization in the U.S. and serves as a writer, researcher, and strategist for Kaepernick Publishing, Know Your Rights Camp, and Ra Vision Media.

Christopher's writing and public scholarship examines intellectual histories of race and resistance in the U.S. and has been featured in The New York Times and on NPR and CNN. He is a regular contributor to The Washington Post and is currently writing his first book with Haymarket, provisionally titled, Real White: Histories of White Supremacy in New England. Real White challenges New England's self-presentation as an imagined community of racial piety and antiracist myth-making over and against the U.S. South.
Christopher is a first-generation-to-college scholar and holds a B.A. in Religious Studies from Bates College, an M.T.S. in Religion, Ethics, and Politics from Harvard Divinity School, and a Ph.D. in African Diaspora Studies from U.C. Berkeley.