Men's basketball to host Bates-Bowdoin Classic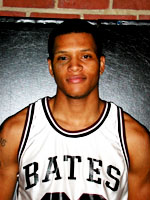 Led by a trio of 1,000-point scorers, the Bates College men's basketball team is off to a 3-1 start in the 2001-02 season.The Bobcats host the first round of the inaugural Bates-Bowdoin Classic tournament on Saturday, Dec. 1. The Bates-Bowdoin Classic is a two-day event featuring the men's basketball teams from both CBB schools, plus Thomas College and Suffolk University. Bowdoin will face Suffolk at 3 p.m. on Saturday in Alumni Gym, followed by the Bates/Thomas game at 5 p.m. On Sunday, Dec. 2, the teams will swap opponents and venues, as the Bobcats take on Suffolk at 1 p.m. at Bowdoin, while the Polar Bears take on Thomas at 3 p.m. in Brunswick.
Bobcat seniors Billy Hart (Haverhill, Mass.), Ed Walker (Roxbury, Mass.) and Alex Wilson (Duxbury, Mass.) all surpassed the 1,000-point plateau for their careers as juniors last year, a feat believed to have been matched just once in NCAA Division III history. The Bobcats opened the season by winning the Wheaton College Tip-Off Classic in Norton, Mass. Bates defeated Mt. Ida College, 88-74, in the opener, before handling the host Lyons, 67-55, in the title game. Walker, who led the team with 18.5 points and 10.5 rebounds per game, was named the tournament Most Valuable Player as Bates won its first Tip-Off tournament since 1998. After dropping a tight 78-76 contest at Southern Maine, the Bobcats bounced back to easily defeat the University of New England, 110-63, on Nov. 26.
View Comments