King Day events feature prominent theologian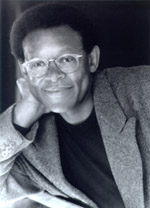 James H. Cone, America's pre-eminent black theologian, is the keynote speaker for the Martin Luther King Jr. Day observances at Bates College. Scheduled for 10 a.m. Monday, Jan. 21, in Alumni Gymnasium, Cone's address is part of a celebration of King's life and work that includes performances, workshops and a debate between Bates and Morehouse College. All events are open to the public free of charge. To read more about the day's events, please click here.
Where Do We Go From Here: Chaos or Community? is the theme for this year's King Day programming at Bates. The observance begins on the eve of the holiday, at 7 p.m. Sunday, Jan. 20, with a worship service in the College Chapel, on College Street. The Rev. Joan Martin, of the Episcopal Divinity School in Cambridge, Mass., offers a sermon on the theme Not Fear, Not Safety, But Courage. Performances include dance and singing by Bates students.
Titled Martin, Malcolm and America, Cone's address opens a day of events on King Day itself. Cone's renown as a pioneer in the black theology movement, which relates African-American religious thought to the struggle for social and economic justice, began with the first of his 11 books, 1969's Black Theology and Black Power. Cone is an ordained minister in the African Methodist Episcopal Church and is the Charles A. Briggs Distinguished Professor of Systematic Theology at the Union Theological Seminary, New York.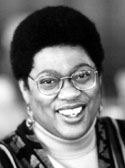 Student debaters from Bates and Morehouse colleges square off on a civil rights topic at 12:45 p.m. in Chase Hall Lounge. The match has historic resonance for both schools, which share a continuing commitment to collaborative projects. The nation's largest liberal arts college for men, Morehouse was Martin Luther King Jr.'s alma mater. One of its longtime presidents was a Bates graduate and accomplished debater, Benjamin Mays, of the class of 1920. Mays was a lifelong adviser to the great civil rights leader and gave the eulogy for the assassinated King in 1968.
During the afternoon at locations in Pettengill Hall, concurrent workshops examine issues relating to civil rights and social justice, with sessions starting at 2 and 3:10 p.m. Workshop themes include King's record as an antiwar activist and a presentation on images of Islam in the American media. Presenters include Bates faculty, the Rev. Joan Martin of Episcopal Divinity School, and members of the student civil rights teams at Auburn Middle School and Lewiston High School, who will discuss the progress of their work.
Also in Pettengill, in Room G21, a member of Bates' American cultural and African American studies faculty and his father offer a presentation about a seminal American theologian at 4:30 p.m. As part of the Spiritual Journeys: Stories of the Soul 2001-02 Series, Associate Professor John McClendon III and John McClendon II will present the program African American Mysticism: A Father and Son's Spiritual Journey With Contemporary Mystic Howard Thurman. Thurman (1900-81) was a champion of intercultural understanding and a powerful influence on King and other civil rights leaders. John McClendon II founded and directs the McClendon Institute for Learning, which provides educational and daycare services in Dayton, Ohio.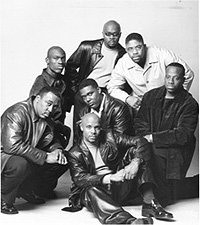 The King Day celebration concludes with performances at 7:30 p.m. in the Olin Arts Center Concert Hall. From New York comes Naturally Seven, an award-winning a cappella singing group that performs gospel and R&B influenced by hip-hop, jazz and classical sensibilities. Joining them is a troupe of Bates dancers with an original piece commissioned for King's birthday and directed by Lewiston hip-hop choreographer W. Barry Dean.
For more information about Martin Luther King Day at Bates, please call 207-786-6330.
View Comments