Robert Drinan to discuss U.S. war on terrorism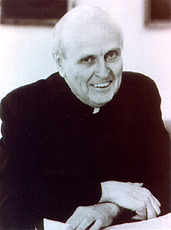 Robert Drinan, an ordained Jesuit priest, professor of law at Georgetown University and internationally recognized human rights advocate, will discuss the ethical and legal challenges facing the United States as it pursues national domestic security in a talk titled America's War on Terrorism: Human Rights, Civil Rights and Homeland Security at 7 p.m. Tuesday, Jan. 29, in Chase Hall Lounge, 56 Campus Ave. The public is invited to attend free of charge.
Drinan has advocated for international human rights for more than three decades. During the 10 years between his deanship at Boston College Law School and joining the Georgetown Law Center faculty in 1981, he represented Massachusetts' 4th Congressional District in Congress from 1971 to 1981. Drinan chaired the Subcommittee on Criminal Justice of the House Judiciary Committee. Drinan has served on private delegations to the Netherlands, South Africa, Sudan, Israel and the former Soviet Union, and on privately sponsored human rights missions to Chile, the Philippines, El Salvador, Guatemala, Nicaragua, Argentina, France and Vietnam.
A regular contributor to law reviews and journals of policy and opinion, Dinan is the author of The Mobilization of Shame: A World View of Human Rights (Yale University Press, 2001). Anyone interested in human rights will read Robert Drinan's informative, passionate and challenging book with deep concern and hope," said author Elie Wiesel.
Drinan's other books include The Fractured Dream (Crossroad, 1991); Stories From the American Soul (Loyola U. Press, 1990); Cry of the Oppressed: The History and Hope of the Human Rights Revolution (Harper & Row, 1987); God and Caesar on the Potomac: A Pilgrimage of Conscience (Michael Glazier, 1985); Beyond the Nuclear Freeze (Seabury, 1983); Honor the Promise: America's Commitment to Israel (Doubleday, 1977); Vietnam and Armageddon (Sheed & Ward, 1970); Democracy, Dissent and Disorder (Seabury, 1969); and Religion, the Courts and Public Policy (McGraw-Hill, 1963).
Drinan serves on numerous committees devoted to human rights. Currently a member of the American Bar Association (ABA) House of Delegates, Drinan is a past chair of the ABA Section on Individual Rights and Responsibilities. In addition, he serves on the board of directors of the International League for Human Rights, the Lawyers' Committee for International Human Rights, the Council for a Livable World Educational Fund, Americans for Democratic Action, and the NAACP Legal Defense and Educational Fund. He is one of the founders of the Lawyer's Alliance for Nuclear Arms Control and the National Interreligious Task Force on Soviet Jewry.
View Comments