Photographer presents 'Energy of Dance' at Bates museum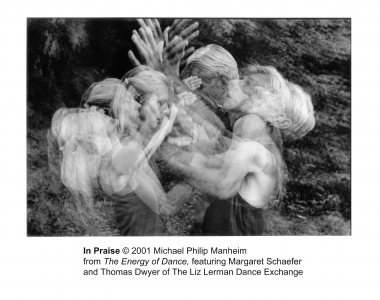 Michael Philip Manheim, a photographer living in Massachusetts, presents his distinctive depictions of Bates Dance Festival performers in an exhibit at the Bates College Museum of Art through Aug. 23. Manheim will discuss his work in a gallery talk from 7 to 8 p.m. Tuesday, Aug. 6. The museum is open to the public free of charge.
Manheim's exhibit at Bates continues an ongoing project titled The Energy of Dance. Adapting the pictorialist approach to photography of a century ago, which sought a poetic visual truth transcending the sheer mechanical reproduction of a subject, Manheim uses multiple exposures to impart a sense of motion to his black & white images.
"In viewing a performance, you experience the flow of movement, rather than an arrested moment," Manheim says. "I've tried to create the impression of a whole phrase rather than a frozen moment. It takes a bit of doing for dancers to become accustomed to this approach — but when they understand that this is truly collaboration, they soar."
He was an artist in residence at last year's Bates Dance Festival, and the exhibit depicts such performers from the nationally acclaimed event as Bridgman/Packer and members of Hoi Polloi and Liz Lerman Dance Exchange. (The exhibit, which ends Aug. 23, coincides with this year's dance festival, which runs July 27-Aug. 18.)
Based in Beverly, Mass., Manheim has been a professional photographer since 1969. Since 1993 he has exhibited in numerous group shows and a dozen solo exhibitions, including shows at the National Museum of Dance, in Saratoga Springs, N.Y.; the Fitchburg (Mass.) Art Museum; and venues in Greece and Italy. Further information is available at the photographer's website, www.michaelphilipmanheim.com.
Manheim's is one of three simultaneous exhibits at the Bates College Museum of Art this summer. It will share the Lower Gallery with an exhibit of highlights from the museum collection. Among them are eight Marsden Hartley drawings and several recent acquisitions, mostly by Maine artists such as Brett Bigbee, William Thon and Winslow Homer.
The Upper Gallery will be given over to Carl Sprinchorn: King of the Woods, a major exhibition composed of some three dozen works by a 20th-century painter known for intense, evocative images of the Maine wilderness. This exhibit is curated by Gail Scott, a Maine scholar known for her writings on Marsden Hartley.
The Bates College Museum of Art was founded to preserve the nation's largest repository of Hartley drawings and other items relating to this important American artist, a Lewiston native. Its other holdings include a robust print collection and notable works by Maine artists with national significance, such as Dahlov Ipcar, the late William Thon, Neil Welliver and Charles Hewitt.
The flagship museum for the Maine Art Museum Trail, the Bates College Museum of Art is located in the Olin Arts Center, at the edge of the Bates campus on Russell Street in Lewiston. The museum is open 10 a.m.-5 p.m. Mon.-Sat. and 1 p.m.-5 p.m. Sun. For additional information, please call 207-786-6158.
View Comments