Bates hosts NESCAC track championships, wins five titles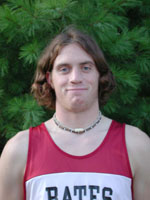 Bates' Russell Street track hosted its first-ever New England Small College Athletic Conference (NESCAC ) track and field championships April 27-28 and four Bobcat individuals and one relay team won conference titles. The Bates men finished in fourth place with 88 points, while the women were tenth with 30 points.
Junior Justin Easter of Jay, Maine, led the way for the men. Easter won the NESCAC title in the 3,000-meter steeplechase for the third year in a row, missing an NCAA automatic qualifying time by less than half a second with a time of 9:08.7. Easter also anchored the Bobcats' winning distance medley relay, coming from behind to defeat the team from Bowdoin by nine-hundredths of a second. Also on the relay team were first-year runners Joel Anderson of New Brighton, Minn., Greg Whelan of Tacoma, Wash., and Andrius Staisunias of Panevezys, Lithuania. Senior Jaime Sawler of Stratham, N.H., also won a NESCAC title, staying undefeated this year in the hammer by successfully defending his conference title. Classmate Greg Hurley of Arlington, Mass., earned two all-conference honors by placing second in the hammer -improving his chances at making the NCAAs with a throw of 175-0 – and third in the javelin. Anderson captured a second All-NESCAC honor by taking third in the 5,000-meters. Junior Matt Ondra of New Tripoli, Pa., placed second in the pole vault for the second year in a row to earn a spot on the All-NESCAC team.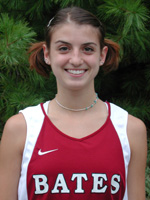 Twenty of the Bobcat women's 30 points came from their two event champions. Junior Kelley Puglisi of Scotia, N.Y., came from behind in the final 100 meters to win the 1,500-meter run with a time of 4:48.17, 0.34 seconds faster than the second-place finisher from Bowdoin. Puglisi entered the meet ranked fourth in the conference. Sophomore Liz Wanless of Belleville, Ill., improved her NCAA provisional mark and school record in the shot put by three-quarters of an inch with a toss of 42-11.5, winning the event by half an inch. Senior captain Anya Belanger of Milbridge, Maine, and sophomore Sarah Tressell of Newtown, Pa., helped Bates earn six points in the high jump. Each leaped 4-11, with Belanger earning All-NESCAC honors with her tie for third, while Tressell tied for seventh by taking more attempts to clear the height. The Bobcats also got points in the steeplechase from sophomore Beth Pagnotta of Hookset, N.H., who finished 6th with an NCAA provisional time of 11:41.55, and rookie Karissa Carey of East Bridgewater, Mass., who took eighth in the hammer throw after entering the meet seeded 10th.
For complete results from the NESCAC championships, visit the meet's home page at http://abacus.bates.edu/sports/mtrack/nescac2002.
View Comments