Modern Dance Company presents 'From Far and Near'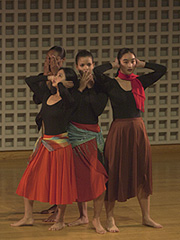 The Bates College Modern Dance Company presents From Far and Near, a program of dances by student and guest choreographers, at 8 p.m. Saturday, Dec. 7, and 2 p.m. Sunday, Dec. 8, in the Olin Arts Center Concert Hall, Bates College, Russell Street. Admission is free.
Seven dances are featured in "From Far and Near." Two are by students. "So Many Ways to Where" was choreographed by Sara Miller, a senior from Farmington, to music by Ani DiFranco. "Transport" was choreographed by Devon Fitchett, a senior from Woburn, Mass., to music by Shamou, a percussionist born in Iran, living in Portland and a veteran of collaborations with such dance companies as Alvin Ailey American Dance Theater and Mark Morris Dance Group.
All for 15 or more dancers, the guest choreographers' works are: "Ellington Suite," by Stephanie Powell, with music by Duke Ellington; "Changing Winds," by Lisa Schmidt, to music by Wendy Carlos and La Llorona; "Muse of Fire," by Ben Munisteri, with music from the "Run Lola Run" film soundtrack; "Almanac," by Sara Sweet Rabidoux; and "The 8:10 Express," by Cathy Young, with music by a number of classic jazz artists.
Stephanie Powell has choreographed for numerous companies, colleges and universities throughout the East and Midwest and currently teaches at the Baltimore School for the Arts and Towson University. She is artistic director of the Stephanie Powell Danse Ensemble, the Glory to God Arts Ministry, and In the Spirit Dance Ministry. Powell is a director of the Baltimore Dance Tech Inc. Dance Center, which has a comprehensive dance program with more than 100 students.
Lisa Schmidt was a member of the Trisha Brown Company from 1985 to 1992 and has taught and performed throughout the United States and abroad. In addition to performing, this resident of western Massachusetts teaches dance and healing through movement. She is a certified practitioner of body-mind centering.
Ben Munisteri is a New York City-based choreographer whose ensemble performs regularly in New York, at festivals and at other venues around the country. He has created dances for Pennsylvania Dance Theater, Danceworks Performance Company (Milwaukee), and many college companies. He recently received two consecutive major grants from the Jerome Foundation for the creation of new works.
Sara Sweet Rabidoux is the founder and artistic director of Boston-based dance company hoi polloi. She has taught at the Bates Dance Festival's Youth Arts Program since 1995 and has been a guest artist at a variety of colleges and universities. Hoi polloi has danced for the Bates Dance Festival, Jacob's Pillow, the Massachusetts Museum of Contemporary Art, the Flynn Theater and The Philly Fringe Festival.
Cathy Young, artistic director of Cathy Young Dance, works in an eclectic mix of styles drawing on jazz, modern, contact improvisation, gymnastics and social dance. She has set her pieces on professional companies and universities around the country, and has presented her duet work with husband Chris Aiken in New York and elsewhere. A nationally recognized teacher, she is currently visiting lecturer in dance at the University of Illinois, where she is pursuing her M.F.A.
For more information about this performance, call the box office at 207-786-6161.
View Comments