Exhibit features images of Buddhists from around the world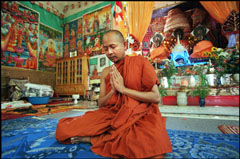 An exhibition of photographs titled From Lynn to Lhasa: Photographs of Cambodian, Chinese, and Tibetan Buddhists by Harvard photographer Kris Snibbe opens at the Bates College Chapel on Sunday, Jan. 26, with a 3 p.m. reception, open to the public at no charge. The exhibit runs through March 31 and is open to the public free of charge. Call 207-786-8272 for more information.
The display features Snibbe's personal documentary photographs that contrast the lives of Cambodian, Chinese and Tibetan Buddhists in the Boston area with the lives of Buddhists in Lhasa, Tibet. The photographs ask questions about the compelling differences in various Buddhist traditions, while paying homage to their common humanity.
"For me, photography is a way of learning, communicating and phrasing questions that culminate in a fraction of a second," says Snibbe, a staff photographer at the Harvard Office of News and Public Affairs since 1993. Snibbe's work appears regularly in the Harvard University Gazette and has also appeared in publications such as Boston Magazine and the German news magazine Der Spiegel.
View Comments