Bates bests Bowdoin in President's Cup debate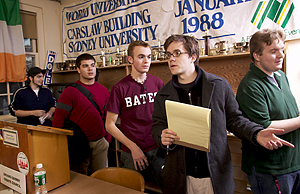 A team of three Bates College debaters defeated their Bowdoin College counterparts in a May 3 "President's Cup" debate held in Chase Hall. The two sides faced each other over the resolution "The United States should withdraw all military forces from Iraq after the June 30 turnover of military power."
Named because each of the respective college presidents are present, the periodic debate (last held in 1996) fosters camaraderie and discourse between the two schools. President Elaine Tuttle Hansen attended the contest. Due to a last-minute emergency, President Barry Mills of Bowdoin sent his wife, Karen Mills, in his place.
The Bates debaters argued that the United States should remain in Iraq after the June 30 deadline. Bates speakers were Chris Laconi '05 of Falmouth, Maine; Casey Pfitzner '07 of Spotsylvania, Va.; and Drew Jarboe '05 of Acton, Mass.
Handing down a two-to-one decision for Bates, judges for the competition were Stavros Mendros, a member of the Lewiston City Council; Lewiston businessman James Simones, owner of Simones Hot Dogs; and Michael Daley, visiting assistant professor of economics at Bates College.
Before the debate, first-year student Vaibhav Bajpai of Calcutta, India, publicity director for the Brooks Quimby Debate Society, had amicably observed, "Bates has never lost this public debate competition." This victory was the third straight President's Cup win for Bates.
Debate has a long and illustrious history at Bates, which was the first American college to debate in Europe, at Oxford University, in 1921.
View Comments