Weekend music: Concert Series opener, chamber festival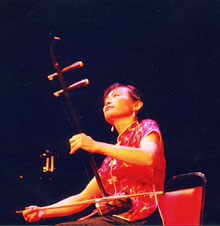 Presenting artists from Boston, Beijing, Venice and Normal, Ill., the 2004-05 Bates College Concert Series brings a world's worth of musical artistry to the Olin Arts Center Concert Hall this fall and winter. The series of four 8 p.m. concerts begins on Saturday, Oct. 2, with a concert of Chinese music by Chi Li, a virtuoso of the "erhu," a two-stringed fiddle renowned for its haunting voicelike sound.
Concerts in the series will be held in the Olin Arts Center Concert Hall, 75 Russell St. Admission is $8 for adults and $5 for senior citizens and non-Bates students with ID. For additional information about the series and Olin Concert Hall, please click here. For reservations, please call 207-786-6135.
Meanwhile, the musical offerings in Olin this weekend also include a visit by five players from Maine's own Portland Chamber Music Festival. Featuring music by Dvorak, Martinu and PCMF cellist Thomas Kraines, the concert will be held at 7:30 p.m. Sunday, Oct. 3. Admission is open to the public at no charge, thanks to support from the college's Florence Pennell Gremley Fund.
Chi Li studied at the Conservatory of Chinese Music, Beijing, and was erhu soloist for the National Traditional Orchestra of China, the premiere ensemble of its kind. Now living in California, she is a leading performer on the ancient, deeply affecting erhu.
One of a family of instruments dating back more than 1,000 years, the erhu took its present form around 500 years ago. Thanks to the sound quality of the erhu's small, drumlike resonator and a neck that permits an expressive style of fingering notes, a skilled player like Chi Li can obtain an unforgettable vocal quality from the erhu.
Her program at Bates will consist of music traditional and modern, including pieces by Hua Yanjun and Liu Tianhua, early 20th-century musicians who updated the erhu and established it as a solo concert instrument.
Chi Li has performed in New York, Washington, D.C., and other major U.S. cities. A member of the ethnomusicology faculty at the University of California, Los Angeles, she directs Chinese music ensembles at UCLA and in the San Francisco area, is adviser to the Los Angeles Chinese Music Ensemble and co-founded the American Chinese Performing Arts Institute.
The Bates College Concert Series follows Chi Li with an Oct. 16 performance by Boston's Aardvark Jazz Orchestra, a band distinguished by an eclecticism encompassing free improvisation, Duke Ellington classics and sacred music. The series resumes on Jan. 29 with the highly accomplished classical pianist Awadagin Pratt and closes March 11 with the Quartetto di Venezia, an Italian string quartet celebrating its 20th anniversary season.
Founded in 1993 by violinist Jennifer Elowitch, of Portland, and pianist Dena Levine, of New York City, the Portland Chamber Music Festival presents lively programs that blend established and new repertoire.
Elowitch and Levine will take part in the Bates concert. The program includes Three Madrigals for Violin and Viola, by Bohuslav Martinu; Antonin Dvorak's Piano Quintet in A major (Op. 81); and Three Pieces for Violin and Cello by PCMF cellist Thomas Kraines, who will introduce and perform in the piece. Violinist Juliette Kang and violist Carol Rodland complete the lineup of players.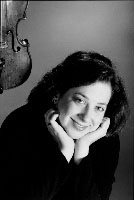 Since its first season in 1994, PCMF has presented broadly acclaimed performers from the United States, Europe and Latin America, and now enjoys a strong community following and a growing national reputation. Its concerts are featured on Maine Public Radio's "Mainestage" and on WGBH radio in Boston, and it has been featured on Maine Public Television and on National Public Radio's "Performance Today."
Recognized for its strong commitment to new music, the festival's resident composers have included Osvaldo Golijov and Elliott Schwartz.
Elowitch, PCMF executive director and co-artistic director with Levine, is the assistant principal second violinist of the Boston Pops Esplanade Orchestra. She also performs with the Boston Symphony and Emmanuel Music, with whom she toured Europe. She is on the faculty of the New England Conservatory Preparatory School.
Levine is assistant professor of piano at Seton Hall University. She has appeared at the Marlboro and Tanglewood festivals and in concerts in Europe and Asia. As a founding member of the Laurel Trio, she won the Concert Artists Guild Competition and the ProPiano Competition, and has recorded for CRI.
Kraines, a graduate of the Curtis Institute of Music and the Juilliard School, is gaining recognition worldwide as a cellist and composer. Formerly a member of the Peabody Trio, he currently performs in a duo with his wife, violinist Juliette Kang. He is on the faculty of the Longy School of Music and Phillips Academy.
Gold medalist in the 1994 International Violin Competition of Indianapolis, Kang is assistant concertmaster of the Boston Symphony and previously worked with the Metropolitan Opera Orchestra. Her solo engagements have included the San Francisco Symphony, l'Orchestre National de France and every major Canadian orchestra.
Violist Carol Rodland made her solo debut with the Philadelphia Orchestra at age 17. Prior to joining the faculty at the New England Conservatory, she held professorships at the "Hanns Eisler" Musikhochschule in Berlin and at Arizona State University. She won first prizes at the Washington International Competition, the Artists International Auditions and the Juilliard Concerto Competition.
View Comments