Bates receives award for leadership in tobacco control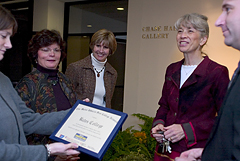 The college has received an award for its adoption of a policy that strengthens tobacco control efforts on campus.
President Elaine Tuttle Hansen and representatives from the offices of the dean of students, health services and human resources were presented a certificate on Thursday, Nov. 18, by Jessica Begley on behalf of the Maine Tobacco-Free College Network and the Healthy Androscoggin Community Coalition.
Besides offering a variety of educational programs to students, faculty and staff on the health effects of smoking, Bates changed its smoking policy in September to include prohibiting use of tobacco products in the residence halls and within 50 feet of all campus buildings.
After accepting the award, Hansen told reporters that the college would like all of its students to be educated about smoking and added: "We think this policy represents the opportunity to say, 'Think before you smoke.'"
Bates was one of 23 Maine colleges honored in November in conjunction with the 28th Annual American Cancer Society's Great American Smokeout. For residential colleges to receive an award, they must have made all their indoor spaces, including every residence hall, tobacco-free.
"The State of Maine has made tremendous strides in cutting smoking rates among our youth, but we haven't seen those same precipitous drops in the prevalence of smoking behavior within those of college age. That's why we are focusing on creating strong policies on our college campuses," said Mary Beth Welton, program manager for the Partnership For A Tobacco-Free Maine and a coalition member of the Maine Tobacco-Free College Network.
"Creating tobacco-free environments not only protects nonsmokers," added Welton, "it deters people from starting to smoke and provides smokers with an incentive to quit."
View Comments