More than 500 Lewiston High students present science research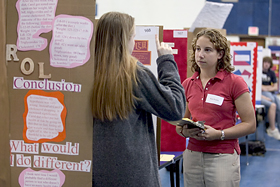 Some 520 students presented nearly 400 research projects in the sixth annual Lewiston High School Science Fair on May 5.
Produced in partnership with the Bates College Center for Service-Learning, the fair showcases projects created during the school year by students in grades 9 through 12.
The projects run the gamut of scientific disciplines. Last year, 17 students were honored for their work on 13 projects.
The projects are assessed by judges from Bates and the community. On Thursday, Bates student judges started out with three contestants each in the high school gymnasium. Psychology major Kara Seaton '05 chatted with Lewiston High School freshman Samantha Judd about which form of American Sign Language is easier to teach: manual or computer. Judd, who tested friends, concluded that it's more effective to teach ASL manually.
Biochemistry major Patrick Cunningham '05 spoke with LHS freshman Zack Mohamed, who studied friction by evaluating differences between the soles or "grips" of basketball shoes. Mohamed concluded that Converse Weapons have the best grips.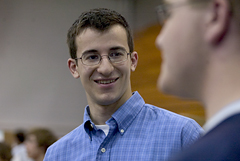 Moving down the long row of presentations, Cunningham later evaluated a project by freshmen Mike Paine and Kevin Rankin. They built a trebuchet, a kind of medieval catapult used to breach walls during a siege, in order to determine whether the length of the weapon's arm affects its throwing distance. They found that it does — supporting their hypothesis. They were very pleased with the results.
The projects are eligible for medals and cash awards bestowed for best-of-fair and first-, second- and third-place prizes in each of three grade divisions — 9th, 10th and upper-class. This year, the finalists presented their projects to Bates science faculty, noted Sue Martin, assistant director of the Bates Center for Service-Learning.
In a pilot version of that process two years ago, the high school students enjoyed talking to someone from the outside who was knowledgeable about the content of their projects, Martin said. "And our faculty appreciated the opportunity to observe how high schoolers think and to meet these high-achieving, focused students."
Winners will be honored during the high school's annual Night of Excellence on May 31.
In addition to the partnership with the Center for Service-Learning, Bates' role in the fair includes logistical support through a Howard Hughes Medical Institute Student Fellowship, as well as the participation of faculty, staff and students who spend an afternoon judging the projects and talking to participants. The college also supports the fair through a Bates Science Education Outreach Grant funded by the Hughes institute.
View Comments