Harvard preacher, author Gomes to address Bates convocation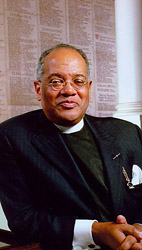 The Rev. Peter J. Gomes, named one of America's most influential preachers by Time magazine, opens the 151st academic year at Bates College with a convocation address at 4:10 p.m. Tuesday, Sept. 6, on the main quadrangle. In case of rain, the event will take place in Alumni Gymnasium.
Gomes' convocation address will explore themes related to the college's 150th anniversary.
Gomes is Plummer Professor of Christian Morals at Harvard University and minister in the university's Memorial Church. A 1965 Bates graduate, he was first elected a college trustee in 1973 and is in the fifth year of his current term on the board.
Gomes will face about 2,400 Bates faculty, staff and students, including 511 students new to Bates (another new student is studying with the Bates program in Russia this fall). The Bates student body will total some 1,844, with 1,688 on campus and 156 in off-campus programs this fall.
An American Baptist minister, Gomes belongs to Harvard's faculties of divinity and of arts and sciences. Named one of the nation's seven most influential preachers by Time in 1979, he is an insistent voice of conscience.
Gomes' closely reasoned sermons rank among the quintessential Harvard experiences. As likely to quote T.S. Eliot and Mae West as the Bible, he delivers serious moral content with a welcoming humor. He is a sought-after speaker whose engagements have included the inaugurations of presidents Ronald Reagan and George H.W. Bush.
In his most recent address at Bates, during the alumni reunion weekend in June, Gomes offered observations inspired by the college's sesquicentennial. "Bates was always peculiar. It was peculiar in that it involved women and men on equal footing. It was peculiar in that it had persons of color in its earliest classes," he noted.
"And it was peculiar in that it was the first college chartered by the state of Maine," as Massachusetts chartered Bowdoin and Colby prior to Maine statehood.
Gomes is the author of several books, including the 1996 best seller The Good Book: Reading the Bible with Mind and Heart (Morrow) and his most recent, Strength for the Journey: Biblical Wisdom for Daily Living (HarperSanFrancisco, 2003). He has received 30 honorary degrees, including one from Bates in 1996, and in 2001 was honored with Harvard's Phi Beta Kappa Teaching Award. He is an Honorary Fellow of Emmanuel College, the University of Cambridge, England, where the Gomes Lectureship is established in his name.
A native of Boston, Gomes graduated from Bates and from Harvard Divinity School. After teaching and serving as director of freshman studies at Tuskegee Institute, Tuskegee, Ala., he arrived at Harvard in 1970 as assistant minister in the Memorial Church. He has been minister there since 1974, when he was appointed to the Plummer professorship. He is a leading authority on the Pilgrims of Plymouth.
This fall's class of first-year students at Bates comes from 34 states and from 35 countries ranging from Azerbaijan to Venezuela. Forty-eight of the first-years are from Maine. The entire student body represents 75 countries and 47 states, with the most from Massachusetts, at 443 students. The next largest group comes from Maine, at 194. As for the other New England states, Connecticut sent 145, New Hampshire 128, Vermont 52 and Rhode Island 29. New York state sent 181.
View Comments