Bates names new Dukakis Professor of Classical and Medieval Studies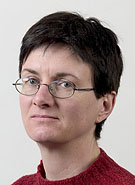 Bates College has named Laurie O'Higgins, professor of classical and medieval studies, as successor to Anne Thompson in the position of Euterpe B. Dukakis Professor of Classical and Medieval Studies. She will deliver her inaugural lecture at 4:30 p.m. Wednesday, Nov. 9, in the Olin Arts Center Concert Hall, 75 Russell St.
Titled "Strangers and Wanderers: Teachers and Students of Classics in the Hedge Schools of Ireland," the lecture is open to the public at no cost. O'Higgins' talk will draw on research, supported by a 2003 Bates Faculty Development grant, into the peasant scholars of 18th-century Ireland and the role that the classics played in Irish politics and evolving Irish identity.
The professorship honors Euterpe Boukis Dukakis. A member of the Bates class of 1925, Dukakis became the first Greek-American woman to attend a United States college away from home, and remained loyal to the college throughout her life, returning to campus every Bates class reunion for 71 years. A strong supporter of classical and medieval studies, she and her family established the chair in 1994.
O'Higgins came to Bates in 1990, and played a key role in the establishment of the Program of Classical and Medieval Studies, which integrates the study of the ancient and medieval worlds, and the Greek east and Roman west. Her teaching includes courses focused on comedy and satire, gender and the body and, in separate courses, on food and on the nature of friendship and love in ancient Greece and Rome.
"To explore the ancient and medieval cultures of the Mediterranean and northern Europe is to attempt to understand dynamic systems of values, beliefs and ways of life that continue to shape us and our own worlds," says O'Higgins. "In learning to understand those distant cultures, we also gain awareness of ourselves as modern people influenced by, yet different from, those we study."
O'Higgins has written prolifically on Greek literature, culture and women's lives, and is the author of the book, Women and Humor in Classical Greece (Cambridge University Press, 2003), which analyzes the role of women as producers of jokes and joking speech — a role more influential in Greek society and literature than is commonly thought.
O'Higgins earned a bachelor's degree from Trinity College in Dublin, Ireland, and her master's degree and doctorate from Cornell University. She lives in Lewiston. Her husband, James Richter, is a member of the Bates political science faculty.
Born in Larissa, Greece, Dukakis and her family immigrated to the United States in 1913, settling in Haverhill, Mass. She was involved in many extracurricular activities at Bates, and graduated with honors and a membership in Phi Beta Kappa. She was president of the Boston Bates Alumnae Club for several years and served as class agent.
Dukakis was a teacher in Ashland, N.H., and Amesbury, Mass., until she married Panos Dukakis, Bates class of 1922. They had two children: Stelian Dukakis, class of 1953, and Michael Dukakis, who served three terms as Massachusetts governor and ran for the U.S. presidency in 1988. Mrs. Dukakis was a tireless campaigner for her son, traveling throughout the country speaking to senior-citizen groups and giving interviews. In 1993, she received an honorary doctor of letters degree from Pine Manor College. Dukakis passed away in 2003.
View Comments