Behind the scenes with Olympic skier Justin Freeman '98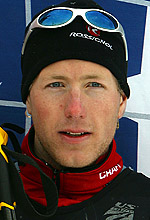 Since his appointment to the team in January, U.S. Olympic cross country skier Freeman has e-mailed a few updates to family and friends, reprinted below in edited form. We will post further updates as available. You can also read about Freeman in this Face at Bates profile.
(In his first Olympic race, on Feb. 17, Freeman finished 53rd out of 97 competitors in the 15 km. classical, at Pragelato, Italy. Upcoming races for the U.S. team are the 4 x 10 km. relay on Feb. 19, the sprint on Feb. 22, and the 50 km. freestyle on Feb. 26.)

Monday, Jan. 23
Grand Rapids, Minn.
I am just getting around to thanking everyone for sending their congratulations and good wishes. And there is no way I can get back to even the fairly small number of fans I seem to have individually, so I just have to shout to all of you at once: Thank you!
On the perhaps egomaniacal assumption that you are interested hearing more than a quick thanks, here goes. I am here for the Nor/Am races that took place this past Saturday and Sunday. They went fairly well; I won the skate race and was fifth in the classic race — I think I missed the wax a bit, and I was still close to the lead. Next I am off to Massachusetts for a couple of job interviews, and then on to Davos, Switzerland, where I will just miss the World Economic Forum but I will get to spend a good week of training before heading to the Olympic village.
Freeman was being modest about his Minnesota performance, a vast improvement over his efforts at the U.S. Cross Country Championships, which he described to Bates Magazine as "pretty horrible…. My confidence is a little shaken." After he won the 10k freestyle at Mount Itasca, the Web site FasterSkier.com reported that Freeman, "possibly the most controversial pick for the 2006 U.S. Olympic cross-country ski team,…may have silenced some nay-sayers today…. Freeman overcame killer steep climbs, biting cold and a fast, deep men's field comprised of many of the country's top professional racers as well as club and college teams from the Midwest and beyond."
Tuesday, Feb. 7
Torino, Italy

We were up at 6:45 a.m. so we could catch a bus to Torino at 7:30. Once there, we had lunch and then had to be "processed." This involved getting issued cell phones (with 18 Euros of pre-paid time, rather than unlimited calling as in past Olympics, but I'm trying not to complain), getting a shopping cart full of clothes for opening and closing ceremonies, podium, and just for hanging out in.
There was a room full of seamstresses doing nothing but hemming our pants precisely. We had to get sized for rings and decide whether the gold plate was sufficient or if we wanted to shell out for 18k gold with diamonds and such. We had to review medical history, try on our other clothes and of course wait in line while everyone else did the same things.
They didn't actually drive us to the press conference but simply drove us to an intersection near the building, then stopped in the middle of traffic so that a dozen and a half confused Nordic skiers could run across the street dodging traffic!
We could still smell the paint drying in the building where they lined us up, loaned us matching jackets, and sent us into a room (first women, then men) to answer questions from the media. I was asked relatively few questions, but my brother [fellow Olympian Kris Freeman, a diabetic who injects insulin daily] kind of held us up. It was now after nine and we still had a two-hour bus ride to Sestriere, where the Olympic Village (one of three) we are staying in is located.
Wednesday, Feb. 8
Sestriere
We took a shuttle from the cross country stadium in Pragelato back up to the Olympic Village at Sestriere. Before entering the drop off/pick up zone, the car had to be searched by security. While we were being searched, a few Russian athletes who had been walking around town tried to walk in. They were told that only people in shuttles could come through on foot. So they knocked on the door, the driver let them in, and security seemed satisfied that no one had passed them on foot.
Thursday, Feb. 9
Pragelato
Three of us raced in a time trial today, and I won handily. So I will almost definitely race in the 15 km. classical on the 17th. If that goes well I will ski the relay as well.
Saturday, Feb. 11
Torino
I just watched the Canadian coverage of the opening ceremonies and saw myself — hopefully I was on TV in the U.S. as well (for whatever reason all I could watch here was Italian or Canadian coverage — go figure).
We watched the start of the ceremonies and much of the athletes' parade on a big screen in the hockey arena, and then suddenly the organizers were yelling at us to assemble and start heading out. We had to run a couple hundred meters, and then got a chance to catch our breath while the countries ahead of us went in.
The noise (both fans and athletes screaming) was overwhelming as we marched into the stadium. There was a section of bleachers chanting "USA!" and waving flags. And then those of us who wanted to get home at a (semi-)reasonable hour had to step out of the parade and watch the other teams from the sidelines. We just got to see the Italians come in and then we were spirited away back to the buses.
I am a bit tired today and taking it easy, but nine hours of sitting on buses and in bleachers was a small price to pay for the three minutes of marching!
Tuesday, Feb. 14
Sestriere
Once again thank you all for your support, whether this is expressed directly to me, through Heidi [Freeman's wife] or just by reading my ramblings. It means a lot.
The 15 km on Friday goes off at 10 a.m. CET, 4 a.m. EST. I will probably go out around the middle, maybe bib 40 or 50 of 90, which means I will race from say 10:25 till 11).
The course is a pretty good one, two laps of a 7.5-km. loop. The first four kilometers are fairly mellow, a few small climbs but nothing super challenging. Then there is a big climb, a huge downhill and an even bigger climb. I did intervals on this section of course yesterday. I felt good and I think I know how to ski it. Then the loop goes down another big hill and has a deceptively long gradual climb into the stadium.
The weather has been perfect: cold at night, but so sunny I had to buy sunscreen to keep my face from burning. It looks like it will warm up even more, and there is a chance of rain or snow, which could damage the course a bit. I'm not too worried about that, though — our wax techs should be able to handle any weather that gets thrown at them.
Freeman is the second Bates alum to earn a place on a Winter Olympics team, the first being Nordic skier Nancy Ingersoll Fiddler '78, who competed at the 1988 and 1992 games. (In Summer Olympics, rower Mike Ferry '97 competed in the double sculls at the 2000 Olympics, and runner Arnold Adams '33 was a member of the U.S. team at the 1932 Los Angeles Olympics but did not compete due to a foot injury.)
View Comments