Ultimate player Adam Miller '09 enjoys his sweet sport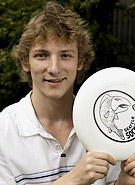 Bates has Orange Whip, while Colby has the Dazzlin' Asses. To the south are Bowdoin's Stoned Clowns. In Vermont are the Middlebury Pranksters.
So, the names of some nearby Ultimate Frisbee college teams prove that the sport still gets its ya-yas out by flaunting a late-'60s counterculture attitude. Yet, says Adam Miller '09 of Seattle, Wash., who played on the U.S. squad that won the World Junior Championships last month, Ultimate has slowly "evolved from kind of a hippie sport into a competitive sport with very good athletes." Read more here.
View Comments