Modern Dance Company offers 'Speechless'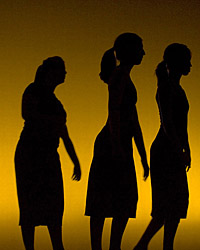 The Bates College Modern Dance Company performs at 7:30 p.m. Saturday, Oct. 7, and noon Sunday, Oct. 8, in the college's Schaeffer Theater, 305 College St.
In a program titled "Speechless," the company will present works by guest artists Jodi Melnick and Jennifer Archibald, both of New York. The performances are open to the public at no charge. For more information, please call 207-786-6161.
Melnick has been a featured dancer with Twyla Tharp and currently works with a variety of New York companies and choreographers. Her choreography has been shown in New York, Japan, Ireland, Estonia and Russia. In 2001, she was honored with a Bessie Award for sustained achievement in dance.
Archibald is the founder and artistic director of Arch Dance company. She has performed across the United States at major venues including the John F. Kennedy Center for the Performing Arts and Lincoln Theatre, as well as in Europe and Canada. She has staged off-Broadway shows, choreographed mainstream musicals for professional theater and served as a movement specialist and choreographer for actresses Sarita Choudury and Audrey Tautou ("Amelie"). She teaches contemporary jazz and hip hop, and is on faculty at the Bates Dance Festival.
Sarah Wolff, a junior from Riverdale, N.Y., has also choreographed a work on the program, as have dance faculty members Sarah McCormick and Laurence Miller. Some 25 students will dance in the concert.
View Comments