Strout '77, author of 'Abide with Me' and 'Amy and Isabelle,' visits Bates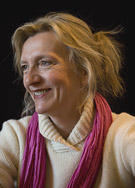 Elizabeth Strout, author of the nationally acclaimed novels Amy and Isabelle and this year's Abide with Me, visits Bates College to read from her work at 8 p.m. Thursday, Oct. 12, in Chase Hall Lounge, 56 Campus Ave.
The public is invited to attend the event, part of the Writers Harvest: The National Reading, an annual literary benefit to fight hunger and poverty sponsored by the organization Share Our Strength. Donations will be accepted, with proceeds to benefit local organizations that work to alleviate hunger.
Strout, a member of the Bates class of 1977, had a best seller with 1998's Amy and Isabelle (Vintage, 2000). Set in a Maine mill town in the 1970s, this humorous and atmospheric book describes the difficult relationship between a mother and daughter who are more alike than they realize.
A New York Times Book Review critic called the novel "one of those rare, invigorating books that take an apparently familiar world and peer into it with ruthless intimacy, revealing a strange and startling place." Such publications as Mademoiselle, The New Yorker, Newsweek and Publishers Weekly praised Amy and Isabelle, and it won major newspaper awards in Los Angeles and Chicago. In 2001 a made-for-TV movie based on the book and starring Elizabeth Shue was released.
Last March, Random House issued Abide with Me. Set in 1959 in insular West Annett, upriver from the first book's Shirley Falls, the new novel depicts how his wife's death affects the Rev. Tyler Caskey and his relationships with his daughters, mother and congregation. The only connection Caskey retains is with his housekeeper, and it's revealed that the pair, like Amy and Isabelle before them, share a life-changing secret.
Strout was born in Portland and summered in Harpswell. Maine — its natural realm, its rhythms, its people — lives large in her novels. The state, she told the college's alumni magazine earlier this year, means "just about everything" to her.
"My parents knew the names of all the trees and the wildflowers and the birds," she says, and were generous with that knowledge. "We knew where the first violets could be found and knew what a cardinal's call sounded like." Strout's attention to nature is a constant in her prose, as ornament, symbol and psychological mirror.
After Bates, she worked a veritable Yellow Pages of jobs — waitressing, performing as a nightclub pianist and selling mattresses, to name just a few. She earned a law degree but didn't like the work, and went on to teach English at Manhattan Community College. She now teaches in a low-residency writing program at Queens University, Charlotte, N.C.
Strout published her first short story in 1982, and her byline has since appeared in Redbook, The New Yorker and various literary journals. She lives in New York City.
Launched in 1992, Writers Harvest invites authors to fight hunger and poverty by reading from their works at bookstores, college campuses and community centers around the country each fall. SOS distributes 100 percent of event donations to statewide anti-hunger and anti-poverty efforts.
View Comments