College hosts North American Debating Championships Jan. 26-28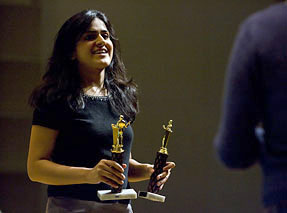 The Brooks Quimby Debate Council will host the 2007 North American Debating Championships at Bates College, Jan. 26-28. Known as "NorAms," the competition is the top debating championship in North America, held on an alternating basis between the United States and Canada since 1991.
As tournament host, the Bates team will not debate in this year's competition. To keep its hat in the ring, however, several Bates team members will debate the Yale University team on the issue, "In a democratic society, civil disobedience is never justified." The Yale squad is currently the top debating team in the United States, says Bates debater Vaibhav Bajpai, a senior from Calcutta, India, who promises the match will be "a true battle of wits." Open to the public free of charge, the rhetorical match begins at 8 p.m. Thursday, Jan. 25, in the Bates College Chapel.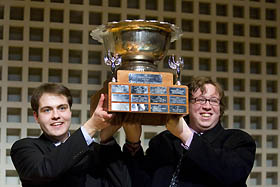 2007 NorAms  Winners:

Varsity Speaker
Ian Freeman – Carleton University
Novice Speaker
Daniel Rauch – Princeton University

Novice Team
McGill  University

Varsity Team
Yale University
The Bates vs. Yale match precedes the NorAms opening. Competing teams will participate in six preliminary tournament rounds throughout Friday, Jan. 26, and Saturday, Jan. 27. Debaters breaking into the final rounds will compete on Sunday, Jan. 28, beginning with quarterfinals at 9:30 a.m. and semifinals at 11 a.m. The final round, open to the public at no charge, will begin at 2 p.m. in the Olin Arts Concert Hall, followed by an awards ceremony at 3 p.m. For more information about the tournament, visit its Web site.
Sanctioned by the national university debating associations in the United States and Canada, the American Parliamentary Debating Association and the Canadian University Society for Intercollegiate Debate, the tournament was last held at Bates in 1993. The North American Public Speaking Championship is held at the same time.
"This tournament is one of the largest events in the country for parliamentary debate," says one of its organizers, Rakhshan Zahid, a Bates senior from Karachi, Pakistan. "It is an honor for us to host this tournament. Bates has a magnificent history in parliamentary debate, and we are proud to continue the tradition." Bates was the first American college to debate in Europe, at Oxford University in 1921.
Sixty-five teams and 20 judges are participating in the 2007 tournament. Teams competing include Princeton, Yale, Harvard, MIT, Stanford, the United States Army and Carleton University in Canada. Audience members, says Bajpai, are encouraged to "cheer, heckle and give floor speeches."
The Bates College debate team ranks 15th internationally and third in the United States, according to an unofficial tally of more than 400 teams competing in the World Universities Debating Championships. The rankings are based on cumulative scores tallied from the previous five competitive Worlds for each institution.
View Comments